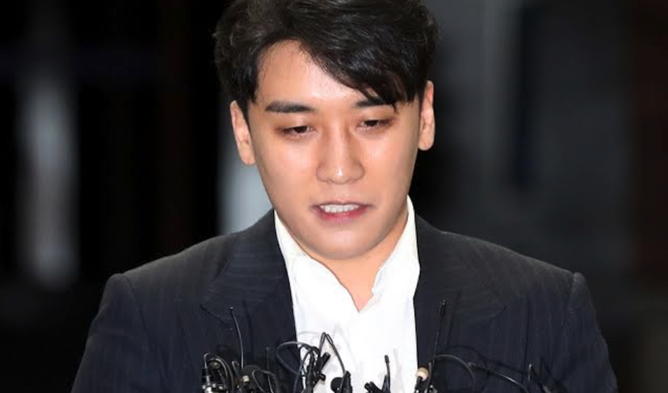 On March 14, 2019, former-idol and BIGBANG member Seungri (Lee Seunghyun) underwent 16 hours of questioning by police in connection to the prostitution allegations mounting against him.
"Once again, I bow my head in deep apology to the nation's citizens as well as to all those around me who suffered and were hurt. Rather than giving any comments now, I will participate in the investigation diligently with truthful answers," Seungri said prior to entering the police station for questioning.
Following his questioning, Seungri spoke to the press again, announcing his plans to delay his March 25 enlistment.
"Today, I finished the investigation sincerely and I'm going to apply for a formal postponement to the Military Manpower Administration [MMA]. If you only allow me to do so, I will postpone the date of entry and show you that I am being investigated sincerely until the end," Seungri said.
Following his questioning, which began March 14 at 2pm local time and lasted until about 6:30am March 15 local time, reports started to surface that allege Seungri may not be as cooperative as he claims.
[UPDATE]  According to Chosun, the police asked Seungri and Jung Joon Young for their phones while they continue to investigate the KakaoTalk messages. While Jung turned over his phone—which is only two weeks old—Seungri reportedly refuses to turn his over to police. However, the Straits Times reports that Seungri did hand over his phone.
The phones—and any phones the former singers have—are necessary to the investigation as they hold crucial evidence.
According to Dong-A Ilbo, both Jung and Seungri consulted with lawyers about the implications of turning over their phones. Jung did the same three years ago with his prior hidden camera case. Then, his lawyer warned Jung to not turn over his phone, allegedly saying, "This is a big problem because the hidden camera was filmed in secret.  Do not give your cellphone to the police."
Ilbo also reports that members of the chat were worried about the messages being released. Jung said, "If I erase the videos, would they be able to recover them? It will look strange if I submit a new phone. I told my agency to take care of it." He later told police he lost his phone at a digital forensics service.
On March 13, 2019, police raided that company in hopes to find evidence relating to the KakaoTalk chats.
On March 15, 2019, Jung apparently refutes the claims that he did not submit the "golden phone." After his 21-hour questioning, Jung briefly spoke to the press.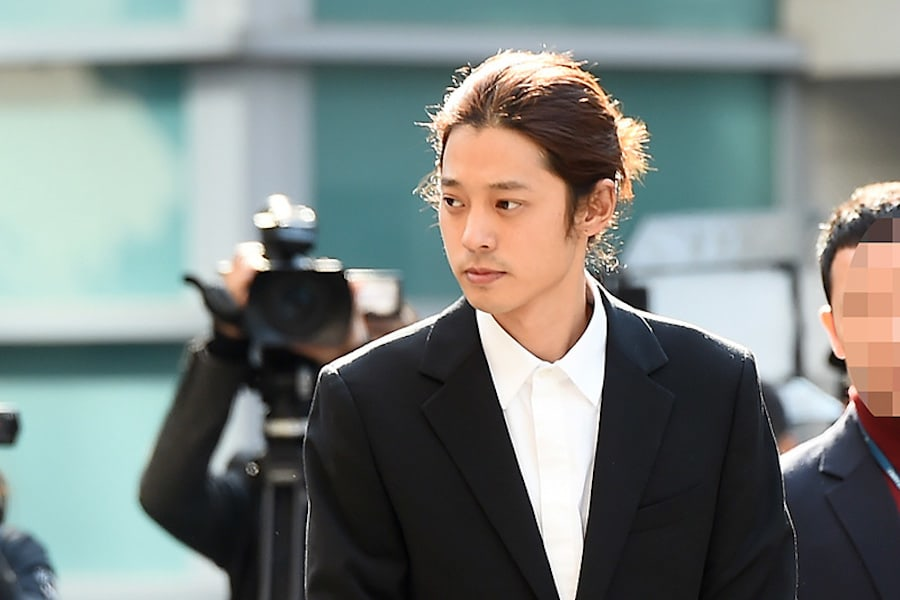 "I feel extremely apologetic. I answered diligently and truthfully. I also submitted the 'golden phone' as is and told them everything truthfully. I am very sorry for causing trouble."
The "golden phone" allegedly has more than 200,000 messages in relation to the sexually explicit content.
Along with the sex chats and Burning Sun controversy, claims of police collusion and corruption also surfaced, although the former Korea Police Commissioner General denies the claims. Min Gap Ryong, the current Korea Police Commissioner General, says he is looking into the claim.
"I will check thoroughly to find out if there was an incident that the police was involved in at the time," Min said. "There is a specific individual who made this comment, but it is difficult to reveal details as the investigation is on-going. "If crimes are discovered in the process, they will be convicted thoroughly regardless of rank."
When Jung was asked by the press who the police chief was in the chats, he responded, "I will reveal that through the investigation."
More Texts Released
Meanwhile, Korean media continue to release more texts that further link Seungri to the sex video and prostitution scandal. Additionally, now Seungri faces potential charges of gambling overseas.
In relation to the prostitution scandal, Seungri and a CEO identified as "A"  exchanged texts in August 2014 that allegedly discuss what types of women should be brought along on an Indonesian trip.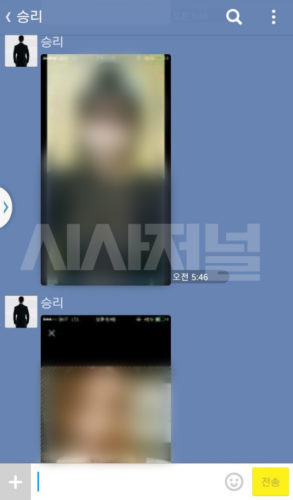 Seungri: Girl number 1 isn't very talkative but she kind of likes money. Also, she's a girl that isn't very charming while drinking. But her visuals are really good.

Seungri: Girl number 3… her visuals are good and so is her personality. When drinking, she is fun and nice… but the problem with her is that when she gets drunk, she is a wreck.

CEO A: What about girl 4?

CEO A: What about girls 2, 4, and 5?

CEO A: So, let's eliminate Girl 1 from the selection. Out of Girls 2, 4, and 5, let's see one more.

CEO A: We need more girls like number 3

Seungri: Number 5 is also good!

Seungri: Mr. CEO, what style of girl do you like?

CEO A: Well.. Southeast Asian men like girls with white skin. Girls with white skin are innocent and pure, but also on the other side, sexy girls. A pure, innocent style like XX, XXX, or XXX, or girls who are very fancy/showy and seem like girl group members. How about that style? Height around 160 cm… and slim.

….

CEO A: Did you tell them about heading to Indonesia?

Seungri: Yes CEO.

CEO A: It should be for 2 or 3 nights. Who knows, it should be about 10 million won? less?

Seungri: Got it!! That's 10 million won per person, right CEO?
Following these texts, Seungri and "A" also discussed money Seungri won in Las Vegas. This incident also took place in 2014.
Seungri: "I won 200 million won! You'll hit it big too, CEO A!"

CEO A: "Okay. I just need to win enough to cover my travelling expenses. When are you leaving L.A.? Shanghai? Japan?"

Seungri: "Which hotel are you staying at? I'm going back to Korea tonight at 11 P.M. and then I'm going to straight to Japan."

Seungri: (Photo of money)

CEO A: "Amazing. I'm at ARIA. How are you going to bring the money?"

Seungri: "Oh, I come here often, so I left it with the 'save bank'. I decided to only use the money I win in Vegas. If you get bored, hop over to Cosmopolitan. I'll introduce you to my host. They have great service, and they provide a lot of gambling benefits and discounts there."

CEO A: "Oh, I see. Okay. Who should I ask for once I get there?"
For gambling, South Korea follows Territorial Principle. This means that South Korean citizens who gamble abroad can be punished for doing so even if other countries do not consider the act illegal. In February 2019, S.E.S' Shoo received probation for gambling abroad in Macau.
Aori Ramen Cuts Ties
On March 14, 2019, Aori Ramen, a restaurant franchise launched by Seungri, announced they will be cutting ties with the fallen star and Yuri Holdings.
Hello, this is Aori Ramen's company, Aori FNB.

To all the customers and store-owners who kept their faith in Aori Ramen throughout the recent series of events, we would first like to apologize for causing you concern.

Our head office has been reorganizing after Lee Seung Hyun (Seungri) stepped down from his CEO position due to his upcoming military enlistment. To ensure the stable business of our franchise stores, we hired a new management specialist and on March 7 we held a planning meeting with the store-owners and offered them compensation. Depending on the situation, we intend to offer further compensation to the store-owners later on.

In order to protect the brand of our franchise stores and Aori Ramen, we have decided to cut all ties with Seungri and Yuri Holdings and make a fresh start. We are currently in discussions to transfer management rights to a new partner who is knowledgeable about the food and beverage industry and can provide good leadership to our franchise stores.

The 43 Aori Ramen franchise stores are not all owned by our former CEO's acquaintances and family. In order to minimize damages to the other stores, we have decided to close the stores that do have a connection to him.

Because of the extreme news, stores that have worked hard and have no connection to the news are suffering damages. Aori Ramen's head office will do our best to make sure to minimize damages to those hardworking, innocent franchise store-owners.

We ask once again for the understanding of all the customers who have loved Aori Ramen and we will continue to work to improve our taste and quality.
The announcement isn't surprising given the controversy. In recent weeks, business at Aori Ramen plummeted.
Seungri stepped down as CEO earlier this year in preparation for his impending enlistment. Some of the Aori shops were operated by Seungri's family and acquaintances. Those stores are now closed.
The situation surrounding Burning Sun and the KakaoTalks is fluid and changing daily (sometimes hourly). Stay tuned for more updates.
All parties are innocent until proven guilty in the court of law.
— Olivia Murray
1 response to "[UPDATED] Seungri's Troubles Continue to Mount, Plans to Delay Enlistment; Seungri and Jung Questioned by Police"
Related Articles