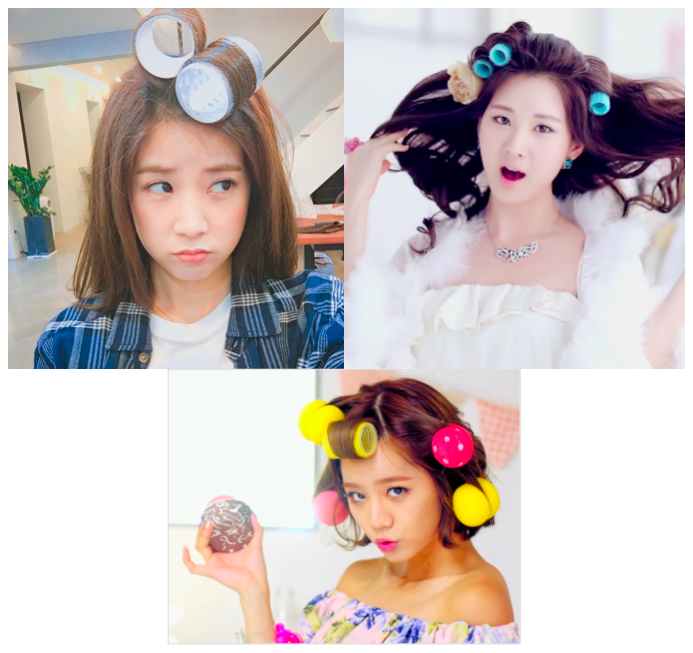 Rollers are the newest beauty and accessory trend overwhelming the South Korean peninsula and is increasingly creeping its way through the global fashion fabric. Fundamentally, these plastic cylinders are just but hair tools meant to bring out hair curls of diverse sizes and volume depending on the usage. Creating curls especially for one's hanging bangs is quiet understandable given that the hair can be discomforting when it blows allover on one's face all day. Curling the bangs is also associated with complementing one's overall facial outlook by giving a flattering head shape overloaded with cuteness.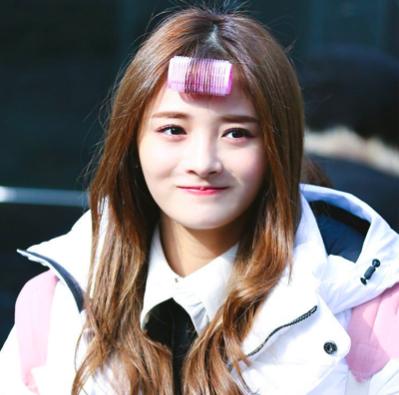 PRISTIN's Zhou Jieqiong
Nonetheless, bangs are seemingly portraying a deeper sense in addition to the usual beauty aspect. South Korea is known for its high beauty standards ingrained in the perfection culture where one is expected to suit every other persons' preferences and expectations of thems. Although the beauty standards are still prevailing, the culture of pleasing everyone around; fellows and strangers, is increasingly facing a backlash and defiance from the 21st century's younger generation. This generation has taken up a different attitude refusing to be pulled into by the previously prevailing strict South Korean conventions. Living a carefree life and choosing to look your best only to the people that matter is the new ideology that these trendy hair rollers convey. Gone are the days where women had to not only do their hair and makeup out of sight, but also worry about the judgmental societal perspective on every aspect of their lives.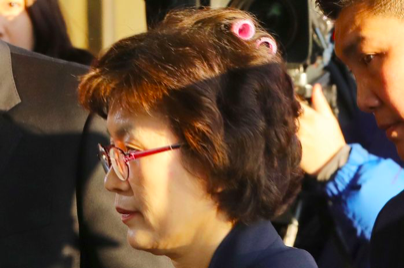 Lee Jung-mi attending President Park Geun-hye's impeachment trial
In addition, symbolizing defiance and sense of confidence; in a bit to live care free of societal judgments, this plastic cylinder is now bringing out another inspiring aspect regarding women, especially in the Asian peninsula. This aspect is related to a highly respected figure, Lee Jung-mi, who once attended court proceedings with rollers still rolled in her hair. The then acting chief justice walked into President Park Geun-hye's impeachment trial in pink plastic cylinders stuck in her hair. Interestingly, the eminence of rollers upgraded from not only a symbol of beauty and sense of confidence, but also an emblem of hard work. The argument was that Lee Jung-mi was so busy -as a family and career woman- that she forgot to remove the remaining rollers during her preparation session. This incident further skyrocketed the confidence of wearing rollers out in public even as several prominent personalities globally started rocking their rollers in snap shots across social media platforms.
Apink's Namjoon
The recent COVID-19 pandemic forced individuals globally to stay at and work from home for quite an extensive period. The shift of focus from other things to sorely surviving the pandemic resulted in most people losing their guard regarding some previously upheld standards on various aspects, including beauty. Although people still paid attention to the basic beauty standards, the pandemic caused a ripple that saw a change in preference to more natural and simple looks. Rollers have since then gained a wider reception on a global scale making it the latest trend in the beauty and fashion world. Whatever the inspiration is; be it for confidence or voluminous curls among others, these plastic cylinders are indeed a look worth trying.
What about this, would you rock rollers out in public places? Give us your opinion and thank you for reading.
—-P. Earlkh
#koreanfashiontrend #koreanfashion #kpopfashion #korea #hairrollers #haircylinders #koreanhairfashion #kpopidols #kdramaidol #voluminoushair #fashionstatement #fashiontrend #fashion
Related Articles