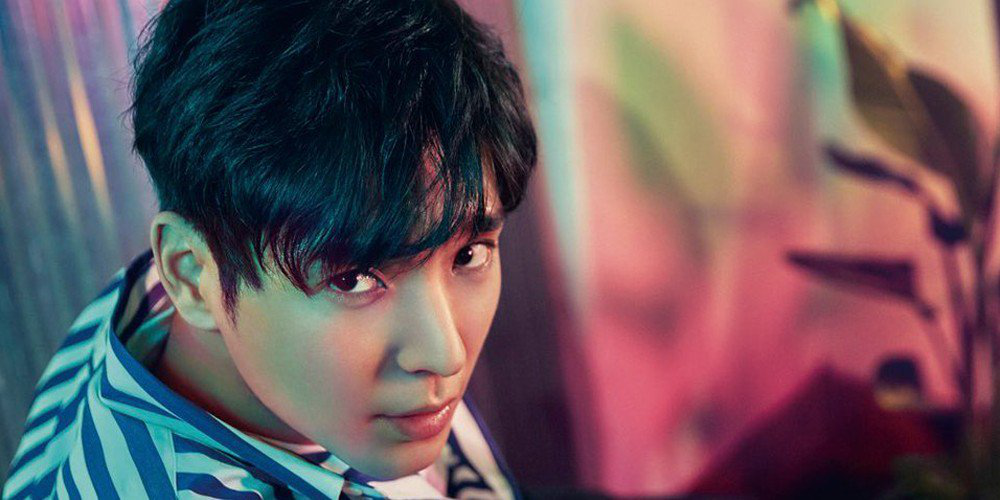 The celebrity body count stemming from the Burning Sun and KakaoTalk controversies is now four.
Earlier in the day on March 14, 2019, FNC Entertainment announced that F.T Island's Jonghun has departed the group and will retire from the entertainment industry. The news stems from allegations the Jonghun participated in the KakaoTalk chats. He is under fire for allegedly asking police insiders to cover-up a DUI in February 2016. Initially, Jonghun admitted that he was caught drinking and driving, but he denied asking police to cover-up for him.
Upon the initial denial of the police bribery and admittance of the drunk-driving charge, FNC Entertainment said,
After speaking with him personally, we confirmed Jonghun was caught driving drunk by police in Itaewon, Seoul in February of 2016. He paid a fine of 2.5 million Won (approximately $2,200) and got his license suspended for 100 days. At the time, Jonghun felt he was not a well-known member of his group, and in fear, he tried to let it go under the radar by not speaking to the agency. He says he's very regretful and reflecting on making a bad judgment call. We found after checking with him personally, however, he did not make requests through the media or police as reported today in terms of ties with the police.

Jonghun will actively cooperate in police investigations to confirm whether or not these ties with police existed. If true, he'll take all related legal responsibility. Jonghun feels a deep sense of guilt regarding his past wrongdoings, and he's also deeply reflecting on causing disappointment to the people around him and causing harm to his group. Furthermore, he'll completely halt all individual activities and activities as a member of F.T. Island.
However, following SBS 8 O' Clock News' release of the alleged texts between Jonghun and other chat members, FNC backtracked on their initial statement and apologized for sharing "inaccurate information." In a statement announcing Jonghun's departure from F.T Island and the entertainment industry, FNC Entertainment said the following:
Jonghun, who is receiving criticism due to his connection to a recent series of controversies, will be leaving F.T. Island. Our agency would like to make it clear there was no intention to hide or cover up the truth about these matters. Based on our mutual trust with each other, we spoke with him on what he remembers regarding the past incidents before releasing previous statements. We express our deep apologies for causing confusion by releasing inaccurate statements through this process.

There are additional suspicions regarding illegal acts although he says he does not remember them, so he will diligently receive a police investigation sometime this week. Jonghun has decided to leave the team permanently and retire from the entertainment industry.

The agency realizes the severity of the situation and feels responsibility for these matters, and we will fully cooperate with the police investigation process so that the truth can be clearly identified.

Jonghun expresses his apologies to those who were harmed due to his inappropriate and embarrassing words and actions in the past. He's also deeply reflecting on the disappointment he's given to many fans and members of his team. The agency expresses our deep apologies for being inattentive in terms of managing and teaching proper character to our artists and for causing trouble to so many people because of this unfortunate matter.

Jonghun will now halt celebrity life and live while reflecting on himself. The agency also cannot avoid responsibility regarding Jonghun's words and actions that cannot be forgiven by society, so we will guide him until the end towards living as a member of society with an upright perception.

The label promises once again to be more thorough and strict in our management and education of all artists. We apologize.
The texts also allegedly show that police corruption does exist surrounding Burning Sun and celebrity goings on as reported since the beginning of the incidents back in January. Since the texts were unveiled, F.T Island fans petitioned for Jonghun's immediate removal from the group.
Also allegedly involved in this instance is actress Park Hanbyul's husband. According to reports, he may have bribed police to help cover-up Jonghun's DUI. His name has also been floated around as being involved in the Burning Sun scandal. SBS 8'Clock News revealed the purported texts during their broadcast.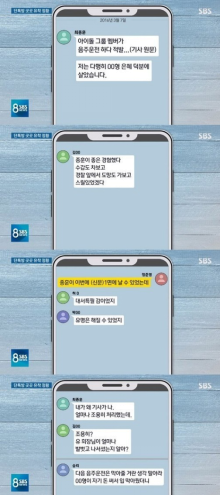 The texts read:
Jonghun: Idol group member gets caught drunk driving… (original headline)

Thankfully, I lived due to XXhyung's grace.

Mr. Kim: Jonghun had a good experience

He wore handcuffs

He even ran away from police

What a thrill

Jung Joon Young: Jonghun could've been on the first page of the newspaper

Mr. Heo: Could've been a featured story

Mr. Park: He could've gotten famous

Jonghun: Why would I make headlines.

Do you know how quietly I handled it.

Mr. Kim: Quietly?

Do you know how much CEO Yoo had to intervene?

Seungri: Don't even think about getting your next DUI covered up. XXhyung used his own money to cover for you, and you do this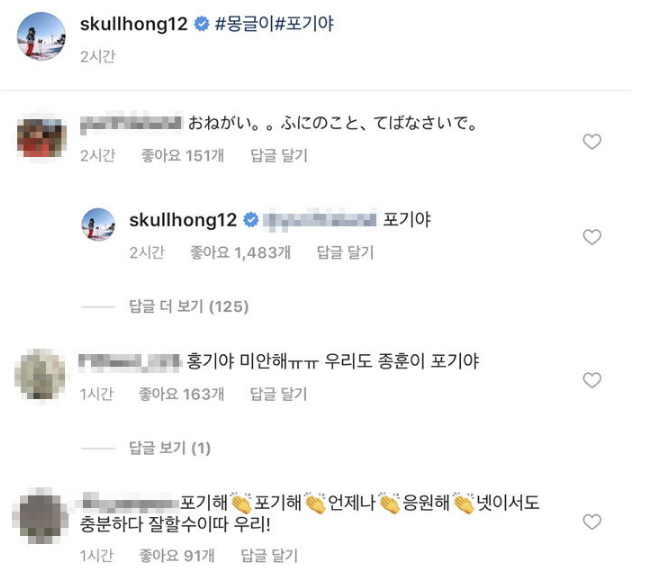 On March 14, SBS 8 O'Clock News also unveiled alleged texts between Jonghun and Jung Joon Young. In the chats, Jonghun admits to sleeping with multiple women and asking for different women. Messages include statements like "send me a woman quick" and "Do you have any [expletive] that are young, pretty, and nice? Ones who are good to play with hahaha."
Following the news of Jonghun's departure, fellow F.T Island member Hongki posted a picture of his dog and captioned it "Given up." A fan asked Hongki to "not give up" on Jonghun, to which Hongki replied "given up."
The situation surrounding Burning Sun and the KakaoTalks is fluid and changing daily (sometimes hourly). Stay tuned for more updates.
All parties are innocent until proven guilty in the court of law.
— Olivia Murray
Related Articles