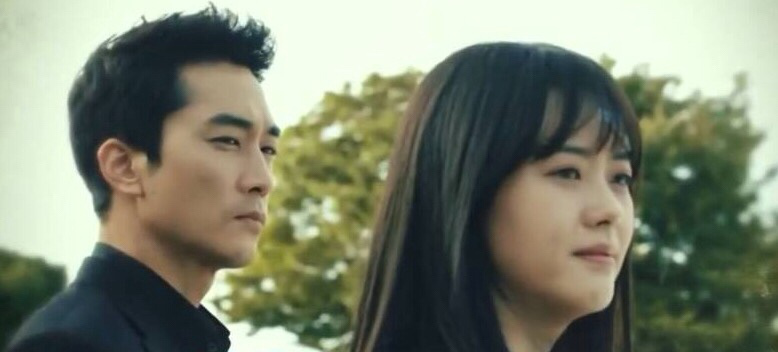 Note: The following post contains spoilers.
Even though the drama Black ended in Korea a few months ago, it's just now on Netflix for international audiences. Since it's availability on Netflix, K-Drama lovers ignited old arguments regarding the drama's ending and whether it did the show justice. Surprisingly, the majority audience despised the final two episodes and claim these episodes wrecked the entire drama.
Choi Ran, the writer behind the OCN series, even stated the ending was different from what she envisioned. In a blog post, Choi said, "Black is a project like my own child that I had in the works for a while. I felt sad and had mixed emotions as I watched the drama on-air. I was very upset the story I wished to tell was portrayed differently on air against my will. I worked hard but think there was a lack of communication."
Toward the end of the show, rumors swirled that there were internal issues between writers and producers, which lead the drama to end how it did. These rumors are unconfirmed. However, if the leaked information regarding the ending is accurate, the ending viewers received for the show is the perfect ending considering how the "original" ending feels weak and unsatisfying. The "original" ending is an empty "happy ending" that's almost outlandish. The ending we have, while cliché for many, is still not a happy ending and still leaves heartache in its wake as the audience watches Black (Song Seung-Heon) and Ha-Ram (Go Ara) walk toward the afterlife.
Episodes 17 and 18 are beautifully written and emotionally delivered. Sure, the reveal of Black (Kim Tae-Woo) being Joon (Lee Hyo-Je) came about in a typical-soap-opera-reveal, but it was fitting considering what everyone went through in the series. Finding out how everyone is connected in a series of crimes that occurred over a span of 20-years added an extra layer of tragedy. This is where Black's full beauty blossomed.
For those saying the final two episodes ruined the series, you're wrong. Black ended in the perfect way that remained true to the characters' overall development. Within the final two episodes, we see sacrifice and love in full-force, an arc that shines brightly in a storyline about deep-seeded corruption and greed.
#444's Growth and Humanness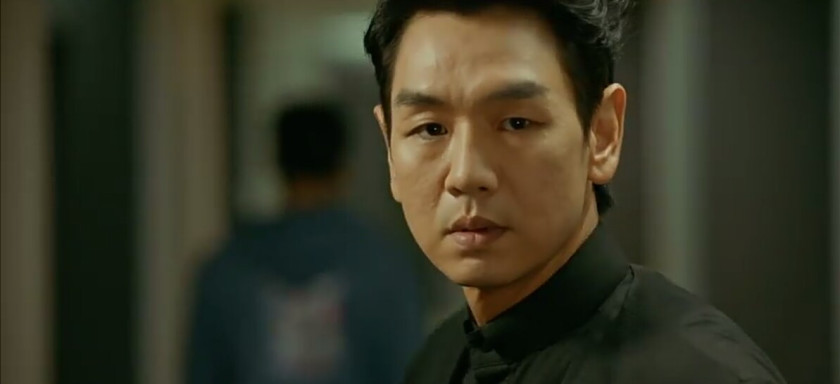 At the beginning of the series, the introduction of Grim Reaper #444 (Black) portrays him as heartless and cold. Black is all about his job and collecting the dead to take them to their respective afterlives. He's known as being unemotional and uncaring of people's feelings and needs, making him a perfect grim reaper because he's undeterred compared to his companions, #416 and #007. However, upon taking over Detective Han's body, Black begins to have thoughts and feelings that don't align with his icy persona, causing internal conflict as he fights against saving people so their fated deaths can take place.
In Asian cultures, fours are associated with death and misfortune. Black epitomizes death and misfortune as he, originally, helps Ha-Ram on the surface only for death to still take place. He knows his job and does it well. However, as he starts to develop feelings toward Ha-Ram and people in general, the embodiment of death and misfortune melt away, leading Black to become a protector and a trustworthy companion and to where he embodies the alternate numerology interpretation of 444: Protection, trust, and awakening. As Black eclipses, Black comes full circle: It's what his fate dictates.
As it seems, any reaper assigned number #444 has a fate different than other reapers. They are the ones with emotions and a sense of right and wrong. While Black does not have this sense early on, it develops strongly in him much like it did for Ha-Ram's father: The original Grim Reaper #444.
"Awakening" is one of the tropes presented in Black, which is why episodes 17 and 18 are crucial to Ha-Ram and Black's storylines. Black developed the abilities to love and care about those nearest to him, and he even develops these abilities even though he is literally heartless. This speaks volumes about Black's soul and his willingness to be there for Ha-Ram and friends.
Even though Black's sole existence is based on helping people cross over, he's not cold to the fact that he has a good soul. His friend and partner, Grim Reaper #007 (another ironic number choice given its association with secret serviceman James Bond), is deeply aware of the good soul that truly embodies Black. #007 is the reaper who collected Joon in the first place prior to his transition to #444, so it's clear that #007 tried pushing Black toward the good light and discovering who he truly is because his true self was forgotten due to his body being forgotten at the bottom of the sea. Black's destiny lies in his awakening at the end of the series, so his kinder, softer, sacrificial turn in the final two episodes shouldn't be surprising because this is what was destined to happen all along (in fact, destiny is mentioned throughout the series, so it is a term that foreshadows the ending).
Black's complete transition into the caring, kind individual he was when he was alive as Joon comes full circle in episodes 17 and 18. After he realizes who he is and visits his mother at her food stand, a poignant turn in Black's character enhances his role as a sympathetic character. Watching his tears fall into a bowl of intestine soup is such an emotional moment because Black realizes the importance of the seemingly unimportant moments of his youth and how they impact the overall person, especially as he realizes the sacrifices his mother made to save him. At this moment, Black's goodness blossoms, providing the catalyst for episode 18's actions and ultimate punishment.
Ha-Ram's Rebirth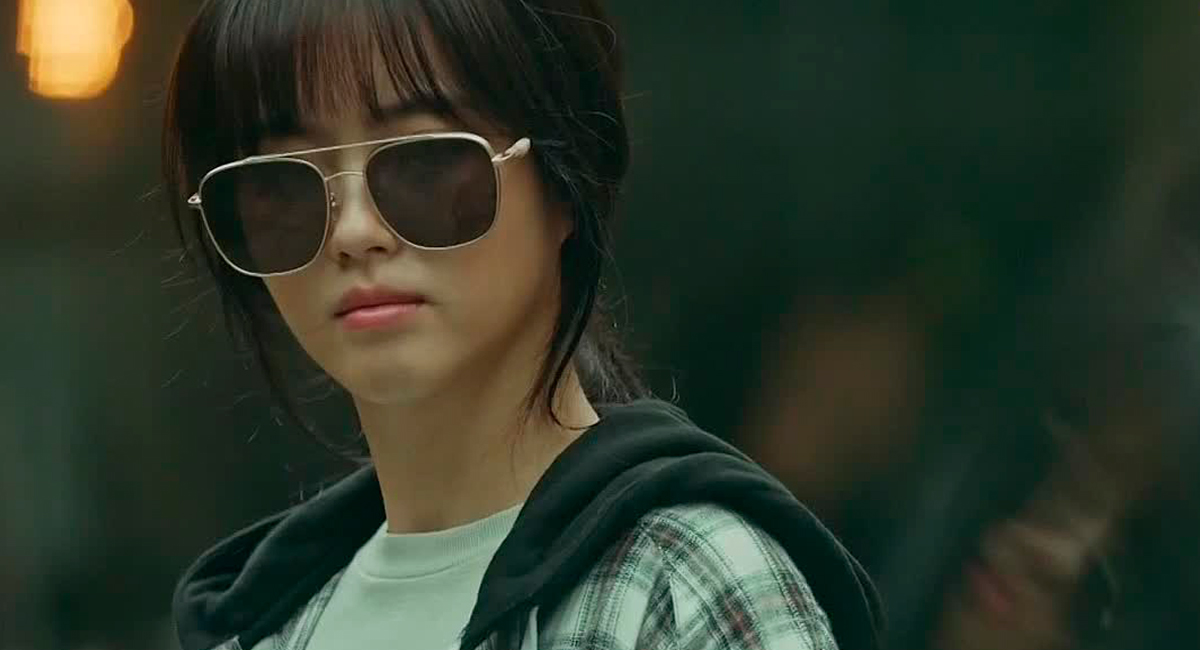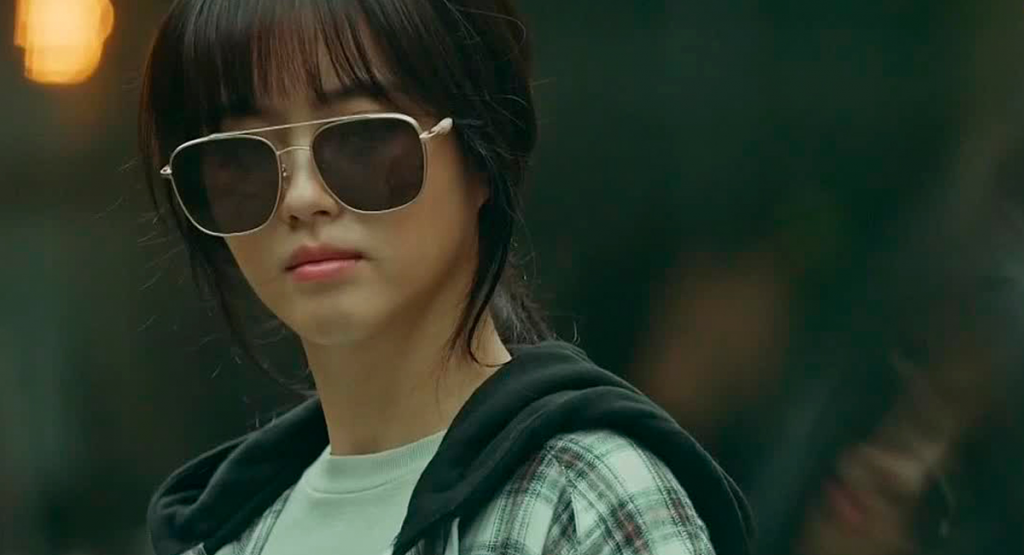 In the final episode, we see Ha-Ram kill herself in the same way Joon "killed" himself after saving Ha-Ram. While it seems like a cop-out, it was the only way for Ha-Ram to get her wish of living a long, normal life. Her suicide was the passage to rebirth.
Black and Ha-Ram have intertwined destinies; it's been this way since their youth. While both are ultimately good people, their existence in each other's lives ultimately brings despair. Their pairing is a crash course to disaster, so the relationship was doomed even as children. In his youth, Joon was a do-gooder who some—mainly those who analyze character tropes—would say had a hero complex. He did end up in situations where he ultimately helped people even if it meant bringing danger upon himself. On the other hand, Ha-Ram brought misfortune thanks to her abilities to see death, and this often caused a tailspin of issues that spanned twenty years, beginning with why her father was killed, and leading up to why Joon met his fate. As adults, Ha-Ram's curse became a gift that helped solve the crimes that were one of the story's main arcs, while Joon's goodness ultimately fated him to never exist.
Both characters were equal parts light and dark. However, when Joon discovered who he was after taking over his "brother" Detective Han's body, he regained his light when the revelation threw Ha-Ram back into the dark. Even though Black killed humans—a no-no for grim reapers— he did it out of love for his friends and Ha-Ram. Ha-Ram, in turn, felt guilt over her abilities, leading her back to the darkness.
In both characters succumbing to ultimate demises (Joon in a spiritual sense and Ha-Ram to suicide), the two characters severed the ties they had to each other, setting each other free and allowing Ha-Ram to find her own destiny since Black/Joon was erased.
But How Did They Find Each Other Again If Joon Never Existed?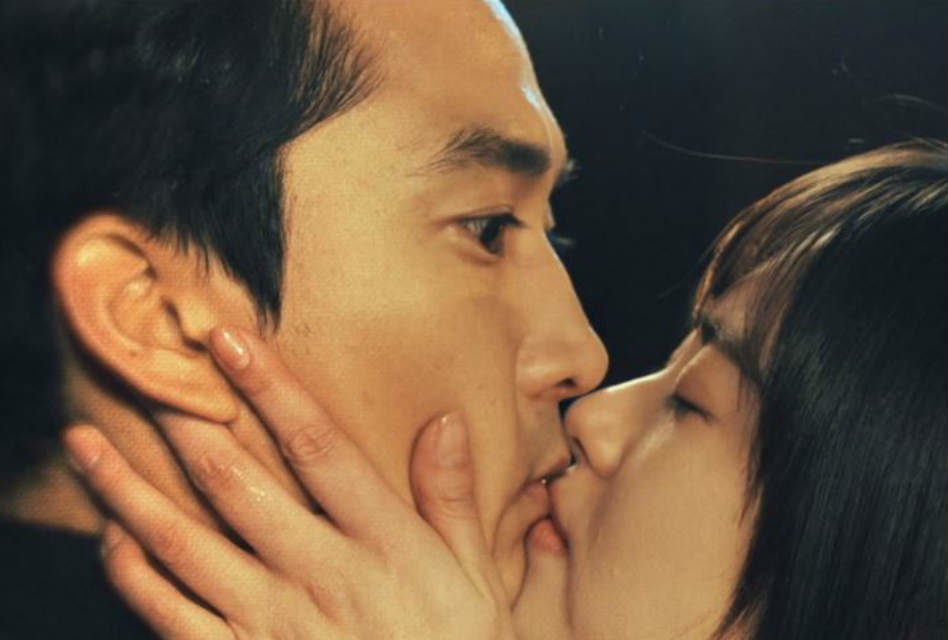 Black was penned as a show for the thinking viewer. This is even implied as the end credits rolled. Black required viewers to pay attention to every background character and every subtle nuance, and every piece of dialogue was loaded and played a role at different points in the series.
Prior to the series end, it was revealed that grim reaper #419 (Park Doo-Sik) took over Leo's (Kim Jae-Young) body following his death from a drug overdose. After catching him, Black promised Grim Reaper #419 (also known as Je Soo-Dong or "loser") that he can live as a human as long as he promised to always take care of Ha-Ram. In the final montage where Ha-Ram's new, normal life replays for the audience, Leo narrates the content, and he later narrates the story of #444 and Ha-Ram's love story without Ha-Ram's knowledge that it is, in fact, her story. He then gifts Ha-Ram with the bracelet she made Joon, causing all her memories of her past life to flood back, thus helping her remember what her life used to be like.
The viewer needs to read between the lines during this poignant scene because it's loaded!
Black still exists in the underworld:Joon has only been erased from the memories of those still living as evidenced by #419 still recalling #444 and Ha-Ram's tale. The other grim reapers still know his story, his sacrifice, who he is, and the rules he broke. This means the Joon still remembers Ha-Ram, which is why he is the one to come collect her in the end. Since #419 still knows about #444's story, the reapers' memories were not wiped clean.
Ha-Ram's handmade bracelet is the literal thread between her and Joon:Since Leo/#419 had the bracelet, it's assumed Joon gave it to him when he made #419 promise to take care of Ha-Ram. Since the bracelet still exists, Joon still exists. The bracelet was what triggered Ha-Ram's memory of her past life, leading us to point number three…
Black knew a loophole for his punishment:Throughout the series, it was made clear that Black is a problem-solver and highly intelligent. His ability to analyze situations is the reason he was able to help solve the crimes from 20-years ago and see the connections between ongoing murders. Because of his analytical skills, it's highly likely he figured out that, by keeping #419 in Leo's body and handing over the bracelet, there is a way to stay connected to Ha-Ram and come back for her regardless of the punishment. Black cheated the system!
The ending plays on the concept of "third death": Some cultures, particularly Mexican culture, believe people die three times: Once when the body dies, twice when the body is laid into the ground, and the third is when there's no one left on earth to remember someone. By selecting the punishment where everyone's memory's erased, Joon set himself up for a third death, but by exposing the loophole by having #419 remember him for Ha-Ram, a third death did not occur because memories of Joon were preserved.
Because Joon figured out a way to game the system, he made it possible to be with Ha-Ram even though he chose the ultimate punishment. However, does this mean everything he and Ha-Ram did was undone?
Ultimate Sacrifice Means Everything was Undone?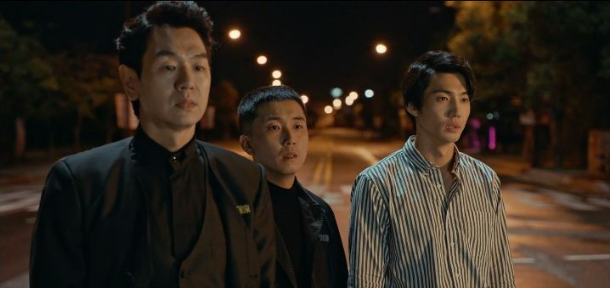 During the ending credits, there was a message that said the show was meant to make people think about how their actions influence those around them:
"Black was a story about how human desires and greed influence those around us. We hope it was a chance to reflect on people around us. Black was based on events that won't be forgotten. We hope that it gave strength to the victims of those events and their families. Thank you again for watching."
With that said, Joon's decision to cease to exist prevented everything else from happening (while also messing with the paradoxes of time).
Black's "original," intended ending needs to be considered. The ending viewers received was not the intended ending. In fact, the original ending called for Man-Soo and Man-Ho to be okay and running their own business. The police unit was also supposedly trying to do things to get Ha-Ram (now a paramedic in her new life) to come rescue them. Soo-Wan and Moo-Gang met as adults when he fainted in front of her. Everyone had a "happy ending" since Joon didn't exist. The original ending's intent is hinted in the final montage, and while the other characters beyond Ha-Ram were not shown, it can be assumed that they did have happy endings because Joon never existed to interfere.
Here is where things get sketchy because Joon's ultimate sacrifice provides a conflicting message. Yes, he chose his punishment because of his love of Ha-Ram, but it also suggests that someone's lack of existence makes everything better. Naturally, this is a borderline dangerous message to send considering how suicide rates are at an all-time high and the show glorifies suicide quite a bit. Here, the story does get careless because of this mixed message and because both Joon and Ha-Ram both commit suicide before being reborn. Here, the story could have found another way to create rebirth other than Black and Ha-Ram jumping into the sea, but overall, it is the only way to make the new scenarios possible.
As for what occurred in the main plot, there are two possibilities for what changed when Ha-Ram's alternate life took over.
Everything was undone: The leading theory for the show's ending is that all the crimes Black, Ha-Ram, and the rag-tag cops solved became unsolved due to Joon's now lacking existence. Ha-Ram's new life doesn't feature any mention of the crimes, and everyone seems to have a happy existence. Since Ha-Ram doesn't hold the ability to see death, there's nothing for her to worry about and there's no need for her to get involved in people's lives to save them, so she's not involved in the investigations or the initial set of crimes that involved her, Joon, her father, Moo-Gang, and Soo-Wan. Since she's no longer involved and since she played a huge role in why they got solved, then it is likely the crimes did occur in her alternate life, it's just that she was not involved in them. In her life, the crimes are just background events.
Leo and Ha-Ram stopped all the crime before it occurred: In the epilogue, Leo also reveals that he stopped the accident that killed Ha-Ram's real father; therefore, the first Grim Reaper #444 didn't take over her father's body. Additionally, in the "real" ending, it's revealed Leo (assumed to be #419 still) encouraged Ha-Ram to pull a fire alarm, so the students from the Mujin area weren't at the mall when it collapsed. The collapse is what helped set all the crimes in motion. With all the tragedies "stopped" thanks to Leo's interference, the murders never occurred, which is why everyone ended up with more joyful lives.
Given the epilogue, scenario two is the more likely conclusion. However, since the Mujin shopping mall disaster is an event that actually occurred (in real life, this is the Sampoong disaster that occurred June 29, 1995), the corruption and greed that influenced Black's story would have still occurred regardless of if those close to the main characters were involved or not. So, a combination of scenarios one and two are more likely where all crimes committed occurred as a footnote in Ha-Ram's life instead of one the main catalysts that impacted her life (however, since she became an EMT, it's probably an event that encouraged her to choose that as her career path) while she and Leo managed to save her friends and fellow students. The people close to her weren't at the Mujin mall collapse, thus changing all of their destinies so happy endings could occur. Meanwhile, those involved in the corruption took each other down without innocents losing their lives.
Do Black/Joon and Ha-Ram Have a Happy Ending?
Given the alternative life Black gave Ha-Ram and Ha-Ram remembering both her lives, did Joon and Ha-Ram really have a happy ending?
Yes and no.
As the end plays out, the viewers see Ha-Ram thinking about her current life and her past life as symbolized by her sitting in the cold with the bracelet she made Joon. In her past life, she admittedly told Black that she loved him unaware that he was Joon, so she loved Black (Moo-Gang) as well Joon, and she had both the childhood first love and her adult love all in one person. In her alternate life, she had a husband who didn't seem to make her happy ("A friend is better than my late husband," episode 18). This is a loaded quote that means a lot! The "better than my late husband" is a quip hinting at, that despite her accolades and success, she did not have a love that was good and gave her happiness! So, Ha-Ram's life wasn't the happy ending that Black wanted to give her when he chose his punishment!
Since it's clear she is close to death (Leo, who is Grim Reaper #419, also knows this, thus the gift of the bracelet to remind her of her former life. He can see Black waiting for her), her thoughts are a reflection of "life flashing before one's eyes," and it's actually hinted at that she has a choice of what life story she wants to die with: Her first life that featured misery or her second life that was comparably happier. If Ha-Ram's soul chose to leave as an old woman, it means she was happy with her second life. However, she left as young Ha-Ram, thus choosing her first life with Black/Joon.
When she meets Black again to cross into the afterlife, another loaded moment occurred when he asks Ha-Ram if she was happy. Before she replies, she hesitates. She had to think about it, which hints at the fact she wasn't truly happy. The hesitation also hints at how she is aware Black sacrificed everything (the story Leo told) so she would be happy, but she had to lie so that his sacrifice wasn't in vain. This speaks volumes about how unselfish Ha-Ram is as a person and how aware she is of how people's actions influence those around them. She didn't want to break Black's heart.
With all this considered, is their ending happy? It's debatable. Ha-Ram did, essentially, throw away her second life when she died due to choosing the person with whom gave her the greatest happiness, so that means she won't reunite with her actual husband (given her comment to Leo, it's probably for the best). Additionally, given the brightness of the scene (compared to the rest of the series which used a muted, blue filter, the final scene uses a warm filter which indicates true happiness), both she and Black (as Joon) were able to go to heaven together. So, it is likely they both have a happy ending in the afterlife, but the fact Ha-Ram does, essentially, forsake her gifted second life, it seems like Black's sacrifice was for nothing, making the ending also a tragic one.
Putting it All Together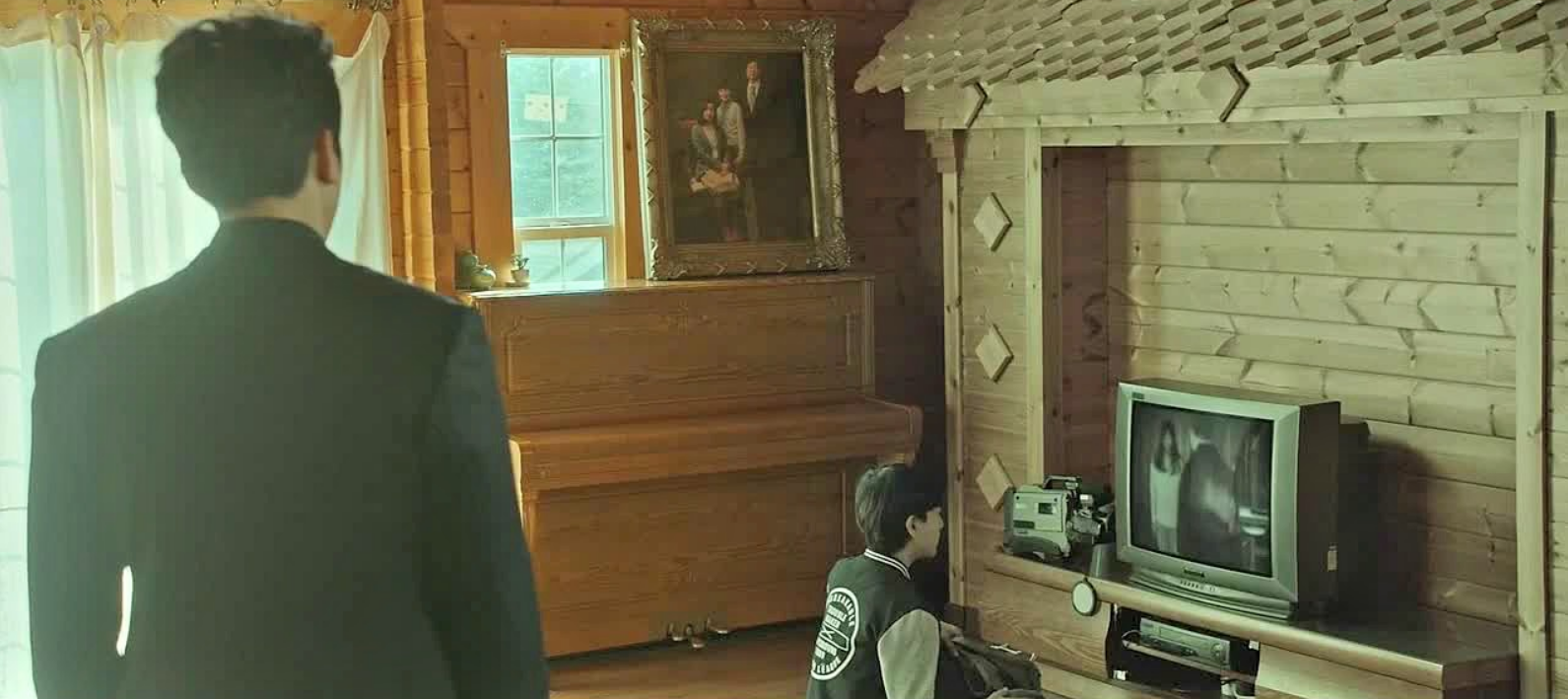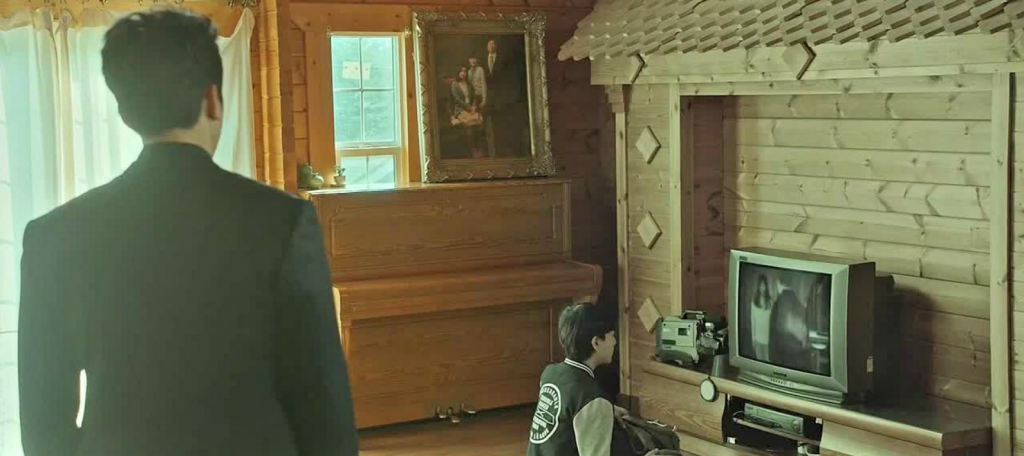 The ending does take a lot of piecing together snippets of information and uses more critical thinking skills than the average TV show usually presents. Because of this, it's possible viewers missed the brilliance of how the show ended. Just like the series itself, the ending has a lot of twists of turns that can be interpreted in many ways. The ending isn't basic, simplified, or disappointing at all: It's all in how the audience interprets it and if they're willing to take the time to truly think about and understand it.
—-Joelle Halon
44 responses to "Unpopular Opinion: Hated Black's Ending? Well, You're Wrong"
Related Articles