Note: Articles written about this topic are not accusing anyone of guilt. The stories just relay information. All parties are innocent until proven guilty.
In an unexpected turn of events, Seungri announced on March 11, 2019 that he is retiring from the entertainment industry.
In an Instagram post, Seungri wrote the following message to his fans:
This is Seungri.

At this point, I think it would be best if I retire from the entertainment industry. I decided on retiring from the entertainment industry as the issues that I caused a societal disturbance which are too major. Regarding the issues that are being investigated, I will be investigated diligently and reveal all the suspicions.

Receiving criticism and hate from the public for the past month and a half and with the situation of all the investigative agencies in the country currently investigating me, I am even being cornered as a traitor of the nation. I personally cannot tolerate causing harm to everyone around me in order to save myself.

I sincerely thank all of the fans in and outside of Korea who have given me lots of love for the past 10 years, and I think this is where I stop even if it's at least [to protect] the honor of YG and BIGBANG.

Again, I am sorry and apologize once again.

I have been thankful to everyone until now.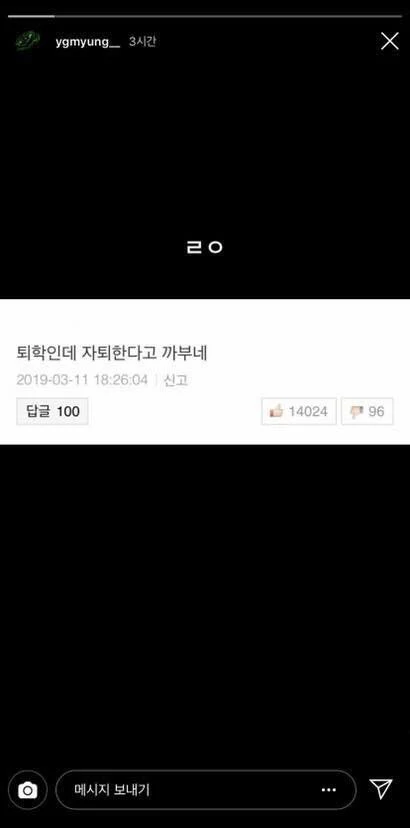 YTN reports that a YG Entertainment insider said, "Seungri's retirement announcement was not a decision made after consulting with YG, but a decision made on his own. He was even more distressed because these incidents happened right before his enlistment."
"To be honest, no exact details have been revealed about Seungri during the past month and a half of police investigations. Seungri felt especially more guilty about causing harm to those around him," the insider concluded.
A source from YG told Xportsnews, "Currently, there is no additional statement to be made from the company related to this. There has also been nothing decided yet regarding anything such as a termination of his exclusive contract."
Meanwhile, Koreaboo states that YG Entertainment songwriter, YGM, stated Seungri was kicked out and that he did not leave the company under his own volition.
In a now deleted post, YGM allegedly posted, "fooling around by telling people that he voluntarily left when he was actually kicked out. Real."
The statement is neither confirmed nor denied as YG himself has not commented on Seungri's retirement announcement.
Seungri was recently named a suspect in connection to the Burning Sun scandal. He was booked and questioned by police based on charges he violated South Korea's Acts on Pimping and Prostitution and its Punishments.
Meanwhile, he is expected to enlist March 25, 2019.
All parties are innocent until proven guilty. This is a swiftly developing story.
— Olivia Murray
Related Articles