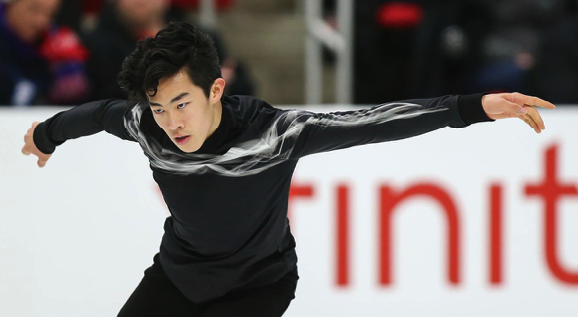 It appears that the pressure of being a first-year Yale student isn't affecting 19-year-old Nathan Chen's skating prowess.
Chen won his third U.S National figure skating title Sunday January 27, 2019 following a stunning free program set to Woodkid's "Land of All." Chen is the first skater since Johnny Weir in 2006 to win Nationals three consecutive years.
Earlier in the day, Chen opted to change his costuming for the program following a wardrobe issue. Clad in black, Chen landed four quad jumps, three of which earned him 47 points before he even reached the halfway point in his program.
Combined with his thrilling short skate to Fanfare Ciocărlia's "Caravan" that, like his long program, brought the crowd Little Cesar's Arena in Detroit, Michigan to its feet, Chen earned a jaw-dropping total score of 342.22.
"The score definitely took me by surprise," Chen said. "It was a lot bigger than I was expecting, but ultimately, scores are scores. I'm happy with what I did, and hopefully I can continue to do that in other competitions."
Often criticized for not having enough artistry, Chen's rousing performance proved that he is more than just a jumper and can handle technical components along with artistry. Chen's footwork is one of his strong suits, but he still has room for growth.
While the scores show Chen skated to near-perfection, his coach, Rafael Arutyunyan, believes Chen can do more.
"I am not completely satisfied," Arutyunyan said following the competition. "There is so much more he can do. He didn't do a quad Salchow. I still want him to try a quad loop. This was a program he has executed before. You always like to improve."
"Raf is always the overachiever," Chen said. "That's why I am with him. Of course, there are things I can improve on."
Second to Chen was Vincent Zhou. Zhou fell on one of his quads and under-rotated two of his jumps during his "Crouching Tiger, Hidden Dragon"/"Rising Sun" free program, but his components score propelled him above third place winner, Jason Brown  who was second after the short program.
"Obviously, I'm happy with the results, but there's still so much room for improvement, and that gives me hope for the future," Zhou said. "To achieve what I did here this week and still have … opportunity for growth is a really great thing. Looking ahead to, hopefully, Four Continents and worlds, I know that I can do even better."
Juggling Yale and World Figure Skating Domination
Chen's season hasn't been all awe-inspiring smooth sailing. While he's won four (Grand Prix France, Skate America, the Grand Prix Final, and U.S. Nationals, ) of his five international competitions (he placed fourth at the Japan Open), his programs weren't as sharp as they could be as there were stumbles and falls along the way.
Chen currently trains via Facetime while he calls Connecticut home while attending Yale. His coach is based in California.
"We're still trying to figure it out as we go along," Chen said in November. "I'm definitely fully committed to Rafael until the end of my career, really, so we'll just have to play around with that and try to make the best scenario.
"I have a really good support team already at school, advisors and counselors that can help me arrange classes and my schedule and all of that. I think it should work pretty well, but I'll figure it out as I get there."
While it's not an easy task, Chen seems to be finding a balance between ice time and his studies.
"I'm just so thankful that Yale has given me the ice time for me to continue pursuing my dreams outside of school," he said. "I definitely learned a lot more about how to handle my schedule last semester. … It's just reassuring, knowing that I can handle the two."
Another World Title in Sight?
Next up for Chen is the World Championships March 4-10, 2019. He was also supposed to skate at Four Continents February 7-10, 2019, but he has withdrawn from that competition to focus on Worlds. Taking Chen's place at Four Continents will be U.S Nationals' fourth place winner, Tomoki Hiwatashi. Hiwatashi will represent the United States along with Jason Brown and Vincent Zhou.
Chen, who is the current world figure skating champion, may face stiff competition at this year's Worlds, which will be held in Saitama, Japan. At Worlds, Chen will face South Korea's Cha Jun-hwan, who has been a surprise up-and-comer this season, and he will have to face Japan's Shoma Uno and two-time Olympic champion and favorite to win, Yuzuru Hanyu. Hanyu, who has been plagued with injuries, is expected to skate. 
Worlds marks the end of the senior figure skating season, so it will be exciting to see how the final showdown will play out for Nathan Chen.
—-Joelle Halon
Related Articles