PyeongChang Olympic Moments: East and South Asians, Pacific Islanders Make History, Have Defining Moments at the XXIII Olympiad
Between February 8 and February 25, 2018, the world came together to watch the world's best compete in the XXIII Olympiad in PyeongChang, South Korea. From curling to skiing, figure skating to aerials, there was plenty of sport to see. South Korea held one of the most memorable Winter Olympics in recent memory, and it was a history-making event. Here are some of the defining moments from the games' Asian athletes and athletes of Asian descent as we celebrate the closing of the games.
Redemption: Nathan Chen's History-Making Free Skate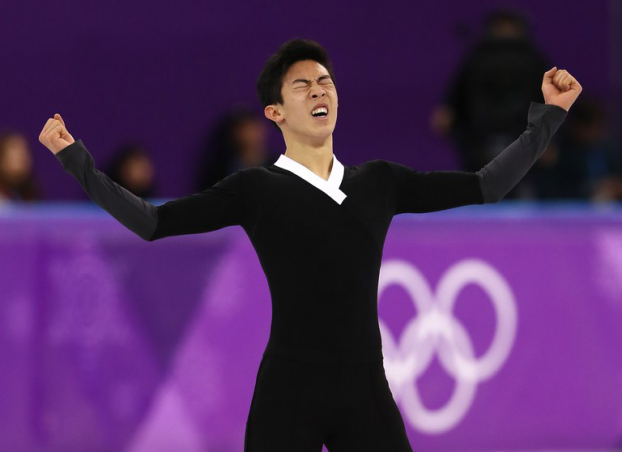 Nathan Chen wraps up his free skate at the PyeongChang Olympic Games February 17, 2018. Photo courtesy Vanity Fair.
Since 2017, the media pegged Nathan Chen as America's hope for figure skating gold. The Quad King, as Chen has been dubbed thanks to his ability to perform the quadruple jumps, had uncharacteristically bad performances during the team figure skating event and during his short program in the individual round. Following his short program, Chen landed in 17th position and did not start in the top group on February 17's free program.
The 18-year-old threw his cards down during his "Mao's Last Dancer" performance, attempting six quads and landing five of them cleanly to become the first skater to do so on the Olympic stage. Chen's score of 215.08 ranked him first in the competition for more than two hours before China's Jin Boyang toppled the score.
Following his skate, Chen said, "I have been working on it for a while. It's never really fully come together. I already fell so many times, I was like, 'I already fell so many times [earlier in competition], I might as well go out and throw everything down and see what happens.' "
Chen ultimately ended up fifth, but his score places him third on the all-time list of best free skates behind Japan's Yuzuru Hanyu and Spain's Javier Fernandez. Chen won the free skate portion of the event.
"Honestly, I just didn't care anymore," Chen said following the free skate. "I was like, 'all right, screw it.'"
Following the event, American ice dancer and 2014 Olympic gold medalist, Meryl Davis, said, "Chen reminds athletes everywhere that giving up is never an option. As an athlete myself, I'm grateful for the reminder that you have neither to be perfect nor must you win in order to possess the qualities of a champion."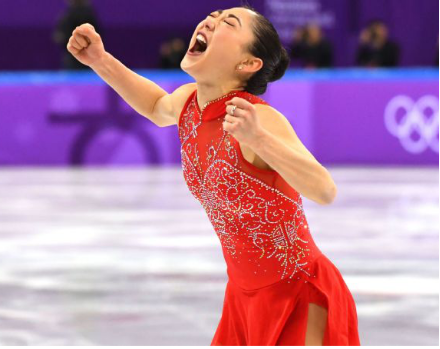 Mirai Nagasu's Historic Triple Axel
Four years after being left off the US Olympic team, Mirai Nagasu found herself back into the Olympic spotlight following years of training and hard work.
Nagasu, who is in prime condition and an inspiration to many thanks to her perseverance, skated the long program for the team figure skating event held on February 11 and 12 at the Gangneung Ice Arena. Nagasu had a planned triple axel in her program, a jump that only Midori Ito and Mao Asada have landed in Olympic competition. Nagasu attempted—and cleanly landed—the jump early in her program, making her the first American woman to land the jump in Olympic competition, and the second American woman to land it in any international competition after Tonya Harding.*
Korean Unified Team Now Part of the Hockey Hall of Fame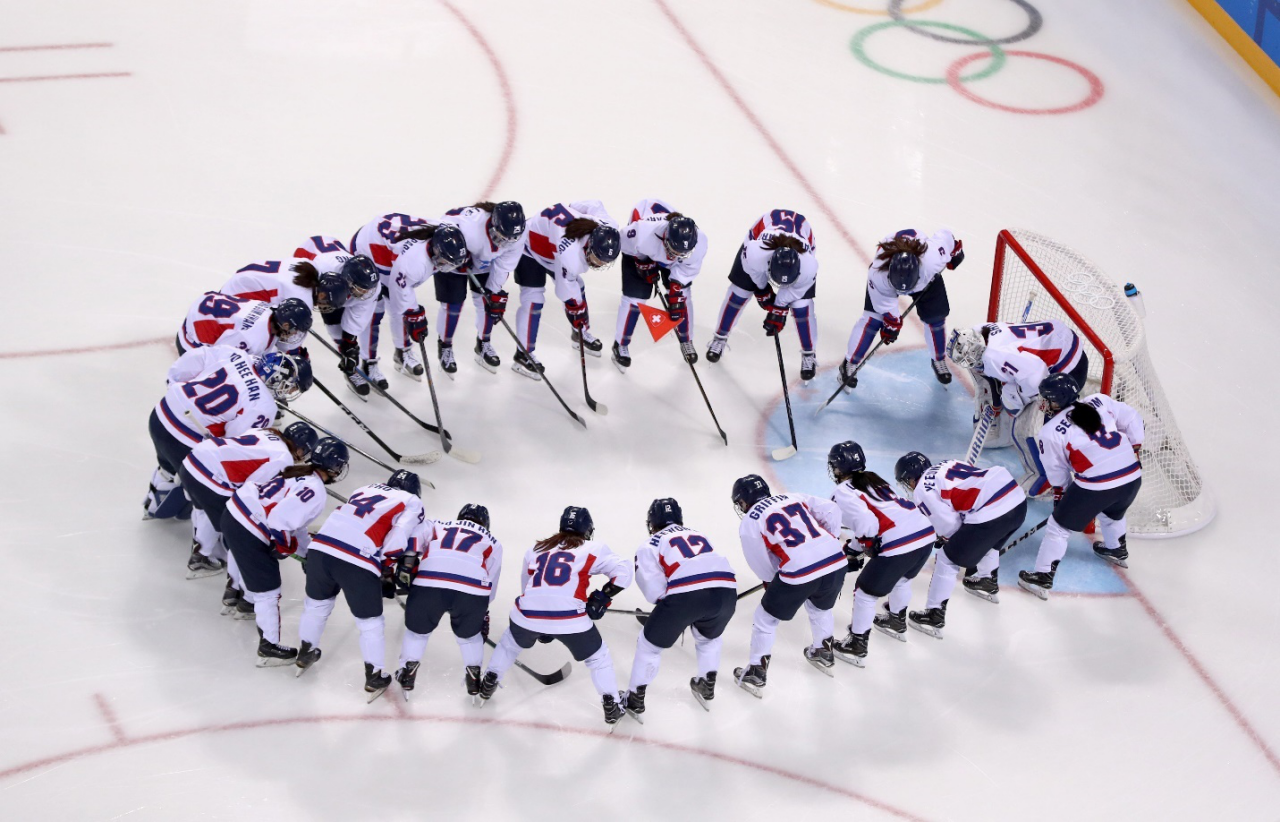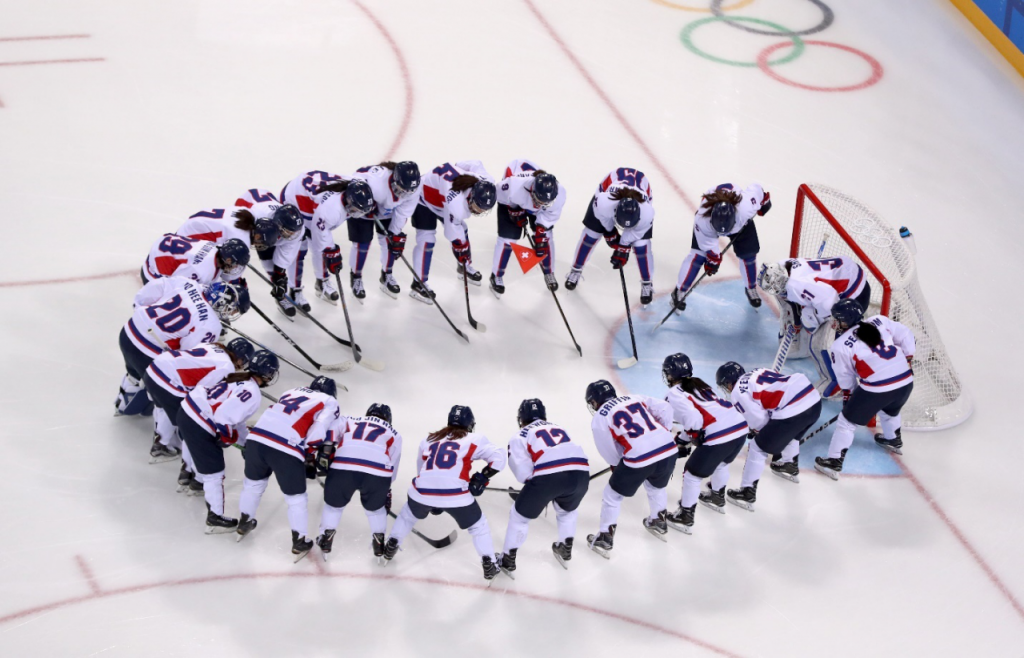 The Korean unified team went 0-4 at the Olympics, but they made history and won the hearts of many. Photo courtesy Wall Street Journal.
The leading story for the PyeongChang Olympics was North and South Korea competing under the unified flag during the women's hockey tournament. While the Korean unified team had a dismal performance during the Olympics, the team did provide several moments worth cheering.
The unified team—which consisted of North Koreans, Korean-Americans, Canadian-Koreans, and South Koreans—had to overcome language barriers during their short time together (North and South Korea have different dialects and languages have evolved) as well the political ramifications that come with being a unified team in a time of political turmoil.  The two teams did not train together for long, leading coaches Sarah Murray (Canadian), Rebecca Baker (American), Kim Doyun (South Korean), and Pak Chol Ho (North Korean) to wonder if the team would mesh or branch off into cliques. However, despite the differences, the team worked together and showed guts and gusto despite their 0-4 record.
In addition to making history as a unified Korean team, the team's first and only goal came against Japan February 14, 2018. The goal, which was scored by Randi Griffin, was Korea's—for both men and women— first-ever Olympic-level goal scored. Prior to PyeongChang, Korea never had an Olympic hockey team.
Following the goal, officials took the puck. The puck will now be immortalized in Hockey Hall of Fame in Toronto, Canada.
Yun Sung-Bin Wins Gold, Korea's First-Ever Sliding Medal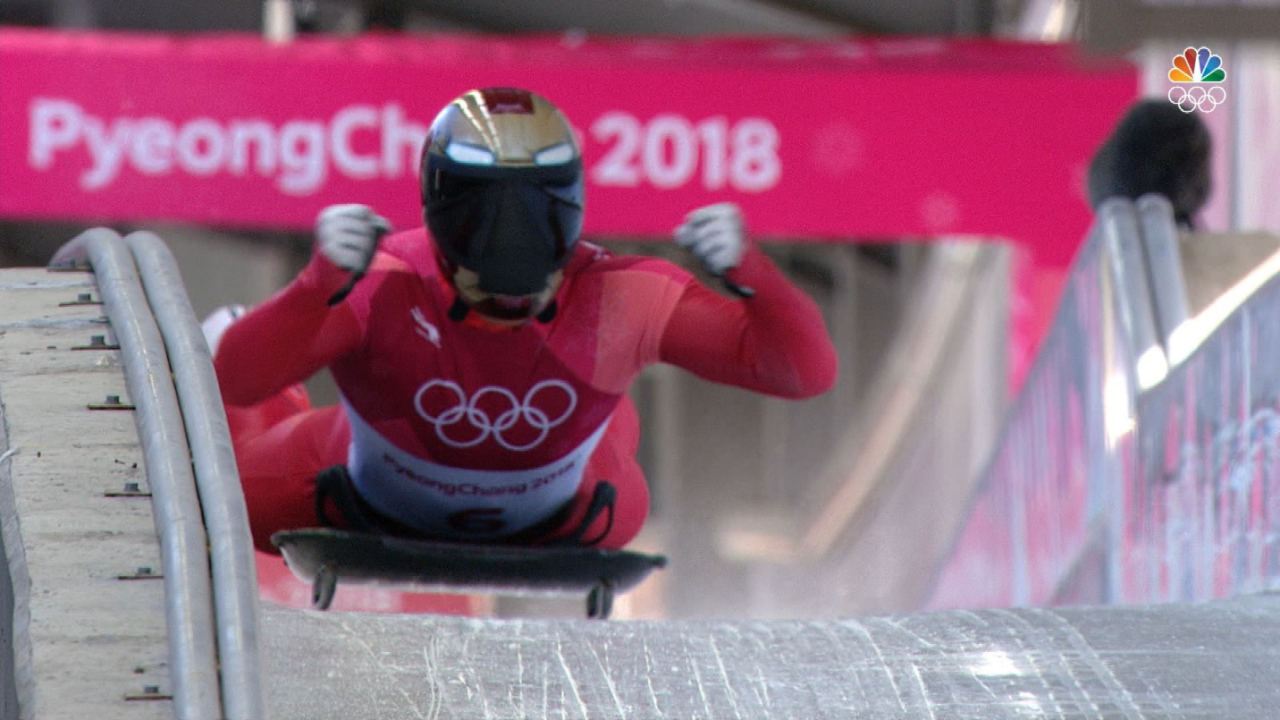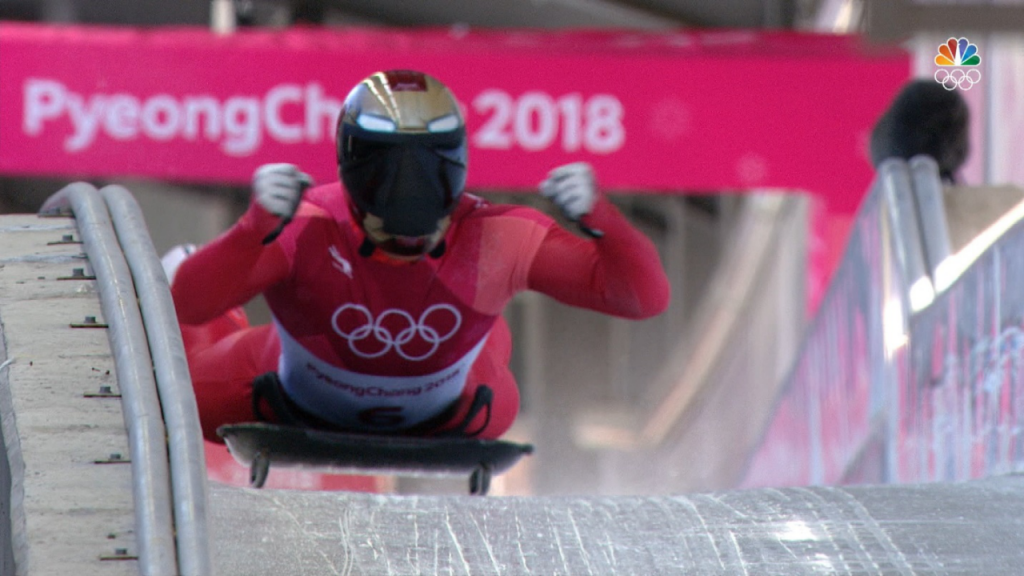 Yun Sung-Bin celebrates after winning skeleton gold. Photo courtesy of NBC Olympics.
South Korea never medaled in a sliding sport (bobsled, luge, skeleton). This changed when 23-year-old Yun Sung-Bin, dubbed "Iron Man" thanks to his Ironman-themed helmet, took to the top of the slide at Alpensia Sliding Centre, and slid his way into skeleton history.
Not only did Yun earn his country's first sliding medal, his three runs earned him gold ahead of Nikita Tregubov (Olympic Athlete from Russia) and Dominic Parsons (Great Britain) with a time of 3.20.55.
Malaysia's Julian Yee Skates for Pride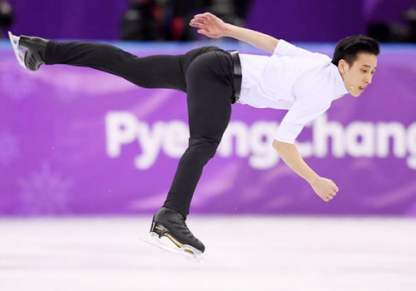 2018 marked the first time Malaysia had winter Olympians.
Figure skater Julian Yee qualified for an Olympic spot by finishing sixth at the 2017 CS Nebelhorn Trophy competition. His feat is incredible considering his figure skating training occurs at an ice rink inside a shopping mall.
Yee, who was also Malaysia's flag-bearer during the Opening Ceremonies, performed a dazzling short program that showed his ability to become one of figure skating's up-and-coming stars. While his skate didn't have the technical difficulty as the likes of Nathan Chen, Shoma Uno, Jin Boyang, or Victor Zhou, Yee's charm and determination wasn't lost on the ice. While his goal was to make it to the free skate, Yee's score brought him just outside the top 24. However, his skate will hopefully open the door for other Malaysian dreamers who hope to make it to the Olympics someday.
Shiva Keshavan Competes in His Sixth Olympics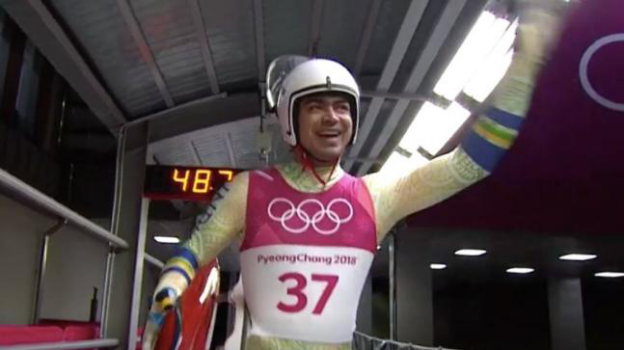 Luger Shiva Keshavan has a story to tell: Not only is he India's only luger, he is also ranked in the top 38 in the world in the sport. The 36-year-old finished 34th in the competition, but the placement doesn't take away from how he's qualified for six consecutive Olympic games and has been supported through crowdfunding to make his Olympic dreams into reality. Keshavan is the first Indian to qualify for the winter Olympics, and since 2005, he's a multi-time medalist at the Asian Luge Cup. PyeongChang is Keshavan's final Olympics, and the decorated Olympian plans on recruiting new Indian talent to compete in winter sports.
Tonga's Pita Taufatofua Inspires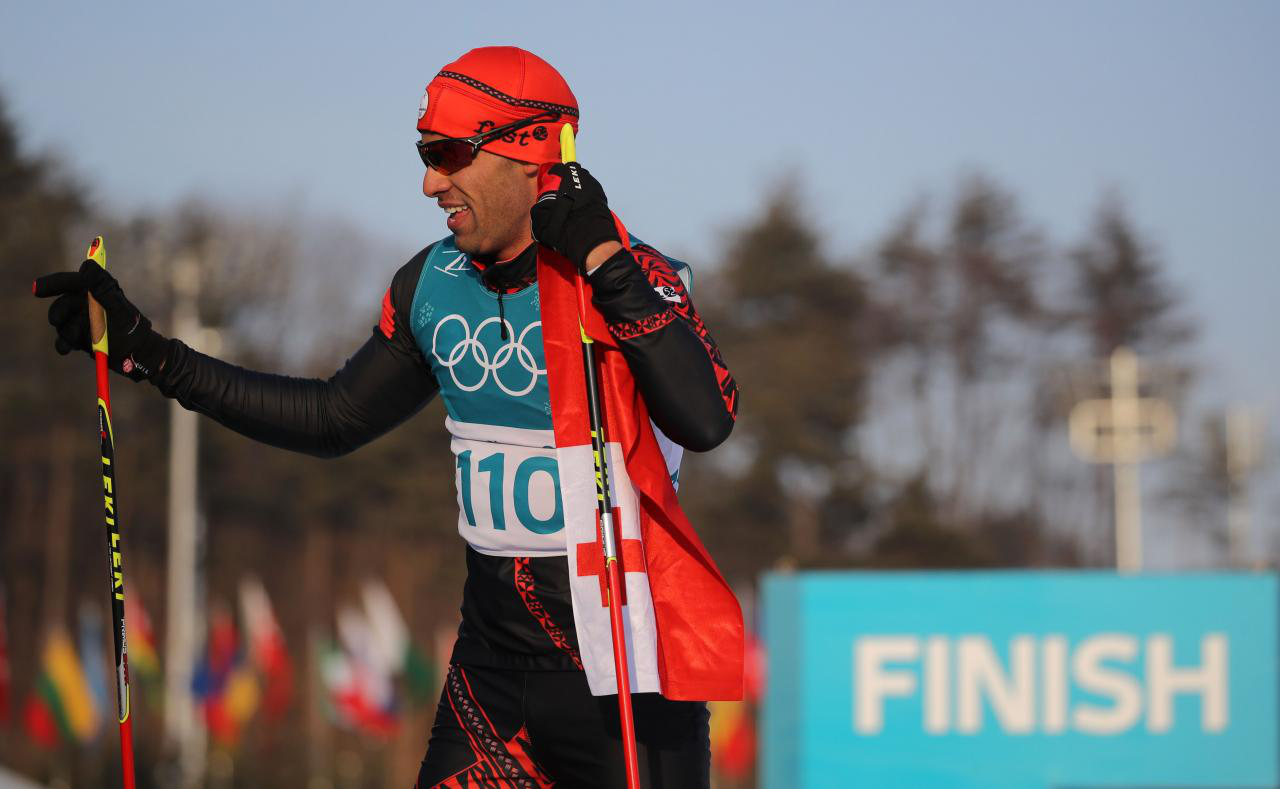 The last time we saw Pita "The Shirtless Tongan" Taufatofua, he became Internet Famous as the glistening flag bearer for Tonga during the 2016 Summer Olympics in Rio. Taufatofua competed in Taekwondo during the summer Olympics, but for PyeongChang, he competed as a cross country skier. He is Tonga's first dual Olympian.
Taufatofua became one of the faces of the PyeongChang Olympics long before the games began. He trained in sand and water as his country doesn't get snow. Taufatofua trained on wheeled skis and clocked only four weeks of training time before his first race. Overall, he only had three months training.
"We found roller skis, I'd strap planks of wood to my feet and run on the beach, just to try and find that balance point," Taufatofua told CNN. "I'd watch a lot of YouTube and see what the professionals were doing, and I'd try and mimic that mentally in my head."
Taufatofua almost didn't qualify for the Olympics due to a string of bad luck, lack of funding, and, most notably, the snowstorm in Iceland.
The final event prior to the Olympics was in Ísafjörður, Iceland, and getting to the event proved to be a challenge for him and his travel partners and fellow competitors, Chilean cross-country skier Yonathan Fernandez and Mexican endurance specialist German Madrazo. The trio tried for three days to make it to the final competition so they could qualify for the 2018 games.
"Luckily, on the third day we tried to get through, the roads had just been cleared so we managed to get on through and get to that last race," Taufatofua told CNN.
During his race February 16, 2018, Taufatofua came in 114th place out of 119 skiers. He hopes his Olympic journey inspires other Tongans to get out there and strive for Olympic glory.
"It's your turn next," Taufatofua told NBC. "I had my turn. You guys got to come and take it to the next level. I finished. You guys come and finish better than I finish."
Choi Min-Jeong Earns 1500-Meter Gold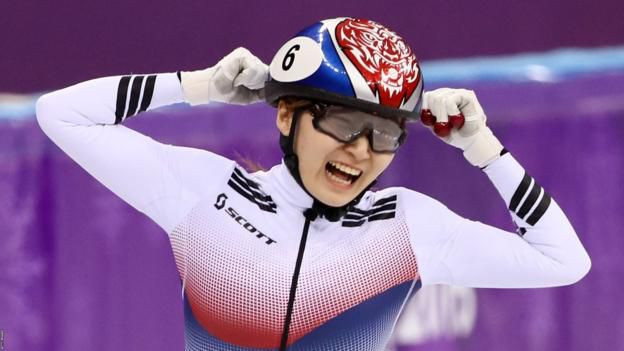 Choi Min-Jeong celebrates her 1500-meter race gold at the 2018 PyeongChang Olympics. Photo courtesy  BBC.
Americans first met South Korea's Choi Min-Jeong during an NBC Olympics segment where she introduced us to her dog, Mini Potato. Since then, the Yonsai University freshman became an easy favorite to root for during her speed skating races.
Choi's Olympic run started with some controversy during the 500-meter short track final. Choi initially won silver in the race but was disqualified after the referee determined she bumped into Canada's Kim Boutin, even though there is video that shows Kim pushed Choi first.
However, this devastation didn't stop Choi as her competitive spirit helped her win gold at the 1500-meter short track final. The determined Choi hung back the first few laps before strategically moving up and blowing the rest of the field away in a cleanly skated race. How's that for triumph during your first Olympic games?
Hanyu Ties Dick Button's Consecutive Gold Record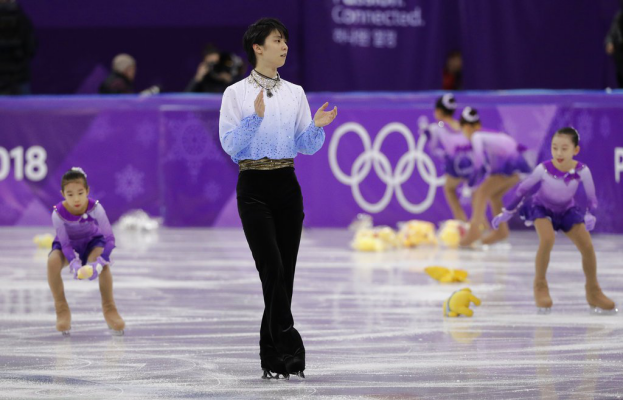 Japan's Yuzuru Hanyu listens to the cheers following his short skate February 16, 2018 at the PyeongChang Olympics. Photo courtesy Daily Herald.
Before the rain of Winnie the Pooh dolls flooded the Gangneung Ice Arena, it was unclear if reigning Olympic champion Yuzuru Hanyu would be competing at the PyeongChang games. Following an ankle injury that occurred during a training run prior to the NHK Trophy in November, Hanyu dropped out of the Figure Skating Grand Prix and Japanese Nationals. When the Opening Ceremonies began, Hanyu was nowhere to be found.
Prior to the men's event, Hanyu did arrive at the Olympics, his security detail in tow and various fan clubs ready for his turn on the ice.
Hanyu turned a spectacular performance during his short program, earning a score that was shy of his world record. It was his first performance following his ankle injury, and he showed no hesitation as he catapulted to the top of the standings as Winnie the Pooh plush toys bounced around the arena. Following his near-flawless free skate, Hanyu cemented himself into figure skating history by collecting his second consecutive gold medal at the Olympic games. He ties the United States' Dick Button who achieved this feat in 1948 and 1952.
Of Hanyu's win, Dick Button tweeted, "Bravo Hanyu, Records are made to be tie" (sic). If Hanyu plans to attempt a three-peat in 2022, we'll be ready!
Yura Min, Alex Gamelin Bounce Back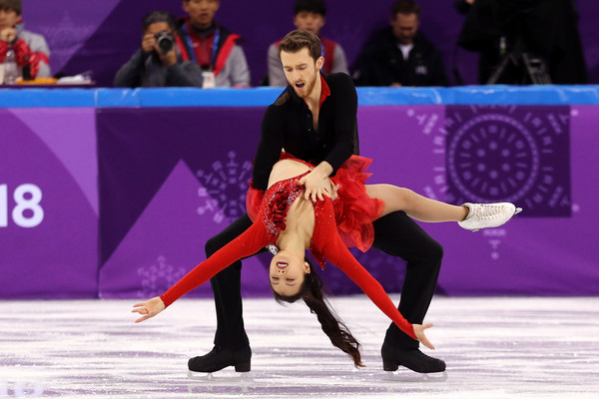 Yura Min and Alexander Gamelin perform during their Latin short program at the 2018 PyeongChang Olympics. Photo courtesy Zimbio.
During the team event, South Korean ice dancers Yura Min and Alex Gamelin had a solid, energy-filled short dance that delighted skating fans in the arena and watching on TV, but her unfortunate wardrobe malfunction was all the media could focus on following their program.
During the final moments of their program, Min's top came undone and started to flap forward. Min and Gamelin fought through the mishap and the slight bobble the malfunction caused, but their score wasn't enough to help their team make it to the team final.
During the individual event on February 19, 2018, Min's outfit had some minor changes that made it more competition-ready. The duo earned a 61.22 for their short program and an opportunity to skate in the free program.
Vincent Zhou: His Time Is Now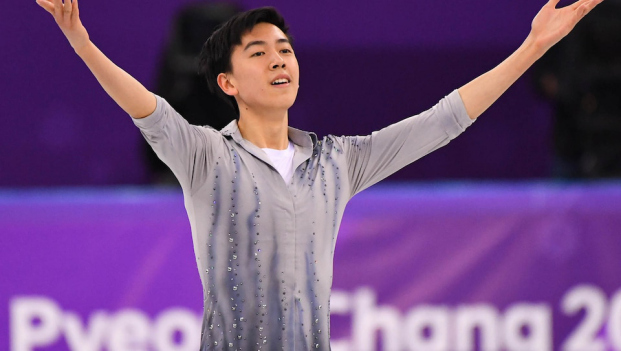 17-year-old Vincent Zhou became the first skater to land a quad lutz in Olympic figure skating history. Photo courtesy NBC Olympics.
17-year-old Vincent Zhou was often overshadowed during the Olympics thanks to his American counterparts, Nathan Chen and Adam Rippon. However, Zhou quietly cemented himself as one of the United States' future stars following his strong performances during the games.
While Chen is dubbed the Quad King, Zhou is the crowned prince. During his "Chasing Cars" short program, Zhou became the first skater to land a quad lutz at an Olympics. If that wasn't enough, Zhou landed several other quads across his two performances, earning him a sixth-place finish in the men's event.
Zhou's demeanor on the ice exudes a quiet confidence, especially after his stunning "Moulin Rouge" performance in the long program. Zhou, who isn't even in the prime of his skating career, can only get better from here. Perhaps it's better if the media and skating fans pay attention to his teammates? This will give Zhou a chance to take the skating world by storm.
Ryom, Kim Dazzle, Earn Medal Buzz for 2022 Beijing Olympics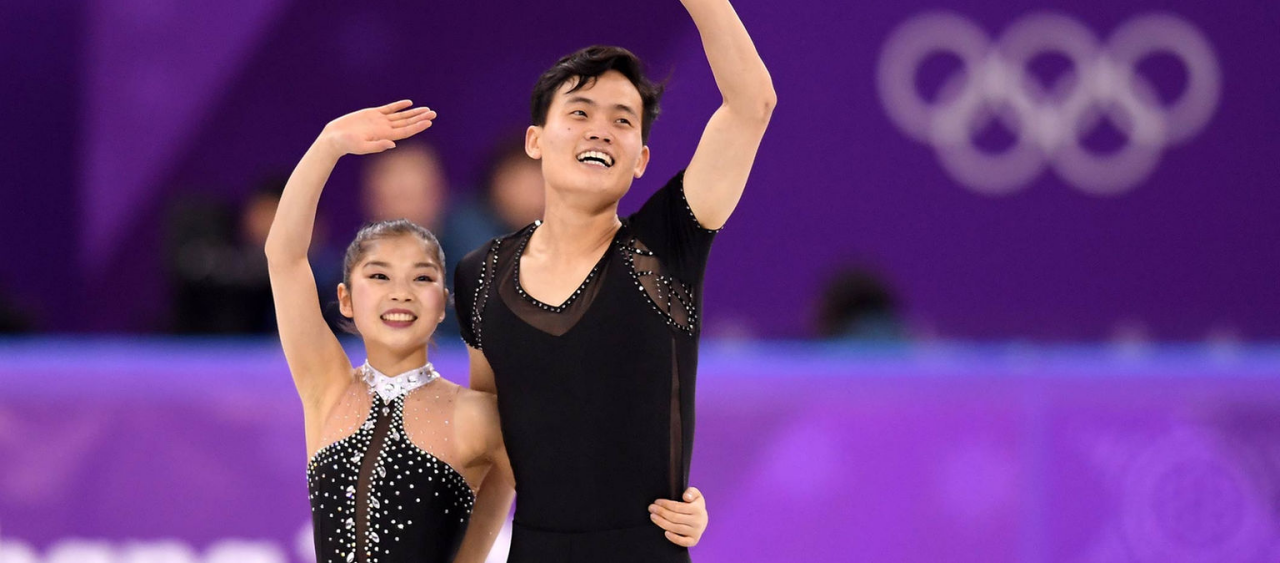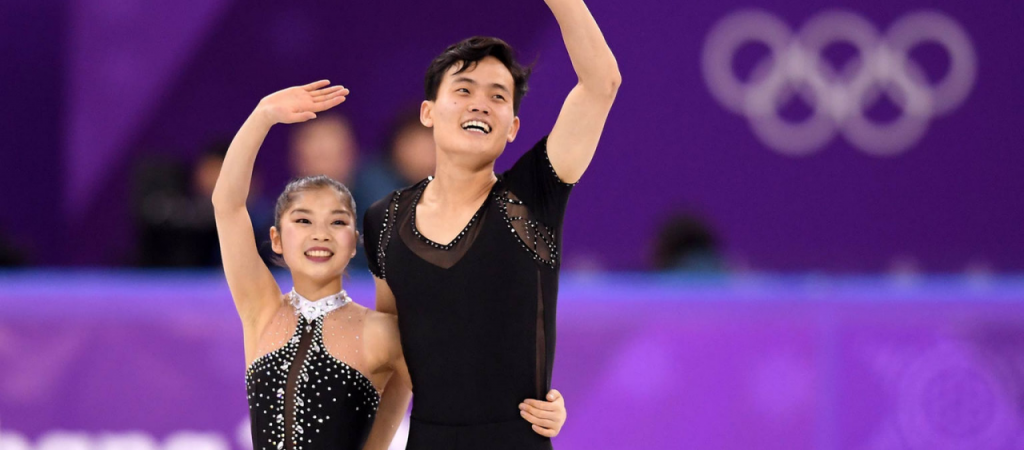 Ryom Tae-ok and Kim Ju-sik earned praise and adoration following their Olympic performances. Photo courtesy Olympic.org.
North Korean pairs skaters Ryom Tae-ok and Kim Ju-sik generated plenty of buzz prior to their Olympic debut following a bronze medal performance at Four Continents. Kim, who towers over his petite partner Ryom, has a certain charm about him, while Ryom's personality filled the arena the moment she took the ice. Pegged as one of the feel-good stories of the games, the pair were truly a delight to watch. Nerves didn't seem to rattle the pair, especially as Kim spun Ryom in effortless death spirals, Ryom's face relaxed and taking in the moment.
Prior to the Olympics, the pair had an opportunity to train in Canada to help refine their skating. Ryom and Kim trained alongside Canada's Meagan Duhamel and Eric Radford during their time in Montreal.
Ryom and Kim performed well in their first Olympic competition, signaling the start of a promising career for the pair. The couple finished 11th overall, but they earned personal best scores along the way while earning some much-deserved praise.
Already, analysts consider Ryom and Kim early favorites for the 2022 Beijing Olympics. If they continue to grow, it is quite possible this prediction could become a reality.
Michael Christian Martinez Skates Well on Short Notice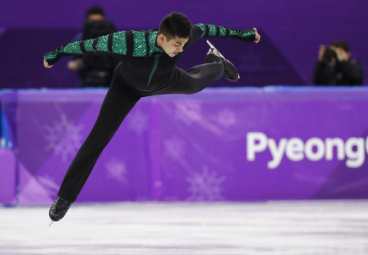 The Philippines' Michael Christian Martinez initially failed to qualify for the Olympics following the CS Nebelhorn Trophy in September 2017. Following the competition, Martinez retired from figure skating to become a body builder. As luck would have it, though, Martinez was given a last-minute spot for the Olympics when Sweden gave up a quota place. Martinez was notified of his Olympic chance on January 23, 2018: 16 days prior to the Olympics' start!
Martinez, who also competed at the 2014 Sochi Olympic games, is the first skater from the Philippines to compete at the Olympics. He came in 28th and was ineligible for the free skate. While many feel his "Emerald Tiger" performance was severely underscored, Martinez's story is still an inspiring story of luck and hard work.
Nao Kadaira Wins Japan's First 500-meter Gold; Earns Olympic Record, Admiration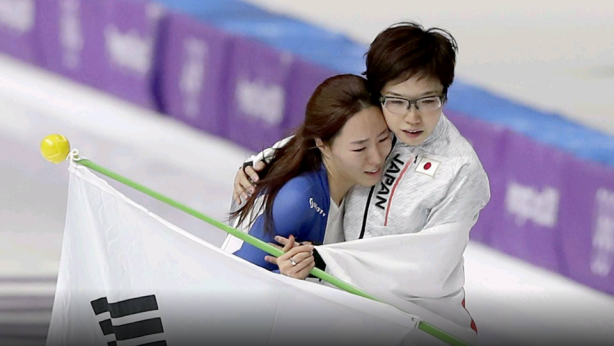 In one of the top moments of the Olympics, Japan's Nao Kodaira comforts South Korean's Lee Sang-hwa following the 500-meter speed skating race. Nao denied Lee a third-straight win in the event. Photo courtesy Japan Today.
On February 18, 2018, Nao Kodaira, also known as the "The Angry Cat" following her training in the Netherlands, " took to the ice and coasted to an Olympic-record time of 36.94, eclipsing the record set by South Korean Lee Sang-hwa. Lee, a favorite to win her third straight gold in the women's 500-meter race, earned a silver medal, .39 seconds behind Nao. As Lee sobbed during the victory lap, Nao comforted her fellow racer in a show of solidarity between competitors and friends.
"I really look up to her as a human being and a skater. She is my friend," Nao said of Lee.
With her win, Nao became the first Japanese speed skater to win a gold medal in the 500-meter race. Following her win, Nao dedicated her win to her friend, fellow speedskater, Miyako Sumiyoshi, who was found dead in her apartment a month earlier.
During a press conference, Nao said "[Sumiyoshi] has been in my thoughts so many times. Of course, I can't forget about her. Even when I have tried not to think about her, she kept coming into my mind. But as captain of the Japanese delegation I knew I had to face my race with a focused state of mind."
Nao said, "I don't know whether it is okay for me to say this or not, but Sumiyoshi's people told me before the Olympics that she had said to them if I get the gold it would be the same as her winning it. I actually won the gold medal, but I wanted to tell her about it in person, and it is such a shame that I am not able to do that."
Nao also earned silver in the 1000-meter final.
Noriaki Kasai Competes in His Eighth Olympics, Hopes to Compete in Two More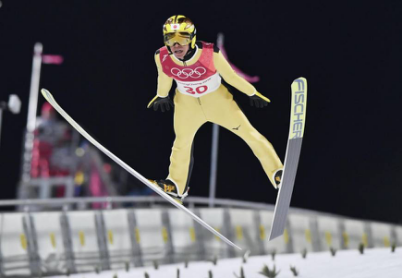 Japan's Noriaki Kasai is unstoppable and seemingly immortal. The 45-year-old ski-jumper appeared in his eighth Olympics, showing that age is just a number if one still has the drive to continue in a sport he or she loves.
While Kasai didn't have a successful Olympic run—he was eliminated in the first round of the Men's Large Hill Jump on February 17, 2018—he was invited to jump in the team event.
While many feel this Olympics may be Kasai's last time to fly, he hasn't ruled out 2022 in Beijing or 2026 if Sapporo, Japan is selected as the host city.
Shib-Sibs First Ice Dancers of Asian-Descent to Earn Olympic Medal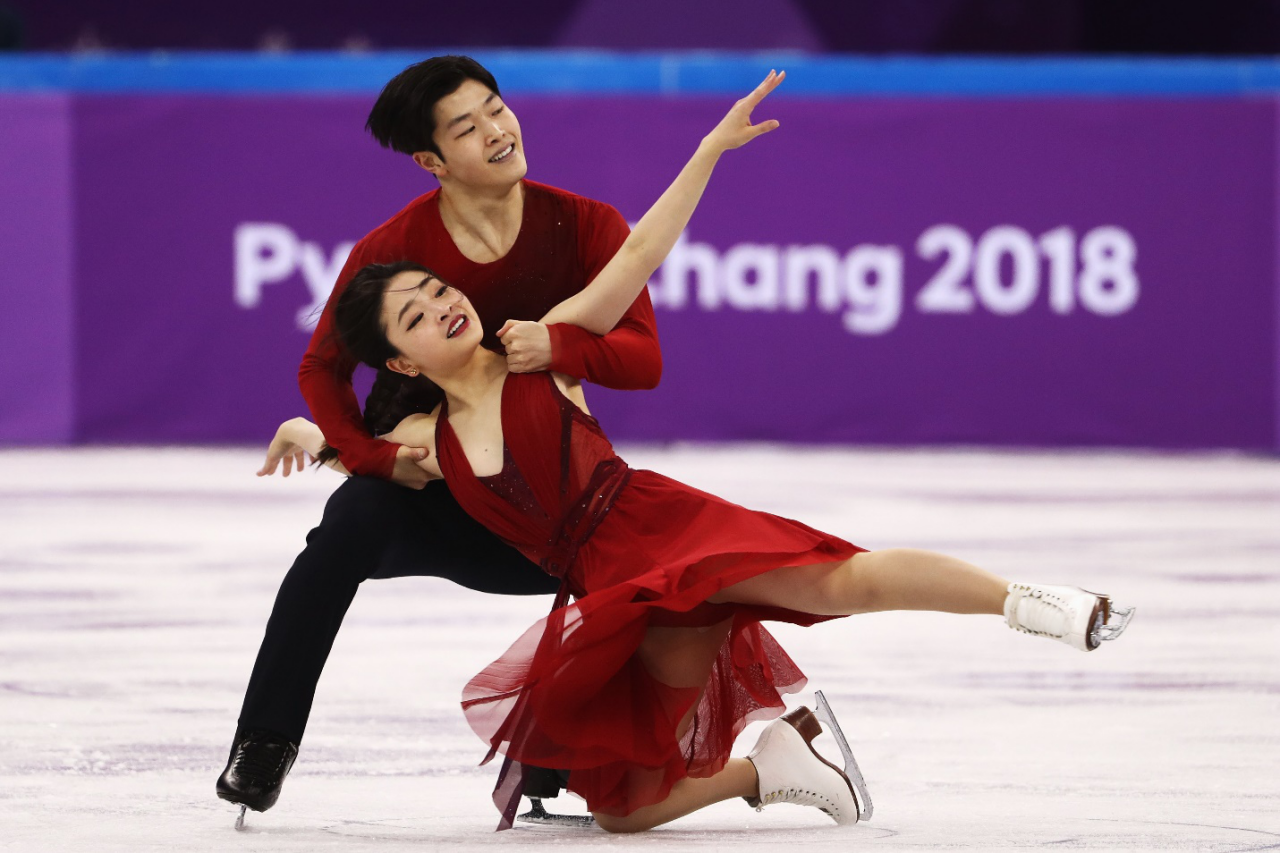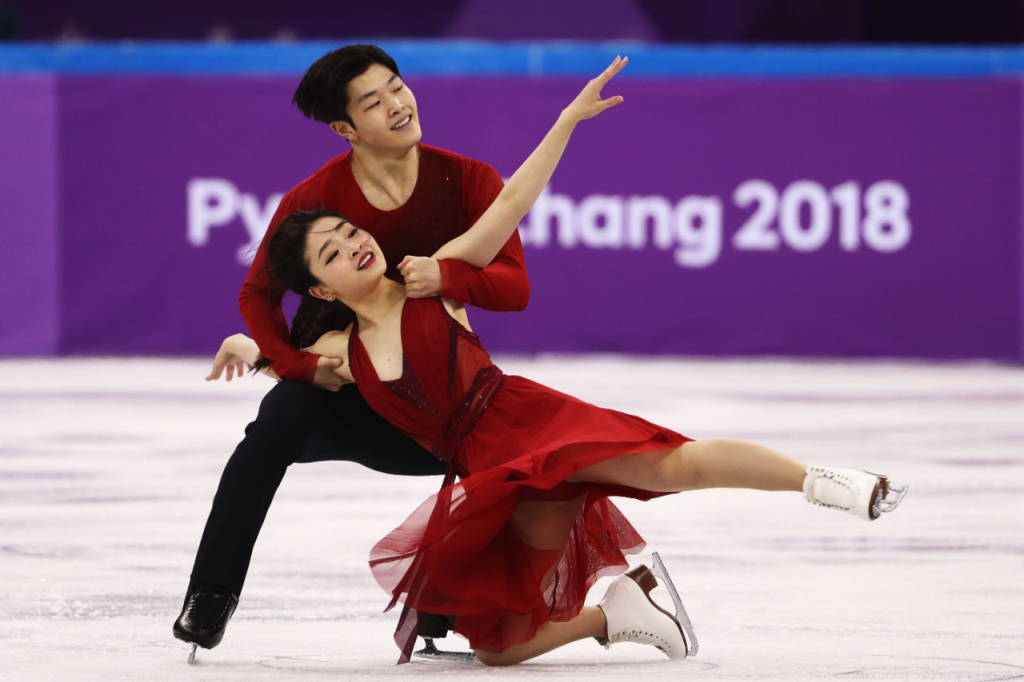 American ice dancers Maia and Alex Shibutani skate into history with their bronze medal performance. Photo courtesy Time Magazine.
The United States' Maia and Alex Shibutani have a lot to be proud of following their Olympics. The brother-sister ice dancers became the second siblings since 1992 (France's Isabelle and Paul Duchesnay) and the first ice dancers of Asian-descent to earn a medal at the Olympics.
Prior to the free skate, the Shib-Sibs were fourth, .02 points back of their American teammates, Madison Hubbell and Zachary Donahue. The Shibutanis had a strong free skate that showcased their signature, dazzling twizzles and clean lifts that matched the rises and falls of their selected Coldplay soundtrack. With mistakes by Hubbell and Donahue and the Shibutani's stunning performance, the duo rightfully earned a spot in Olympic history.
Brother-sister teams generally aren't favored in the skating world, especially ice dancing where romance is an expected theme for programs. However, the Shib-Sibs have proven that romance isn't required to be a winning team as their often fun, light-hearted programs have a sense of hope and wonderment that add a different edge to the typical skating tropes.
And while Asians and skaters of Asian-descent have medaled in pairs, ladies, and men's events, ice dance was the one sport where an Asian athlete failed to podium. The Shibutani's, hopefully, have opened the door.
"We worked really hard and we found our way and we did it." Alex Shibutani said.  "Hopefully other teams coming up after us, they'll believe if they're brother and sister, if they're Asian."
Choi Dabin Skates in Memory of Her Mother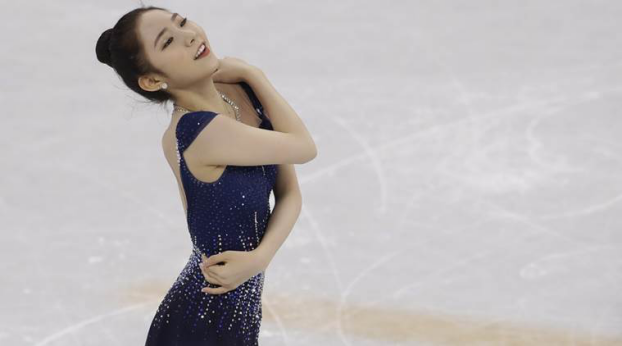 Choi Dabin wraps up a successful, emotional free skate to "Dr. Zhivago" at the 2018 PyeongChang Olympic games. Photo courtesy Indian Express
South Korea's Choi Dabin had an Olympics to remember. Following her elegant performances to "Papa, Can You Hear Me?" (Yentl) and "Dr. Zhivago," Choi finished eighth overall; her teammate, Kim Hanul, finished tenth. During her programs, Choi earned personal best scores of 67.77 (short program), 131.49 (free skate), and 199.26 (overall).
Olympic gold and silver medalist, Kim Yuna, told Yonhap News, "I was worried whether the young athletes would be too nervous at home and at their first Olympics. [Kim and Choi's] flawless performances were admirable. This experience will help them continue their athletic careers."
Choi's enduring smile and exquisite show of grace under pressure in her home country showed her strength, endearing her to skating fans at home and abroad, but this was just a Cliff note to her story. The 18-year-old lost her mother June 26, 2017 following a long battle with cancer.  In the weeks following her mother's passing, Choi skated in the Olympic qualifier, placed in the top ten, and earned South Korea two spots for the Olympics.
Choi said of the qualifier, "I thought about pulling out of this event, but I felt like I'd have regrets if I didn't skate here."
Choi states a lot of her Olympic success is due to feeling her mother's presence with her on the ice.
"I am very thankful to my mother, who is watching me from Heaven," Choi said. "Skating in the Olympics was my dream and also my mom's." She later added, "If she were here, she would have given me a warm hug."
Shaolin Sándor Liu Helps Hungary Speed into Olympic History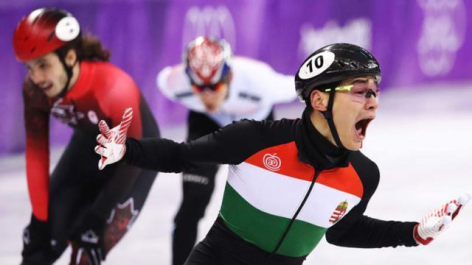 Hungary won their first-ever Winter Olympics gold in PyeongChang, thanks to Shaolin Sándor Liu's stunning performance in the men's short track 5,000-meter relay. Liu, along with his brother, Shaoang Liu, and teammates Viktor Knoch and Csaba Burjan stunned Canada, China, and Korea by taking the gold medal. Liu's last lap helped to push the team ahead to secure an Olympic-record time of 6 minutes 31.971 seconds.
Liu said, "It's such a big honor. The journey was really long to get here. The team qualified for the Olympics in eighth position, the last position, and we made it count."
The win was also Hungary's first Winter Olympics medal since 1980 when Krisztina Regöczy and András Sallay won silver in ice dancing.
"Garlic Girls" Take Country, World by Storm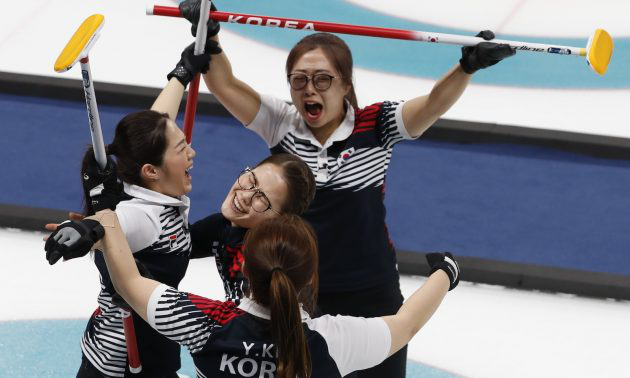 Curling is often the butt of jokes, but the sport has gained a lot of traction during the 2018 Olympic Games. Part of the increased interest is due to the meme-worthy South Korean women's curling team.
The "Garlic Girls," nicknamed such as four of the five girls hail from the garlic-producing locale of Uiseong in the Gyeongsangbuk-do province, have earned Internet fame thanks to their nicknames, charisma, and skip (leader) Kim Eun-Jung's game face. The girls—Kim Cho-Chee ("Chocho"), Kim, Eun-Jung ("Annie"), Kim Seon-Yeong ("Sunny"), and sisters Kim Yeong-Mi ("Pancake") and Kim Kyong-Ae ("Steak")— chose their nicknames based on their favorite breakfast foods to practice their English and help others identify them during the competition. The names and the girls' personalities have been worked into fanart and memes, making them overnight sensations.
Their silver medal comes as a surprise because the team was not expected to do well given how young South Korea is in the sport.  In Olympic competition, this is only South Korea's second appearance.
"Cabbage Patch Kid" Lee Sang-Ho Grabs Men's Parallel Giant Slalom Silver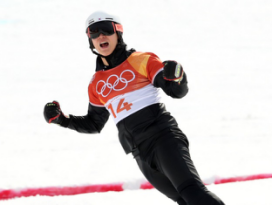 South Korea's Lee Sang-Ho didn't learn how to snowboard like many of the big-name snowboarders: He learned how to snowboard in a cabbage patch, thus his nickname.
Lee allegedly edged out Slovenia's Zan Kosir by :01 seconds (photo evidence does show otherwise) to advance to the big final where he lost to Switzerland's Nevin Galmarini. However, his finish is Asia's first-ever Olympic alpine snowboarding podium finish, and South Korea's first ever winter Olympics medal in a skiing event.
Takagi, Lee Take Gold in First-Ever Speedskating Mass Start Event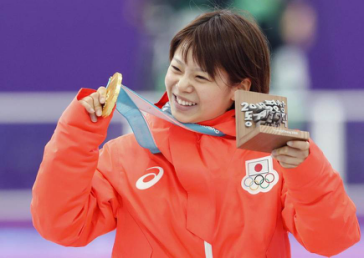 The first speedskating mass start event was held on the final weekend of the PyeongChang games. Japan's Nana Tagachi won gold in the women's mass start, while South Korea's Lee Seung-Hoon took it for the men's event. Korea also won silver in the women's event thanks to world champion Kim Bo-Reum.
The mass start event has been trialed at the junior Olympics and different competitions leading up to the Olympics. The event has been dubbed as the "NASCAR of speedskating" due to its speed, crashes, and passing/sprint/point set up.
What were your favorite moments at this year's Olympics? Let us know in the comments or on Facebook!
—-Joelle Halon
*The United States' Rena Inoue and John Baldwin Jr. are the first pair to attempt and land a throw triple axel in competition and in the Olympics. In 2006, Inoue and Baldwin performed the feat at the U.S Figure Skating Championships and at the Torino Olympics.
Related Articles