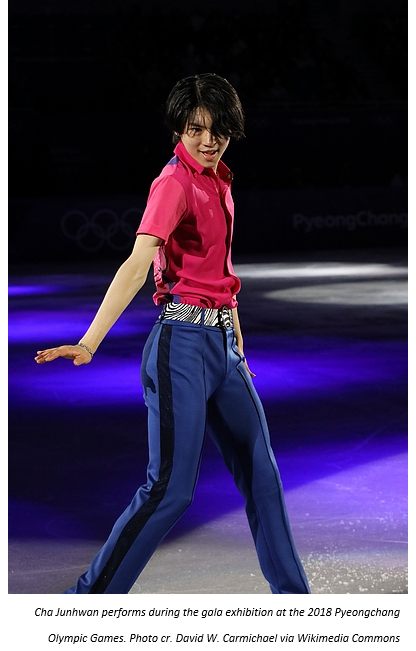 While figure skating has declined in popularity over the years due to corrupt judging, changes in scoring, focus on jumps over artistry, and an overall lack of liveliness (how many times do we have to listen to "Swan Lake" or selections from Carmen?), there are skaters that do manage to save the sport from completely slipping into oblivion thanks to their skill and likeable personalities. Recent-era skaters like Yuzuru Hanyu, Nathan Chen, Evgenia Medvedeva, Shoma Uno, Javier Fernandez, and Alina Zagitova are household names in the Figure Skating world with good reason. Now, another name is looking to join the list: South Korean teenager, Cha Jun-Hwan!
Cha, 17, is the first South Korean male skater to earn a spot in the Figure Skating Grand Prix Final. He joins fellow countrywoman and Olympic medalist, Kim Yuna, as the only Korean to earn this distinction.
Cha, who trains in Canada at the Toronto Cricket, Skating, and Curling Club, is coached by former Canadian figure skater, Brian Orser. Orser is an eight-time Canadian national champion, the 1987 figure skating world champion, and a two-time silver medalist at the 1984 and 1988 Olympic games. He is also Kim Yuna and Adam Rippon's former coach, and he currently coaches Hanyu, Fernandez, Medvedeva, Jason Brown, and Gabrielle Daleman. With that pedigree and roster, Cha is in good hands.
The 2018-2019 figure skating season is Cha's second season on the senior-level. During the 2017-2018 season, Cha experienced injuries and boot problems, but it didn't stop him from winning his second consecutive Korean national title and representing South Korea in the men's event at the 2018 Pyeongchang Olympics where he placed 15th. Cha was also the youngest competitor in the men's event and had the highest finish for a Korean male at any Olympic event.
While the new figure skating season is still young, Cha has proven that he is a worthy contender in the rink. So far, Cha's won a silver medal at the 2018 Autumn Classic, silver at the 2018 Finlandia Trophy, and bronze medals at his two assigned Grand Prix events at Skate Canada and the 2018 Grand Prix of Helsinki. During the 2018 Autumn Classic, Cha even earned a higher score than his training mate Hanyu, a feat that should not be taken lightly since Hanyu is the best in the world and an insurmountable wall due to his skating prowess and work ethic.
While skating his way to the podium, Cha has earned some notable distinctions:
He is the first South Korean man to qualify for the Grand Prix Final after earning 22 points with his two bronze medals at Skate Canadaand the 2018 Grand Prix of Helsinki
He is the first South Korean man to earn medals at two consecutive Grand Prix events
He is the first male South Korean medalist at an ISU-sanctioned Grand Prix series.
Cha's achievements aren't just for the senior-level. While he skated at the junior-level, Cha became the youngest man to land a quad salchow when he was 14-years-old. In 2016, he set the record for the highest combined score at the junior-level with 239.47 points. Unfortunately, those records no longer stand as Canada's Stephen Gogolov (age 13) and Russia's Dmitri Aliev (a score of 240.07) broke those respective records.  During the 2016-2017 figure skating season, Cha also became the first Korean male to earn a medal at the Junior Grand Prix Final. Not bad for a skater who was a former child actor, model, and ballet dancer!
Now, Cha looks to make history again at the 2018-2019 Grand Prix Final, which will be held December 6-9, 2018 in Vancouver, British Columbia, Canada. Cha seems poised to be the first South Korean man to make the podium at the elite event, but he has stiff competitive in training partner Hanyu—who is injured—Nathan Chen, Shoma Uno, Russia's Sergei Voronov and the Czech Republic's Michal Březina. Hanyu, Uno, and Chen are predicted to medal as they are currently the powerhouses of men's figure skating with several records to their names. Cha and Voronov could be dark horses at the competition, while Březina may play spoiler. The men's event is set to be an impressive, exciting competition!
Other Notes
Team Asia is represented well at the upcoming Grand Prix Final. For the Ladies' event, it's Russia versus Japan as each country holds three spots. For Pairs, China's Peng Cheng and Jin Yang will have to battle it out against France's Vanessa James and Morgan Ciprès as well as Italians Nicole Della Monica and Matteo Guarise and several Russian pairs, including favorites Evgenia Tarasova and Vladimir Morozov. Asian athletes and athletes of Asian-descent did not qualify in the ice dance event.
—-Joelle Halon
1 response to "Teen Phenom, Cha Jun-Hwan, First Korean Male to Compete in Figure Skating Grand Prix Final"
Related Articles