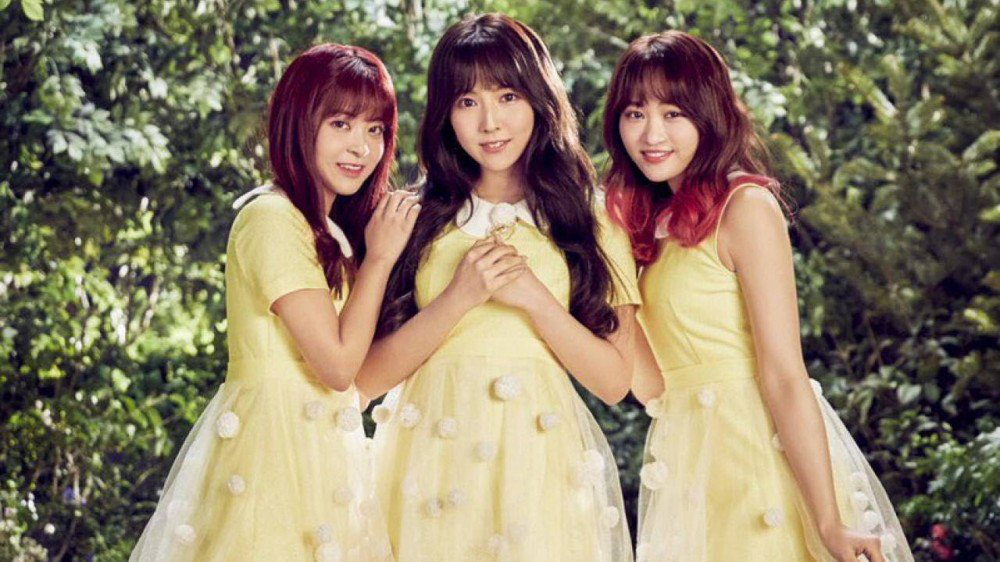 A new female K-Pop trio, Honey Popcorn, debuted March 21, 2018 with their mini album Bibidi Babidi Boo. The all-Japanese member group, comprised of members Yua Mikami, Miko Matsuda, and Moko Sakura already have Netizens and international K-Pop fans talking, but not in a good way. The trio, who are under the Kyun Create label, are Japanese Adult Video (JAV) stars, which is what people focus on more than the members' other career notes.
While it should be noted that Yua Mikami (Momona Kitō) is an award-winning porn actress (she has two DMM Adult Awards and one Adult Broadcasting Award), she is also a former member of SKE48 (a sister group of AKB48) and a current second-generation member of the AV idol group Ebisu Muscats. Miko Matsuda (Okada Risako) is a former member of NMB48 Kenkyuusei (another AKB48 sister group), while Moko Sakura (Ito Yuu) is a former member of Bakusute Sotokanda Icchome. Porn isn't the only industry the girls were involved in as they do have singing and idol backgrounds. However, the porn aspect is problematic in Korea where porn is illegal. However, this doesn't stop the sexualization of idols in an attempt to attract young women and uncle fans willing to spend the money, but this, apparently, is okay.
K-Pop fans have protested the group's debut, even causing Kyun Create to cancel Honey Popcorn's debut showcase on March 14, 2018. Fans' protests include reasons like K-Pop's direct influences on youth such as encouraging donations and visiting friends and family, so having "former AV stars" debuting may encourage young Koreans to join the porn industry. In one remark, Netizens hypocritically pointed out how Honey Popcorn's debut will lead to virtual harassment. Regardless of if the girls are porn stars or not, K-Netz are no strangers to harassing idols, even over something as minor as an idol reading a feminist novel or constantly criticizing someone's weight. JAV careers aside, even if Honey Popcorn were former nuns or bunny trainers, they would still be picked apart by K-Netz because it's an unfortunate part of idol culture. 
The fact that the girls are JAV actresses shouldn't even be news. While the porn industry is often frowned upon, those in the industry have a career just like anyone else. The career choice should only be scrutinized if actors or actresses or forced into it.
Overall, it's hypocritical to criticize Honey Popcorn for their backgrounds, especially since the overall Asian idol machine is based upon sexualizing idols. Then, there's the behind-the-scenes actions that take place in the music industry that no one wants to talk about, and that is a bigger issue than someone's willing choice to act in adult videos or become a nude model.
However, does anyone realize how many members of AKB48 and its sister groups graduate to the adult film scene (Tokyo Kinky covers this on their site; source is not linked due to nudity)? While it's not clear if this is a willing choice, and while there's possibly no direct correlation between AKB48 and its related groups, how many former idols end up in the porn industry due graduation or because groups failed, prior sexual abuse within the industry, or former idols and/or trainees need to pay back training costs to the companies that signed them? Depending on the type of porn or nude modeling, the career turn can be lucrative, but starring in AV roles isn't more problematic than the dark underbelly of the entertainment industry.
Missing the Bigger Issue
Netizens criticizing Honey Popcorn are picking the wrong battle, especially those who say their debut spits in the face of the #MeToo Movement. These are the people who are missing the bigger picture by focusing on a Red Herring, and thus missing the point of #MeToo and #TimesUp.
In the Asian entertainment industry, like with Hollywood, sex is rampant. In an industry where young girls are fetishized to attract male fans, AV stars re-debuting as a K-Pop group is relatively sane compared to what many go through in the Asian entertainment world.
The Asian entertainment industry has had a long history of sexual abuse. In recent years, ex-trainees and former idols have began to discuss the issues in the industry but under the guise of anonymity. In 2013, an ex-trainee talked to JTBC about the sexual abuses in the K-Pop industry.
"When I belonged to an agency, even though I was a minor, I was often asked to be present at a bar. In truth, there are agencies that function more like brokers that trade female trainees to different sponsors," the ex-trainee said.
In the same interview, a broker who helped set up meetings between trainees and sponsors said, "To meet a female trainee, a sponsor would be charged on average approximately 220.00 USD per meeting. If they want to meet a very young female or someone from a prominent agency, they may be charged 700 to 900.00 USD. A sponsor must make a reservation at least a day ahead, and only those that are already on broker's customer list can get a meeting."
Like Korea, Japan, too, has a history of brokers who negotiate prices for their idols in exchange for sexual favors. After the singers graduate or retire from their idol groups, some speak out about the abuses they face, some even describing forceful rape by older men. Young trainees and stars are expected to perform sexual favors in order to "kickstart" their careers, pay training fees, and have educations paid for during their pre-debut years. According to Shohei Sakakura, the author of AKB48 and the Black Companies, sexual abuse and exploitation are "an open secret" in the Japanese idol and entertainment industry: Everyone knows about it, but no one wants to talk about it, but they certainly want to engage in it. Female idols, often clad in cute "Lolita" outfits, sing and dance for the masses—especially older men—who fawn over their every move. In some cases, young idols even perform in Tokyo's Red Light District of Kabukicho, adding another seedy layer to an already problematic industry.
Sexual favors and the mistreatment of minors is not exclusive to Japan and Korea, as Taiwan, Hong Kong, and China also have former idols—both male and female—who've come forward to tell their stories, albeit, anonymously.
Over the years, scandals have come out pointing to the larger issue in the Asian idol machine. One of the biggest and most known is the Open World Entertainment scandal involving CEO Jang Seok-woo and the charges he repeatedly sexually abused six female trainees (he admitted to the charges) since 2008. In the court documents, police state the young women were also drugged and abused by members of a male idol group.
Another case involves the 2009 suicide of Boys Over Flowers actress Jang Ja-Yeon. Jang, who was 29 at the time of her death, wrote letters documenting years of abuse caused by her agent Kim Sung-hoon (Kim has also been accused of molesting a male model in Japan). According to Chosun, in her letters, Jang wrote that she was forced into performing sexual services for 31 high profile men on over 100 occasions. In her writings, Jang also revealed the names of those men, a list that includes producers, financial executives, and journalists, and that if she did not comply to these acts, her agency threatened to sue for breach of contract.
Out of the 31 people named, only six were prosecuted.
In 2018, Variety reports Jang's suicide case* may be reopened for investigation and is pending a ministry ruling. The #MeToo movement and a petition may be responsible for the motion for another investigation.
Along with Jang, others have been tied to sexual harassment cases and prostitution within the industry.
In 2010, Taiwanese singer and former 3EPBeauties (3EP美少女) member, Estrella Lin, made accusations that her agency, AntzStar and CEO Phillip Choi attempted to pimp her out to investors while she attempted to have a career in South Korea. Lin 's accusations include false imprisonment and that male and female entertainers are equally pimped out to potential investors. In a book she wrote about her experiences, Lin states that sexual favors and "sponsorship" are a rule, not an exception.
Lin's accusations have been met with some dissonance. A fellow trainee, Cherry, pushed back in a Gossip Queen interview stating Lin was the one actively seeking sponsors and that was not pimped out. Lin has responded by not backing down from her claims.
In 2015, male idol group 5tion (pronounced "Ocean") filed a lawsuit against their then-Japanese agency's, Yewon Entertainment, CEO "Mrs. Hong" for sexual harassment and dissemination of pornographic material. In their claim, 5tion stated that Hong shared pornographic videos and images via instant messenger, touched the members inappropriately without permission, and told sexually explicit jokes.
In 2016, several actresses and singers were wrapped up in a prostitution scandal. Among those speculated, Korean-Canadian singer G.NA was confirmed to be involved in the sponsorship scandal. During the investigation, G.NA stated she was fooled into prostitution by her broker, who arranged meetings between her and a Korean-American businessman. Besides G.NA, three others were identified as being female prostitutes. According to Seoul Central District Court's public documents, the others accused include Lee Harin of the former girl group Sugar, beauty pageant contestant Choi Eun Young, and up-and-coming celebrity Lee Min Ji. In addition to the four women, an entertainment label director identified as Kang and a staffer identified as Park were charged with illegal prostitution of female celebrities, and two "Johns" by the names of Choi and Park were also charged.
Despite G.NA's claims, and despite overwhelming evidence and claims by other celebrities who've had similar experiences, fired-up Netizens called for G.NA's deportation and skewered her online, showing the typical hypocritical nature toward idols while blatantly ignoring the larger issue in the industry: Idols, actors, and actresses are being sold for sex, and everyone continues to look the other way.
In Defense of Honey Popcorn
To say Honey Popcorn goes against #MeToo is wrong, especially if the members willingly chose the AV career. If no one forced the members into it, then they made a career choice they felt was right for them. With this, their career choices—even if controversial—shouldn't prevent them from pursuing singing careers if it is something they want to do. If they sing and have AV careers at the same time, so what? It's not a big deal.
Honey Popcorn's debut is not a problem, and they should be allowed to sing and perform. Their activities in Japan are separate from their Korean activities. Yes, they show up in searches for porn when researched, but in a country where porn is banned, the results would be filtered anyway. Honey Popcorn won't bring about civil disobedience or cause people to enter the porn industry in droves. If anything, especially on the international side, they should bring about conversations about sexuality, what should be considered sexually healthy, and maybe even why it's wrong to objectify men and women in potentially harmful ways. People should be able to separate Honey Popcorn Korean music group from Yua, Miko, and Moko the Japanese porn stars. The girls can separate the two career objectives, so regular audiences should be able to do so too.
Focusing on Honey Popcorn and trying to stop them is a form of control many K-Pop fans feel they have and should have. Fans feel they own the air idols breathe, but instead of trying to assert control over people, they should try to channel that energy into changing the overall Entertainment Machine for the better.
K-Pop fans, if they want to get in a twist about someone's non-kosher career choice, should really look into the K-Pop industry and the Asian music industry as a whole because there are many problems that people willingly ignore that need to be changed. Young people go into the industry hoping to become stars, but the dark underbelly exists that suggests their bodies should be sold and manipulated to get anywhere in life.
Where are the cries for banning the industry in order to get laws changed to prevent sexual abuse and prostitution of male and female trainees and stars?
There are none.
If there are some, the cries are too quiet.
Focus needs to shift on the true issues in the industry so the idolized stars can pursue their dreams in safe environments and so aspiring entertainers can avoid the perils those before them face or have faced. Honey Popcorn's debut is a false issue masking the darker issues no one wants to address.
Shift your focus, people. Honey Popcorn is not the real issue.
*In 2019, Jang Ja-Yeon's case has been reopened.
—-Joelle Halon
1 response to "Honey Popcorn Debut Despite JAV Controversy: Here's Why It's Not a Big Deal (And What Should be a Big Deal Instead)"
Related Articles