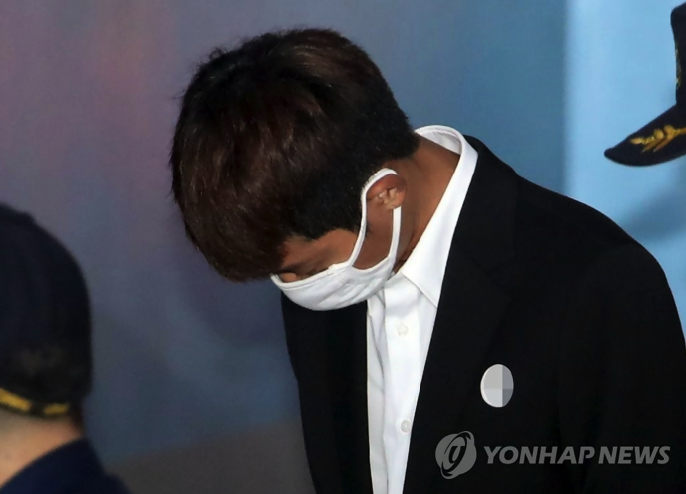 On May 10, 2019, Jung Joon Young and his legal representation appeared at the Seoul's Central District Court to plead guilty to 11 charges of filming and distributing illegal, sexually explicit videos via social platforms.
"We admit to all indicted charges and agree with all of the evidence presented by police," Jung's attorney said.
Jung's court appearance was for his first preparatory hearing for violating Korea's Special Act on Punishment of Sexual Crimes. A preparatory hearing allows courts to decide how to proceed with a case after hearing arguments from the prosecution and the defense.
While he was not required to appear, Jung was present for the hearing. With him was "Mr. Kim," a former Burning Sun employee was indicated for "quasi-rape." Four defense attorneys as well as a lawyer representing the victims were also present.
In addition to admitting to all charges, Jung's attorney's commented on other aspects of the investigation, including the case against former FTIsland member Choi Jonghun.
"The police investigation for Choi Jonghun, who is said to have been an accomplice, is in its final stage. It won't take much longer [to wrap up]. We wish to hold a combined trial," one of the lawyers said.
"We suspect that there are two victims [of illegally filmed footage]," Jung's representation said. "We see the need for the Ministry of Justice to appoint public defenders for the victims so that we can reach settlement."
Attorneys have requested that Jung and Choi's trials be held at the same time.
"When these charges are pressed, please adjust [Jung's] court schedules so that both cases can receive trial at the same time," an attorney said.
Additionally, the defense stated they wish to reach a settlement with the victims.
"Please appoint a government lawyer to represent that victims, as we hope to come to settlements," a legal representative said.
The Ministry of Justice took the lawyers' requests to hold a joint trial for all charges into consideration and set the next hearing to take place on June 14, 2019. Stay tuned for updates.
—-Olivia Murray
Related Articles