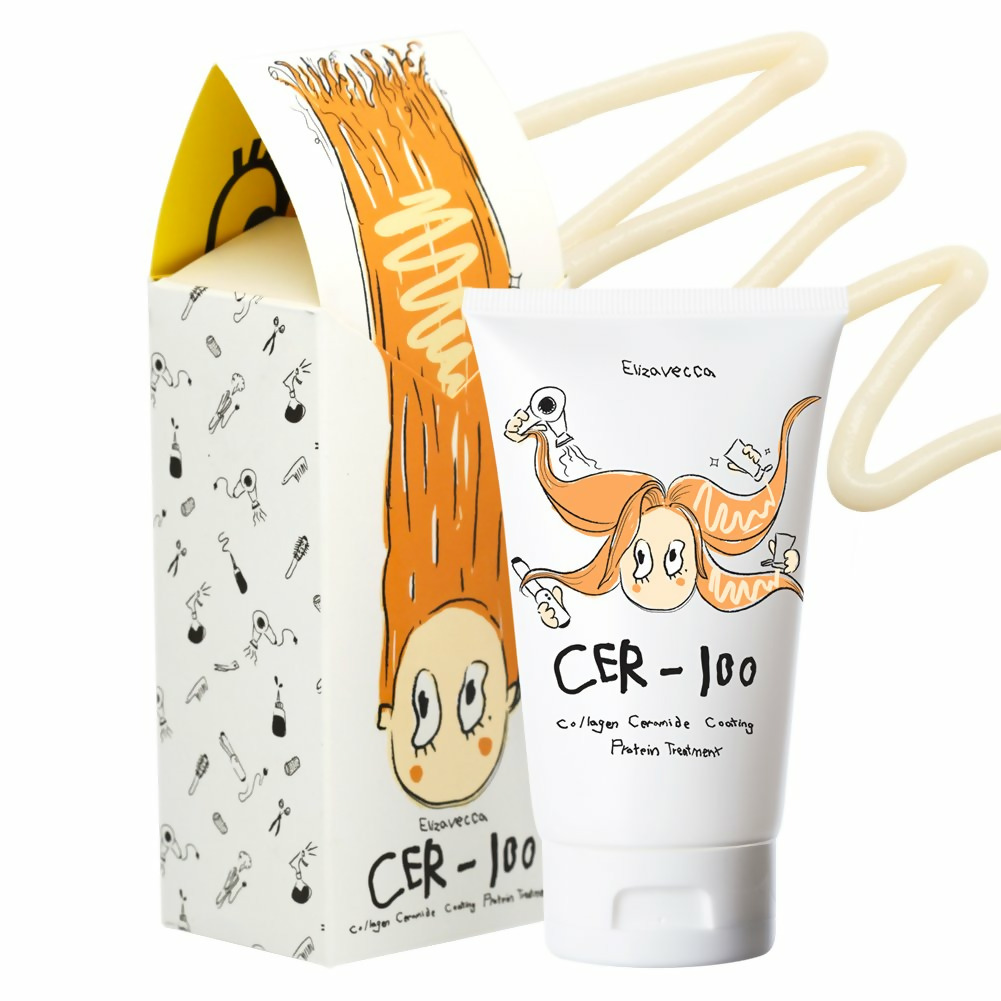 Do you have hair that looks like a burnt, wild haystack? Does it tangle and knot easily? Do you have split ends and frays? If any of these scenarios apply to you, then Elizavecca's Cer-100 Collagen Protein hair treatment is a must-try!
My hair easily falls under each of the categories mentioned above. Years of dying and straightening my hair along with using the wrong brush for my hair type has taken its toll, so my hair naturally looks like a desert-dried tumbleweed crossed with scarecrow straw. It's seriously bad.
I came across the Elizavecca Cer-100 treatment while trying to find a solution to my dry hair issue. I like Elizavecca products (except the oft-talked about Hell-Pore mask), and the product has several positive reviews on Amazon. So, taking that into account, I decided to see if it would help. How'd it do?
Packaging
I always love the packaging of Korean beauty products. Often, the products come in cute boxes, and Cer-100 didn't disappoint! The goofy cartoon on the box elicits a nice chuckle, and I like how the image carries over to the tube. I felt bad throwing the box in the recycling because it's so cute!
Ingredients
Note: This product has dimethicone, so it is not paraben, sulfate, or silicone-free.
Water Cetyl Alcohol Stearyl Alcohol Amodimethicone Cetrimonium Chloride Trideceth-12 Behentrimonium Chloride Glycerin Cyclopentasiloxane Dimethicone Silk Amino Acids Ceramide 3 Tocopheryl Acetate Hydrolyzed Collagen Hydrolyzed Keratin Gelatin Avena Sativa (Oat) Kernel Extract Hydrolyzed Corn Protein Hydrolyzed Wheat Protein Hydrolyzed Soy Protein Apium Graveolens (Celery) Extract Brassica Oleracea Capitata (Cabbage) Leaf Extract Oryza Sativa (Rice) Extract Solanum Lycopersicum (Tomato) Fruit Extract Brassica Rapa (Turnip) Leaf Extract Daucus Carota Sativa (Carrot) Root Extract Brassica Oleracea Italica (Broccoli) Extract Butylene Glycol Rehmannia Chinensis Root Extract Cornus Officinalis Fruit Extract Alisma Orientale Tuber Extract Dioscorea Japonica Root Extract Poria Cocos Extract Paeonia Suffruticosa Root Extract Panthenol Caramel Citric Acid Methylchloroisothiazolinone Methylisothiazolinone perfum
Use
After washing and towel-drying your hair, evenly spread the cream onto your hair. I don't recommend placing the product within three-to-four inches of your roots (more on this shortly), but I do recommend adding more to the ends. Just like the box states, keep the product on your hair for 5-20 minutes (for the first treatment, I kept it on for 20 minutes. For my second treatment, I kept it on for 15, and from my third treatment on, I've kept it on for 10 minutes). Then, rinse the product out using lukewarm water then finish it off with a shot of cold water to enhance the shine. You can shampoo the product out, but it is not necessary.
Results
Y'all… this is the product I've been waiting for to tame my tresses.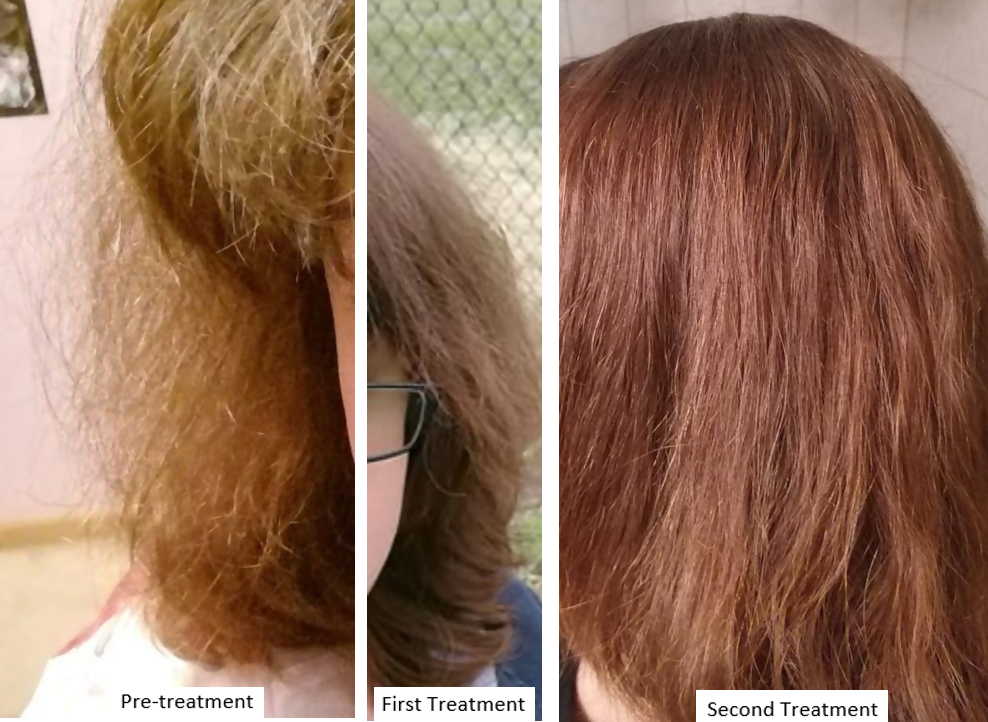 The pictures speak for themselves when it comes to seeing the difference this product made even following the first treatment! Instead of a damaged mess, my hair is smooth, has revitalized color (my hair went from a blonde-brown to almost red? My hair hasn't been dyed in a few months), and is more manageable. Even though the first treatment still showed some dryness to my hair, the second treatment showed an improved look that has enhanced shine. My split ends are less noticeable, and it actually looks like my hair has moisture! What?!
After the first application, I was worried my hair was going to look awful. This is why I say avoid using this product on your roots. My hair was super-flat after the first use because I coated my hair from root-to-tip. Please don't do this. Your hair will be fine when you ignore the roots. Yes, your hair may still look a little flat, but the volume at your roots will cover for this.
I recommend using this once a week to help restore your hair. If you use this product daily or every other day, the ceramide may make hair look greasy, so then you're opening yourself up to a different issue than dry hair.
For me, I found that my hair appeared better when I washed it the day after using the product. My hair still looked silky soft and shiny, but the volume returned, so I had healthy bounce afterwards as well. So, I do recommend washing your hair a day or two after using the product.
Another thing I was impressed with was how it helped the natural wave I have to my hair. I haven't seen my waves in almost two years thanks to the damage I sustained, so I was surprised to see it back! I wanted to see if I could improve the waviness of my hair by washing my hair, using the product, then braiding my hair overnight to see if I would have bounce or if my hair would fall back to straight: Nope! The waves from my braids stayed in my hair all day while staying smooth and non-frizzy. Even in the humidity, my hair maintained good form and structure.
Overall
It should be noted that the first use may not garner the immediate results desired. You may still have some dry hair, or, in my case, flat hair. However, each use gets better. If you have issues with your hair, Cer-100 may be worth a shot! Since it's under $8, it's definitely an affordable option.
Cer-100 from Elizavecca receives a solid 4.5/5 and is available on Amazon.
*Kcrush writers are not affiliated with the companies or brands mentioned. We are also not compensated for promoting the products listed. We spend our own money on these products by choice, so recommendations and reviews are bias-free! Hooray!
—-Olivia Murray
9 responses to "Product Review: Elizavecca Cer-100 Collagen Protein Treatment"
Related Articles