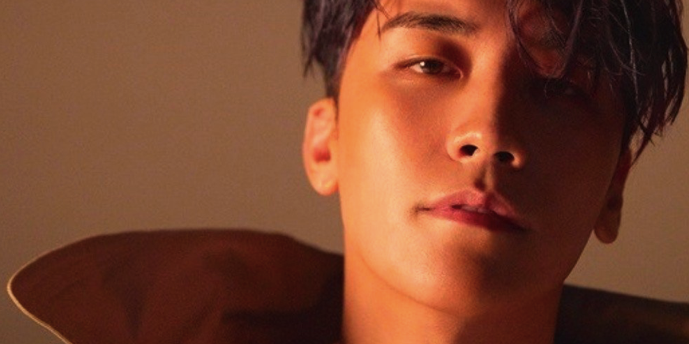 The Burning Sun scandal continues to spin into orbit as new details emerge about the club and the alleged conduct that occurred there. Additionally, Seungri's role and knowledge about the alleged prostitution, police collusion, and drug-use have been called into question via an eight-hour police interview. Here are the latest updates.
Police Launch Probe into Reporter's Claims
On February 26, 2019, Seoul Police began investigating prostitution claims involving Burning Sun and Seungri. The claims suggest that Seungri offered prostitutes to Burning Sun investors. 
"We have launched an investigation into the escort service claims that have been reported on by the media," the Seoul Police Department said.
An SBS FunE reporter who is well-known for her investigative journalism that has called attention to Goo Hara's assault case and several Korean #MeToo cases shared alleged KakaoTalk messages between Seungri, Mr. Yu (who was revealed to be actress Kim Han-byul's husband) from Yuri Holdings (he and Seungri headed the company starting in 2015), Singer "C," and a Mr. Kim (a club employee) that occurred December 6th, 2015. In the texts, the group allegedly discuss finding girls for a Chinese client (some reports state he is Taiwanese) who later became a Yuri Holdings investor in 2016.
The alleged texts have been heavily edited, and the reporter in possession of the texts claims she "cleaned them up" to eliminate "inappropriate expressions." Dispatch and SBS have different versions of the texts, which seem to show integrity issues with the alleged KakaoTalk messages. Additionally, police cannot recover the original text source and the reporter did not provide the source.
The Seoul Police Department's Special Crimes Squad said, "We requested the KakaoTalk messages from the reporter who was first to report on the sexual escort services claims involving Seungri. However, we have not received them yet."
Upon the release of the alleged texts, YG Entertainment said, "After confirming with the individual, we attest that this news report in question is based on fabricated text messages; its claims are entirely false." YG also threatened legal action.
Meanwhile, VIPs, BIGBANG's fandom, have called the alleged texts into question claiming that in 2015, BIGBANG were in Osaka, Japan for a concert when the texts were sent. Fans claim this is all the evidence that is needed to debunk the text claims.
Yuri Holdings, too, have claimed the messages to be false. In a statement, the company said,  "We believe someone with malicious intent towards Seungri and our company has fabricated these text messages as a grudge and sent them to reporters. This is fake news that has been published without being confirmed. We plan to request an investigation into the individual who fabricated the text messages and submitted them to reporters, and we will take legal action to reveal the truth."
However, the reporter states she has no reason to fabricate the messages and that further reports will be released.
"There is no reason why I would edit or fabricate the messages. There was absolutely no fabrication or editing, except for the extremely inappropriate expressions that I've purified," the reporter said. "I will actively participate in the investigation if required to do so in the future."
She added, "If I had fabricated it, I would have much more to lose [than win]. I would lose everything. And this is the truth. If I didn't intend to fight until the end, I wouldn't have started it in the first place."
Seungri said he didn't send the texts although he doesn't remember what happened three years ago. 
Money Transferred to the Police
According to the Korean Herald, one of the suspects, surname Lee, admitted to transferring money to the police.
During the investigation into Lee (later revealed to be Lee Mun-ho, the head of Burning Sun), who is alleged part of an organized crime syndicate, police found that he had been working with a former police officer and had transferred a total of 20 million won received from Burning Sun into six accounts. However, it is not clear if any of the accounts belong to the police officer, surname Kang.
Lee claims the transactions occurred August 2018. During the transaction, which Lee claims occurred in his vehicle, 2.3 million won transferred to two current police officers. Former officer Kang, who is currently a board member of a cosmetics company, was present during the transaction. The police state Kang may have been the "middle man" between the police and Burning Sun.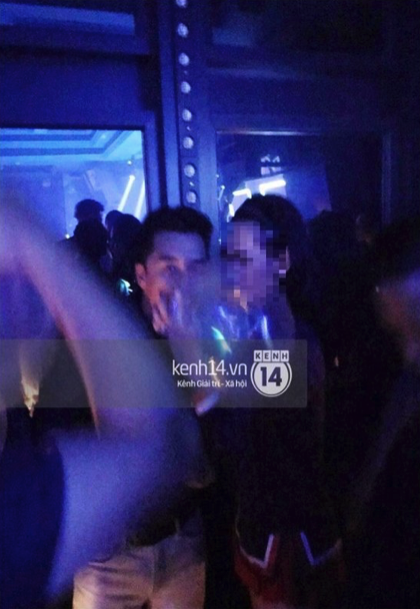 Cho, Lee Drug Investigation
In late February, police investigated the house of Burning Sun employee Mr. Cho.
During the investigation, police uncovered ecstasy, ketamine, and "Happy Balloon" (hallucinogenic). Another person connected to the club, an employee by the name of "Anna," also had suspicious powders and liquids in her home. Anna allegedly is one of the suppliers that provided drugs to other Burning Sun employees and club-goers. The evidence has been turned over to the National Institute of Scientific Investigation for analysis.
Lee Mun-ho was also investigated for drugs. Lee's home, along with the home of another suspect, Han, were raided February 26. During the raid, drugs were found in the homes; Lee's urine sample came back as having drugs present in his system.
Seungri, too, has not escaped drug allegations thanks to a Vietnamese news report that claims Seungri was caught inhaling "Happy Balloon" during a 2017 business trip to Hanoi.
In the photo circulated on Vietnamese media, Seungri is seen standing next to a woman who is holding a balloon close to his face. YG Entertainment and Seungri have both denied the claims that it is "Happy Balloon."
"Upon checking with Seungri, the photo was taken from a misleading angle. He said he has never inhaled nitrous oxide. The reports from Vietnam are clearly false reports, and he feels very falsely accused. He is arguing that it doesn't make sense for him to inhale nitrous oxide in an public place like a club," YG Entertainment said.
In related news, Seungri reportedly passed a drug test during his questioning. 
Seungri Cooperative with Police; Activities Halted
On February 27, Seungri was questioned by the police for over eight hours. During the questioning, police state the allegations of drug use, prostitution, sexual favors, and sexual assault were among the discussion topics. 
When he arrived at the police station, Seungri spoke to reporters.
"This morning, I submitted a petition asking for a thorough investigation into myself. Once again, I apologize for causing concern and anger with the various controversies and accusations. I will earnestly cooperate with investigations so that the truth can be revealed as soon as possible," he said.
Upon leaving the station, he added, "Questioning for all allegations has been finished. Regarding drugs, I underwent all drug tests requested by the narcotics unit. Many people are angry about the various controversies, and I will cooperate with police so that all suspicions can be dispelled. I ask that you wait for the results of the investigation. If the police require anything else, I will return for further questioning."
The police stated, "Currently, he is not an overt suspect in the case; he is an internal suspect. In terms of the case regarding claims of hiring prostitution, further investigation is required for completely accurate results."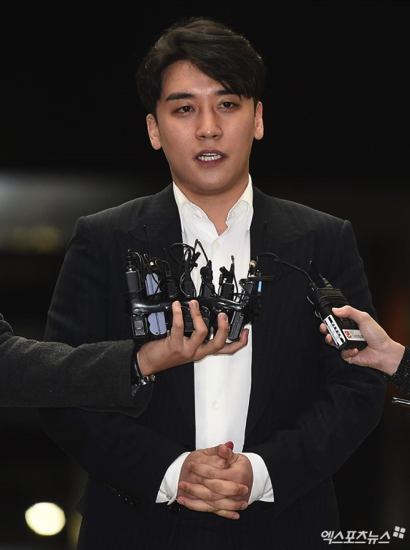 Following the questioning, YG Entertainment announced that Seungri will be going on hiatus and that his remaining concerts in Jarkarta, Indonesia and Osaka, Japan have been canceled. Regarding the cancelations, YG Entertainment released a statement:
Hello, this is YG Entertainment.

Seungri has unfortunately canceled his upcoming concerts in Osaka on March 9 and 10 and in Jakarta on March 17. We ask for the generous understanding of many people who were waiting for the concerts.

Seungri voluntarily arrived at the police station at approximately 9 p.m. yesterday and diligently participated in the police investigation regarding the suspicions for about eight hours and 30 minutes.

Seungri earnestly requested for the police to especially investigate the suspicions regarding prostitution services rigorously.

Not only the concerts, but Seungri will halt all other scheduled activities and actively cooperate with all upcoming police investigations.

As they are suspicions that many people are curious about, we hope that all of the suspicions and truths are unveiled as quickly as possible through speedy and rigorous investigations by the police.
Investigations are still ongoing with more details expected to be revealed in the coming days. All parties are considered innocent unless proven guilty in the court of law.
—- Olivia Murray
1 response to "[UPDATE] Burning Sun Investigation Continues; Seungri Questioned"
Related Articles