Reminder: The situation with this story is fluid and changes constantly. Kcrush America is trying to stay on top of the story as it develops.
In addition to the sexual assault claims, Club Burning Sun, a club formerly owned by BIGBANG's Seungri, is now under suspicion of drug use according to KBS News 9.
On January 30, 2019, KBS News 9 reports that drugs were administered in Club Burning Sun's VIP room. A former employee appeared on the show and briefly spoke about it.
"It's an open secret," the former employee said. "I have clearly heard officers discuss marijuana here and that they've caught various people with cannabis at the club even with the police there."
In addition to the new drug-use claims, allegedly, informants have been sending images and messages regarding drug use and sexual assault to Kim Sang-kyo, the man claiming he was assaulted by Club Burning Sun's director and the Yeoksam Police.
In the messages, alleged employees discuss not giving stimulants to female guests; other messages provide images show a woman passed out after allegedly being given the pills.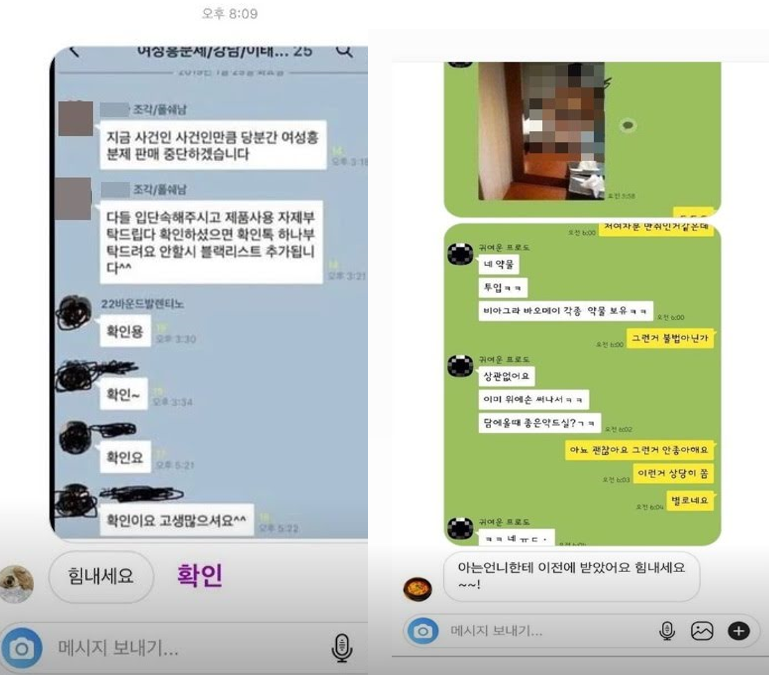 One of the messages reads, "Because of the current situation, we won't be selling any female stimulant pills for the time being. Please take caution with what you say, and refrain from using the products. Please leave  a reply or you will be added to our blacklist."
Later, another alleged victim came forward with details of a purported sexual assault that occurred December 30, 2018. In her account, she said she was assaulted in a VIP room bathroom. The woman states: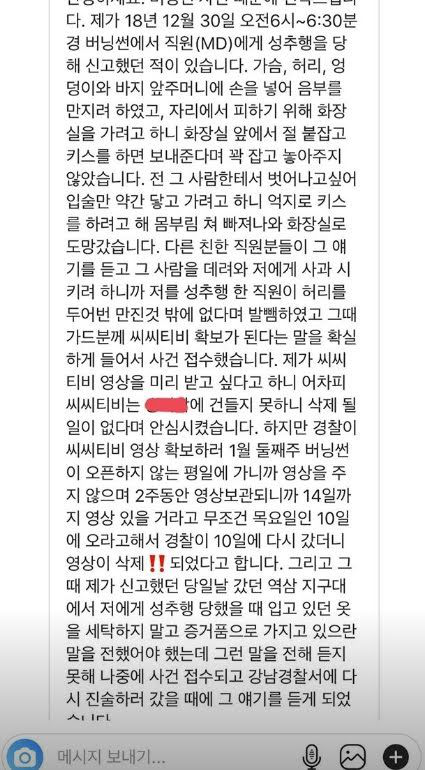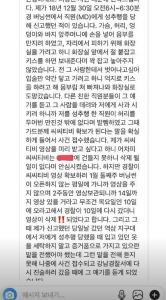 "I was sexually harassed by a staff member of Burning Sun on December 30th, 2018 around 6:00-6:30 PM. The staff member fondled my breasts, waist, buttocks, and attempted to put his hand inside my pants. I attempted to flee to the restroom, but the staff member grabbed me and told me that I could go if I gave a kiss. Because I wanted to get away from the staff member, I gave him a slight peck on the lips quickly and attempted to leave but I was forced to kiss. I ran away to the restroom after that. Other staff members whom I was closed to heard about it and brought the one responsible so I could get an apology. The staff member lied and claimed that he touched my waist just once or twice and that was it. One bouncer told me that I could get a hold of the CCTV footage as evidence, so I filed a report to the police. When I said I wanted to get a hold of the CCTV footage right away beforehand, I was told that no one could tamper with the CCTV or have access to it. However, when the police arrived at Burning Sun in January to collect the CCTV evidence, they were turned back as the club wasn't open for business during the time and were told to return on the 10th. When the police went on the 10th, they were told that the CCTV footage was deleted. And the police also did not tell me to keep the clothes I was wearing that day as it was and not put it in the laundry. They could have collected evidence through that, but they told me that much later when it was too late."
The Seoul Metropolitan Police Station is reported to have taken over the investigation into the assaults and drug claims; they are also investigating the assault of Kim Sang-kyo.
Club Burning Sun said it is working to improve safety at its establishment as public outcry continues to grow.
Allegation Arise Regarding Seungri's Awareness?
Further complicating the issue for Seungri is that some employees are calling him out on KBS, claiming that he knew what goes on in Club Burning Sun. A former employer told KBS that Seungri would purportedly joke about the VIP lounge by stating, "Is this the place where the bouncers beat up people?"
Another report claims Seungri may have been aware of the assaults and told of the controversy during the 2018 Best Brand Award Korea Consumer Evaluation. Another former employee told KBS that Seungri was made aware of the situation when he was in the Philippines for concert promotions. The concert was January 19, 2019.
"When he quit [as CEO], there was a concert in the Philippines so he had to come back to Korea," the former employee said. "As soon as he arrived, he inquired about the media coverage on the situation."
It should be noted that statements may or may not be true as the investigation continues to unfold.
YG Releases a Statement
On January 30, 2019, Yang Hyun Suk released an official statement. This comes after fans demanded a statement from YG Entertainment and Seungri. Initially, YG Entertainment said they were not going to comment on the issue, but opted to send out a public apology.
Hello, this is Yang Hyun Suk.

My New Year's greetings are very belated. Everyone, I sincerely hope you will receive a lot of luck in the new year, always be healthy, and have a happy year ahead.

Whenever there are unexpected negative rumors contrasting with my personal wish from my last post to only share good news, I feel most apologetic first of all to the fans who must have worried.

I think that sudden negative rumors are like an unexpected rain shower falling from clear skies.

YG manages control of all aspects regarding our artists' activities through our exclusive contracts with them, and we have continuously revised our contracts and management systems in order to prevent recurrences of accidents and mistakes.

In addition, we always check by emphasizing, advising, and educating what our artists have to be careful about through lots of conversations with them, and we are putting in our full effort to prevent potential disgraceful incidents beforehand.

However, like the old saying "bad news travels fast," I think it is very difficult to tell them to be careful in preparation for groundless negative rumors that spread through word of mouth.

Also regarding the negative rumors on Seungri's club, I wanted to find out the truth and give a quick response since the beginning. However, our artists' operations of their personal businesses are completely unrelated to YG, so it was an awkward situation for YG to speak out and give an official statement, and there was also a lot of difficulty in finding out the truth.

The difficulty was that I have never gone to this club and do not know any of the people related to the club, so I did not have a way to ask someone about the details of this incident.

The only person I could ask was Seungri, and I found out that on the day of the incident, Seungri was at the scene until 3 a.m. on November 24, and the incident occurred past 6 a.m.

The reason why Seungri recently resigned as an executive director of the club was in order to comply with laws regarding military service as his military enlistment is approaching in March or April.

According to Article 30 of the Framework Act on Military Status and Service, "A soldier shall not engage in any for-profit activity, other than military service, and shall not concurrently engage in other activity without permission from the Minister of National Defense." It is specifically written, "A soldier is prohibited from becoming a director, financial manager, general partner that takes part in the business, manager, promoter, or any other executive of a business."

I confirmed that due to this reason, Seungri is in the process of resigning from not only the club but all of the CEO and executive director positions for which his name is recorded.

Seungri himself is also feeling very apologetic to fans who must have worried due to this incident, and although he was going to share his position through a post of apology, I told him to hold off for the moment.

This is because I decided that it would be better for him to share his position after the whole story of the incident is revealed more clearly through the investigation.

Currently, the focus seems to be turning away from the assault incident towards a drug investigation. To share with fans in case they are worrying even a bit, Seungri recently received a strong investigation by the prosecution with a search and seizure warrant due to groundless reports, and it was revealed clearly that there were no issues with all his examinations including urine and hair testing.

I feel apologetic that I am not able to give positive New Year's greetings, and I will soon greet you again with an announcement on BLACKPINK's new music, the criteria for "YG Treasure Box" selection and debut plans, and happy news of new music from many YG artists including WINNER and iKON.

Thank you always.

2019.01.31

FROM YG (Trans. Cr. Soompi)
According to KStarLive, Seungri will release a statement soon.
Fears for Seungri's Reputation?
Despite YG's explanation of Seungri resignation from leadership roles due to his upcoming military service, fans remain unconvinced due to the timing of the resignations. Some are still calling for boycotts of the Seungri, BIGBANG, and even BLACKPINK.
Fans should remember that, as of now, Seungri is not accused of these crimes: The club he was once connected to is at the center of the crimes. However, since his name is attached to Club Burning Sun, statements are expected from him. The connection also tarnishes him already somewhat-problematic image further and, for many, should be lumped in with the other controversies that surround BIGBANG.
Meanwhile, a Blue House petition has been posted asking for the investigation and punishment of drugging apparent in Korea's club scene has over 60,000 signatures at the time of this writing. The presidential office is mandated to officially respond to any petition with 200,000 or more signatures.
All parties are assumed innocent until proven guilty in the court of law. The situation is fluid and constantly developing.
—-Joelle Halon
1 response to "[UPDATE] Club Burning Sun Investigation Continues; YG Releases Statement"
Related Articles