Trigger warning attached for those sensitive to issues of sexual assault.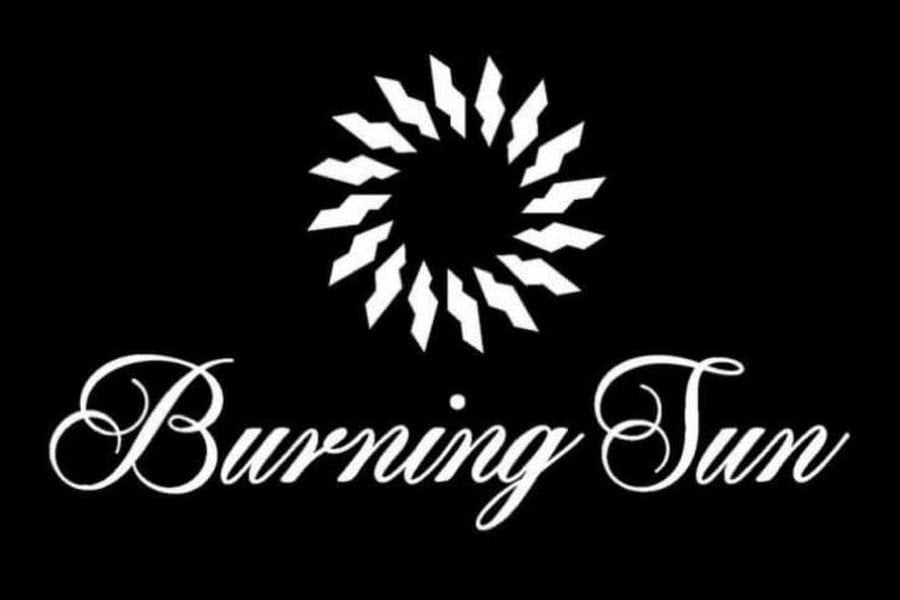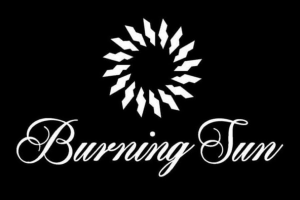 Club Burning Sun, a Seoul nightclub owned by BIGBANG's Seungri, faces allegations that female patrons have been drugged and sexually assaulted by staffers. However, Burning Sun refutes the claims and submitted their own story and evidence regarding the incident.
In December 2018, video surfaced that allegedly shows a drugged female patron being dragged off by a guard. She grabs a computer in attempt to get someone to ostensibly assist her, but she is ignored.
Following the alleged episode, the unidentified female tried to report the incident to the police, but a report failed to be filed. Incidentally, the CCTV video showing her being dragged off was also purportedly erased, causing her claims to not be investigated further. However, an unidentified Burning Sun staff member recorded the video and shared it with others prior to it being posted online.
While the video only shows one instance of an alleged assault, witnesses have come forward with other claims of sexual abuse. As claims surface, it has been revealed that police may be turning a blind eye to the accusations due to bribery. Supposedly, abuse like this happens multiple times a week, and the club pays the police large sums of money to keep incidents quiet. On YouTube, there is a video of an audio recording that suggests police know that sexual assault occurs often at the club.
Burning Sun Rebuts Claims
In an interview with Asia Economy January 29, 2019, Club Burning Sun states the allegations that the woman in the video was sexually assaulted are false.
"The images that are floating on the internet for the alleged 'assault' are not true at all. We will reveal the footage of the woman who appeared in the video and what happened outside," a club representative said.
"A customer, a Thai woman stole a drink from another table," the representative continued.  "This woman assaulted the guard who came to control the situation and we reported it to the police. It's true that the employees are involved in the assault, but innocent people are being injured by the false image that is circulating online.  We plan to take strong legal recourse."
Later, Burning Sun also released a statement addressing the assertions.
We understand that much doubt and controversy has arisen in relation to the Gangnam assault incident reported on MBC News at 8 p.m. on January 28, 2019.

The incident occurred in the process of a staff member responding to a civil complaint from a female guest who said that she had been the victim of sexual harassment. We express our sincere apology and remorse as the representatives of the club's management team for arousing criticism over assault by a club staff member.

We will fully cooperate in the investigation process as necessary to allow for the thorough investigation of the truth related to the various doubts brought up in that report, including submitting all of the CCTV footage that recorded the details related to that incident to the investigative agency.

Also, regarding the person from the club connected to that assault incident, we are holding him responsible and have taken disciplinary action and dismissal measures. We will do our best to prevent this from happening again in the future through actions such as education for our club staff and the creation of manuals on safety and security.
Regarding the video allegedly showing a woman being dragged off to be assaulted, Burning Sun refutes the allegations. In an Instagram post, Burning Sun states:
On December 1, 2018 around 1:35 a.m.,

An intoxicated woman (Thai) at a VIP table was causing a disturbance through actions such as unsealing alcohol at the table and secretly drinking it, and so actions were taken for her to leave.

In the process of her leaving, she committed the first act of assault on the guard's head.

After our Burning Sun guard team called the police, they were waiting, and a female Burning Sun guard was in charge.

A staff member who was able to communicate with the foreigner (the male wearing a denim jacket) explained the situation in English, but she became angry instead and she assaulted the female guard and sales team member.

After the police arrived, we submitted the video in question to the police, the foreign guest was arrested, we received assault settlement money afterwards for the repair cost of the laptop, and the case was closed.
A female staffer also posted about the incident and shared a photo from the unidentified female patron apologizing for the incident.
The woman in the video paid an undisclosed fine to the club.
Still, witnesses also claim that they've been harassed and abused by Club Burning Sun staff.
A Witness' Claim of Police Brutality
One witness, identified as Mr. Kim, wrote about an incident from November 24, 2018 in an online community. In his post, Kim states he was beat up by the club's director, Mr. Jang, and the Yeoksam Police.
Kim alleges, "On November 24 at the Burning Sun, a woman being sexually harassed grabbed my shoulder and hid behind me. I asked security for help, but I ended up getting beat up by security guards and people who seemed to be their friends."
When Kim spoke to MBC's News Desk about the incident, he stood by his claim by stating,  "One person took the lead to beat me and security helped him. It was incredibly shameful. Everyone was watching me." 
Kim also states that when police were contacted, he was handcuffed and taken to the police station where he was slammed with assault and sexual harassment charges as well as obstruction of business charges. Within his social media post that police assaulted him following the incident, leading to stomach injuries, facial abrasions, and three broken ribs.
"As we were walking up the steps, the policeman tripped me and pushed me from behind. Since my hands were cuffed behind my back, I fell and scraped my face," Kim said. "He kicked me repeatedly and I ended up near the glass doors. There's a thick stainless-steel frame at the bottom of the door. As I was getting kicked, my face collided with the stainless steel. That's when my nose started bleeding. Blood came spurting out of my nose."
The Seoul Metropolitan Police contest Kim's claims and released a statement. It reads:
When we arrived, Mr. Kim was overly emotional and refused to give his personal information. We were attempting to verify the report he had assaulted security and caused a disturbance, but Mr. Kim continued causing a commotion. This is why he was arrested for obstruction of business and other reasons.
We have secured evidence such as CCTV footages of the surrounding areas and are currently in the process of looking into them. We have also called Mr. Jang in for an investigation. Several cases are being investigated simultaneously, including the statement from a representative of the club and their countercharge against Mr. Kim. Mr. Kim is currently refusing to come in for an investigation."
We'll investigate carefully and thoroughly so that no one is falsely accused.
However, CCTV footage has been uncovered showing police using force during the arrest and dragging Kim into the station. The footage also shows a police man cleaning up, but it is unclear what he is cleaning. Some media sources claim it is blood.
A representative from the Yeoksam Police Station, the location where Kim was taken, said, "Mr. Kim tripped and fell on his own while coming up the steps, and his nose bled. We did not assault him as he claims we did. We rewatched and studied the video footages over and over again. We could not find sustainable evidence that our policemen assaulted him."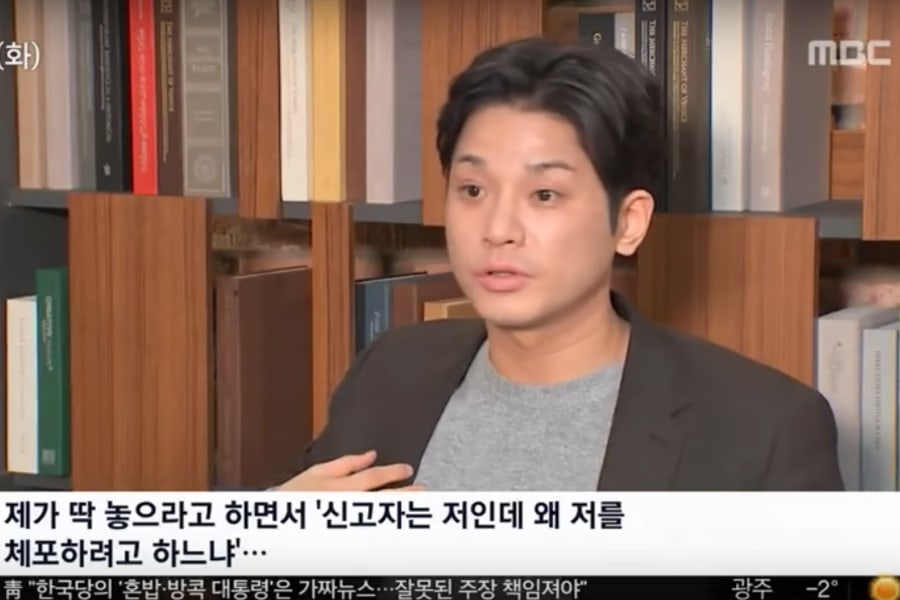 Kim refuses to back down from his claims and has asked for police dash cam footage to be released. However, the police refused until Kim obtained a lawyer. Video was released, but it appears to have been tampered. MBC News, however, did obtain clearer footage.
Additionally, several police cameras at the Yeoksam Police station have been "disconnected" for three years, so police felt they did not have to turn over that footage.
Regarding the camera issue, MBC News spoke to secretary general of the Citizens' Solidarity for Human Rights, Oh Chang-ik. He states the camera issue feels odd.
"Regarding the CCTVs," Oh said, "the Yeoksam police station has the most advanced and precise technology. But for them to claim that they left it disconnected since 2016 because of construction 3 years ago? How can anyone believe that?"
Kim has since filed a lawsuit against the police station and a petition with Korea's Blue House. In his Blue House petition, Kim states the following:
Hello, my name is Kim Sangkyo, a 28-year-old citizen of South Korea.
On November 24, 2018 Saturday, I went to a club called 'Burning Sun' in Gangnam and reserved a table to celebrate the birthday of a friend who is helping me with the interior design of my advertisement-project. We were on our way out after drinking 3 bottles of champagne, when a woman jumped out from a table on my right and hid behind me, while grabbing onto my left shoulder. At that moment, a man's arm reached out from the table and tried to pull the woman by her armpits and in between her breasts. She held onto me as she tried to resist. As a reflex, I grabbed onto the man's arm and looked at the man (Burning Sun's manager). As soon as I looked, he threw a punch in my direction. I avoided the punch, held onto both of the man's arms, and asked a body guard for help.
However, what returned in my ask for assistance was a collective beating by the body guard and the people from the table.
At the time of this writing, Kim's petition has received over 230,000 signatures.
YG Entertainment and Seungri Keep Mum
Currently, Seungri is not involved in the investigations surrounding Club Burning Sun as he was supposedly not present during the alleged incidents (Netizens, however, uncovered proof Seungri was present prior to the incidents). However, since it is his club, his name has been floated around the media (specifically KBS), and there is expectation that he should make a statement given his ties to it.
YG Entertainment, too, has been quiet except to say, "We will not be releasing any official statement whatsoever."
YG Entertainment is not obligated to make a statement, however. Seungri's business ventures are separate from the company.
The investigations for all incidents are still ongoing. All parties are presumed innocent until proven guilty. Stay tuned for more updates.
—-Joelle Halon
Related Articles