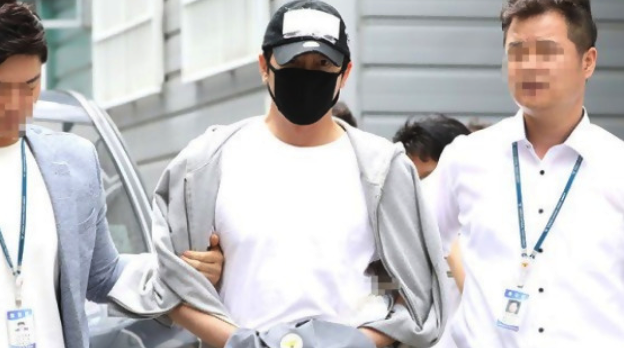 On July 9, 2019, actor Kang Ji-Hwan (Joseon Survival, Be Strong, Geum-Soon!, 90 Days, Time to Love), 42, was apprehended at his Gwanju home for "indecent assault." According to reports, Kang and two outsourced female staffers went out for drinks following a company dinner. The trio then went to Kang's house where the two women fell asleep. One of the women woke up and noticed her clothes were disheveled; she then alleges she saw Kang on top of the other woman. From there, police state she messaged a friend and asked her to contact the police.
Regarding the phone calls, K-Netizens accused the victims of making up the allegations. Netizens wondered why one of the alleged victims reached out to a friend instead of calling the police directly. The women's lawyer addressed the allegations on July 14.
"The reason why the victims weren't able to reach police was because there was no cell service at the house," the lawyer told Channel A. "Victim 'A's phone call records revealed that she tried to make a total of 13 calls to police and Kang Ji-hwan's agency officials and acquaintances to no avail. She was able to send the SMS message to the acquaintance because of an available WI-FI connection."
Gwangwon Police confirmed they received a repeated call and admit a connection could not be made.
On July 9, Kang was questioned by police and placed in holding. On July 10, police questioned the actor again, and he appointed a lawyer. On July 12, a warrant was issued for his arrest related to charges of suspicions of quasi-rape according to the Act on Special Cases Concerning the Punishment, etc.
On July 15, Kang admitted to the charges in a statement released via his legal representation.
This is Kang Ji Hwan's law firm HwaHyun. We are conveying Kang Ji Hwan's official statement.

This is Kang Ji Hwan. I admit to all charges and I bow my head and sincerely apologize to the victims that I have hurt greatly with my irreparable wrongdoing. I want to also apologize to everyone that I have concerned because of this. I will accept punishment for my crimes and make atonement.

I apologize profusely.

Signed, Kang Ji Hwan.
Meanwhile, Huayi Brothers Korea announced Kang has been replaced on Joseon Survival. Seo Ji-Suk has been named as the replacement via a statement.
Hello. This is Huayi Brothers Korea, the production company for TV Chosun's "Joseon Survival."

This is our statement on the casting and broadcasting schedule of "Joseon Survival."

We announce that actor Seo Ji-Suk was confirmed to join [the drama] in the role of the main character Han Jung-Rok.

After finalizing the casting, "Joseon Survival" will begin filming as soon as possible, and we will resume airing episode 11 starting next Saturday (July 27).

Once again, we ask everyone who awaited "Joseon Survival" for their understanding, and we will do our best to meet the viewers' needs by creating a well-made drama until the end.
The victims in the case are expected to be questioned again in the coming days.
—-Olivia Murray
Related Articles