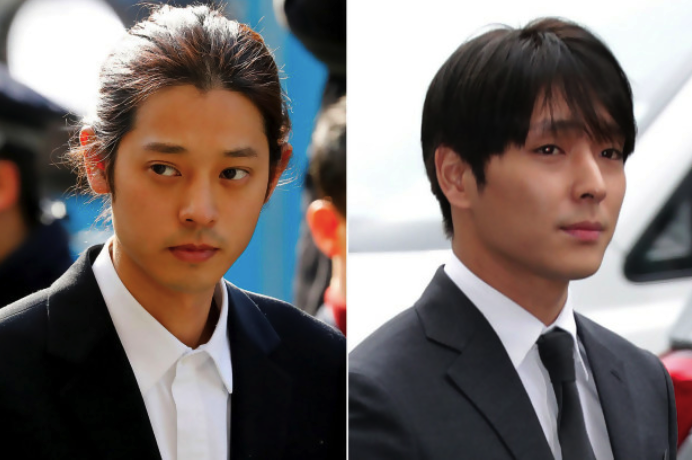 Trigger Warning: Article discusses sexual assault and rape.
Former singers Jung Joon-Young and Choi Jong-Hoon (FTISLAND) received their sentences for gang-rape and taking and distributing videos (molka) involving rape and other sexual acts.
On November 29, 2019, Jung received a six-year prison sentence while Choi received a five-year prison sentence for their crimes. Both men will also have to undergo 80 hours of sexual violence treatment courses and have been banned from working with children according to the BBC.
In Jung's case, Judge Kang Seong-Soo, who presided the trials, stated that he raped women who were "drunk and unable to resist, filmed them nude and having sex, then spread it on a group chat. We can't imagine the pain the victims might have felt who found out later."
Jung told the courts he felt remorse for his acts. Meanwhile, Judge Kang stated that Choi "did not feel remorse after mass-raping drunken victims."
The Seoul District Court also threw out the defendants' claims that the sexual acts were consensual.
Details of Jung and Choi's illicit acts leaked over a period of several months after conversations from Jung's "golden phone" hit the media. During the hearings, more details emerged. In one instance, Jung and Choi took part in a recorded gang-rape of an inebriated woman back in 2016 while both men were in Daegu. They were also found guilty of a similar crime that occurred in 2016 in Gangwon-do.
Jung was charged in 11 counts of sharing illegal videos including an instance where he recorded a non-consensual encounter he later shared on KakaoTalk with messages stating  "I drugged her and went back and forth from a to v then finished in her mouth."
Many Netizens feel that the sentences are too light for both former stars. However, they are receiving heavier sentences than some accused of sexual crimes in the United States, where, in one instance, someone found guilty of rape only served nine months of a one-year sentence while another man received ten years of probation. Another well-known example is Brock Turner who received a six-month jail sentence for rape. He only served three months of his sentence.
What is clear is that sexual assault and rape are not taken as seriously as they should be in many instances.
—-Olivia Murray
Related Articles