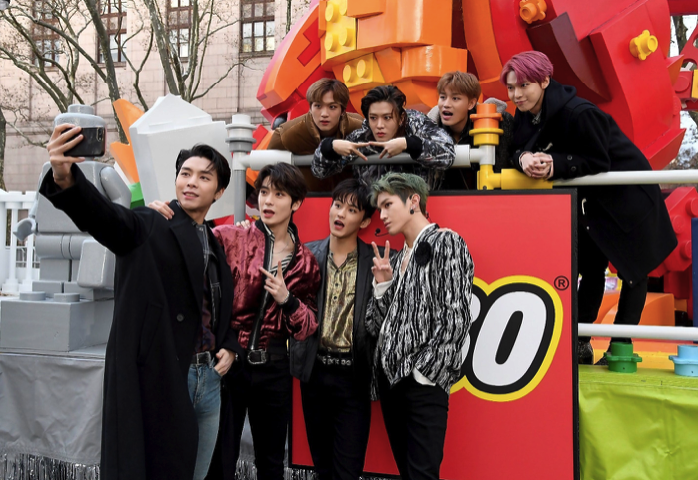 If the Macy's Thanksgiving Parade is an annual tradition in your home and you happen to be a K-Pop fan, you may have been surprised to see NCT-127 performing on the LEGO's Brick-Changer float during the November 28, 2019 installment of the yearly event.
NCT-127's appearance delighted NCTizens as "Cherry Bomb" blasted from the LEGO float. The group waved and blew kisses to fans as they appeared to be soaking up the moment.
i'm going to cry this is what they deserve yuta looks so freaking happy to be on that float and the way i can feel his eyes practically shinning it's such a beautiful day #NCT127_MacysParade pic.twitter.com/2x1kOSsQoM

— xuxi's right earring ✰ (@yukhelei) November 28, 2019
When it was their time to perform during the parade, NCT-127 performed "Highway to Heaven." Although it was a shortened version, parade-goers and television viewers had an opportunity to catch some of the group's dance skills and vocals. For some, this was their first listen of a K-Pop group.
Performing at the Macy's Parade is an honor that many wish to hold. For NCT-127 to be invited to the event as the first K-Pop group to hold court is a special honor indeed!
SM Entertainment's powerful male group, made up of Mark Lee, Taeil, Johnny, Taeyong, Doyoung, Yuta, Jaehyun, and Haechan, has been making the rounds in the United States this year with stops on several talk and morning shows including PeopleTV, Strahan and Sara, and the TODAY Show. Earlier this year, they were also the first K-Pop group to perform during the MTV European Music Awards, so making the rounds—and history—have definitely become part of NCT-127's DNA!
If you missed an opportunity to catch NCT-127 in New York, there are still two more chances to see them in the US this month! On December 5, the group will perform at POPTOPIA 2019 in San Jose, California. They are part of a lineup that includes Lizzo, Halsey, Normani, Louis Tomlinson, Bazzi, and Ally Brooke. On December 7, they will perform as part of Chicago's B96 Jingle Bash at Rosemont. Monsta X, Katy Perry, Camila Cabello, Marshmello, Normani, Lil Tecca, and AJ Mitchell will also perform. Hopefully you'll get you'll chance to see them live!
—-Olivia Murray
Related Articles