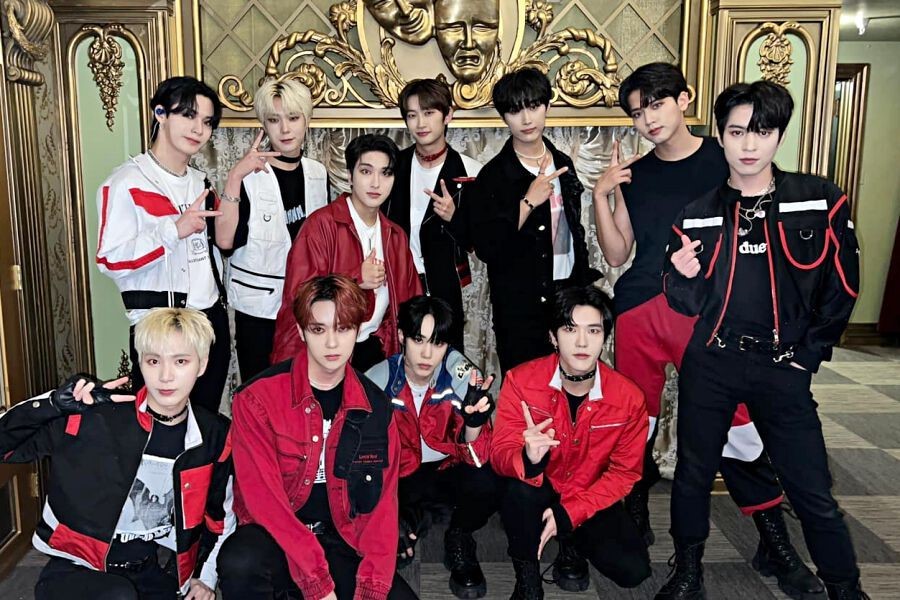 TW: Article discusses physical, verbal, sexual abuse, and suicide. Reader discretion advised.
Spire Entertainment's male idol group Omega X is another victim to the abuses running rampantly through the K-Pop industry and the overall entertainment industry.
The 11-member group debuted June 30, 2021. Since their debut, Omega X has built a solid fandom that has looked out for the members, and thanks to a fans' keen eyes, verbal, physical, and sexual abuse against the members have come to light, allegations that Spire Entertainment denies. The group is now suing their company for contract termination. 
The Los Angeles Incident
The abuse against Omega X were first noticed by a fan October 22, 2022 following the group's Los Angeles concert. In a Twitter post dated October 23, user hwi_418 shared audio of a Spire Entertainment executive, Kang Seong-hee, allegedly shouting and assaulting Omega X members.
얘들아 우리 밖에서 음식 시킨 거 우버 기다리고 있는데
애들 회사 대표님이 애들 때리는 거 봤어
진짜로 손이 너무 떨려서 어떻게 해야 될지 모르겠어 애들이 눈앞에서 맞고 있는데 아무것도 못해 pic.twitter.com/vJEqNPzx5n

— 유채ஐ (@hwi_418) October 23, 2022
Hwi_418 wrote, "Everyone, We were just waiting outside for the Uber rider with the food we ordered to come, but we witnessed [OMEGA X's] agency's CEO hitting them. My hand was shaking so hard I didn't know what to do. They were hit just in front of me, but I couldn't do anything."
Spire Entertainment, at the time, said they would "fact check" the incident.
Kang later said the accusations stemming from the alleged incident were "a one-sided allegation started by an 'anti-fan' against the management."
"I was exhausted because I've been up for several nights in a row," Kang said. "I even had a bloody nose because I was so tired. But the members didn't think to make me feel better. They didn't care about me. So, I felt upset and acted out of disappointment. Usually, I'm extremely polite toward the members. I even use honorifics when I talk to them."
Following the incident, SBS published a report complete with a video allegedly showing Kang physically and verbally assaulting the members. One member, Jaehan, received the brunt of the attacks whilst in the middle of a panic attack, while Taedong was repeatedly scolding for coming to Jaehan's aid.
"Why on earth do you think you losers should be loved by people? You're just losers who don't even know how to be loved," Kang can be heard saying.
"Stand up. If you're always sick like this, stop being a K-pop singer," Kang is later heard yelling at Jaehan while he struggled with a panic attack.
In response to SBS' report, Kang said, "I have never shouted at the members or assaulted them. I was really sad, so I just said, 'For once did you protect me like this when I was in a hard time?'"
According to SBS, the police had to be called twice during the night in question by hotel staff and guests as Kang was allegedly pounding on members' hotel doors and screaming at the members.
Following the alleged assaults, Omega X's flight back to Korea was canceled, with fans and SBS pointing out that Omega X had to use their own funds to return home.  Kang, however, stated the flight was canceled three days prior to prevent the members from "sitting with fans."
"We realized that the seats we originally booked could lead to the members sitting mixed with fans," Spire Entertainment said. "So, we talked about potentially canceling the tickets three days ago. It is not true that we left the members behind on purpose."
In response to the Los Angeles incident, others on social media came forward with stories of alleged abuses. One user came forward with a purported incident in Chile when the group visited as part of their world tour.
[Hi], so [I'm] not a fan of omega x and [I] don't know them well, but [I] would like to talk about something my mom told me about what happened yesterday at the airport. idk if [I] can talk about this here, but [I] think it's important to do so.

[My] mom was in [Chile] for holidays (we're from Argentina) and she was coming back on Monday, but the flight got cancelled so she had to stay at the hotel there (where omega x was staying as well).

[When] she was having breakfast, she saw two boys (members of omega x) that were being yelled at by a woman (who she believes [is their] manager or something like that). she thought that maybe they were celebrities because they had their faces all covered with caps and masks.

[So] then she found out they were from a kpop group called omega x. after that she saw them again in the airport, while waiting for the flight, and the same woman was yelling at them in front of everyone. my mom and her friends couldn't believe it and she told the woman to stop yelling at them. then the woman left and nothing else happened, but she told me the members bowed at her as a thank you.

[When I've] heard about it, [I] was really stunned and my mom told me she felt really bad for them, they looked also very respectful and kind.

[I] really can't believe how the company doesn't do anything about this, and [I've] also read about the situation with their tour.

[Actually,] my mom told me to make a complaint to the company because they cannot be treated like this. [I'm] not familiar with the group, so [I] don't know what to do exactly, but [I] wanted to let the fans know about this.

[Please] help spread this so we can stop these situations [from happening] ever again.
hi, so i'm not a fan of omega x and i don't know them well but i would like to talk about something my mom told me about what happened yesterday at the airport. idk if i can talk about this here but i think it's important to do so#omegax @OmegaX_members @OmegaX_official

— kia (@jsmgryu) October 4, 2022
Spire Entertainment Releases Statements, More Allegations Revealed
As the alleged abuse against Omega X went viral, Spire Entertainment attempted to do damage control. On October 24, the company released a statement.
Hello, this is OMEGA X's management Spire Entertainment.

First, we would like to sincerely apologize for causing you concern with the recent news. As of October 22 (local time), OMEGA X completed their first world tour, 'CONNECT: Don't Give Up,' in Los Angeles. Following the month-long tour, which began in Guadalajara, Mexico, on September 16 and ended in LA, USA, on October 22, we had a celebratory team-wide dinner. The conversation, which has circulated online via social media, was recorded at that dinner.

At the time, having completed all legs of the tour, the OMEGA X members and Spire Entertainment team were discussing the hard work that went into the concerts, as well as the future that is to come. During this discussion, we also talked about certain moments that caused disappointments in one another. And in doing so, the conversation got heated, and voices were raised.

Please note that we kept communicating after dinner. And Spire Entertainment and the members have since resolved all hard feelings. We have concluded to continue moving forward together, all the while being more considerate toward one another.

This past month on tour, getting to meet the fans from all around the world who love and support the members, has been an inarguably meaningful time for both OMEGA X and the managing team at Spire Entertainment. And while we have tried everything in our powers to keep our promises with the fans, we apologize for having caused such concern in the end.

Spire Entertainment would like to thank the fans again for wholeheartedly supporting OMEGA X. As the name 'OMEGA X' suggests, the group will continue to share and create valuable moments from the beginning to the end; and we, as the management, promise to protect both OMEGA X and the fans through these moments.

Again, we extend our sincerest apologies for the situation.
On November 7, Spire Entertainment released another statement further apologizing for the incident and announcing Kang resigned from her position (JTBC discovered that she was just reassigned a new position).
Hello, this is SPIRE Entertainment.

First of all, we deeply apologize to all OMEGA X members, families, fans, and everyone whose feelings were hurt by an unfortunate event that has happened recently.

SPIRE Entertainment takes the full responsibility and announce that the CEO who's responsible for this matter has resigned. We'd also like to apologize for not responding well and disappointing many fans with inadequate response to the situation.

We will take in all your advices and comments to do our best to prevent this kind of things from happening again and focus on providing a better environment for the members so that they can focus only on the artists' activities. Please continue supporting OMEGA X, and we promise to try our best to be back with better news.

Thank you.
However, SBS, who has been one of the main whistleblowers highlighting the alleged abuses against Omega X, released more video and evidence highlighting the allegations against Spire Entertainment.
In new video and chat logs revealed by the news agency, SBS states the Los Angeles incident started because Omega X did "not properly thank the CEO" during the Los Angeles concert. Kang stated Omega X did not sincerely read the words of thanks provided on the teleprompter. Kang was upset the group didn't express gratitude toward the company during the concert.
SBS also released information stating Kang made Omega X stop performing in the middle of a concert to call her because she was angry the members did not contact her earlier to express condolences over her father's passing.
Spire Entertainment's co-CEO, Hwang Seong Woo, who is also Kang's husband, has also been accused of abusing Omega X.  SBS revealed messages showing Hwang forced members to perform shows despite testing positive for COVID-19. Kang allegedly yelled that the members had "no will to perform," while text messages from Hwang stated, "Pull yourself together," and, "Arm yourself with mental spirit."
When asked about the latest allegations, a Spire Entertainment spokesperson said, "The company officially apologized, and the CEO in question took responsibility and resigned."
Other incidents between Spire Entertainment and Omega X include instances where the CEO would call members outside of working hours and getting angry if members ignored texts and calls. It was also revealed the company demanded six-figure payments from the group members for contract termination as well as additional claims that came out once Omega X got their turn to speak.
Omega X Speaks Up
Since the abuse allegations came out, Omega X members have finally been speaking out about their experiences under Spire Entertainment.
On November 6, Omega X opened their own personal Instagram account to communicate with fans since they are presently blocked from using their official accounts. For their first post, the group shared a statement that reads:
Hello. We created this small communication space to convey the current situation regarding the issues that have happened to us and to thank the fans who love and support us. According to Spire Entertainment, we have all signed a memorandum stating that we will take civil and criminal responsibility if uploading to SNS without consulting the company. We ask for your understanding that although we wanted to communicate with the fans as soon as possible, we had to be very cautious.

We have had happy times since our group activities but also had to endure some painful times. When our situation became known to the public, we were worried that what we had achieved so far would be in vain. But now we have put our fears behind us and decided to be brave.

The eleven members have decided to get back up and not give up on our dreams and take this as our second opportunity. The driving force that allowed us to challenge ourselves and stick to our plans was the fans who waited, believed, and supported us. It was because of our fans that we were able to survive two years.

Although there were days when we wanted to cry because the agency was mistreating us, remembering our fans' shouts and reading your messages before going to sleep was the only strength that kept us going.

From now on, we will continue moving forward toward our dreams as we always have. We will stand in front of our fans again with good music and performances. The eleven members have the same goal, and the fans have the same dreams as us, and it is something that is the most precious to us that we don't want to lose again.

We apologize for the delay, and we know that many people have been worrying and waiting for us. Thank you for reading the truth that we took the courage to post. Thank you. From OX. #오메가엑스 #OMEGAX #PROTECTOMEGAX
View this post on Instagram
On November 14, it was announced that Omega X plan to press charges against Spire Entertainment and executive Kang while also filing for contract nullification.

Omega X and their attorneys held a press conference November 16 discussing the allegations and abuse evidence. During the press conference, the group discussed the assertions against the company that were previously identified in the media, and they addressed purported sexual harassment they've endured since they debuted the previous year.
"Something unimaginable in 2022 happened. We have told the agency that we will be terminating [the members'] exclusive contract, which will lose its legal effect starting today. We will press charges and demand compensation," attorney Noh Jong-eon said. "We have plenty of evidence including photos, videos, and voice recordings."
Attorney Noh added they have plans to fight for compensation from Hwang and hold him criminally liable for assisting Kang in the abuses.
During the press conference, each of the members shared their experiences with the company, including being forced to drink, sexual harassment, and the CEO threatening suicide.
"After practice was over," Jaehan said, "CEO Kang called me and forced me to drink. Sexual harassment was also involved. She touched my face and hand. After drinking, she called me through KakaoTalk. She lashed out by saying that if we are going to continue to be idols, we have to crawl. She also said she would commit suicide, so the members received therapy. We only wanted to be respected as people who love music."
Jaehan continued, "…We thought we had to endure for the fans who waited for us. As the oldest member and leader, I was so scared that our dreams would collapse while looking at our exhausted members. We held back and endured, but we have reached the point that we cannot endure any longer. We took courage for someone, for all those dreaming the same dream as us."
In another statement, Jaehan added, "She would threaten us that we should 'grovel' if we wanted to remain as Omega X and that she would either kill us or kill herself if we didn't."
Hangyeom, Yechan, and Sebin highlighted that the members were forced to drink alcohol during drinking sessions and company dinners.
"They said there would be no next album if we refused to attend drinking gatherings," Sebin said.
"We felt like fools when we realized that we were being gaslighted," Yechan said. "When the older members were called for drinks, I wanted to tag along and help. We got in the habit of just laughing it over with jokes or trying to forget it."
Attorney Noh added the sexual harassment the members experienced came from unauthorized touching of thighs and faces.
"Kang would swing between being kind to the members and then abusing them," attorney Seo Ju-yeon said. "The members became unable to trust themselves. The sexual harassment by Kang shows how power imbalances crushes young people's dreams. Our legal firm will do our best so that the members can continue being active, and so that this kind of abuse does not happen again."
Four of the Omega X members are also currently being treated for mental distress, anxiety, and panic disorders following their ideal.
"I really tried to endure it," Hangyeom said. "Since this was my second debut, I didn't want to make fans hear the word 'disband.' So, I just picked up the phone whenever Kang, drunk, would call me all the time, during our schedules and even late at night after work. Whenever I got home, I became anxious that Kang would call any minute. I eventually couldn't take it anymore and started going to a psychiatric clinic. In fact, even now, when I hear a phone ring or vibrate, or anything remotely like an alarm, I panic.
"Even before starting psychiatric treatment, I had many occasions when I couldn't breathe because of her endless calling and verbal abuse," Hangyeom continued. "Once, when another panic attack happened, I told Kang that I couldn't breathe. She mocked me saying, 'Oh, are we going to see articles that say, 'Omega X becomes a 10-member band' because 'Hangyeom has panic disorder?' I was shocked by that."
The members also pointed out the abuse didn't just stem from Hwang and Kang, but from others within the company as well.
"Another high-up at our agency told us 'Die' in the group chat, while we were touring South America," Yechan said.
Continuing Fallout from the Controversy
After Omega X and their attorneys held their press conference, Japanese media company SKIYAKI announced they will no longer work with Spire Entertainment.
On Omega X's Japanese website, SKIYAKI wrote that have "determined that SPIRE… has committed a serious compliance violation. We have decided to terminate our exclusive contract with SPIRE."
On November 30, SKIYAKI closed Omega X's Japanese website, with their social media accounts and fan club service also closing December 1. SKIYAKI relayed the news via a statement on Omega X's website.
Due to the closure of the site, the fan club service will also be terminated.

Please note that customers who are currently registered will be automatically unsubscribed on November 30, 2022 (Wednesday).

The monthly membership fee for November 2022 will be refunded to all members, so please read the 'Refund Procedure Information' below before proceeding. We would like to ask all of our members for their understanding.

In addition, regarding the official Japanese SNS account, we will delete the account on Thursday, December 1, 2022.

Please note.

・YouTube Japan official channel

・Japanese official Twitter account

・Japanese official TikTok account

・ LINE official account

In addition, we are currently selling at the official Japanese SHOP.

Regarding various CDs and goods, at 23:59 on Wednesday, November 30, 2022,

We will end the sale, so thank you for your understanding.

Although the exclusive contract with SPIRE has been terminated, we will continue to watch over the future of OMEGA X together with our fans. 

Thank you very much for supporting OMEGA X on this site, even though it was only for a short time.
Prior to their November 16 news conference, Omega X also filed to trademark their group name in both English and Korean and the fandom name (For X). The group filed for trademark without Spire Entertainment's knowledge according to reports. If Omega X wins their contract termination suit, they will have the rights to the group and fandom names.
Regarding the news Spire Entertainment allegedly stripped Omega X of their official social media usage and passwords, the company stated:
Due to a change in the staff member in charge of fan marketing, we are in the midst of changing the passwords for the official fan cafe.
After the transition is complete, [the OMEGA X members'] access will be restored, and we will immediately make it possible for them to resume communicating [with their fans].
We did not intentionally cut off communication between [the members] and their fans; it was a measure we took to prevent the leak of their personal information during the process of changing the staff member in charge of fan marketing. At present, each member has been issued a new password, and they are now able to access the fan cafe.
Members Previously Abused at Former Companies
Omega X is a group made of members from inactive or disbanded groups, so each of the members are from different K-Pop companies.
During the press conference, the Omega X members highlighted the abuse they experienced at Spire Entertainment isn't surprising because it is an industry-wide issue.
"There was abuse in my old agency, too," said Hangyeom. "I wasn't beaten but other members were, at the office or even during tours."
"I know not every agency is like that, but I think a lot of K-pop trainees and even current idols are being treated unfairly," Omega X member Taedong said. "In my previous agency, I practiced 15 to 17 hours a day without a single day off. They confiscated my phone and forced me to share my passwords."
Taedong added, "Verbal and physical abuse were frequent in my previous agency as well."
Taedong was formerly signed under 2Y Entertainment. Following the press conference, his older sister posted on her Instagram story backing Taedong's claims. She wrote,
Another thing that Taedong couldn't say because he cried is that when he was under 2Y, his cellphone was forcefully taken away and he couldn't even keep in contact with his family members. In addition to changing his phone number, they would figure out his password and check his phone. Without a day of rest, the kids would be forced to practice for 15 to 17 hours a day. Even when our grandfather passed away, we couldn't reach [Taedong], so I direct messaged him through Instagram to let him know of our grandfather's death. Taedong belatedly found out [of his death] and he couldn't even stay by his side and could only send his condolences. I am extremely angry that the CEO of 2Y Entertainment, who slapped and verbally abused [Taedong], is so quiet right now, acting as if this is not about him.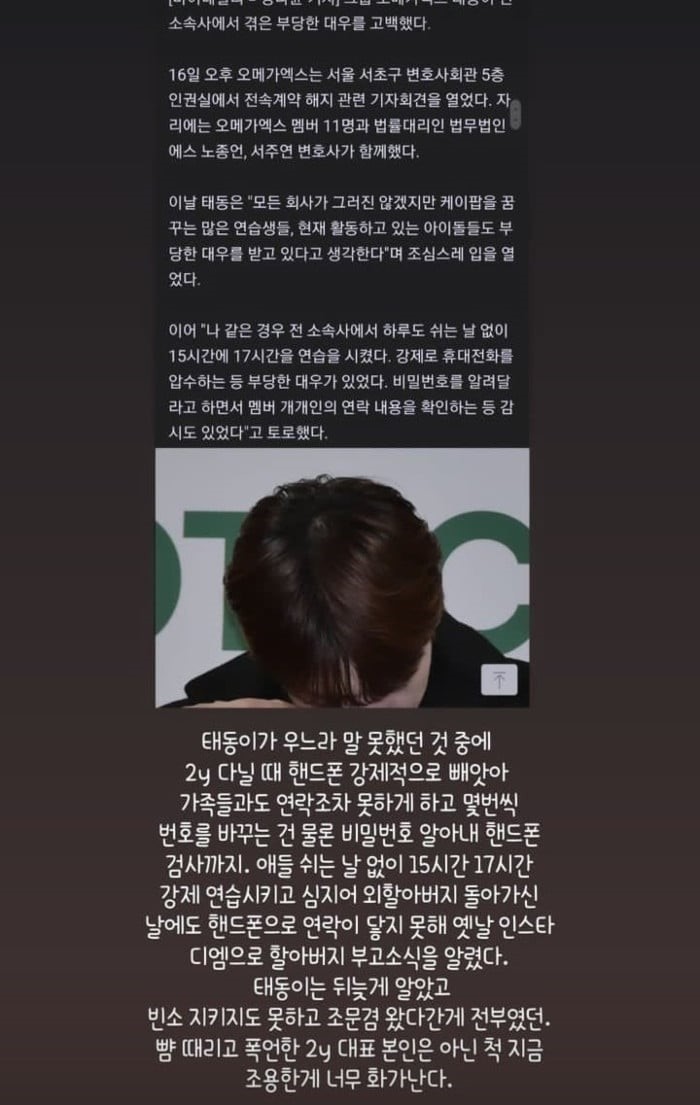 "Being an artist means you're signed exclusively to one company, which leads to a closed-off environment for us, more so than other jobs," said Yechan. "Without a conference like this, there's no opportunity for us to open our hearts like today. I hope that these things can be reflected for necessary changes to contracts. I hope there are committees or related government bodies that can protect people like us, who suffer from this kind of unfair treatment."
The press conference concluded with Omega X thanking their fans for their support.
Support for Omega X
During Omega X's ordeal, friends and individuals who've worked with Omega X have come forward to show their support.
YouTuber, beauty guru, and musical artist Edward Avila worked with Omega X on two music videos in 2021 and interviewed them on his channel.  In an Instagram story, Avila said he had "weirdest feeling about" CEO Kang.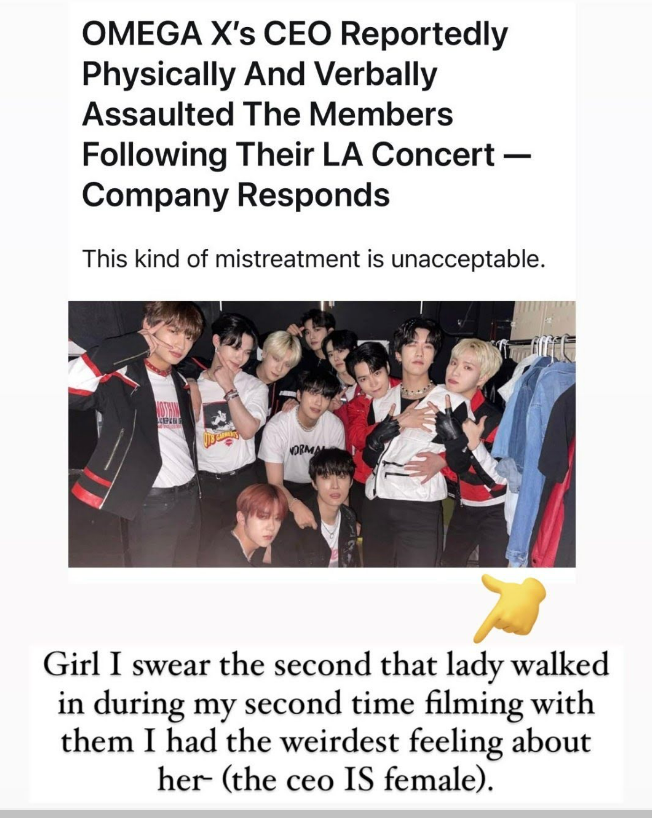 When addressing Spire Entertainment's initial press release about the Los Angeles incident, Avila said, "This 'statement' is the biggest piece of dookie I've ever seen, lol. [Like it's] fooling no one. It addresses literally nothing."
In his stories, he also shared two additional statements highlighting issues with the company's statement.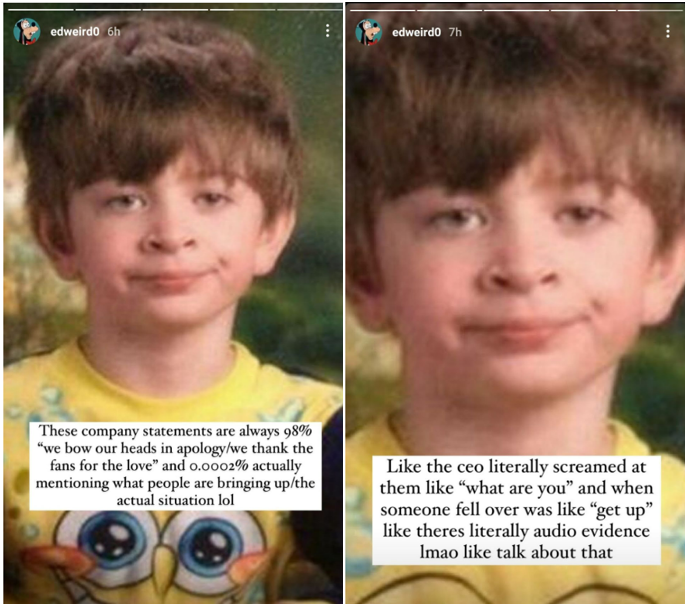 "These company statements are always 98% 'we bow our heads in apology/ we thank the fans for the love' and 0.0002% actually mentioning what people are bringing up/ the actual situation, lol." He continued with, "Like, the CEO literally screamed at them like 'where are you' and when someone fell over was like 'get up.' Like, there's literally audio evidence."
Another Omega X supporter, Dongkyu, who was formerly in the idol group SPECTRUM with Jaehan, said, "I won't curse you (Kang) out here since I've already done it a lot vocally. How dare you to my dongsaeng. How dare someone like you."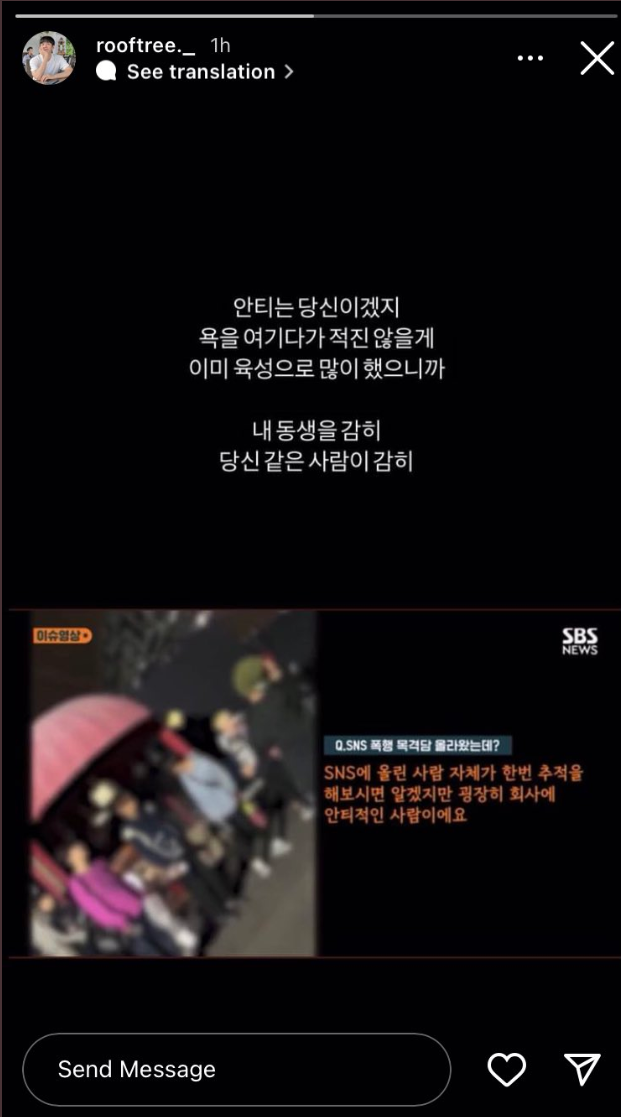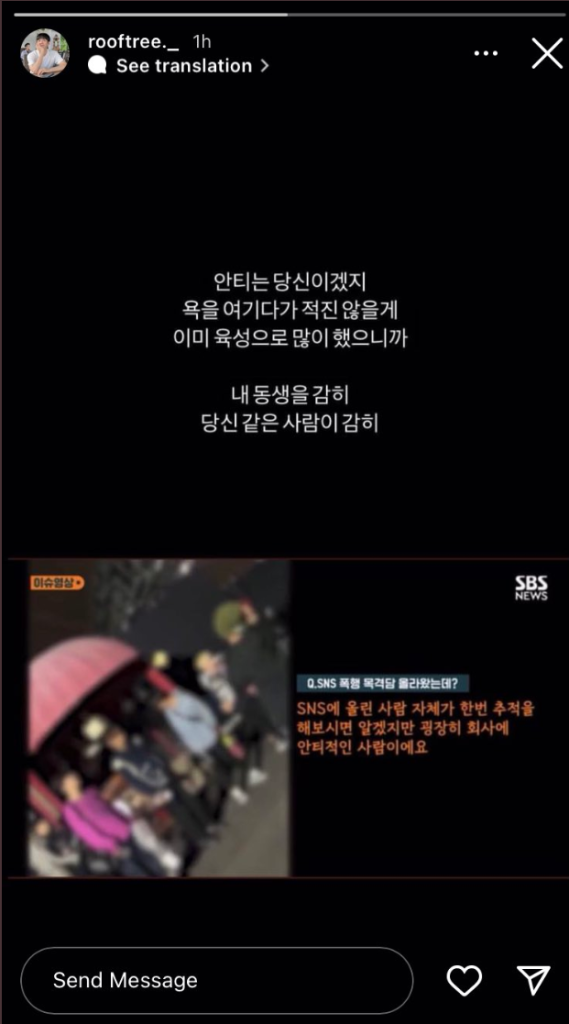 SNUPER's Taewoong simply posted #PROTECTOMEGAX on his Instagram story. SNUPER is currently on hiatus, but Taewoong and Sebin are still considered members.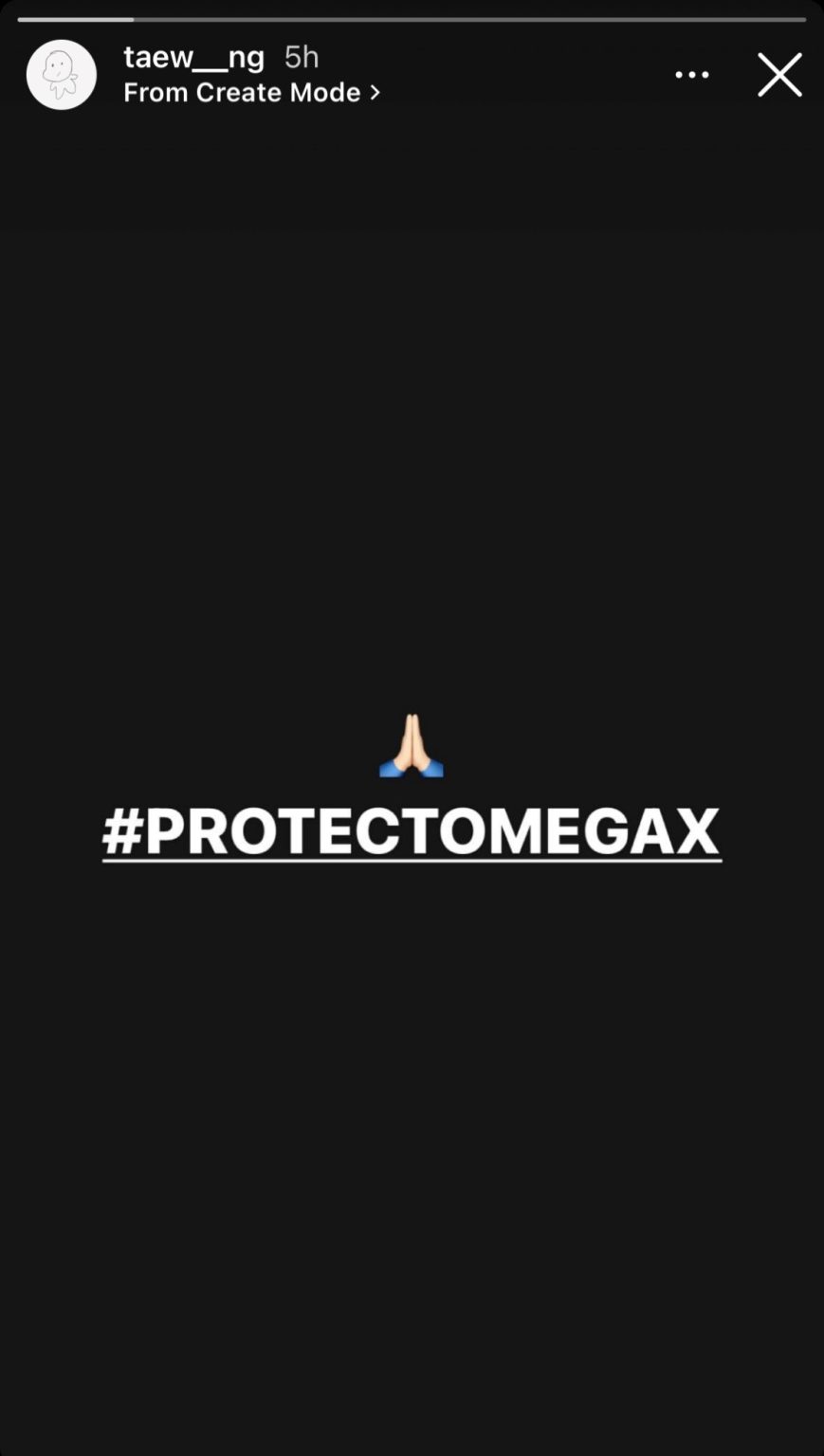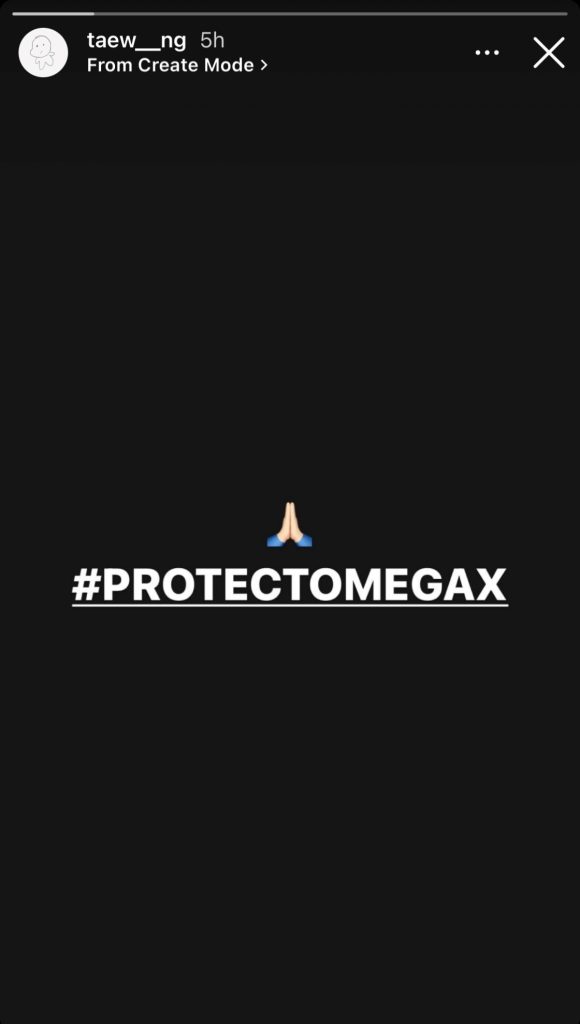 Former 14U member LOUDI posted #PROTECTOMEGAX on his Instagram. LOUDI, who is currently a soloist, is close with the Omega X members.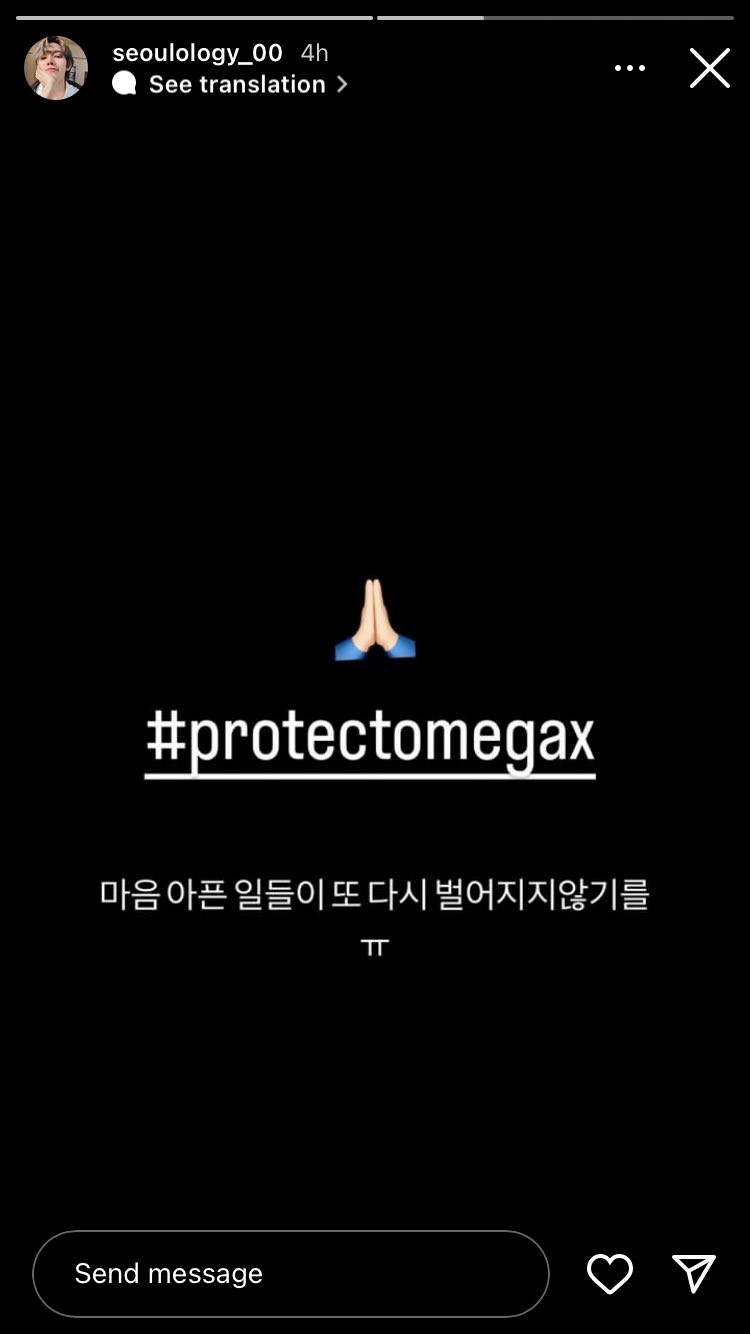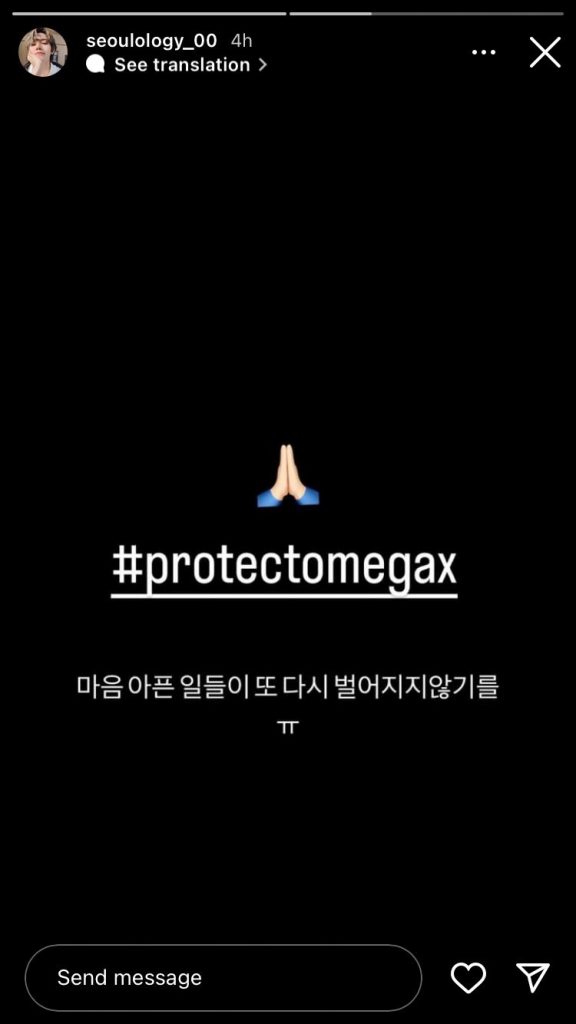 Singer and social media personality Grazy Grace shared a quote from CEO Kang berating Omega X. She overlayed the quote with a statement saying "Y'all don't know how many crazy people there are behind the scenes… Oh and I thought I was going insane in Korea."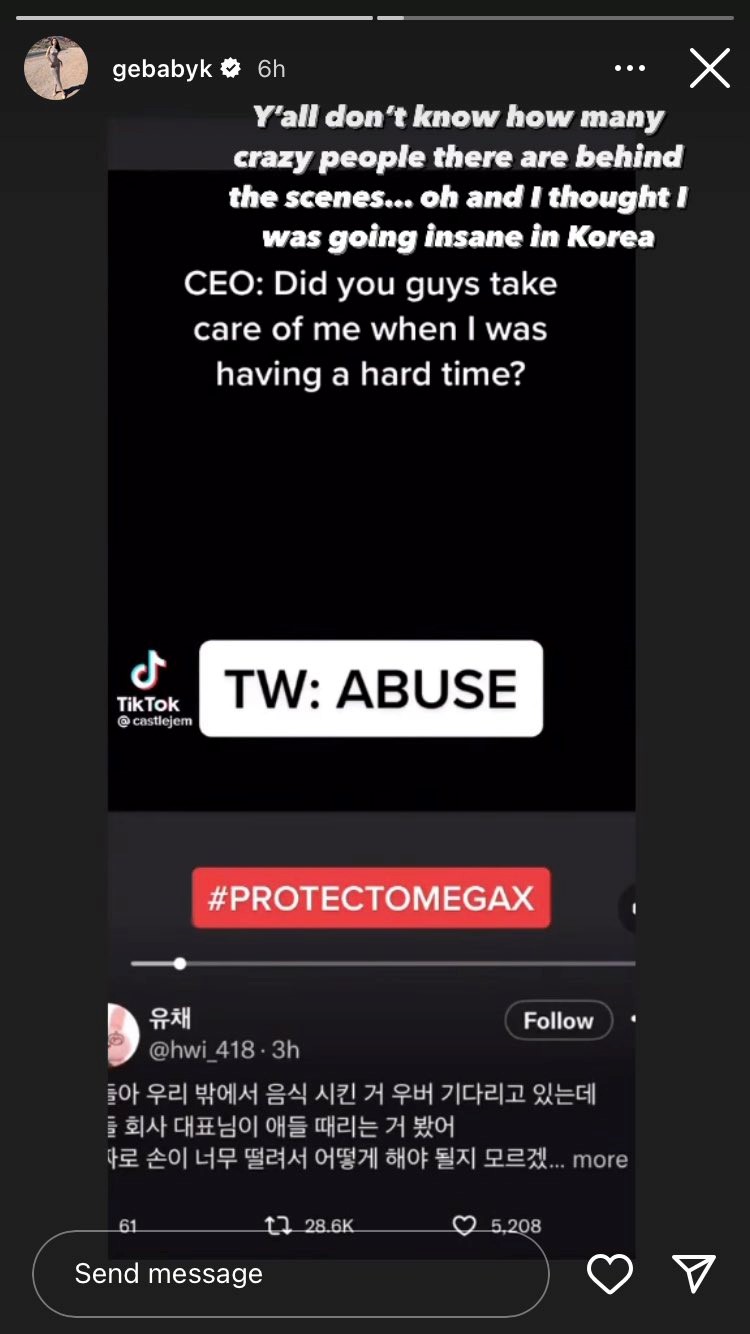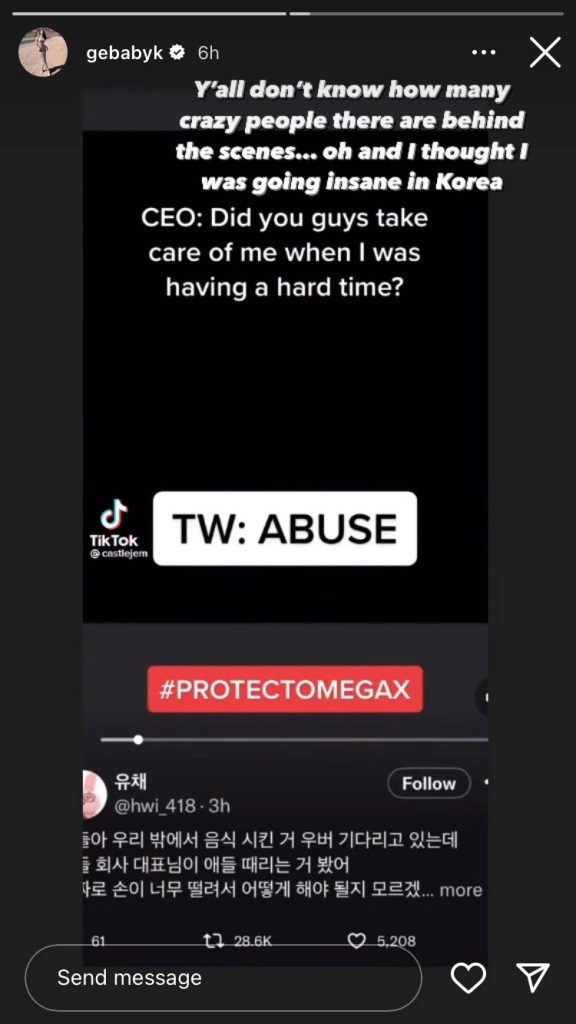 Other fandoms have also shown their support for Omega X, wishing them well on their fight against Spire Entertainment.
What's Next
On Wednesday December 7, 2022, Omega X and their attorneys are expected in court for their first hearing. During this hearing, a judge will decide if all 11 members should be let go of their exclusive contracts with Spire Entertainment. Omega X and Spire Entertainment are expected to share their arguments at this time.
As for Spire Entertainment, JTBC and Koreaboo both report the company is currently scouting trainees to debut in an upcoming male idol group. Kang, who was said to have resigned from the company, was spotted at a dinner meeting with trainees. It's unclear if the upcoming court proceedings will affect any of Spire Entertainment's future plans with debuting a new group.
The Omega X situation is still unfolding. Stay tuned for more updates as they become available.
—-Olivia Murray
#OMEGAX #OMEGAXabuse #OMEGAXforX #SpireEntertainment #kcrushnews #OMEGAXCourtCase #OMEGAXabuseclaims #kpop #kidols #kpopidols #kcrushamerica #Yechan #Jaehan #Taedong #Hangyeom #SBS #JTBC #OMEGAX11membergroup #koreanboyband #Sebin #SKIYAKI #OMEGAXmembersallegations
Related Articles