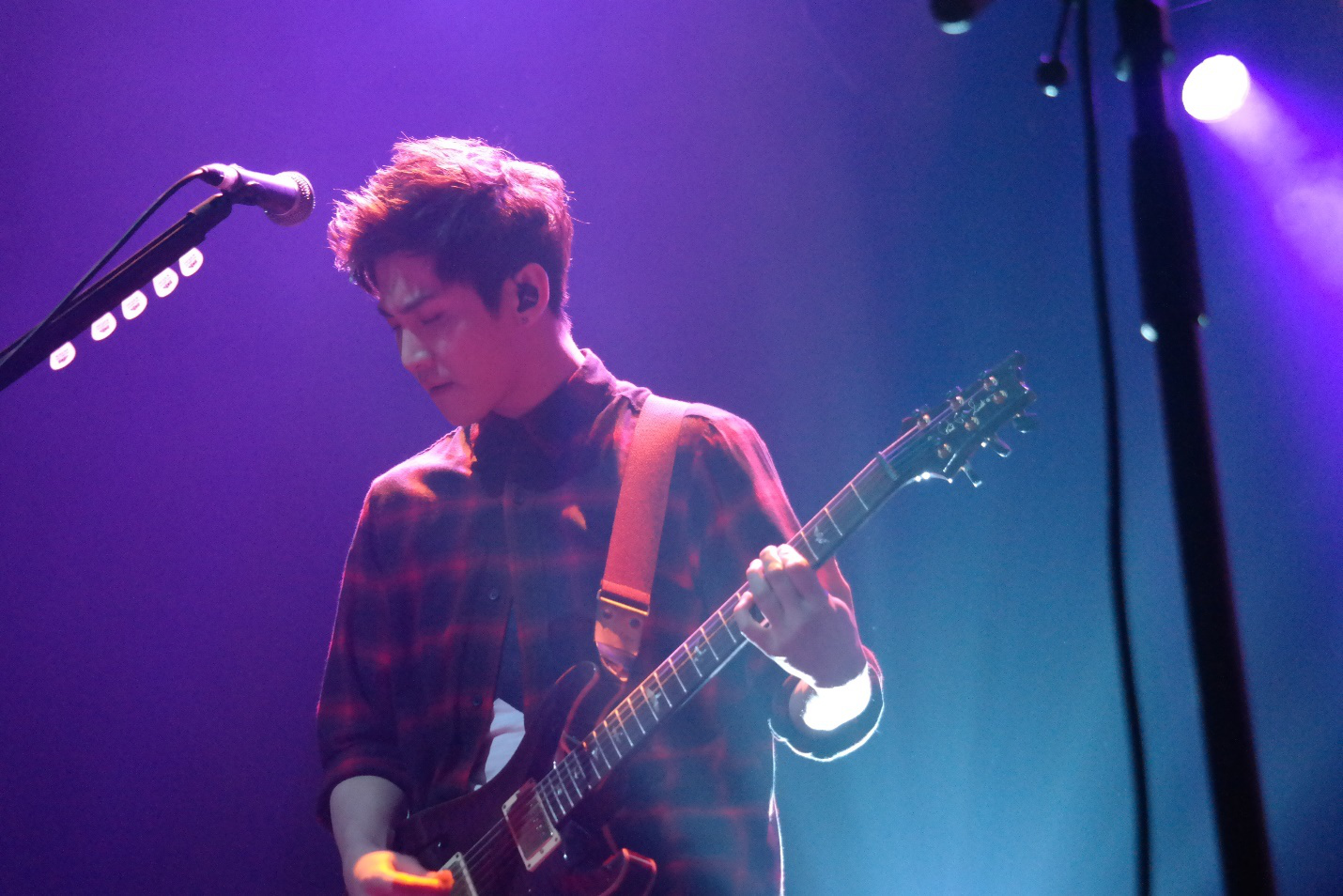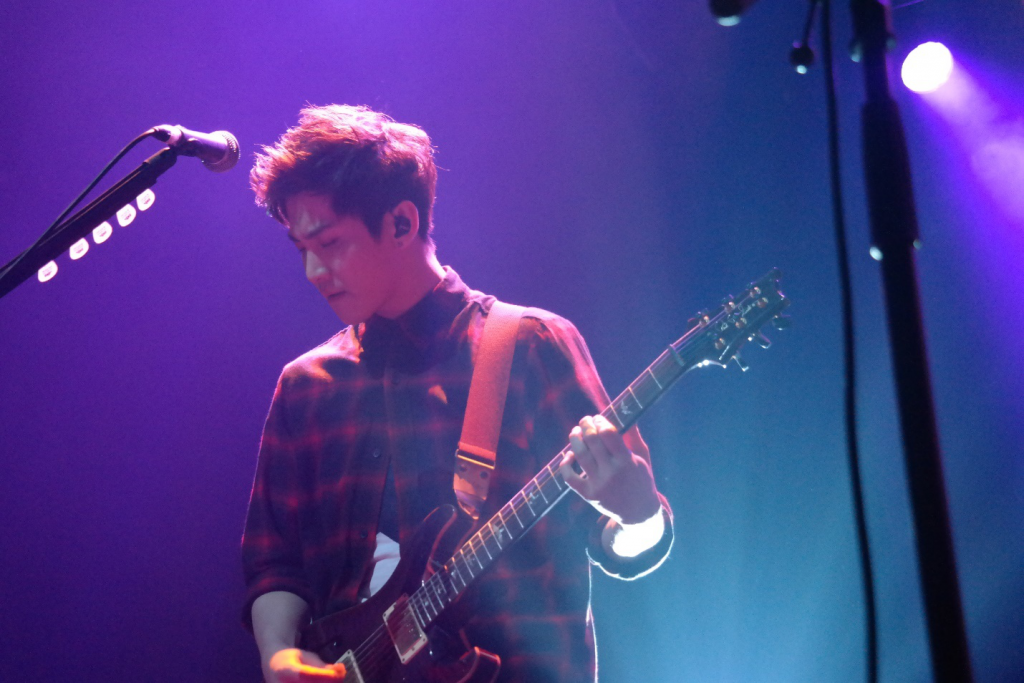 FTisland has lost another member.
Song Seung-Hyun, the group's guitarist, opted to not renew his contract with FNC Entertainment. The entertainment company announced Song's departure via a statement.
Hello, this is FNC Entertainment.

Our agency recently renewed our contracts with Lee Hong Ki, Lee Jae Jin, and Choi Min Hwan of FTISLAND.

Regarding the direction of the group, we will speak with the members after all of them complete their mandatory military service. We will do our best to support the FTISLAND members so that they can continue to make music and partake in a variety of fields that bring out their individual strengths.

Member Song Seung Hyun will be ending his activities with the group when his exclusive contract ends on December 31. Song Seung Hyun, who has also pursued an acting career through plays, musicals, short films, and web dramas on top of his activities as FTISLAND, has decided to focus primarily on his activities as an actor following the end of his contract.

This decision was made after long and deep discussions with not only our agency, but the other members as well. Our agency and the members respect the difficult choice made by Song Seung Hyun, and we ask that you give your warm support and encouragement to Song Seung Hyun, who has been with us for the past 11 years.

Thank you.

Following Song's departure, Song posted a letter to fans on Instagram.

Hello, it's Seung Hyun. Before anything else, I first want to sincerely apologize again to all of our fans Primadonna who must have been surprised.

I joined FTISLAND as a new member for the Japanese indie album "I BELIEVE MY SELF" and started Korean promotions in February 2009. Since then, I've been so happy for 10 years to receive your love and be able to share love with all of you. Somehow it's already been over 10 years.. I spent a really long time worrying and painfully thinking about this before I made this decision and I made this difficult choice through conversations with my members and our respect for each other. To be honest, I'm not sure what to say next.. I wanted to tell my fans this while standing in front of you, but I wasn't able to do that, and so I once again apologize sincerely.

I'll never forget my memories from when I joined FTISLAND. They were such senior artists to me, and I think I started off feeling pressure over whether I'd be able to do a good job, as well as feeling a nervous excitement.

I think it was all possible because I met my members. I was very lacking and naive, but they took good care of me and embraced me with love.

I didn't want to cause issues for the team and I worked very hard so that our team could shine even a little bit brighter, and I think that's been my driving force that's allowed me to be together as a band member up until now.

Recently, our team has gone through a lot. Sad things.. good things.. I think there have been a lot of moments in my life with mixed feelings. I've been able to gather courage and finish our performances successfully all this time,

and I've been able to wait, and all of that and the fact that I've been able to come this far are because of our fans who wait and give me strength through their unconditional love.

At some point, the pressure I felt turned into nervousness. By the time I realized that the nervousness and uneasiness were gnawing away at me bit by bit,

I saw how my mind and body had become as exhausted as they could be and I felt loneliness and uneasiness.

This is a very difficult decision that I made after talking for a long time with the members and agency staff, but I was so fearful over the thought that there will be definitely be fans who are disappointed by me because of my choice.. Also the biggest thing I feel is sorry.. I've had mixed feelings that I can't express in words.

However, this time I'm trying to gather the strength and look back for myself, Song Seung Hyun. More so than a work-related ambition over wanting to achieve a personal dream, I want to look back on my original self and console the parts of me that are hurt while recharging. After much worrying about it, I've made this decision with the mindset that I want to put in an effort just for me.

I was so happy. I've been so grateful. I'll miss it so much. And I'm really so sorry. I think that during my time in FTISLAND, I dreamt the most amazing dream that no one could even dream of.

I was happy to be able to dream that dream together with all of you.

Now I'm going to work hard at going forward for myself. I'm not able to be with the FTISLAND members until the end, but I'll be with them in spirit and hoping that we shine brighter and do well. I hope that we'll be healthy in both mind and body, and that we'll all become mature artists.

Thank you for reading my long post. And once again, I was really happy as FTISLAND's member and guitarist.

Finally, Hong Ki, Minhwan, Jaejin. We really worked hard and did well! I think we did a good job at prevailing. I believe that you'll become an even greater team in the future, and thank you for making memories in each and every moment that I will never forget.

Also, I sincerely thank our CEO Han Sung Ho too for supporting me so that I could join the team and keep working hard at our promotions all that time. Also, thank you to all of our FNC staff, you've worked hard.

Thank you.
The remaining FTisland members—Lee Hong Ki (who is currently serving his mandatory military service), Choi Min-Hwan, and Lee Jae-Jin—also posted supportive messages to Song on Instagram.
In his post, Hong Ki said, "Our beloved Seung Hyun!! I'm definitely going to support your dream as you continue to grow!! You've worked so hard, thank you for making many memories with me, and let's not forget them!! See you tomorrow. I love you, my kid."
Choi said, "Our Seung Hyun who I've spent over 10 years with as we cried and laughed.. when I look back now, I see so many things that have happened and so many memories. The thing I want to say more than anything else is that as a member and as a friend, you worked harder than anyone during that time, I've been so grateful, and I love you. We'll always support Seung Hyun's future, and we'll keep protecting this spot and wait as we remember the days we stood on stage together! I've been so grateful for the times we've been together, and I love you a lot, Seung Hyun!!"

Finally, Lee Jae-Jin posted a hand-written message:
To Primadonna,

I'm worried about our fans who must be very surprised by the sudden news, and I'm very sorry. It seems we weren't able to keep our promise to always be together or your request that we protect FTISLAND, and so I have a very heavy heart. I'm sorry to be expressing the feelings in my heart like this in a post.

Our Seung Hyun is leaving the team now to start a new journey. As someone who has been with him for a long time as a fellow member and brother, I'm upset and my heart aches over us going separate ways right now, but I am going to support Seung Hyun's decision, which he made after a long time of worrying about it.

I want to use this letter as an opportunity to once again say thank you to Seung Hyun, who has always been cheerful and taken responsibility and has always worked hard.

We're going through yet another farewell before our recent wound has healed, but I'm going to put off that pain for now.

We will protect our spot and firmly go forward for the sake of our Primadonna who will be having an even harder time than anyone else and for Seung Hyun.

We will continue to remain like this and wait together so that he can come back at any time.

I hope that on the new journey that Seung Hyun is taking, he will spend a meaningful time finding himself and be truly happy.

Everyone, please support him and wait for him together with us!

I believe that after getting through a cold winter, a warmer spring comes.

I love you and thank you.

– FTISLAND's Lee Jae Jin.
Hong Ki, Min-Hwan, and Jae-Jin renewed their contracts with FNC Entertainment.
Song is the second member to leave this year. Choi Jonghun left the group and retired from the entertainment industry following the KakaoTalk scandal with Jung Joon-Young. Choi was sentenced to five years in prison; he is appealing his sentence.
Song joined FTisland in 2009 after Oh Woo-Bin departed the group.
We wish Song Seung-Hyun the best in his actor career!
—-Olivia Murray
Related Articles