It can be extremely hard for a trainee of any company to reach debut and stay popular enough that disbandment isn't always a possibility. It seems like many companies have fallen into a pattern of letting the fans decide who makes it into a group. Many have called these sorts of competitions cruel; YG's 'Mix & Match' made iKON, then known as Team B, consider a complete line up change despite losing to WINNER (Team A) in 'Win: Who is Next?' previously. Fans get attached to people they may never see a stage again after an elimination from one of these types of shows and these young musicians and dancers have a potential stain on their blossoming careers.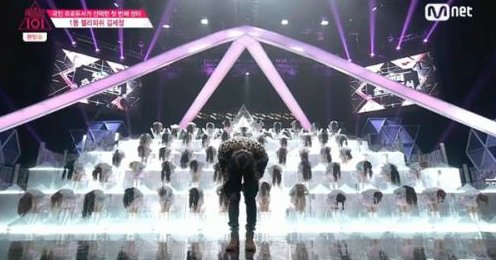 'Produce101', for those who don't know, is an elimination show with a few key differences than regular survival style shows. For one, the number of girls competing is way larger than any other show yet: 101, all from different agencies in and outside of Korea. The top 11 girls will be recruited for a group and release music for one year under CJ E&M before returning to their companies. Some of the girls have already debut under their company, like D.I.A while others have been trainees for many years.
Fans have already seen that there is a bias towards certain girls from more established companies. Somi, a JYP trainee and fan favorite from JYP's 'Sixteen' survival show, is already a front runner for winning and the same could be said for MBK and Jellyfish Entertainment's girls.   A local news source, Ilgan Sports, obtained a copy of the contract between the agencies and CJ E&M and found that there can be no legal action taken against CJ E&M for anything like malicious editing or negative outcomes from the show. Fan voting is a part of the elimination process and not all girls of the girls' performances are shown on television. The girls are also not being paid for their appearances. So the question is, Why do these girls and their companies do this?
There are a variety of answers. Many of these girls faced the reality of potentially never debuting under their company or debuting and quickly disbanding because of a lack of interest. With their television appearances on 'Produce 101', trainees get an opportunity to showcase their talents and develop a much needed following. The advantages of an already debuted group like D.I.A appearing on the show is that they are getting much needed screen time they might not otherwise get in front of a large audience. Girl groups are much harder to market as well and this is a way to play the field with a potential group.
Companies may also want to see where they measure up in comparison to other companies or if the trainee is even marketable. Letting a panel of both musicians and fans vote is also another good way of deciding the trainee is worth investing in further.
Is it perfect? Definitely not. Is it being handled differently because it is girls? Probably, and we will be able to compare very soon because a boy version called 'Boys24' (already better chances as there will only be 24 competitors) is in the works. But I think that this show, or at least the premise, is a very good idea. It's when all of the extra things that are done to make the television show more interesting are added that it begins to seem a lot worse.
What do you think about this show? What would you do differently or keep the same?
Photo Credit: MNET
—-Ke'Anna Bullard
Related Articles