Fans of Eurobeat music, look out for HI-BPM STUDIO 24/7 Live Radio! This new YouTube channel launching January 21 will feature non-stop mixes of Eurobeat classics, broadcasting 24 hours a day, 365 days a year.
HI-BPM STUDIO 24/7 Live Radio: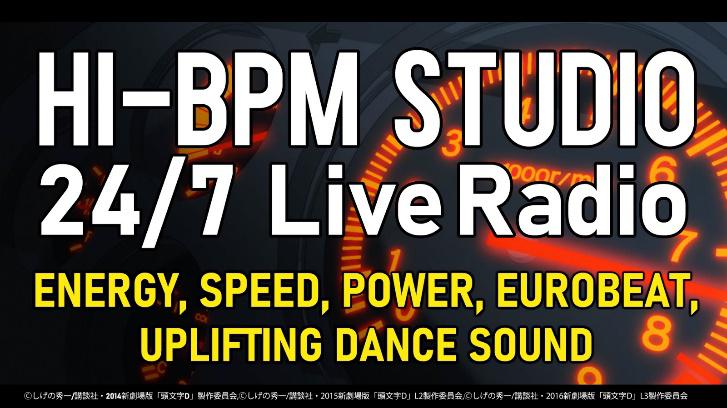 The Eurobeat genre has fans all around the world, generating 700 million views on YouTube via livestreams and videos. With its roots in the hi-NRG dance music genre, Eurobeat exploded into life on mainland Europe in the 1980s. Hi-NRG was initially based on disco music, but evolved as artists made use of the electronic instruments and synthesizers of the time, and as the BPM became faster and the melodies grew catchier, Eurobeat was born.
The genre was hugely popular around the world in the '80s, with many hitmaker producers and major artists. But by the '90s it had become something of a niche genre, thriving mainly among producers in northern Italy and gaining a strong following in Japan.
In Japan in 1990, Avex, which was a small independent label at the time, released the compilation album 'SUPER EUROBEAT VOL.1'; 30 years later, the series has now grown to 250 volumes, with 500 related CD releases and more than 4,000 songs – making Eurobeat a genre with impressive longevity. What was once a solely European genre has been embraced by musicians in Japan, thanks to its fast tempo and melodic tunes, leading to many covers and interpretations by local artists.
The genre is also associated with the "Para Para" dance style, a uniquely Japanese style of choreography that is known to just about anybody in Japan. Even today, this piece of youth culture draws hardcore fans within Japan, across Asia and even in North America and South America.
HI-BPM STUDIO 24/7 Live Radio will broadcast popular Eurobeat tracks such as megahit 'DEJA VU' by Dave Rodgers as it livestreams 24 hours a day, 365 days a year. And since it will be streaming live on YouTube, viewers will be able to chat with other fans in real-time while listening to the same tunes together.
Since this is a video channel, the broadcast will also feature cool visuals, coming accompanied by Japanese animation that conveys a sense of speed and power, fitting perfectly with the high-tempo Eurobeat sound to raise the tension to the max. The channel name will include the subtitle 'ENERGY, SPEED, POWER, EUROBEAT, UPLIFTING DANCE SOUND', so users will know exactly what they're getting.
Recently the chillout genre has been booming, but the music on HI-BPM STUDIO 24/7 Live Radio offers the polar opposite experience – the channel's message is less "chill out" and more "cheer up". Let's face it, that's an outlook we could all use in this day and age. For music fans who are stuck at home, this channel will be perfect for a workout or for dancing indoors – or simply to make doing the housework more bearable. Tune in for high-tempo dance music bursting with energy.
◆Official website:
◆Official YouTube channel:
https://www.youtube.com/user/sebofficial
◆Official Twitter account:
https://twitter.com/avexsebofficial
◆Official Instagram account:
https://www.instagram.com/seb_official_avex/
◆Official Facebook account:
https://www.facebook.com/avexseb
——————————
Images:
https://www.dropbox.com/sh/7s2a4lldfjov6y4/AACZUuaDpu4MI2VqV2JX3kDVa?dl=0
Related Articles