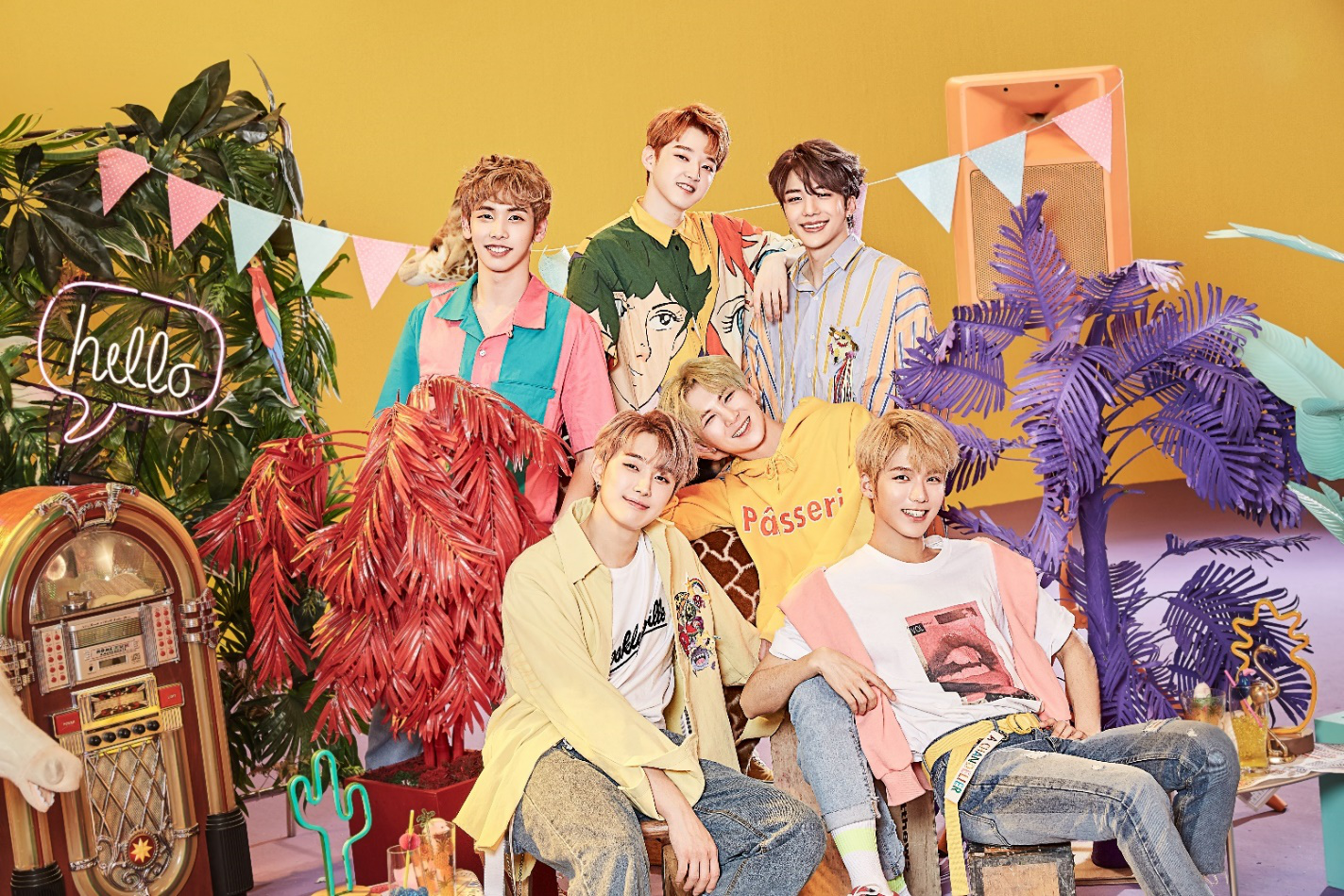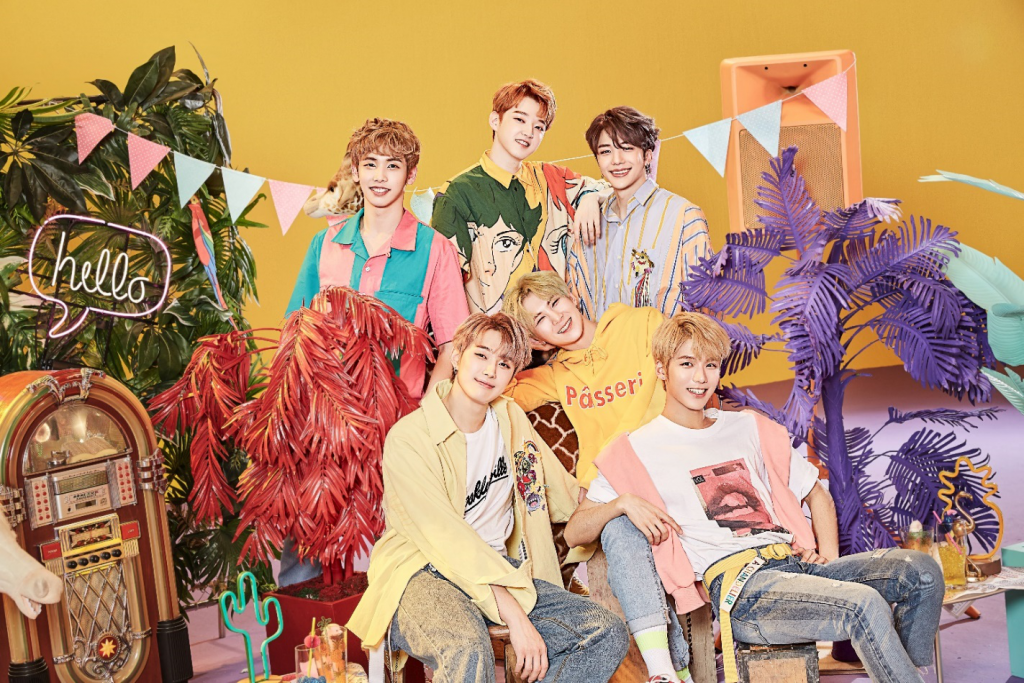 SPECTRUM is a Korean pop group that consists of 6 members – Minjae, Donggyu, Jaehan, Hwarang, Villain, and Eunjun. Dongyoon sadly passed away due to unknown causes on July 27, 2018, at the age of 20.
SPECTRUM made their debut on May 10, 2018, under WYNN Entertainment. The band's name refers to continuum of color formed when a beam of white light is dispersed through a prism, and each member of Spectrum represented 7 colors of the rainbow. We would like to thank SPECTRUM and their management for this great interview, as we wish them all the best in all their future endeavors.
*Hello, thank you all for your precious time. Could each of you give us a little self-introduction?
Minjae: Hi, I'm Minjae, the leader of the team in charge of vocals and performance.
Donggyu: Hello, I'm Spectrum's protective big brother, Donggyu . I'm a vocalist.
Jaehan: Hi, I'm the leading vocal of Spectrum, Jaehan.
Hwarang: I'm the rapper of the group Spectrum, Hwarang.
Villain: Hi, I'm Villain, Spectrum's angelic rapper.
Eunjun: Hello, I'm Eunjun, the youngest of the group and a vocalist.
*How did you come to make your debut as a group? Is it something you've always dreamed of?
Minjae: This started as a hobby, and then I found it was the right thing for me. I took an audition, joined the company and made my debut. As a child I had wanted to be a baseball player. 
Donggyu: When I was younger, I'd never thought of myself as a celebrity, let alone a singer. The longest dream I had was to become a profiler or doctor, but then I turned to art and I began to dream of becoming a color scientist or graphic designer. And just before my mandatory service at the army, I also thought of becoming a civil servant in law by taking the examination for it.
Jaehan: I had wanted to become a singer since the second year at middle school. Before that, it was all about judo. And before making my debut in Spectrum, I had wanted to become a singer-songwriter or a band vocal. Then I fell in love with dancing and performing while singing, so I made my debut as a group member. I also like life as a team. 
Hwarang: I loved to dance in a group as a child, so I used to practice with my friends. That got me used to living as a group, which then led to me being recommended as a member of an idol group. But my original dream was to become an actor.
Villain: I took auditions because I had always wanted to become an entertainer. And finally, I've become a singer.
Eunjun: I had never expected to become an idol, so I was working to become a vocal trainer. I got in a few auditions in the process, and then I met the current company and made my debut.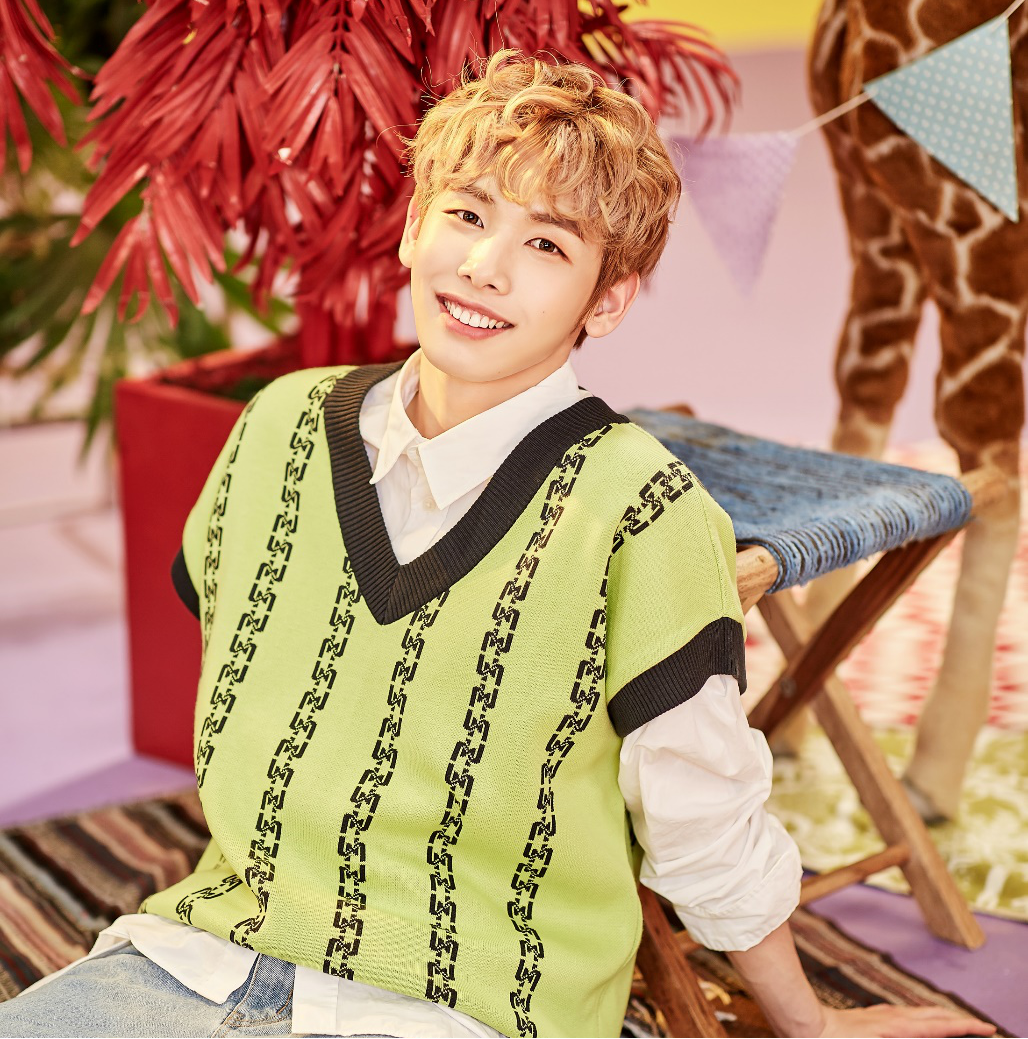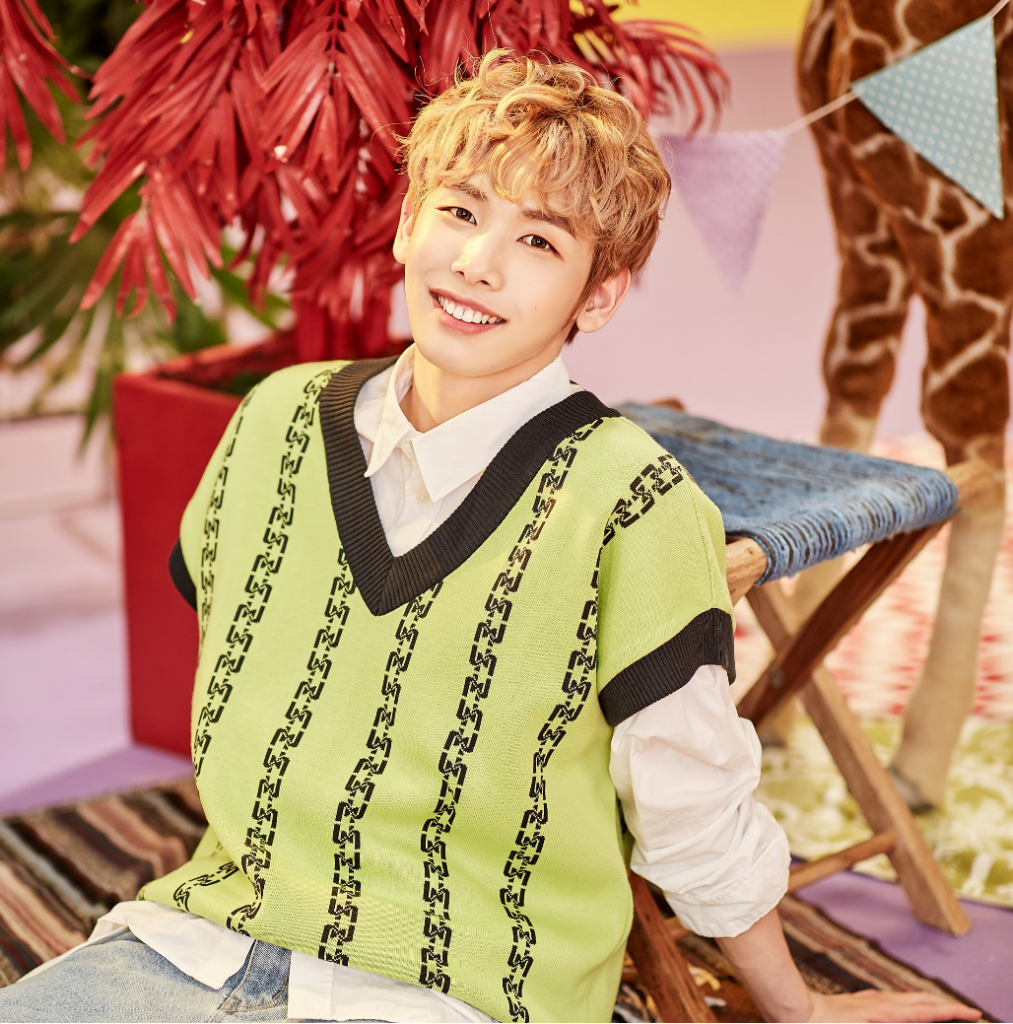 *Which one of your songs are you the most attached to?  
Minjae: Mine's Light it Up, which is our debut track.
Donggyu: I love every single one of our songs, but I personally love Dear My. The song is made so beautifully. Everything about it from the lyrics to the feel of the song is to my taste. I think to all of us, this song brings up some sad and precious memories. Not only is it a message for our fans, it is also a tribute song to Dongyun, our member who passed away.
Jaehan: Mine is also Dear My – I hope the whole world could hear the voice and lyrics of our friend Dongyun.  
Hwarang: Mine's What do I do. I participated in the choreography and lyrics, so it's especially endearing to me.  
Villain: My personal favorite is our debut song, Light it Up.
Eunjun: I think that I'm the most attached to Dear My from our second album, composed by Jaehan.
*Which musician or artist do you admire the most? Please share a song/album that you frequently listen to nowadays.
Minjae: Well, I'm learning to play the guitar these days, so I listen to Little Star by Standing Egg sunbaenim often, and sing it a lot too.
Donggyu: My role model is IU sunbaenim. I love her music. I also like the work of BTS sunbaenim. I think my favorite artists tend to have a wide musical spectrum. And my current favorite track is Fifth Season by Oh My Girl sunbaenim.
Jaehan: I'm so into playing the guitar these days, and band sounds appeal to me a lot. I listen to Cold Play, Yun Do Hyeon sunbaenim and DAY6 sunbaenim a lot. I especially listen to Congratulations by DAY6 sunbaenim a lot these days.
Hwarang: Song Min-ho – Fear, and Loco – It will take time.
Villain: I admired Hoya sunbaenim and Taeyang sunbaenim from my childhood days. A favorite track for me these days is Shower by Norazo sunbaenim. 
Eunjun: I love Bruno Mars's wide spectrum of genres and his tone. I tend to listen over and over again to a favorite song, and these days that would be When I was your man, a song I returned to recently.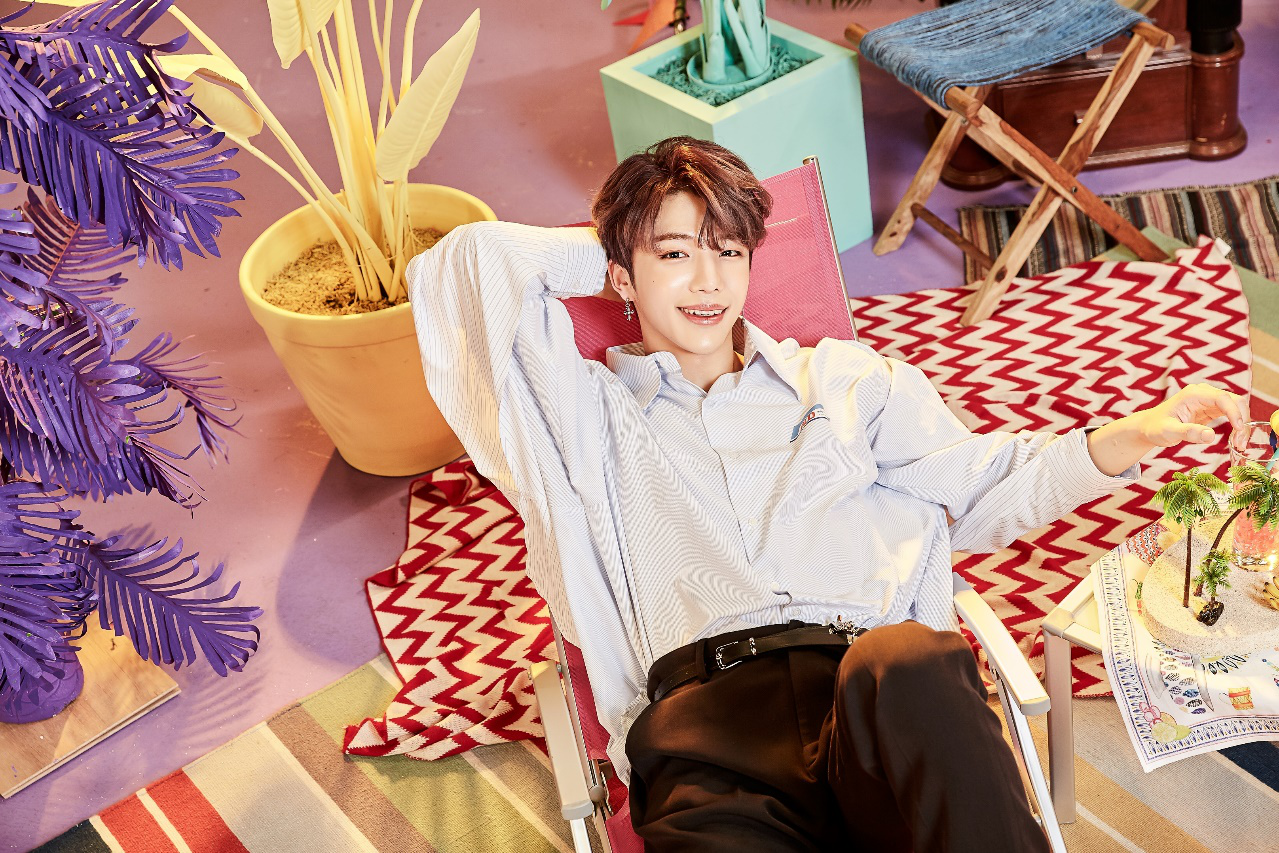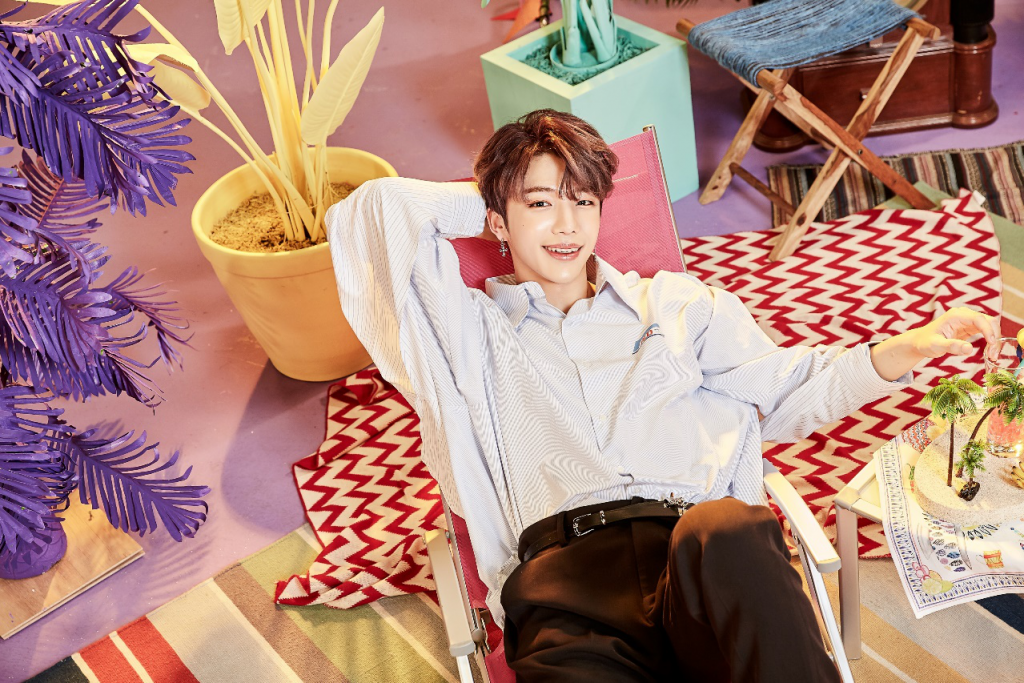 *How would you describe your own character in just one word?
Minjae: Cool.
Donggyu: Documentary.
Jaehan: I can't think right now…
Hwarang: Watery.
Villain: Angelic.
Eunjun: Sloppy.
*What's your fav food or beverage and why?
Minjae: I think I dislike everything that looks weird, because I get put off. I love everything that kids love, because my palate is very childlike…I hear that a lot.
Donggyu: I don't have a particular favorite food. I just like anything that suits me…I'm not that particular. But if I had to choose something, maybe some cool cucumber kimchi. I didn't realize it myself, but my mother tells me that I really eat a lot of it when she has it prepared at home. And my worst food would have to be chicken feet and pupas. My family used to raise chickens and I know what they always step on. The looks aren't too appealing either. As for pupas, I used to have them as a kid, but ever since I saw a real big moth, I really couldn't. And I guess I don't really care to try foods that look a little funny.
Jaehan: My favorite dish is tteokbokki (spicy stir-fried rice cakes) and raw shrimp. I don't know why, I can just eat them forever, haha.
Hwarang: I like pasta, western food. My personal favorite is Spaghetti Aglio e olio! And what I don't like is chilli pepper in soups because they taste like paper.
Villain: My favorite menu is clear seafood soup, because I absolutely love seafood.
Eunjun: It's hard to choose a favorite because I have so many… but my worst food is fermented skate fish. I tried it recently and the smell was just…too much.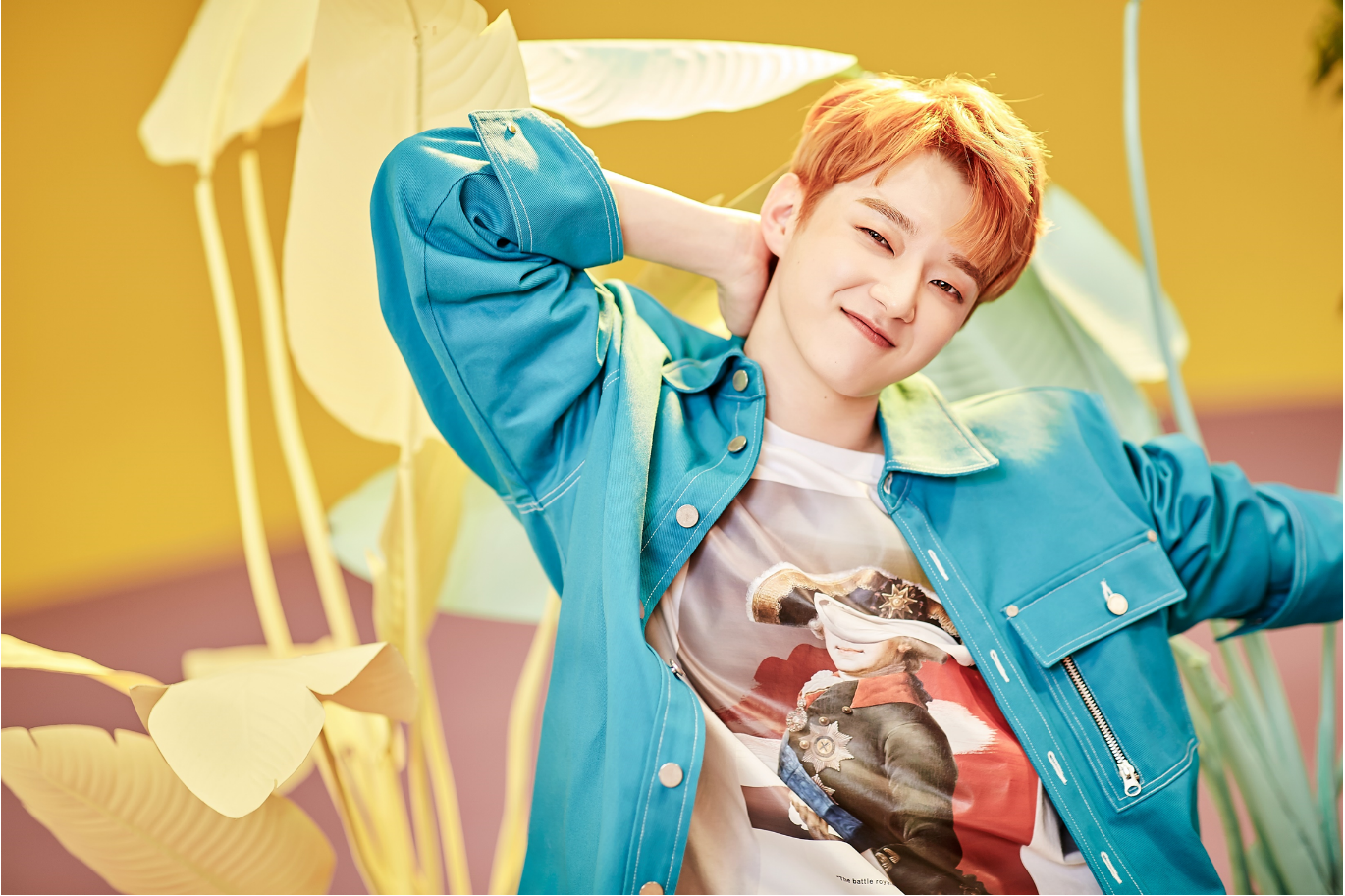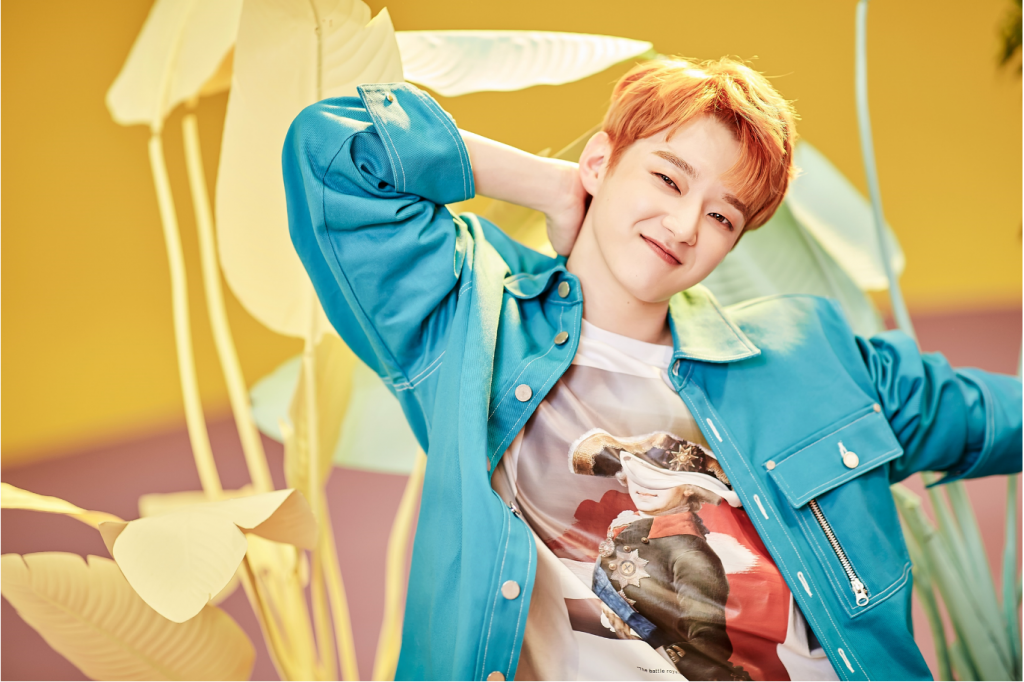 *What's your favorite color and dress code, if you have one?
Minjae: I like black the most ~ and my preferred fashion is just comfortable clothes.
Donggyu: My favorite's green. I love all colors but green really eases your eyes. As for clothes, I like loose tops and less loose bottoms with very simple accessories. I don't go for the flamboyant type, either clothes or accessories.
Jaehan:  I like blue the most. As for my fashion, I think I take care to have little matches of colors…the shoes and belts for example. Color combinations are important to me.
Hwarang: Purple! I wear things to suit my face each day. So, I could be dressed cute, or sexy, or whatever. 
Villain:  I don't really have a fashion code. I prefer bright colors.
Eunjun: I like pink, yellow, and white. Besides that, I'm not really a fashion person so I go for anything comfy to wear.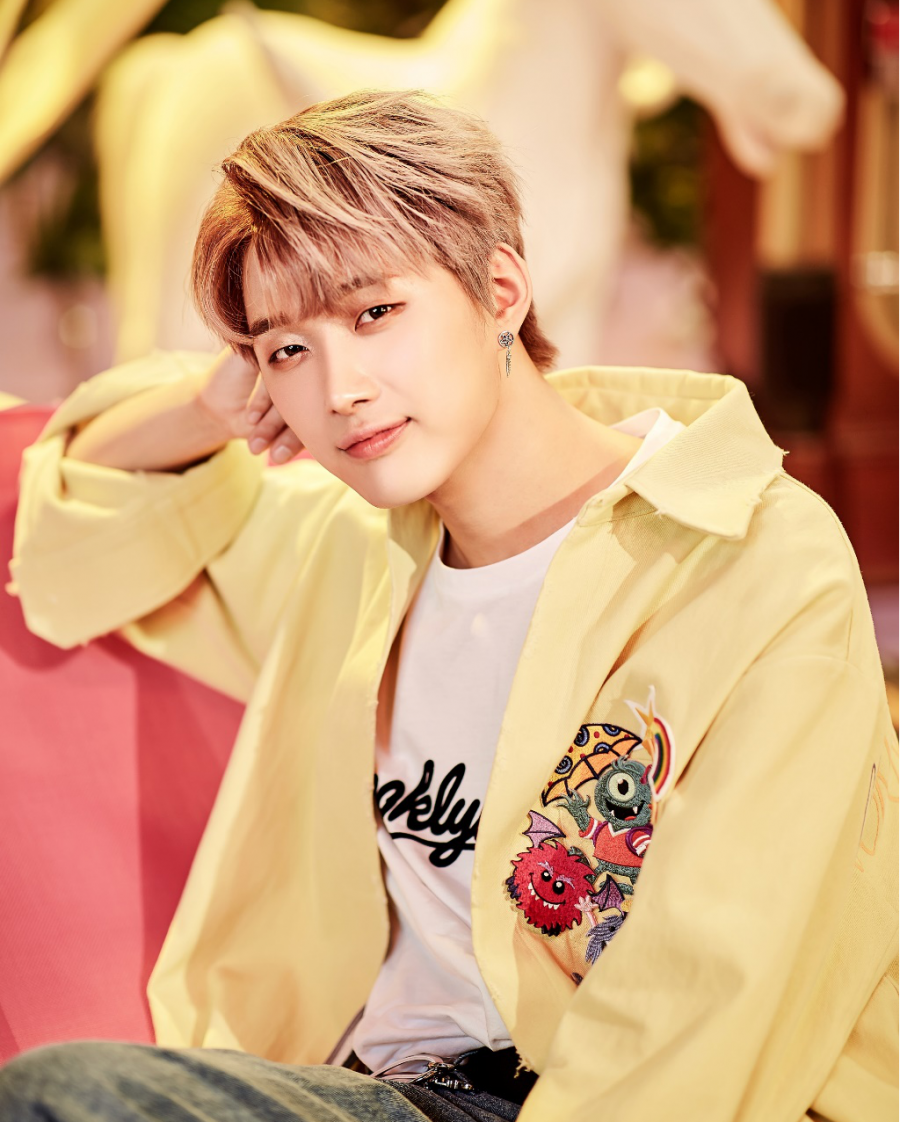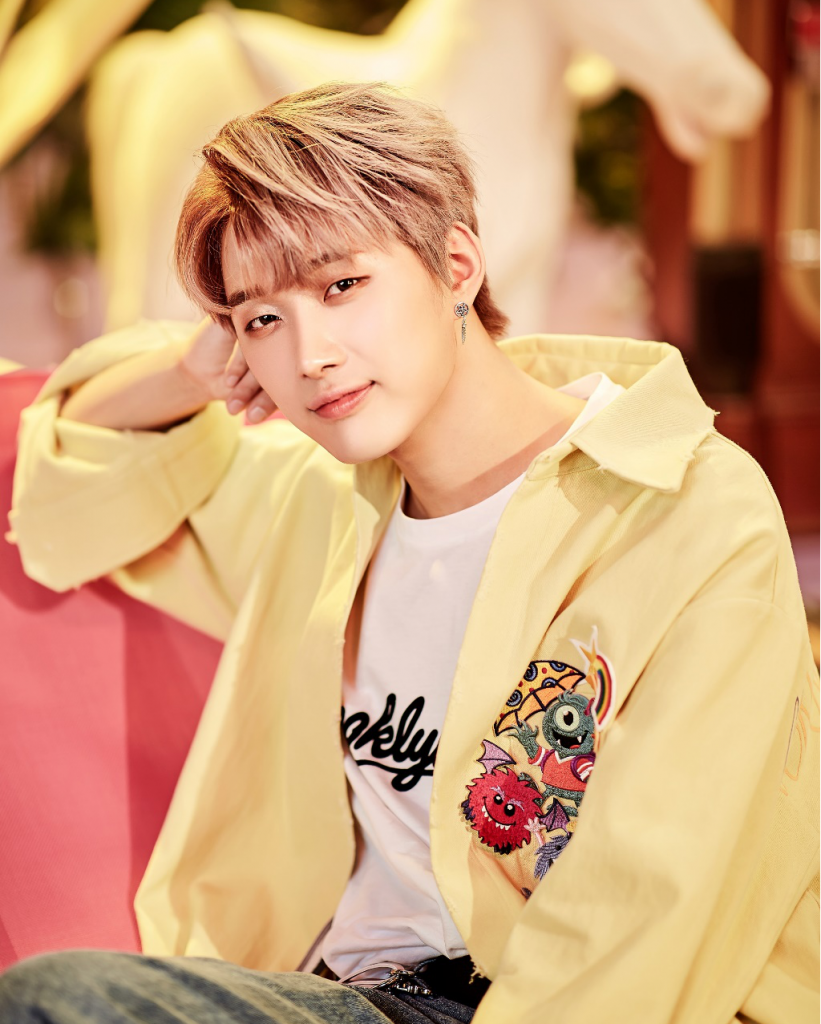 *Describe your ideal type.
Minjae: Someone with an attitude. Someone who does their best in what they do, responsible and has strong beliefs.
Donggyu: Someone who has a nice voice. And I like elegant and pure looks. And I think eyes are my special point of interest. I like people with clear eyes.
Jaehan: My ideal type is someone with their own views.
Hwarang: Someone cute and pure in looks, with a somewhat proud demeanor.
Villain: A good driver, with polite manners.
Eunjun: Someone with a nice voice, long straight hair and pretty neckline.  
*How do you relieve stress?
Minjae: I work out!!
Donggyu: I tend to write or draw pictures. I forget my troubles by concentrating on something in particular. I sometimes cry in the shower too…or watch a sad movie. Then I can feel all light-hearted again. I've tried eating and sleeping a lot too, but it didn't work for me.
Jaehan: I used to binge-eat, but these days I like to take walks.
Hwarang: I play games. 
Villain: See a movie or go for a walk alone.
Eunjun: I binge-eat something really good, or play games.
*Where would you most like to travel?
Minjae: The U.S. 
Donggyu: The States and the Czech Republic. Can't choose between those two. I've never been to the States but ever since my sister's trip there I've wanted to go myself. And out of the places I've been to, I really loved the Czech Republic. It had terrific views and people, so much that I felt like living there. I'd love to visit again. I wonder if I'd feel the same if I did go. 
Jaehan: I wanna go to France someday. 
Hwarang: Europe… Halstatt.
Villain: Hong Kong.
Eunjun: I'd love to go to France.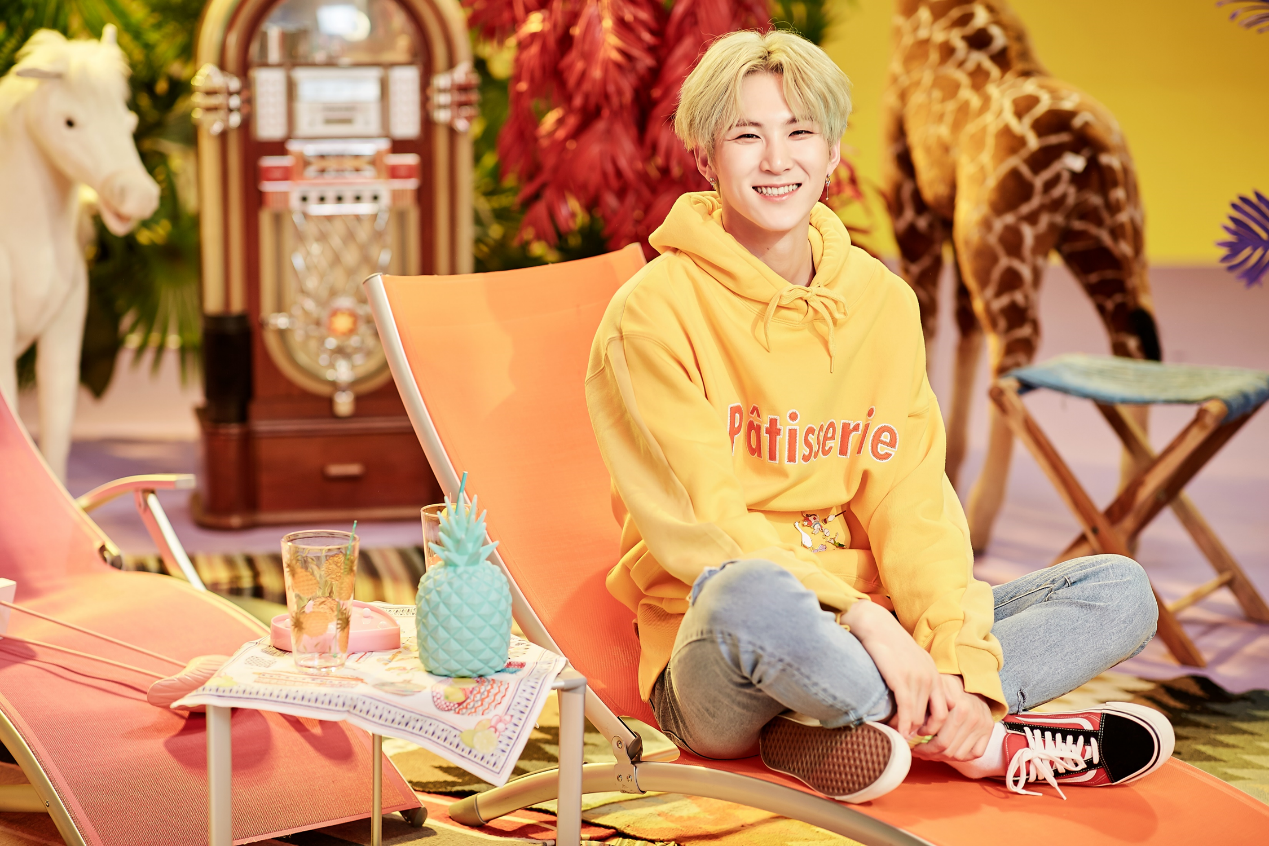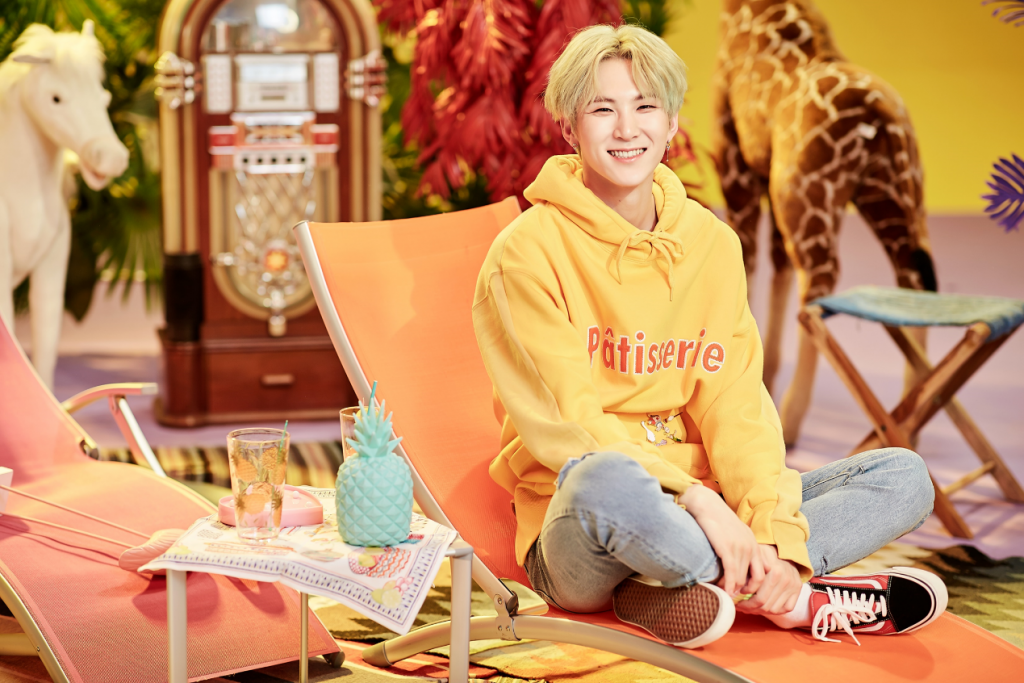 *Where do you see yourself in ten years? What would you be doing?
Minjae: I guess I'd be running a business of my own, while still active as a Spectrum member.
Donggyu: Nobody knows whether I'd be in the entertainment industry after ten years. But I currently love this job, and love all of our fans who love us. So, if there's no special reason not to, I think I would still be with you like this. If not, I would still be pursuing another dream, somewhere, still the same person, to achieve something just as I became an idol singer…and at a rather late age at that.
Jaehan: I think I'd still be singing, for people, even after 10 years.
Hwarang: I'll be making hit songs as a composer!
Villain: I have a dream of owning my own building and opening an academy.
Eunjun: I promised to stay forever with Lantana, so I would still be a member of Spectrum.  
*Describe your future plans and hopes, and a word for your fans. Thanks!
Minjae: We'll work really hard to promote us, Spectrum. We hope to achieve a lot with this group. For our fan club, Lantana, thank you so much for your support and working alongside us. We'll try harder to become singers you could be proud of!
Donggyu: There's something we've promised Lantana. Whatever hardship or troubles that may be ahead, we'll walk all the way together to reach the sea. I have hopes of reaching the deep blue sea with our fans, whatever life may bring. The future looks unstable and scary for us at the moment but there will be a better tomorrow, just as light comes after darkness. I'll try to be a place of rest for our fans, when you get tired on the way. Love you.
Jaehan: I'd like to continue to share a lot of my music. I thank you, our fans, for trusting us and keeping up with us. 
Hwarang: I wish I could do more work in entertaining and acting, and I'll try my very best with the members here.
Villain: I hope to be able to spend a whole day with our fans, sometime in the future. Please stay by our side until then, Lantana. 
Eunjun: I'd never give up singing, so I'll be singing for a long time. And Lantana, thanks for being with us for a year…we could exist and keep going because of you. Hope to be with you forever. Love you!
J.Chung.
3 responses to "KCRUSH Interview with SPECTRUM"
Related Articles