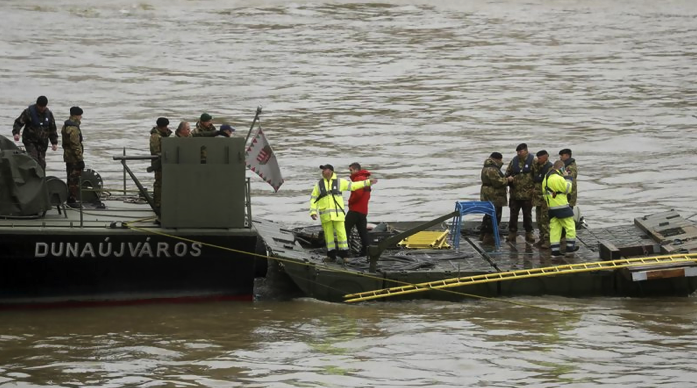 Budapest, Hungary: Seven seconds was all it took for The Mermaid (Hableany) to sink into the Danube River according to the police investing a boat crash that killed seven South Korean tourists and left 21 missing May 29, 2019 at 9:05pm local time (3:05pm EST).
According to the seven survivors—all of them South Korean—their tourist boat, The Mermaid, was struck by a river cruise ship, Viking Sigyn, while both watercrafts were traveling in the same direction heading toward a bridge.
"I saw that big cruise ship coming closer to us, but I had never imagined it would ram our boat," Ms. Jeong, a 31-year-old survivor, said. "The people plunged into the river in the darkness and shouted `Help me!' while floundering in the waters. But I couldn't do anything for them."
The Mermaid, a small sightseeing boat, was about to wrap up it's nighttime tour of the Hungarian capital of Budapest. CCTV footage reportedly shows that the Viking Sigyn hit the smaller ship, causing it to capsize and sink.
"The (Mermaid) for some reason, turns into the way of the Viking. And the Viking, as it bumps into it, pushes it… and within seven seconds … (Mermaid) sinks," Pal Gyorfi, a spokesman for the Hungarian national ambulance service said.
"Our boat was turned over in an instant and began sinking," a survivor, Ms. Yoon, said. "All those on the deck fell into water and I think those staying in the cabin on the first floor couldn't probably get out of the ship swiftly."
Survivors said about 20 people where on the boat's deck while the rest were waiting in the cabin area.
Police said that the seven victims they found in the murky waters weren't wearing life vests and that the seven victims they rescued had hypothermia but are in stable condition. Police said there are 19 South Koreans including a child and two Hungarian crew members still missing. Hope has faded they will be found alive.
"I wouldn't say there is no hope, rather that there is a minimal chance [of finding survivors]," Pal said. "This is not just because of the water temperature, but [also] the strong currents in the river, the vapor above the water surface, as well as the clothes worn by the people who fell in."
Yoon said that the ship that struck them continued to sail by without stopping to rescue people. A 60-year-old victim, Ahn, said rescuers were only able to save those clinging to objects or holding hands with people clinging to lifeboats.
Rescue and recovery efforts have been hampered by heavy rain, murky waters, and swift currents.
"We have to say that circumstances are working against us," Hungary's foreign minister Péter Szijjártó said.
Because of the currents and flooding that's not predicted to go down until June 4, 2019, Hungarian authorities contacted Serbian authorities to help them search the length of the Danube River in hopes of finding remains.
A floating crane has been called in to lift the tourist boat from the bottom of the Danube River. The rough and muddy waters have made this task difficult. Szijjártó said that zero visibility has made it "impossible to get near the wreck."
"Those who were trapped in the hull or were stuck underneath can be lifted only once the wreckage is pulled out," a Hungarian police statement said.
So far, out of the seven deceased victims, two have been identified, and fingerprint experts are working on identifying the remaining five according to Yonhap News.
64-year-old Yuriy C. from Odessa, Ukraine has been identified as the captain of the Viking Sigyn. Yuriy was taken into police custody and questioned and preliminarily charged for reckless misconduct in waterborne traffic leading to mass casualties. Yuriy is described as an experienced captain. Authorities added that he is still under investigation.
South Korean and Hungarian authorities have been cooperative with each other as search and recovery efforts continue.
For South Korea, this latest boating accident is a painful reminder of the Sewol Ferry accident five years ago that killed 304 people, many of whom were students.
—-Olivia Murray
Related Articles