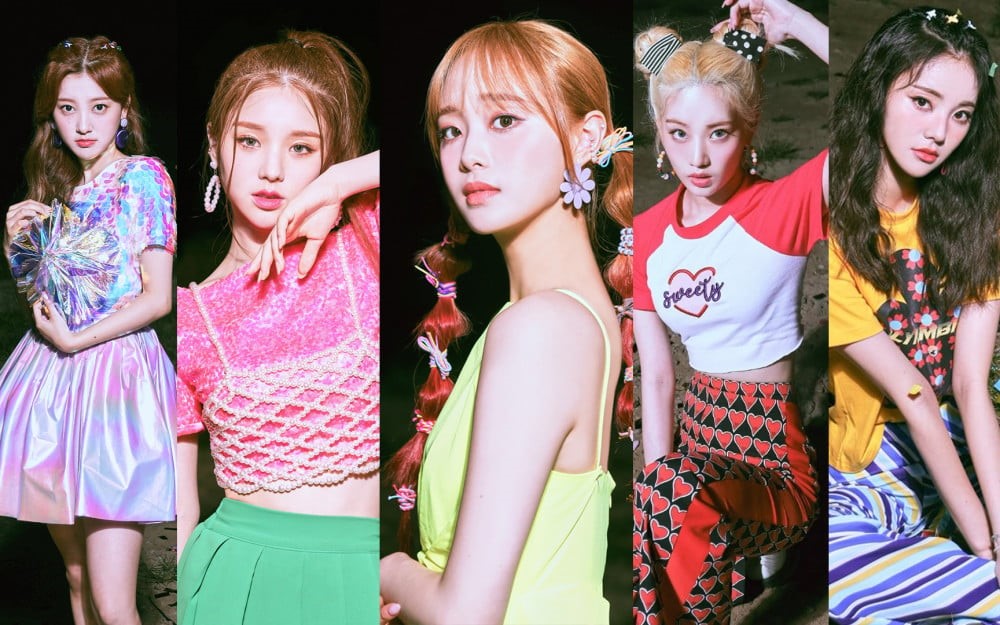 Following Chuu's expulsion and fellow now ex-LOONA members Kim Lip, Heejin, Jinsoul, and Choerry winning their contract termination lawsuits, Blockberry Creative (BBC) has opted to escalate issues further by petitioning the courts to have Chuu, Kim Lip, Heejin, Jinsoul, and Choerry barred from the entertainment industry.
The Korea Entertainment Management Association (CEMA) revealed BBC filed a petition in December to have Chuu's entertainment activities suspended. In their petition, BBC stated Chuu violated her contract by agreeing to a pre-contract with BY4M STUDIO in 2021.
CEMA also revealed BBC submitted a petition to force Kim Lip, Heejin, Jinsoul, and Choerry to also suspend their activities after the company lost the contract termination case the LOONA members filed.
In regards to the injunction against Chuu, the Reward and Punishment Committee of the Korea Entertainment Management Association requested Chuu's attendance at the hearing, to which Chuu's legal representation agreed. Chuu's attendance is needed to "confirm the facts regarding BBC's claims and that they will investigate the case fairly."
On her Instagram stories, Chuu posted in response to BBC's petition.
Hello this is Chuu.

It's really tiring and really sad that I have to keep releasing statements over these situations.

Recently, it seems that slanderous articles based on false reports have gone too far. In December 2021, I didn't even know the company called BY4M that well. It is unbearable that they try to entangle not only me but also the [LOONA] members in lies, so I will sort out my position and respond soon.
 Meanwhile, ORBIT (LOONA's fandom) and the LOONA Union, a fan-led coalition, submitted a petition to provide LOONA with assistance during their ongoing legal struggles.
LOONA Union shared on Twitter their plan to submit a formal petition to assist LOONA members Haseul, Yeojin, Yves, Gowon, and Olivia Hye with ending their exclusive contracts in any future trials. LOONA Union sought legal advice in their mission to file a petition.
Update from LOONA Union
대응팀에서 공유드립니다

Update: English / 한국어 pic.twitter.com/XoOOtuIFpI

— 이달의소녀 연합 대응팀(LOONA Union) (@unionloona) January 19, 2023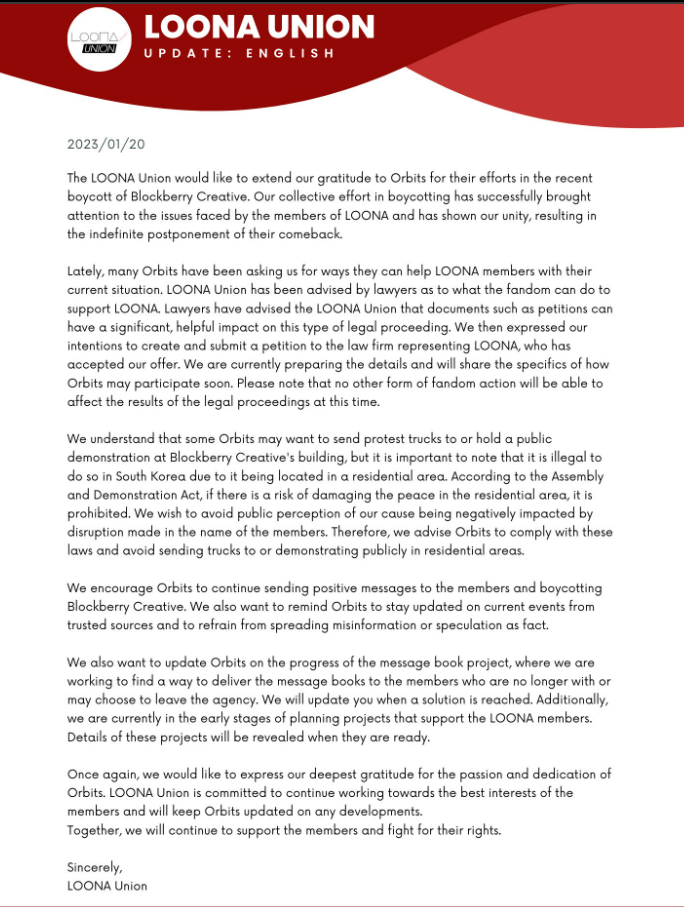 Until February 9, fans who wish to assist in filing petitions can follow the instructions provided by LOONA Union.
🚨진행 중인 법적 절차에 따라, 탄원서를 수집하여 법무법인에 제출할 예정입니다. 많은 참여 부탁드립니다.

🚨Follow the instructions to submit the petition. These will be delivered to LOONA's lawyers.

🔗https://t.co/WGCXHMtYMU
(1/3) pic.twitter.com/M2xICuPAHt

— 이달의소녀 연합 대응팀(LOONA Union) (@unionloona) January 26, 2023
Stay tuned for updates regarding the LOONA situation as this case continues to get messy. In the meantime, the only two members to not file a case against BBC, Vivi and Hyunjin, did an Instagram live with Chuu, which can be heard here.
—-Olivia Murray
#LOONA #LOONAUnion #LOONA #BlackberryCreative #kcrushnews #LOONAmembers #KimLip #Heejin #Jinsoul #Choerry #contractdermination #kpop #koreangirlgroupLOONA #kpopidol #kcrushamerica #BBC #Chuu #BY4M #petitionsubmittedtosuspendactivities #LOONAOrbits #OrbitsLOONAFandom #fanleadcoalition #RewardandPunishmentCommittee #LOONAcontracttermination
Related Articles