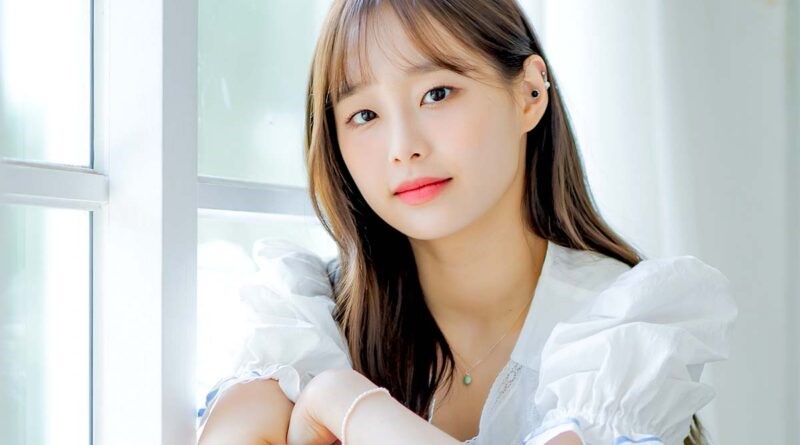 It's been a whirlwind weekend for Blockberry Creative's (BBC) girl group LOONA as it was announced that Chuu was expelled from the group. Following the announcement, fans, staff, and advertisers came to Chuu's defense. Allegedly, nine of the LOONA members have filed to have their exclusive contracts suspended though BBC denies this information.
Background
Prior to the dual announcements, Chuu filed a lawsuit to have her exclusive contract with BBC suspended back in December 2021, though news related to this injunction didn't make the media rounds until March 2022. The courts awarded Chuu a partial injunction, though details for her case have not been released.  However, fans point to some alleged mistreatment against Chuu by BBC may be one of the causes. Since the case, Chuu supposedly has control of her media and personal appearances.
Soon after the lawsuit news, rumors of Chuu leaving BBC began in June 2022, to which BBC stated were baseless claims.
In 2022, Chuu took a break from touring with LOONA due to health concerns. She later missed another concert schedule due to scheduling conflicts. In July, she did not participate in LOONA's Japanese promotion for "Luminous." For the third concert series, Chuu claimed to not be aware of the schedule. Netizens think she was blocked from the LOONA café since the other members knew of the concert and she didn't.
"They didn't give me any notices about attending the schedule in the afternoon, so I'm sad…I miss you too…a lot, a lot," Chuu wrote on Fab at the time.
Chuu later clarified, "There is one thing I said that seems to be spreading in a weird way so I'm just going to say this. Just because a schedule is uploaded doesn't mean I can participate in all of them. The company needs to confirm and then send confirmation for me to attend. Even if the schedule is uploaded, I don't know if I am participating in it or not."
In October, Chuu set up Chuu Co. to manage her activities (however, it appears she is now signed with BY4M Studio). Under Chuu Co., Chuu's mother was the director according to Soompi. BBC denied the company existed.
Chuu's Expulsion
On November 25, 2022, BBC released a statement sharing that Chuu has been expelled from LOONA due to "violent language and misuse of power."
Hello. This is Blockberry Creative.

We are releasing a statement to notify fans that we have decided that our agency artist Chuu will be expelled and withdrawn as a member of LOONA as of November 25, 2022.

There have been lots of speculations about LOONA's Chuu this past year, but the agency and LOONA members did not release any statements in order to not cause trouble with the group's growth or cause concern to fans.

With the LOONA members' affection for the team and consideration for their fans, rather than say what is true or not, they tried to express their feelings by putting in their best efforts for performances and content.

However, after recently being told of Chuu's violent language and misuse of power toward our staff, the truth was found upon investigation. Agency representatives are apologizing and comforting staff, and we have decided to take responsibility for this and remove Chuu from LOONA.

First of all, we officially apologize to the staff who have been greatly hurt by this incident, and we will put in our full effort so they can now heal and focus on treatment and then return to their normal lives.

We apologize to the fans who have loved and supported LOONA until now and ask for your sincere forgiveness in not being able to have 12 members together until the end.

The agency and LOONA will return to our roots and work as hard as possible so an incident like this never happens again in the future no matter what. The LOONA members did not work only for their individual gains, and they know what fans have given them to bring them to this point, so they did not do anything to cause trouble to the team. They will make it to the end and give back for the love from everyone who supports LOONA.

Also, the agency and the LOONA members will act with respect and gratitude toward all of the staff who work with us. The agency will do everything possible to give back for the staff's sacrifices and devotion so something like this never happens again. We once again bow our heads in apology to the involved staff and the fans for causing trouble with this incident.
After BBC released their statement, BBC began to receive pushback from ORBIT (LOONA's fandom), as well as messages from other LOONA members doubting the legitimacy of BBC's claims. Staff members and over a dozen companies also spoke out against BBC's claims, standing by Chuu. The pushback caused BBC to share another message on the fan café on November 28, 2022.
Hello. This is Blockberry Creative.

The agency is providing an additional statement regarding the notice 'LOONA's Chuu's removal from the team' that was posted through the fan cafe on November 25.

This notice was an announcement with information explaining the current situation and asking for understanding of all the fans who showed love to LOONA for a long period of time. It was not written with the goal of exposing Chuu's misuse of power to the public and media.

For a few days after the announcement, the agency was told to provide evidence for the reason for Chuu's removal, and articles were published with information such as "Chuu is not that kind of person" and "the company is the one doing harm."

The fan notice posted on November 25 at around 5 p.m. KST was an announcement from the agency explaining Chuu's changed course of action and the reason for her removal to fans and those who support LOONA, and it was not an exposé.

It is of course natural to explain the reason for her removal, and it is the rights of Chuu herself and the staff who was harmed to provide the truth or evidence of this.

Regarding the relevant facts, if there is something unfair or anything that should be corrected, this is an issue that the people directly involved should reveal. The agency has already finished confirming the incident that took place between Chuu and the staff member, and we released a statement regarding that.

We ask that you refrain from making speculative reports without evidence and malicious comments and rumors defaming the agency regarding this fan notice going forward. The agency will cooperate in providing information and evidence on the matter of violent language and misuse of power if Chuu and the victim agree.

In addition, we sincerely ask once again that you refrain from making indiscriminate and groundless speculative reports so that the LOONA members are not hurt by this incident and can start team activities again.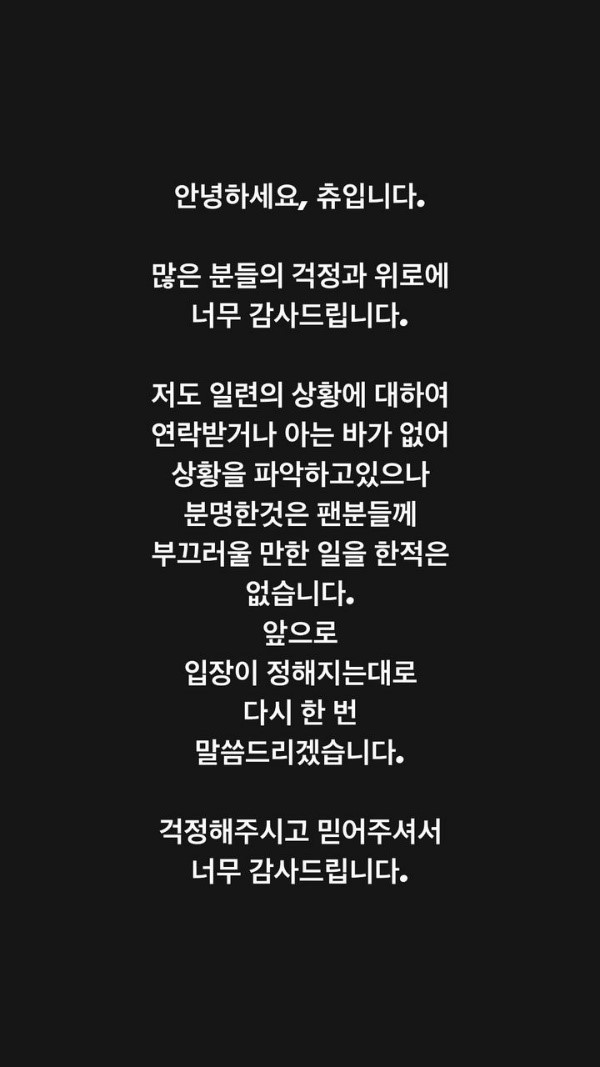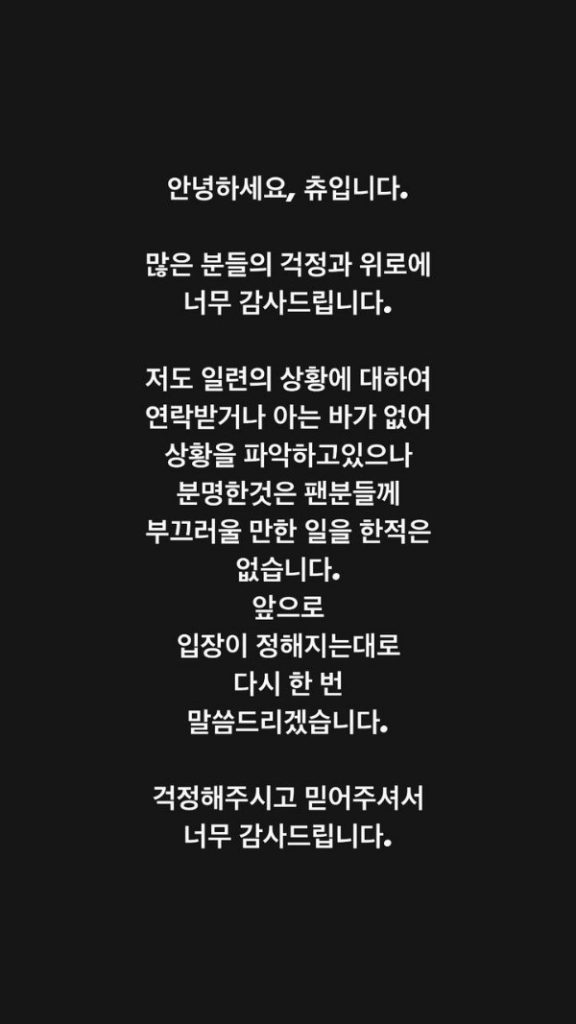 Chuu has since denied wrongdoing on her personal Instagram on November 28.
Hello, this is Chuu.

Thank you so much for your concern and comfort.

As I have not received any contact regarding this series of situations or know anything about them, I'm currently grasping the situation, but what I'm sure of is that I haven't done anything that would be shameful to my fans. In the future, as my position is decided, I will share another statement.

Thank you so much for your concern and for trusting in me.
BBC has essentially asked Chuu to provide evidence showing her innocence in the alleged incident(s).
Support Pours In
Since Chuu's expulsion, more than a dozen companies and people have come out in support of Chuu  including LOONA's songwriter Ashley Alisha, LEESLE CEO Hwang Lee Seul, MUPLY and DINGO staff members, multiple anonymous staffers, Sugarlolo, Inspick Company, and anonymous broadcasting staff. Sports Donga has even written an editorial calling shenanigans against BBC regarding the Chuu situation.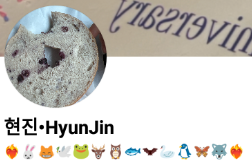 LOONA members Gowon, Heejin, and Hyunjin have been subtly sharing their support of Chuu throughout the whole ordeal.
During fan calls, Gowon and Heejin also showed their support by performing the "Chuu heart."
In a message written on Fab, Hyunjin said, "My head hurts and my heart hurts too. I'm angry. I'm super angry." Recently, she updated her social media description to feature all 12 animals representing each of the LOONA members including Chuu's animal, the penguin. In another statement, Hyunjin added "This is heartbreaking. Please support Chuu unnie."
Nine Members Rumored to Have Filed for Contract Suspension
On November 28, 2022, JTBC reported that nine members, Heejin, Haesul, Yeojin, Kim Lip, Jinsol, Choerry, Yves, Gowon, and Olivia Hye, allegedly filed an injunction against BBC to have their contracts suspended. According to JTBC, the suspension request is due to collapsing trust between the company and the group.
In response to the news, BBC stated that it was "not true."
ViVi and Hyunjin were the only two members to not file an injunction. Netizens speculate ViVi did not file due to her visa (she is from Hong Kong), while Hyunjin didn't to support ViVi.
More information regarding the injunctions may be forthcoming, so this portion of the story is still developing.
Stay tuned for more details as the story develops. What are your thoughts on the situation?
—-Olivia Murray
#LOONA #CHUU #BlockberryCreative #LoonaChuuExpelled #kcrushnews #kpop #kidol #kpogirlgroup #developingstory #BBC #BY4M #ChuuCo #LOONAORBIT #LOONAFans #JTBC #LOONAmembers
Related Articles