Fans of BLACKPINK and iKON will have their chances to see their bias groups perform state-side.
BLACKPINK to Perform on GMA, The Late Show, Coachella
BLACKPINK, who are in the middle of the first leg of their BLACKPINK 2019 World Tour in Your Area, will be in New York City February 12, 2019 to appear on Good Morning America (GMA). In a tweet, GMA confirmed the appearance.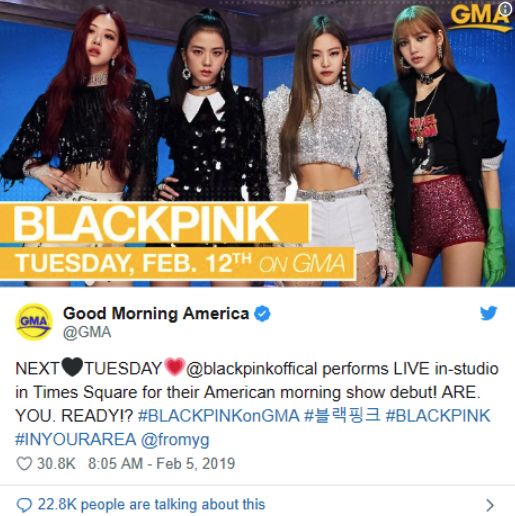 GMA airs from 7am-9am across all time zones.
Following the news that BLACKPINK would appear on GMA, news circulated that the quartet will also appear on The Late Show with Stephen Colbert February 11. Headline Planet leaked the information stating that, according to CBS, the group will be on the show along with comedian, actor, and political commentator John Oliver.
BLACKPINK will become the second female K-Pop act to appear on the show. In 2012, Girls' Generation appeared and performed "The Boys." At that time, David Letterman was still at the helm.
If BLACKPINK are confirmed, The Late Show with Stephen Colbert airs at 11:35pm EST.
The girls will also appear on ABC's Strahan and Sara on February 15. The segment will be pre-recorded as the group does perform in Singapore the same day. The Strahan and Sara segment filmed the same day as BLACKPINK's GMA appearance.
BLACKPINK will also be the first K-Pop girl group to perform at Coachella. In January, the group was announced as part of the lineup joining fellow Korean act Hyukoh as the only two acts from South Korea.
BLACKPINK will perform at the event Friday April 12 and Friday April 19, 2019 at the Empire Polo Club in Indio, California. Coachella tickets are available here.
iKON to Appear at SXSW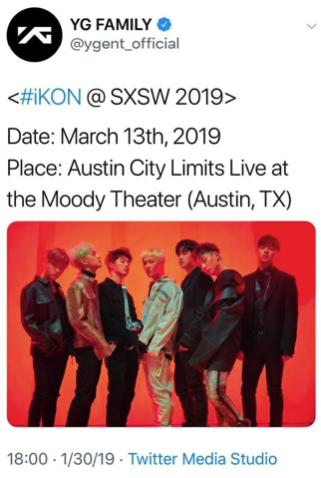 Down in Austin, Texas, SXSW and YG Entertainment announced that iKON will perform at this year's event. 
SXSW is an annual festival and conference that celebrates interactive arts, film, and music. The event helps artists from across different mediums to gain exposure and network.
After iKON's breakout 2018, their SXSW honors are well-earned. The group will come prepared with an impressive discography that includes "Love Scenario," "Killing Me," "Goodbye Road," "I'm OK," and "Rhythm Ta." Their album The New Kids achieved the longest 1st place spot on a Korean music chart and landed fifth in Billboard charts.
According to their SXSW profile, iKON will be attending the show to create professional publishing connections. Perhaps a US debut is in the making?
iKON will perform at Austin City Limits Live at the Moody Theater March 13, 2019. Chung-ha, XXX, Hitchhiker, Jambinai, and Kirira will also perform the same night.
Ticketing information for SXSW is available here.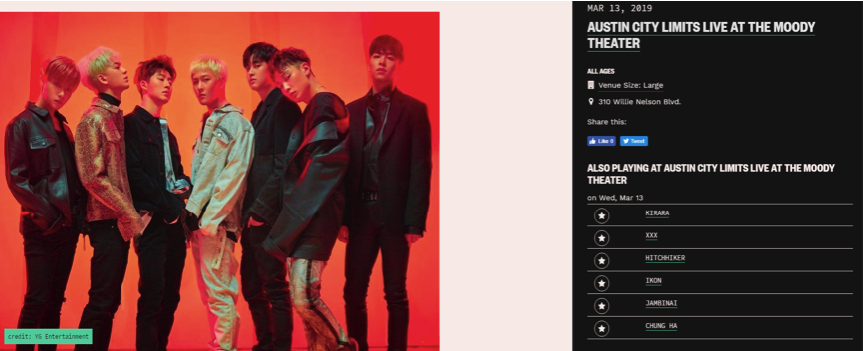 —-Joelle Halon
Related Articles