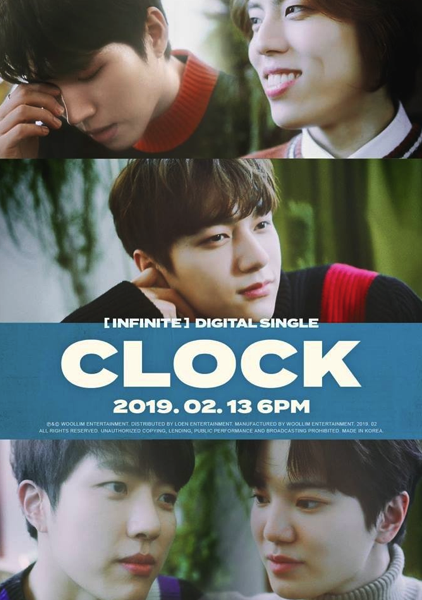 Woollim Entertainment and Infinite announce that the group will be making a comeback in February. It will be the group's first comeback since January 2018.
Woollim confirmed the comeback January 31, 2019.
"INFINITE will make a comeback as a full group in February. Their comeback title track 'Clock' was previously revealed during the group's year-end fan meeting. However, we have not determined specific promotion plans or an official release date. We ask for your anticipation."
On February 6, 2019, Woollim released a teaser image for "Clock" that states the digital single will be released February 13, 2019.
Infinite said the single contains the meaning of "Let's spend forever together with all of you." The song sounds like it will be meaningful for their fans.
While the comeback is touted as a "group comeback," it will only feature L, Dongwoo, Woohyun, Sungyeol, and Sunjong. Sungkyu will not be part of this comeback due to his military service. He enlisted May 14, 2018.
Hoya left Infinite and Woollim Entertainment in 2017. On June 28, 2017, it was reported that only six of the seven Infinite members re-signed with Woollim. On August 30, 2017, it was revealed Hoya was the only member not to sign. He is currently under contract with Glorious Entertainment. He enlisted February 7, 2019.
Are you excited for an Infinite comeback? Let us know in the comments!
—-Joelle Halon
Related Articles