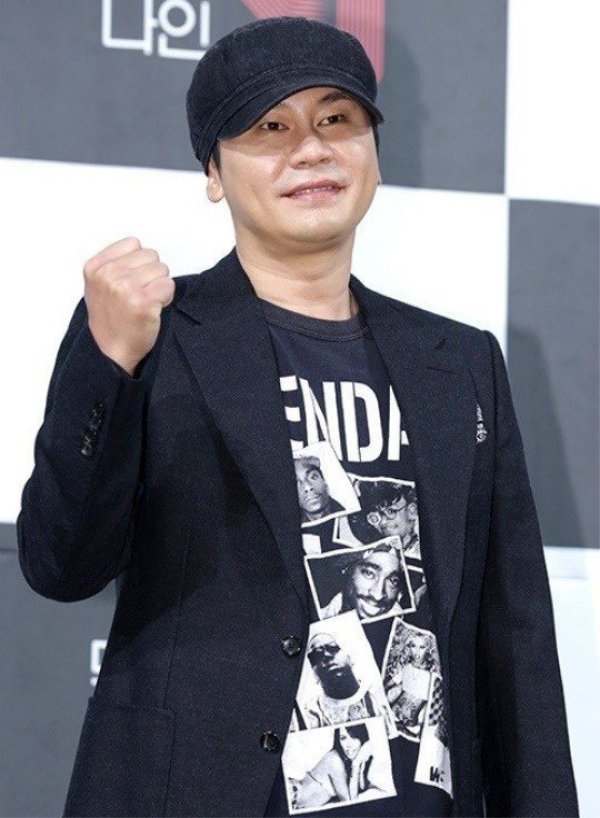 Following yet another scandal involving YG Entertainment artists, Yang Hyun-Suk resigned from the company June 14, 2019. Yang Hyun-Suk announced his resignation through a statement.
This is Yang Hyun-Suk.

I am so sorry to the fans who love YG and our agency celebrities.

I am also sincerely apologetic to all of our employees who are silently continuing to do their work throughout the downpour of criticism.

I have been patiently tolerating words about the current situation that are too disgraceful and humiliating to mention as they have been told indiscriminately as though they are the truth. However, I think it's too difficult now.

I think that there can no longer be a situation where YG, our agency celebrities, and fans are experiencing harm due to me.

For 23 years, I have dedicated half my life and everything to growing YG.

The work of supporting the best music and the best artists was the greatest happiness for me. I have thought that this is the only ability I can contribute to fans and society.

However, I will step down from all of my positions and work at YG starting today.

I sincerely hope that there is no further harm to the YG agency celebrities I love, and to the fans who love them, because of me.

Currently, there are many experts at YG who have more capabilities and sense than me. I think that my stepping down will be a good opportunity for them to exhibit their abilities better. It is my sincere wish that YG can stabilize as soon as possible.

Lastly, I believe that the truth of the current media reports and malicious gossip will be revealed through investigations. Thank you.
Following Yang Hyun-Suk's announcement, his brother, Yang Min-Suk, also resigned from YG Entertainment. Yang Min-Suk served as the company's CEO. He, too, released a statement regarding his resignation.
To YG Family:

To all those who have all been putting in effort in this recent environment, I would like to express my apologies as well as my thanks.

I am deeply ashamed of myself [when I think of] everyone feeling uneasy and worried due to the continuous and provocative issues that have been happening from the beginning of the year.

Yang Hyun Suk and I have immersed ourselves in music activities and management and have silently endured all the speculations because we believe that the truth will surely come to light. However, as I've watched different situations continuously give the celebrities, who are unrelated to the recent issues, in our agency a hard time, I've realized that it is hard to overcome by just enduring.

In order for [the company] to solve these current difficulties, grow, and prepare for a new breakthrough, I believe a big change is needed. And in order for there to be no misunderstandings regarding Yang Hyun Suk's decision to step down, I think there needs to be a clarification on my part. After careful consideration in the midst of these situations, I have decided to resign from my long-held position of CEO at YG Entertainment.

A while ago, during the commemoration for the 23rd anniversary of establishing [YG Entertainment], I shared with you that above all, we ourselves must first change in order to overcome the current difficulties. I sincerely hope that my decision will be the start of a big, new, and positive change for YG.

Thank you.
The resignations come after a series of scandals that have rocked the company since the beginning of the year. While YG Entertainment has had several scandals (either directly or through its artists) over the years, 2019 has been particularly brutal due to Seungri and Burning Sun and Seungri's dismissal from the company, allegations of procuring prostitutes for businessmen, tax evasion, embezzlement, and drug use and obtainment. Scandals in past years include marijuana usage involving different YG artists including G-Dragon and T.O.P, Park Bom's prescription medication issues, Daesung's car accident, embezzling concert fees, embezzling fan club donations, and Seungri's alleged drunk driving cases among other issues.
The recent issues with now-former iKON member B.I. seems to be tipping point as allegations of Yang Hyun-Suk threatening an informant (later revealed as embattled ex-YG trainee, Han Seo Hee) came about soon after B.I's scandal broke. Han, through her lawyer, stated there are more YG artists that use drugs beyond those named in the media already.
With Yang Hyun-Suk and Yang Min-Suk, more information may be forthcoming including whether the pair still have stock in YG Entertainment. Currently, police plan to investigate Yang Hyun-Suk regarding the alleged drug use as well as police connections.
SBS 8 News shared a report suggesting Yang Hyun-Suk may be charged with concealment.
SBS 8 News said, "A police source has said if [Han Seo Hee's] allegations are true, former agency head Yang Hyun Suk's demands for her to reverse her testimony could be seen as a crime of intimidation. If it's true that he helped remove drugs from a person's system, he could possibly be charged with concealment of crimes."   
—-Olivia Murray
Related Articles