It's been a few months since we last shared a look into our beauty bags. So, what finds do we have for June? Let's have a look!
Hera Rosy Satin Cream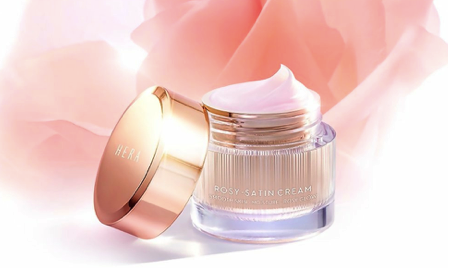 Hera products are favorites around here, so it's no surprise another Hera product earns a mention for this month's recommendation.
The rosy satin cream, while pricy, is a top-notch product that delivers a nice amount of moisture while leaving behind a dewy, rosy finish in its wake. After cleansing, apply the moisturizer to your skin like any other moisturizer. What's nice about this cream is that it has a subtle highlighting ability that enhances the glow on your cheeks, so it's an optimal choice for days where makeup's optional.
The cream itself is a nice dense-but-whipped texture that feels amazing as it melts into the skin. It's not heavy, making it a perfect cream. When it absorbs into skin, your skin will have a matte, satin finish that will work as a canvas for makeup application if you choose.
The product does have a rose scent, so it may not be the best product for those with certain allergies or scent sensitivities. However, I have many allergies and was not bothered by this product.
The Hera rosy satin cream is one of our pricier choices at $66 on Amazon or $90 on YesStyle, but it's a nice product for the person who wants to splurge.
MaxClinic Rose Vitamin Cleansing Oil Foam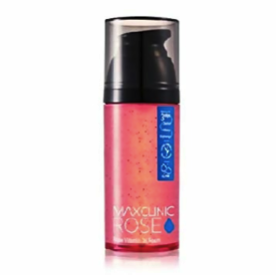 MaxClinic has a solid line of cleansing foams, but the rose vitamin oil foam is a nice choice for anyone who wants to try this company's products. The rose vitamin foam has lingonberries, cloudberries, chokeberries, blueberries, and bilberries infused in its ingredients, and it has soap berry, coconut, papaya and yucca in it as well. MaxClinic also boasts that the cleanser has 12 vitamins in it as well.
This oil foam is extremely light, but don't let its lightness fool you as it does a great job cleansing skin. This product works well with just water and using your hands, but it does work better with a sonic cleanser or a cleansing brush. The oil does a fantastic job breaking down makeup, especially waterproof mascara! With a cleansing brush, it does an even better job breaking down makeup in pores, eyebrows, and lashes while making it seem like you never wore makeup that day. It truly is one of those impressive cleansers that does it all when double-cleansing isn't on the docket.
For this cleanser, a little goes a long way. You do not have to keep pumping the cleanser into your hand or pump: One or two pumps will be enough to cleanse your face and neck. Plus, it has a brightening quality, so you can rest assured you will put your best face forward!
The rose vitamin cleaning oil foam is another product that has a rose scent to it, so please be aware of this if you are someone sensitive to certain scents. There are also notes of berry infused in the rose scent.
You can find the cleanser for $18 on YesStyle or Amazon.
Elizavecca Cer-100 Protein Treatment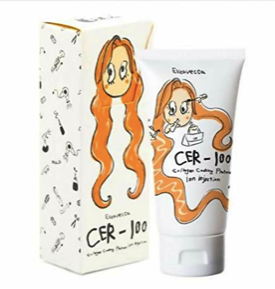 In a longer review, we already sang the praises of Elizavecca's cer-100 protein treatment; however, it deserves another mention due to some things we forgot in the longer review. For example, if you're a swimmer or if you spend a lot of time in the sun during the summer, we found that is product does help prevent hair from drying out due to chlorine and other harmful chemicals. However, when it comes to the sun, we did discover that it does enhance highlights caused by the sun, so if this is a look you want, this product can help.
Another perk we discovered is that is helps lock-in color. The treatment was applied following a dye-job that involved teal highlights, and three weeks later, the color has not faded. The protein treatment has been applied once a week, which seems to be plenty.
While we are in love with this product, it should be noted that it smells like wet paper towels, so we do recommend a light shampoo after using this product.
You can find the protein treatment for $9 on Amazon or $10 at Walmart. 
Plu Prestige Silk Body Scrub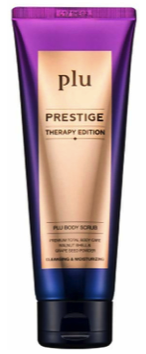 Finally, exfoliating is an important step in any cleansing routine, so the Plu prestige body scrub will pamper you while leaving behind silky-smooth skin.
The body scrub is free of sulfates and parabens, and it is silicone and gluten-free. The product has grapeseed oil, vitamin C, rose extract, collagen, silk, and green tea that promise to brighten skin and enhance its appearance. Since it is a scrub, it is gritty. While it's suggested to not use this product on your face, with gentle pressure, we found that it can be used to cleanse the face without damage.
The scrub works just like regular body wash: Wet your skin, then cleanse it with scrub in a circular motion to whisk away dead skin cells. Then, rinse the product off. Do not rub hard, though, as you do not want the abrasives to damage skin.
This scrub does a great job in revealing brighter, healthier skin. It is recommended to not use it every day, but every other day to two-to-three times a week depending on your skin sensitivity will be enough.
This product is available on Amazon for $17.
Do you have any products you love that you want us to try? Send us a message below or on our Facebook page!
Products that are reviewed and/or recommended are purchased by us. We do not receive kick-backs or samples from companies in exchange for reviews. All reviews are 100 percent based on our experiences and perceptions.
—-Olivia Murray
Related Articles