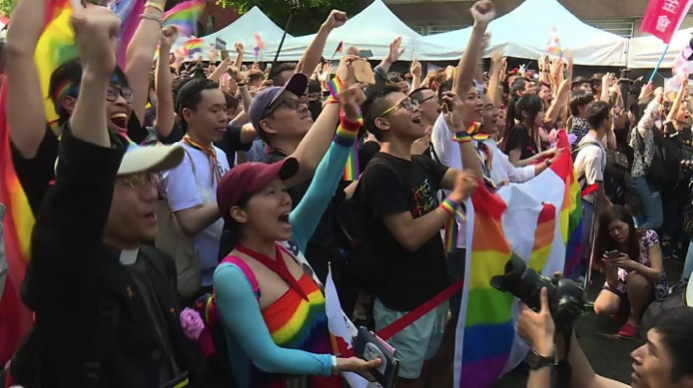 Just in time for Pride Month in June, Taiwan became the first Asian country to legalize same-sex marriage in May 2019.
On May 17, Taiwan's legislature voted to fully legalize same-sex unions. According to the Washington Post, "the law — which allows for same-sex couples to apply for 'marriage registration' as part of 'exclusive permanent unions' — came a week before Taiwan's codes barring same-sex marriage would have been automatically dropped by court order." The news comes following a November 2018  referendum vote that showed 67 percent of Taiwanese voters opposed same-sex marriage. However, these votes do not override Constitutional voting.
In 2017, Taiwan's Constitutional Court ruled that an existing law stating marriage is between a man and a woman is unconstitutional. Prior to the final vote, lawmakers debated three different bills regarding the legalization of same-sex marriage. According to the BBC, the most progressive bill—which passed by a 66-27 vote backed by lawmakers from the majority Democratic Progressive Party— and it was the bill that the LGBTQA+ community and its supporters would accept. The accepted bill was the only one that used "marriage" instead of "same-sex union."
Following the vote, several Taiwanese officials and celebrities celebrated the move.
"Love has won over hate, and equality has won over discrimination," acting director of Amnesty International Taiwan, Annie Huang, said in a statement. "This is a moment to cherish and celebrate, but it has been a long and arduous campaign for Taiwan to become the first in Asia to legalize same-sex marriage."
President Tsai Ing-wen, whose 2016 Presidential campaign rallied for Gay Rights, tweeted, "We took a big step towards true equality, and made Taiwan a better country."
On May 17th, 2019 in #Taiwan, #LoveWon. We took a big step towards true equality, and made Taiwan a better country. ?️‍?

— 蔡英文 Tsai Ing-wen (@iingwen) May 17, 2019
Taiwanese singer, Jolin Tsai, who has long been a supporter of the LGBTQA+ community and proudly shows her support in her music, stated in a Facebook post, "Congratulations!! Everyone deserves happiness!"
While the news has been received warmly by many, there are people who do oppose the action.
A Facebook commenter said, "This is the death of democracy. Seven million people voted against same-sex marriage in the referendum and their votes meant nothing. Is same-sex marriage that important and urgent?"
Taiwan's stance may help other Asian countries moves toward a more open stance toward same-sex unions and marriage. Already, some countries have made strides toward accepting same-sex pairings, but even with some changes, tensions remain.
In September 2018, India's Supreme Court ruled that gay sex is no longer a criminal offense. Israel recognizes same-sex civil unions, but they do not have legislation for same-sex marriage. In 2018, Hong Kong courts ruled that "committed same-sex couples living in the city had the same rights to spousal visas as married heterosexual couples" according to the New York Times. While marriage is still illegal in China, in 1997, the country decriminalized homosexuality. In 2000, China removed it from the country's list of mental illnesses even though there are reports that the country still tries to use conversion therapy. Vietnam decriminalized gay marriage in 2015, but it still does not legally recognize same-sex marriages or unions.
Meanwhile in Brunei, while the country states it won't enforce the death penalty for same-sex relations, those caught engaging in same-sex activities will be subjected to lashings, stonings, or prison time.
In Japan, 13 same-sex couples filed a lawsuit in February 2019 saying the country's rejection of same-sex marriage violates their constitutional rights. While there is nothing in Japanese law that prohibits same-sex marriage, the government has interpreted the law as meaning marriage is between man and a woman.
"The constitution gives you the right to pursue happiness and equality before the law," said Yoshie Yokoyama, one of the group's lawyers, according to the South China Morning Post. "Not recognizing same-sex marriage violates this."
Specifically, the lawsuit argues that article 24 of The Constitution of Japan needs to be reinterpreted. The article states, "Marriage shall be based only on the mutual consent of both sexes and it shall be maintained through mutual cooperation with the equal rights of husband and wife as a basis."
Japanese Prime Minister Shinzo Abe said same-sex marriage "affects the foundation of how families should be in Japan, which requires an extremely careful examination."
In opposition, Japan Today wrote, "Historically, Japan was broadly tolerant of homosexuality, with documented cases of samurai warriors during feudal times having male lovers. But as Japan industrialized and modernized from the late 19th century, Western prejudices against homosexuality were increasingly adopted."
On May 24, 2019, the first wave of same-sex marriages occurred in Taiwan on the day when the law barring same-sex marriage was discontinued. In Asia, perhaps this occasion will mark a time for change.
—-Olivia Murray
Related Articles