Following Hoya and Yoseob (Highlight, formerly known as Beast) military enlistments, three more K-idols enlisted March 4, 2019.
VIXX's N, 2AM's Jeong Jinwoon, and SHINee's Key all checked in for their required service.
N (Cha Hak Yeon) reported to the Nonsan Army Training Center to begin basic military training. While masked, N smiled and waved at ST☆RLIGHTs (VIXX's fandom) as he prepared to say goodbye. N's family came with him to send him off.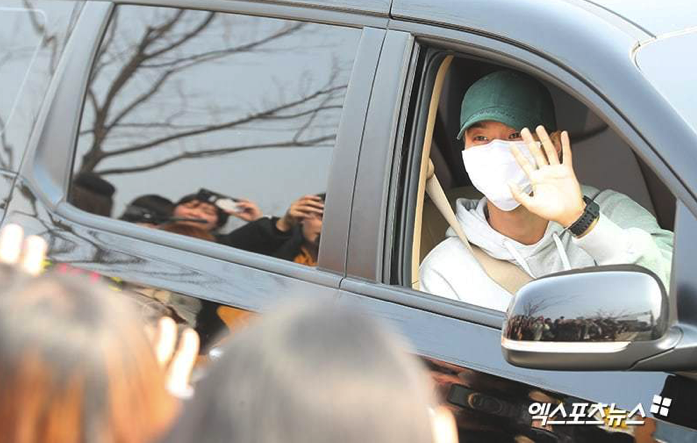 N made his enlistment announcement on his fan cafe early in January by stating, "Although you may be surprised or startled by the sudden news, I think it will be a great source of strength to me if you quietly cheer me on, just as you have done up until now."
Prior to leaving, VIXX's groupmates sent supportive messages to him on social media.
"Hak Yeon, you did well, you worked hard, thank you," Hyuk wrote on Twitter.
In a Twitter post, Leo said, "All sorts of things happened to us. Thanks to you, I can feel the weight of the precious moments we spent together more strongly. I miss you a little today."
Through a string of tweets, Ravi added, "You're someone I'm grateful for because you gather energy for VIXX, never cower from standing in the front of our team and fight for us in the shadows. We fought with each other like crazy and now our bond is too deep… [I have] love and hatred for Cha Hak Yeon (laughs). I miss you today (tears). I was relieved to see that you were energetic, but I'm also worried. See you again soon. I love you."
N promised his fans and groupmates that he would return safely.
2AM's Jinwoon also enlisted at the Nonsan Army Training Center.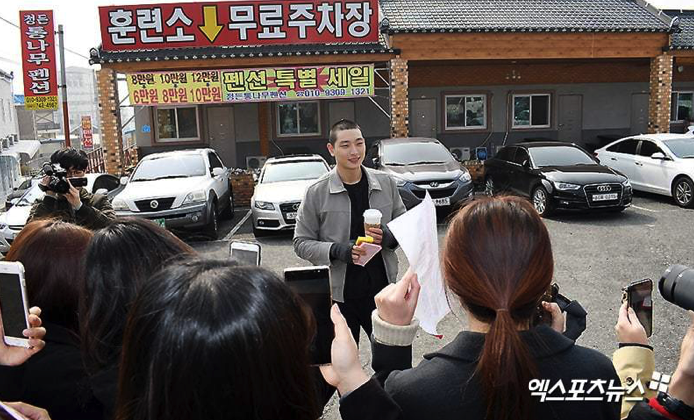 Jinwoon cheerfully greeted fans prior to entering the training center. Fans can with cards and gifts to wish him well.
In an Instagram post, Jinwoon said, "I've never been gone for so long before, and I wasn't sure what to do, so I first took down all of the lights. After seeing my desk that's covered so it doesn't get piled with dust, it feels weird [Laughs]. I'll return quickly and make a lot of great songs."
Jinwoon is the last 2AM member to enlist. Currently serving are Seulong and Jo Kwon, while Changmin served prior to his debut.
On February 24, 2019, Jinwoon held a solo concert with his band to say goodbye to his fans.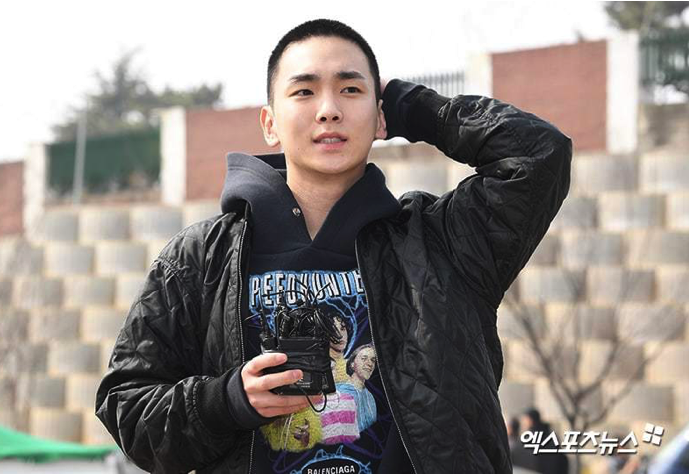 SHINee's Key (Kim Kibum) smiled as he said goodbye to fans prior to entering the Nonsan Army Training Center. He is the second SHINee member to enlist following Onew's enlistment in December 2018.
"In order to fulfill my military duty, I am enlisting today and will be discharged around October of next year. I will be strong and healthy, so don't worry too much," Key told fans.
Prior to leaving, Key wrote a letter he posted to Instagram. It reads,
To. All my little freaks.

Hello, this is SHINee's Key. Everyone's doing well, right?

I debuted in 2008 and busily made it this far.

The precious memories I've shared with everyone have become the driving force for me to run towards the same place without getting distracted.

I'm always thankful, and I feel sorry that I couldn't entirely express my feelings of gratitude.

I haven't had long breaks before, but I've been called to enlist on March 4, so I won't be able to greet you all for the time being.

Although many of you might feel hurt and disappointed, I know you've waited for this long before while waiting for album releases, so without many worries, I'll bravely return in good health.

Please stay healthy and happy. I hope you'll spend your time filled with love.

I'm always grateful, and I love you.

P.S. I'm leaving!!!!!♡

FROM. KEY
View this post on Instagram
Key released an MV for "I Wanna Be" which features Soyeon of G(I)-dle. He also told fans that in April, he will be featured in shows that were prerecorded prior to his enlistment.
Jinwoon, Key, and N will complete training then will complete their service in the military band. We wish all three the best.
— Olivia Murray
Related Articles