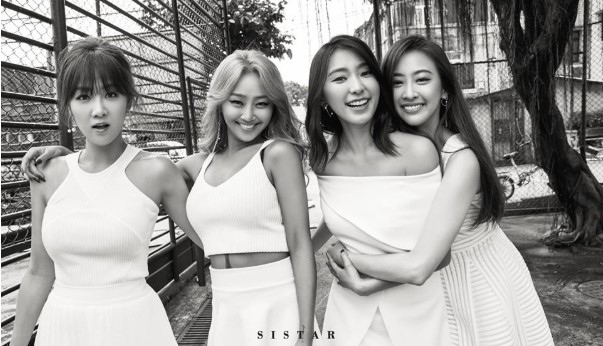 A photo of SISTAR from their 2017 hit 'Lonely'. From left: Soyou, Hyolyn, Bora and Dasom.
Queens of the summer anthem
Soyou, Hyolyn, Bora and Dasom were the four members who made up the all-female South Korean Kpop group SISTAR signed under Starship Entertainment from 2010 to 2017. Known as the queens of the summer anthem, the group churned out hit after hit every summer during their years together, captivating audiences with their solid vocals, sexy dance numbers and outfits and breezy, catchy melodies.
During their seven-year run, the group produced two studio albums, six extended plays and seventeen singles, nine of which consecutively ruled the number one spot of the Korean Gaon music chart from 2011 to 2017.
In addition, the group also had a two member sub-unit SISTAR19 comprising members Hyolyn and Bora with hit singles such as 'Ma Boy' and 'Gone Not Around Any Longer'.
Striking out on their own
Despite their success as a group, the members frequently participated in solo activities even while still together, branching out into collaborations with other artistes, featuring on original soundtracks for popular Kdramas and acting.
Thus, it's no wonder that after seven years together and phenomenal success, the members decided to end their partnership amicably with Hyolyn and Soyou embarking on solo careers and Dasom and Bora focusing on acting roles. The members continue to be close leaving the door open for a future collaboration to the delight of their fans.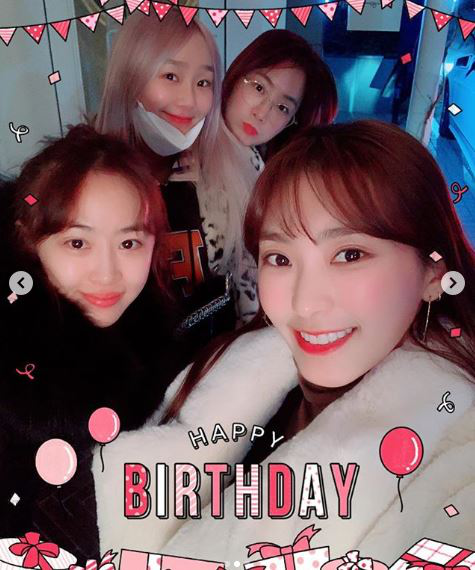 A recent photo of the ladies celebrating Bora's 30th birthday last December shared on her Instagram account @borabora_sugar.
Latest updates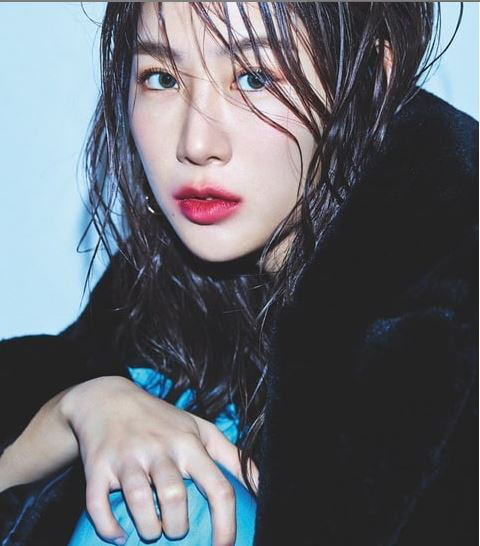 A photo of Soyou shared on her Instagram account @soooo_you.
Soyou has remained under Starship Entertainment as a solo artiste, releasing the EP 'Re:Born' in December 2017 and following up with the recent EP 'Re:Fresh' last October. She's also active on tv shows, becoming a vocal trainer on the 2018 idol survival show 'Produce 48'.
She will soon return to meet audiences in two upcoming shows in 2019 – as a co-host on KBS beauty program 'My Favorite Beauty' as well as on the music variety show 'In Sync' where contestants comprising male and female singers set out to find the best duet partner.
Fans can check out her official Instagram account @official_soyou for updates on her latest endeavors.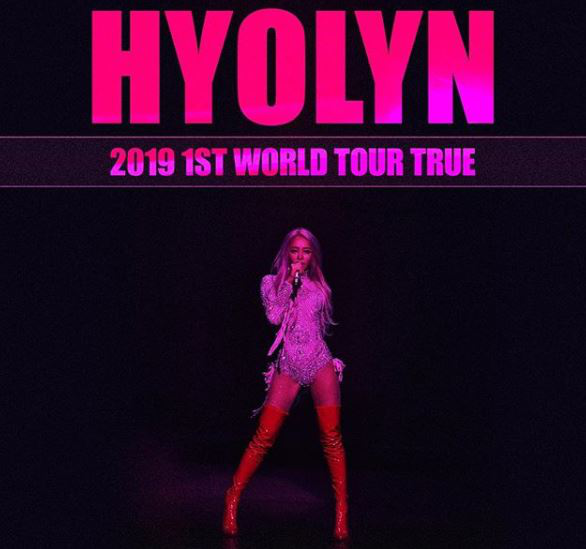 Promo photo of Hyolyn's upcoming world tour shared on her Instagram account @xhyolynx.
Hyolyn, previously known as Hyorin, was also known as the queen of OSTs, featuring on the soundtracks of numerous popular Kdramas even while active with SISTAR. Since disbanding, she has further cemented her image as the Beyonce of South Korea, going so far as to set up her own agency – Bridʒ (pronounced Bridge) – in order to have full creative control over her music.
She released four singles including 'BAE' in 2018 and held her first solo concert in November where Soyou and Bora were in attendance supporting their former SISTAR member. International fans can rejoice as they'll be able to see her live, in person as she embarks on her first world tour this 2019.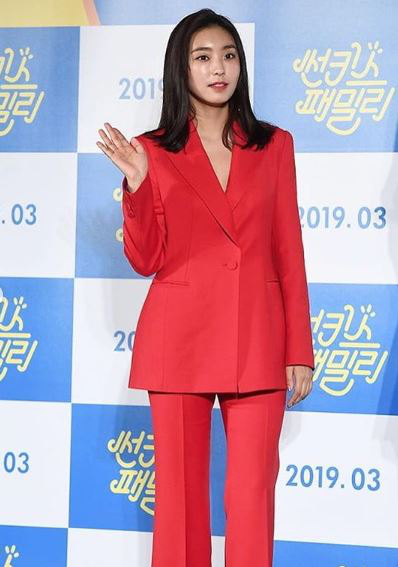 A photo of Bora at an event for her upcoming movie 'Sun-kissed Family' shared on her Instagram account @borabora_sugar..
Bora played a supporting role in hit drama 'Hwayugi: A Korean Odyssey' and also appeared in OCN's 'God's Quiz: Reboot' in 2018. She will also appear as the lead role in upcoming movie 'Sun-kissed Family' to air this year.
As she is also known for her eloquent hosting abilities, it wouldn't be a surprise if she continues to participate in hosting programs in the future like she did in the past for programs such as 'Produce 48' in 2018. On a personal front, she has been in a relationship with BIGSTAR's Feeldog since 2017.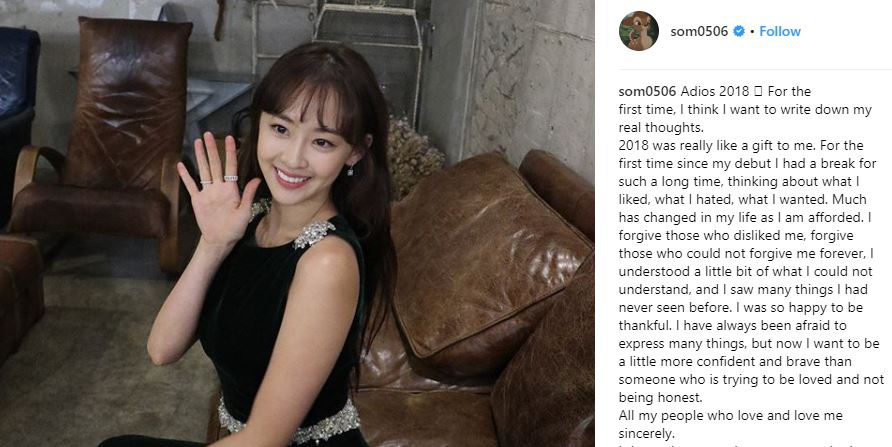 Dasom's pic and new year wish shared on her Instagram account @som0506.
Dasom has been keeping busy acting since the group's disbandment, playing one of the lead roles and winning the 'Best New Actress' award for kdrama 'Band of Sisters' in 2017's SBS Drama Awards.
She continued her promising acting career in 2018, playing the lead in the KBS drama special Ms. Kim's Mystery and will next be seen in the upcoming tvN drama 'He Is Psychometric' with GOT7's Jinyoung set to begin airing in March 2019.
—-Fie Fed
Related Articles