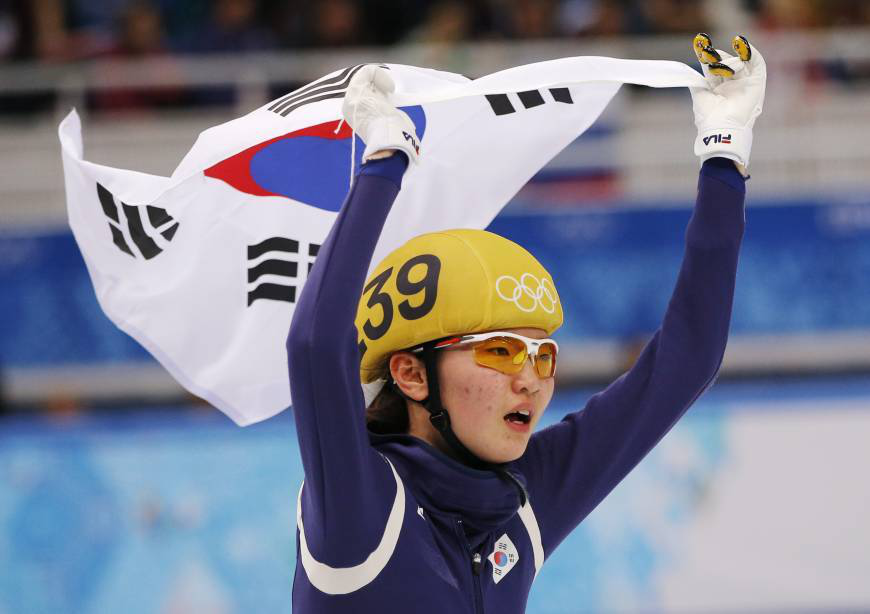 South Korea is one of the most dominate countries in the speed skating world. During the 2018 PyeongChang Olympics, South Korea got to show their ice prowess by taking home seven speed skating medals, placing them fourth overall behind perennial champions Netherlands, Japan, and Norway. While South Korea's speed skating wins should be celebrated, it has been brought to light that there may be a dark underbelly to Korea's training methods, especially with female athletes.
Earlier in January 2019, Shim Suk-hee, 21, came forward with rape allegations against her former coach, Cho Jae-beom, 38. Shim, a member of South Korea's national short-track speed skating team and a two-time Olympic gold medalist, alleges the abuse started when she 17-years-old. Prior to the Olympics, Shim said Cho "punched and kicked her until she felt she might die." During the Olympics, Shim fell during competition; she attributes the fall to a concussion she received from Cho's abuse.
Shim's lawyer, Lim Sang-hyuck, pointed out other alleged instances of abuse including a time when Cho broke Shim's finger with a hockey stick when she was a fourth grader.
Cho received a work ban in South Korea following the allegations and moved on to China to become the nationals team coach.
Cho, who's currently serving a 10-month prison term for physically assaulting Shim and three other athletes between 2011 and 2018 when he was ultimately fired prior to the Olympic games, denied the rape allegations.
According to Korea Daily, Cho and Shim communicated through the secret instant messaging app Telegram. In a report, Shim alleges Cho told her to use the app. Telegram is a secure messenger that features encryption and a self-destruct feature.
Police confiscated Cho's computer and cell phone to look for evidence.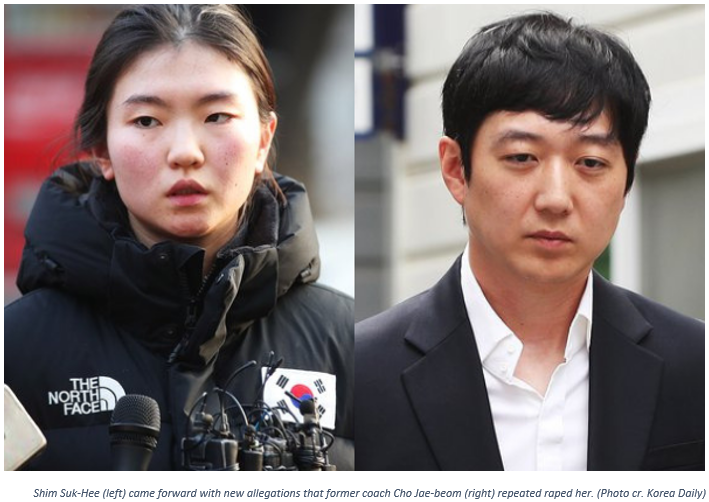 Shim's allegations are not the first claims of sexual and physical assault in the Korean speed skating arena.
"Miss A" Comes Forward
Following Shim's allegations, another speed skater spoke to the press anonymously.
The young woman, dubbed "Miss A" by the press, claimed her abuse began when she was 11-years-old when coaches would beat her with skate blades. She stated her brother also experienced abuse.
"I used to get called into the coach's room, where she would hit me with a skate blade sleeve 10 to 20 times," she said. "I suffered muscle rupture, severe bruises and split skin. My older brother was beaten with a golf club," the now-18-year-old told CNN.
When Miss A turned 15, she said a male coach began acting inappropriately with her. She claimed he kissed and touched her, and she has years of text messages that contain love confessions from the coach.
"I felt it was dirty, I was young back then," Miss A said. "Had I known how wrong and serious it was, I would have told my mom instead of keeping it to myself. It makes me feel sad I couldn't tell anyone about that."
Miss A said Shim gave her the inspiration to come forward.
More Victims Speak Out
On January 20, 2019, more accusers across different sports stepped forward with abuse allegations. Former judo athlete Shin Yoo-young, former taekwondo athlete Lee Ji-hye, and a female wrestler alleged their male coaches sexually abused them. Additionally, in a news conference in front of South Korea's parliament, five more skaters, under the guise of anonymity, came forward with abuse claims, indicating that there's more to the strict training regimes than meets the eye.
A group representing the five athletes, the Solidarity for Young Skaters (SYS), spoke to parliament regarding the allegations. The group, headed up by Yeo Jun-hyung, speaks up for young skaters due to officials and sports associations sweeping allegations under the rug. Yeo, a former national short track coach, said his sister and other athletes were abused 14 years ago. The two coaches involved in his sister's case did not receive punishment. One coach still works in the industry.
SYS said they are not revealing victims' names because "the accusation could only result in secondary victimization and retaliation against the athletes."
Parliament Representative Sohn Hye-won spoke about the victims during the news conference and discussed how one victim experienced repeated groping as a teen by a coach while training at the Korea National Sport University (KNSU). KNSU is one of Korea's top speed skating training centers.
"During the training, the coach forcibly hugged and kissed the skater, saying he was correcting her posture," Sohn said. "Also, the coach demanded her to watch a movie together and have a meal together outside [the ice rink]. When the skater rejected his demand, he lashed out at her." Sohn said the skater has since left the sport.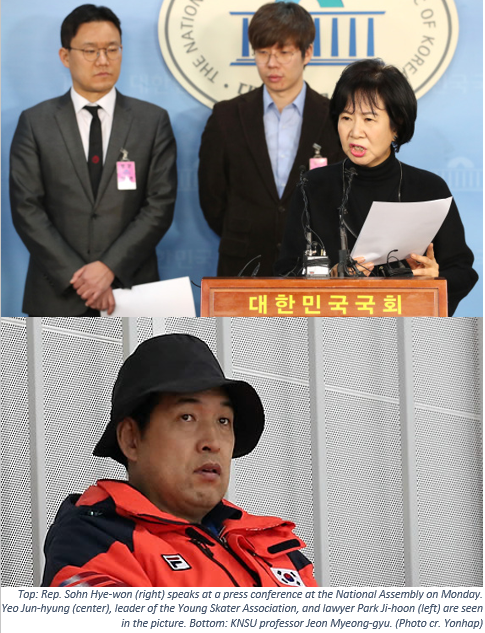 During the news conference, Sohn also called for an investigation of KNSU professor Jeon Myeong-gyu. Jeon has consistent accusations of nepotism and favoritism of certain coaches and athletes. Sohn claims Jeon may have known of the abuse but willingly did nothing to alleviate the situation.
"Jeon is called a 'godfather of ice skating' and has a powerful presence in the field," Sohn said. "[He] was fully aware of the situation, but he did not take any actions."
Sohn continued, "There has been frequent sexual abuse in the skating scene, but the offenders in most cases did not receive punishment; that's because the coaches were members of the KNSU circle led by Professor Jeon Myeong-gyu."
Jeon Myeong-gyu Responds
Following the parliament news conference, Jeon held his own separate news conference responding to Representative Sohn's allegations.
"There's no way for me to know about every act of sexual violence that takes place. I am not in a position to know that much," he said.
Jeon said he was unaware of Shim's abuse and said he feels sorry for her plight. He denied covering up any alleged abuse.
In 2018, Jeon resigned as the vice chairman of the Korean Skating Union due to repeated controversies surrounding athlete mistreatment.  It was his third resignation from the position.
"Whether the recent controversies are true or not, I apologize to the fans for the incidents. From now on, I will not accept any positions in relation to the KSU. Regardless of my resignation, I'll cooperate with the ongoing investigation by the Ministry of Culture, Sports and Tourism," Jeon said through his resignation letter.
A Hierarchy of Fear?
Miss A and Yeo stated victims coming forward with allegations could have damaging effects on their careers, educations, and personal lives. Fears of retaliation and that nothing will change to help victims cause victims to suffer silently.
"For these athletes, the most important thing is to continue their competitive careers," Yeo said.
"If I criticize my coach, my career as a skater is over," said Miss A. "If I accuse my coach of crimes, I won't be accepted onto a university or professional team. That's how it works."
Yeo continued, "Victims and their parents tend to think that nothing will change even after they name names. So, they often suffer in silence. The top-down hierarchy across sports gives people at the top too much power and influence."
Representative Sohn also shared how victims feared coming forward and how, when some victims do speak out, they are dismissed. In her discussion about coach Jeon, Sohn said, "The victims are afraid to come forward with their cases as Jeon tries to conceal misconduct by people close to him."
"Skaters believe that Jeon is involved in whitewashing the sexual assault cases in which their colleagues were victimized," she said. "Due to such circumstance, victimized athletes are reluctant about testifying. They are afraid."
In a statement, SYS said, "We have learned through the investigation that other athletes had been suffering the sexual assault and harassment from the individuals in power in skating. Maybe what those in power in skating wanted was for us to cower at the thought of secondary victimization and retaliation and stay in silence."
In reference to a victim trying to report an incident to Jeon, Sohn said, "The victim sent the professor a message, saying, 'I want to tell you what happened that night,' But Jeon replied, 'I hope you get over it.'"
Because victims are afraid of the repercussions, it's unclear how far back abuse goes or how often it occurred.
Chung Yong-chul, a professor of sport psychology at Seoul's Sogang University, has spoken out about Korea's culture of abuse over the years. He pointed to how the Korean government promises to punish abusers, but nothing changes. He stated the reason is due to South Korea's Confucian traditions in which a teacher's authority is just like a father's: It must be obeyed and remain unchallenged.
"That's part of the reason why this is so hard for the athlete to speak up because you're actually accusing a father-like figure – accusing him as an aggressor," Chung said. Chung stated that, while sports authorities have the power to punish abusers, they often shield them. Chung said while there are hotlines for athletes to call to report abuse, hotline operators side against the accusers.
Chung said, "…the numbers are low, and we all know why – because of all the threats they have. They're afraid to talk about it."
Miss A said, "Inside the sports world, people think violence and verbal abuse are natural, athletes too. Even if they get hurt and find it hard, people don't speak up about it."
The current allegations bring to light how corruption and abuse seep into Korean sports.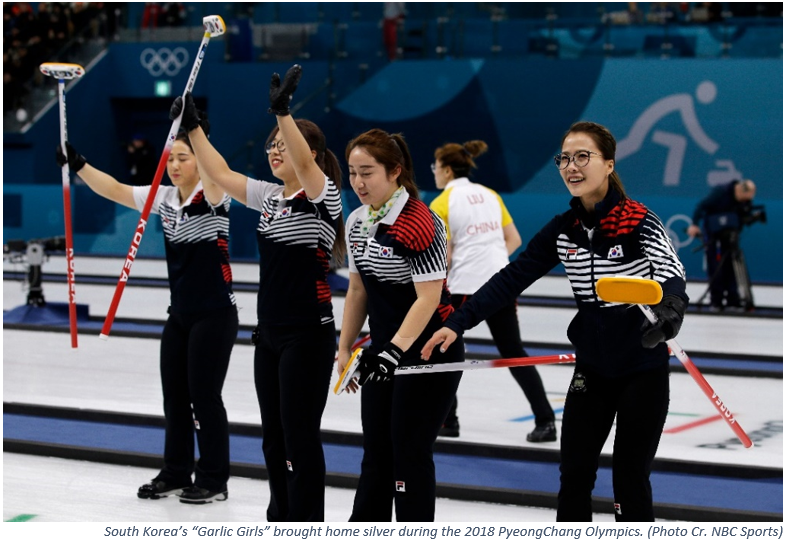 Not Korea's First Sports-Related Scandal
In 2011, 55 South Korean soccer players were indicted for match-fixing, which later uncovered mistreatment of young athletes. During the 2018 PyeongChang Olympics, a bullying scandal clouded South Korea's women's team speed skating event even though the team was later cleared of accusations.
Following 2018's Olympics, the female curling team affectionately dubbed the "Garlic Girls" struggled with abuse following their viral fame.  The team alleged coaches confiscated their cell phones and that they faced excessive control over their private lives. They also alleged team coaches made unreasonable demands and withheld money. Skip Kim Eun-jung claimed coaches and official Kim Kyong-doo tried to ostracize her following her July 2018 marriage.
"[The coaches] tried to rule Kim Eun-jung off the team after she got married in July," the team said in a letter. "They separated the skip and the team captain's role to minimize Kim Eun-jung's status on the team. They also tried not to include Kim Eun-jung in team training."
In November 2018, South Korea's Sports Ministry launched an investigation into the team's claims.
More to Come?
In regards to the sexual abuse scandal, Lee Kee-heung, head of the Korean Sport and Olympic Committee, apologized to Shim and other victims.
"We will root out the practice of coaches having absolute control over the future of their athletes and abusing that power," Lee said.
South Korea's President, top official,s and the IOC all state change will come as they launch a special investigation into the abuse scandal. The Korean government discussed stricter penalties for coaches found guilty of abuse and may instill lifetime bans imposed both domestically and internationally.
"The recent series of testimonies about violence and sexual assault in the sports industry represent our shame that has been hidden beneath the glorious appearance of Korea as a sports powerhouse," South Korean president Moon Jae-in said at a senior advisers' meeting.
With the #MeToo Movement helping women find their voices in South Korea, more women may come forward regardless of the repercussions.
"In the past, numerous sexual misconduct and assault claims were uncovered but they were swept under the carpet," Miss A said. "But if other victims pluck up the courage to speak like I did, I think this time it may be solved."
Whistleblower Shim says she hopes "no more people are victimized like me in the field of sports … whatever the reason, the violence must stop."
Following Shim's announcement, the public has shared its outrage toward abuse culture.
"Now society and people are paying a lot of attention to sexual problems," Miss A said.
Chung shared that he felt this means hope the abuse culture may change. "I think this could be the last chance for the Korean sport to actually eradicate all the problems."
Those accused are innocent until proven guilty in the court of law.
—-Joelle Halon
Related Articles