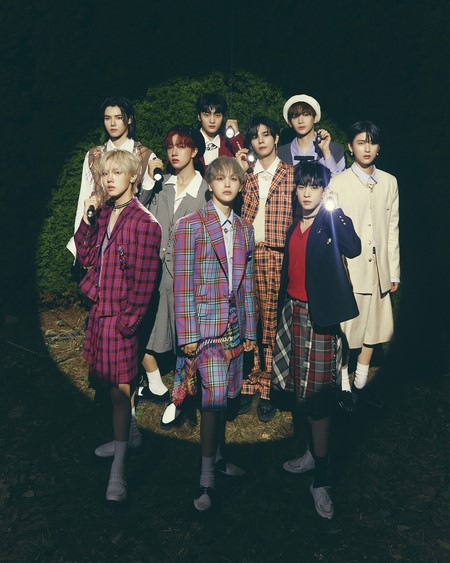 Rising K-pop boy group CRAVITY unveil a new song and music video "Cheese;" listen/share HERE and watch/share the video HERE.
The track—which illustrates the band's idea of a fun and special day—will be featured on their much anticipated upcoming sixth mini-album, SUN SEEKER, set for release September 11. Pre-order/pre-save the album HERE.
The nine-member K-pop boy group are taking the world by storm. Debuting as a group in 2020 with Starship Entertainment, they have been rapidly growing in popularity and gaining global recognition. Learn more HERE.
Last year they released their landmark English-language single "Boogie Woogie," which Forbes raves "[highlights] them at their most fun and feel-good." They recently wrapped their first ever North American tour, including festival performances in New York City, Los Angeles and Mexico City this summer.
CRAVITY—a combination of the words "creativity" and "gravity"—consists of Serim, Allen, Jungmo, Woobin, Wonjin, Minhee, Hyeongjun Taeyoung and Seongmin. Also meaning "center of gravity," the groups aims to draw listeners into their unique universe.
Earning the title "Monster Rookie" after being referred to as rookies by several media outlets, CRAVITY have already won a host of highly coveted awards including "Best of Next" at the Mnet Asian Music Awards and "New Artist of the Year" at the Melon Awards. They have charted on the Billboard K-pop Hot 100, Worldwide iTunes Album Chart, Oricon Weekly Chart and more.
They have released a host of "mini-albums" prior to SUN SEEKER, the latest being MASTER : PIECE. Their debut full length album was released in two parts: The Awakening: Written in the Stars, which NME describes as "adolescent ideals on the journey ahead," followed by Liberty: In Our Cosmos.
The group's previously released single "Groovy" has accumulated over 10 million views on YouTube and continues to climb. "Groovy (Japanese version)" ranked #1 on Tower Record's weekly chart. Further new music from the group is imminent.
#Cravity #CravityKoreangroup #kcrushnews #CravityBoogieWoogie #Cravityminialbum #CravitySunSeeker #TheAwakeningWrittenintheStars #CravityCheese #kcrushamerica #newsingle #Cravitymembers #kpopnewmusic #kpop
Related Articles