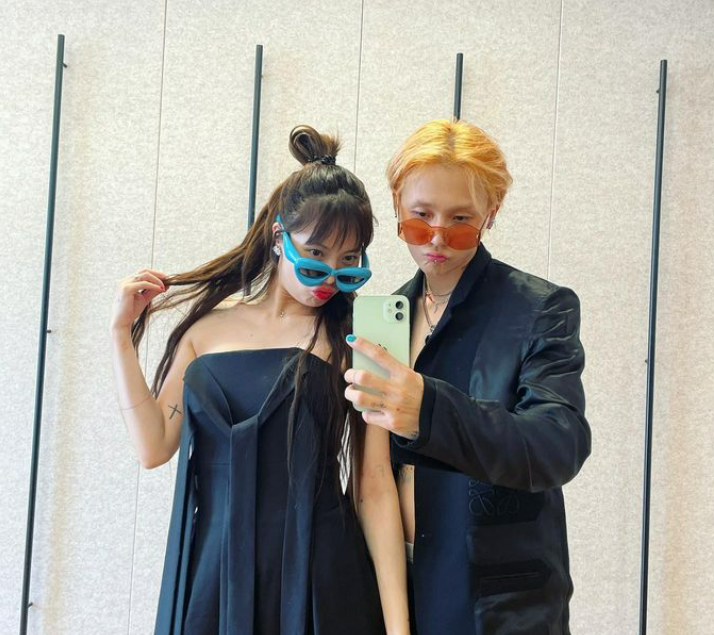 K-Pop Power Couple HyunA and Dawn have ended their relationship after six years.
"We broke up," HyunA wrote in an Instagram post. "We decided to remain as good friends and colleagues from now on. Thank you always for your support and for looking over us fondly."
View this post on Instagram
Dawn, formerly known as E'Dawn, also confirmed the split in an Instagram post.
"Hello, this is Dawn. I won't talk at length. Even after we broke up, [HyunA] is equally precious to me, she is more sincere and cool than anyone I have ever seen, and she is the artist I will continue to love the most. Please don't live like this and spend your precious time in good places."
View this post on Instagram
The pair started dating in 2016 but didn't confirm the news until 2018. When the news broke, the now-former couple stated fans had the right to know.
"While we knew that [dating publicly] would cause us to be linked in some way, both of us felt that it would be hard to meet our fans' eyes [while performing] on stage. We wanted to honestly tell our fans and show ourselves confidently while having fun performing."
In February 2022, the pair announced they were engaged but did not have plans to marry immediately.
"We both are thinking we should get married to each other," Dawn said back in July on the MBC talk show Radio Star. "We haven't decided on the date, but we could get married next week if we wanted to."
When she appeared Radio Star in July, HyunA stated, "Dawn proposed to me a few months back, but I feel like I don't want to get married. There seems to be a lot of things to take care of."
When they made their relationship public in 2018, the pair were under Cube Entertainment. Following the relationship news, Dawn was ousted from the idol group Pentagon. Then, HyunA and Dawn's contracts with the company were terminated.
"We decided the trust is broken and cannot be saved so we are kicking the two out of the company," Cube said in a statement released in August 2018.
Cube Entertainment denied the relationship news prior to HyunA and Dawn's confirmation, leading to the breakdown in trust.
HyunA and Dawn's ousting from Cube Entertainment also ended the sub-unit Triple H, a trio made up of HyunA, Dawn, and Hui (Pentagon) right in the middle of their "Retro Futurism" promotions.
The pair later signed with PSY's agency, P NATION, in 2019. The couple left the agency in August 2022 following their contract expirations.
Both HyunA and Dawn have stated they will remain friends despite the split. Fans of the pair have expressed well wishes and sadness over the news.
Photo Cr. (1)
—-Olivia Murray
#Hyuna #Dawn #HyunaDawnbreakup #CubeEntertainment #TrippleH #RetroFuturism #PSY #PNATION #remainfriends #kcrushnews #kcrushamerica #wellwishes #HyunaDawn6years #kpop #kpopcouple #EDawn
Related Articles