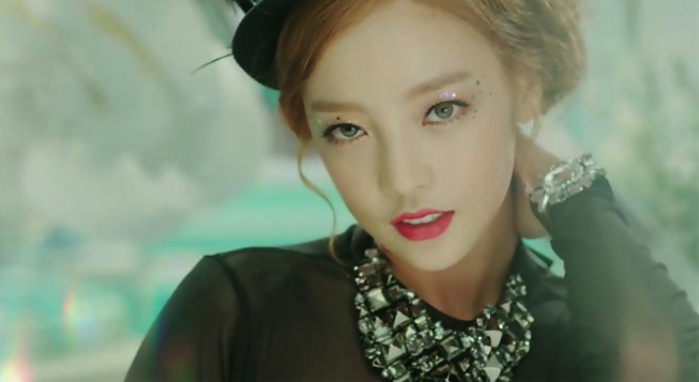 Actress and former KARA member, Goo Hara, is awake, but she still remains in the hospital following an alleged suicide attempt May 26, 2019.
According to her manager, Hara apologized for worrying fans. In a message relayed to the media, Hara said, "I am sorry for causing concerns and a commotion. In terms of health, I am recovering … I have been in agony over many overlapping issues. But from now on, I will strengthen my heart and try to show up healthy."
As news of her well-being gave fans hope that Hara is okay, paramedics at the scene discussed what they found when they arrived. They reported that when they arrived at the scene, Hara, who was not conscious, was breathing and had a pulse, so they did arrive on time.
Fans and celebrity friends have been sharing words of encouragement to Hara as she begins her road to recovery. One such message comes from S.E.S' Bada who shared a touching photo that reads "Take the time to do what makes your soul happy" along with a personal message that reads:
Dear Hara… When the world seems to not understand you, let's try to understand the world instead and become a broader person. Let's continue to live while walking alongside those who love, understand, and support me and you~

Hara, you can do it.

We at Kcrush hope Hara gets on the road to recovery, especially since we take mental health seriously. We hope she gets the assistance needed to live a long, healthy life.

If you or someone you love is struggling with depression, there is help.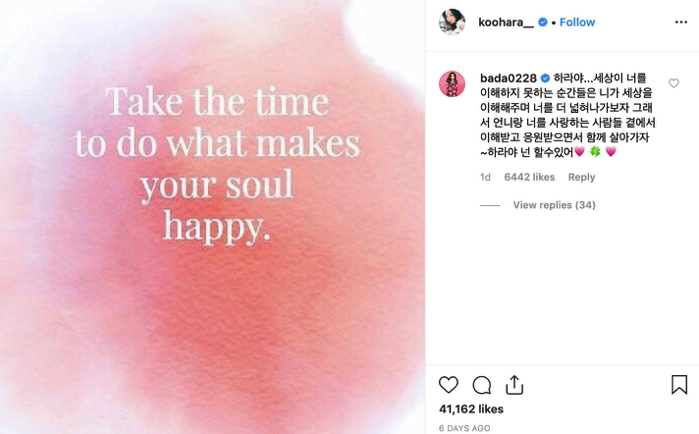 United States
American Foundation for Suicide Prevention: Call 1-800-273-TALK (8255)
Crisis Text Line: A 24/7 nationwide text-messaging hotline. Text 741741 to talk to a trained counselor.
National Suicide Prevention Lifeline: Call 1-800-273-8255- Available 24 hours every day.
The Trevor Project: Call 1-866-488-7386. Crisis and suicide prevention services available to the LGBTQ+ community.
Trans Lifeline: Call (877) 565-8860. Crisis and suicide prevention services for trans and non-binary individuals.
Veterans Crisis Line: Call 1-800-273-8255 and press 1 for help. Text 838255 for text-based services. This service aids veterans.
Canada
Kids Help Phone: Call 1-800-668-6868. A 24-hour service for youths 20 and under.
The Canadian Association for Suicide Prevention:  Assistance is available in French and English. However, they are not a crisis center, but they do have links to crisis centers in each Canadian province.
Trans Lifeline: Call (877) 330-6366
—-Olivia Murray
Related Articles