In celebration of Korea's Thanksgiving holiday – Chuseok (Autumn Eve), we're introducing a healthy and fun-to-make Korean dessert recipe for all the adventurous cooks out there.
Omija is a Korean word for Magnolia berries or Schizandra – these wondrous, medicinal berries provide five diverse flavors in one berry: sourness, bitterness, spiciness, saltiness and pungent sweetness! Omija berries are completely natural, untouched by modern mechanisms, and maintains all the healing properties. These amazing red berries can effectively stabilize both body and mind, the antioxidant can also fight harmful reactions and bacteria in the body, and assist to revive the consumer's youth too! Yes, it goes beyond what the majority of other super foods claim to do…
Other amazing benefits of Omija include but not limited to: Treatment of respiratory ailments/respiratory system functioning, enhancement of the immune system, anti-aging, longevity, treatment of flus/coughs/insomnia/exhaustion/depression/high blood pressure/asthma, lowers cholesterol, increase blood circulation, enhance vision, hearing…
This fun and simple Omija-flavored Jelly (Omijapyeon) recipe was put together by Prof. Sookja Yoon, the Director of Institute of Traditional Korean Food.
Ingredients & Quantity
33g (1/3 cup) Omija, and 400g (2cups) water

32g (4 tbsp) mung bean starch

53g (1/3 cups) sugar

1g of salt
Preparation
Rinse 33g of Omija thoroughly and soak in water for 12 hours. Sieve the water through a cotton cloth as shown in picture.

Mix mung bean starch with 100g of Omija water well.
Recipe
Put sugar and salt into the 200g (1 cup) of Omija water, boil for 5 min on medium heat. Add the mung bean starch dissolved in Omija water and boil while stirring for 5 min on low heat.

When the liquid concentrates into droplet viscosity, steam for 2 min. Pour into a square container and leave it to solidify.

When the liquid turns to jelly, cut into square shapes.

Decorate as you wish and serve.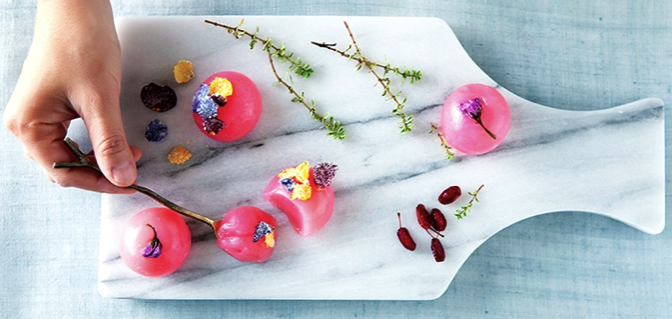 *Omija cookies can be served with shredded chestnuts or fruits.
J. Chung.
Related Articles