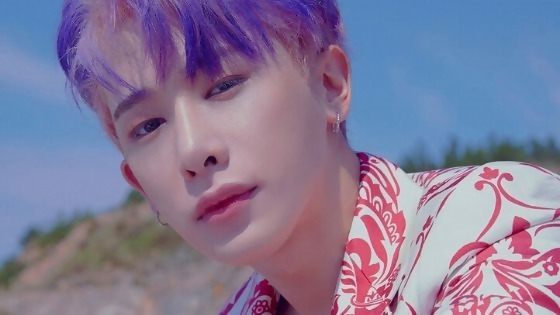 Following their October 28, 2019 comeback, Monsta X will now continue as a six-piece after Wonho announced his departure from the group.
On October 31, 2019, Wonho and Starship Entertainment announced that the singer/songwriter will leave the group "amicably" following "malicious and distorted claims" being made about the now-departed member. Starship posted the announcement in Korean and English in a Twitter post.
안녕하세요.
스타쉽 엔터테인먼트입니다. pic.twitter.com/2MSbpudbvf

— STARSHIP Ent. (@STARSHIPent) October 31, 2019
Wonho's decision to depart from the group is based in his wishes to avoid causing the band trouble. 
This past week, Wonho has been accused of theft, smoking marijuana, and mocking the #MeToo movement. With the latter, he and fellow member Minhyuk apologized for their actions that came across as insensitive.
Prior to Monsta X's comeback, an alleged "friend" of Wonho's, Jung Da Eun, announced that Wonho borrowed more than $35 thousand USD and never paid her back. Wonho and Jung appeared on Comedy TV's Ulzzang Shidae prior to Wonho's Monsta X debut. Jung posted on Instagram an image of Wonho on TV with the caption "Ho Seok, when are you going to pay me back?"
View this post on Instagram
Embattled former K-Pop trainee, Han Seo Hee— who seems to be involved in every K-Pop scandal the past few years— also chirped in with "Give Da Eun her 30 million won."
Jung also accused Wonho of also being in juvenile detention due to aggravated theft back in 2008.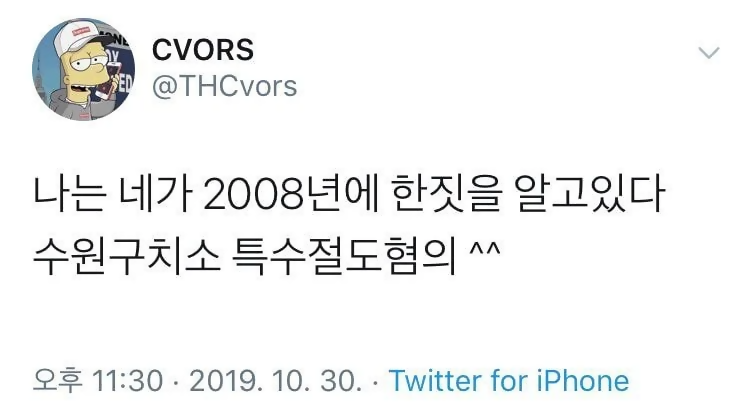 "I know exactly what you did in 2008 — that aggravated theft charge at Suwon Detention Center," Jung said in her tweet.
Dispatch uncovered information regarding the theft claims Jung mentioned. In their report, Dispatch states Wonho received probation while an accomplice received punishment.
Later, Jung also shared chats between herself and someone claiming to be Wonho's lawyer where she claims to also be a victim of theft.
Lawyer: "I'm MONSTA X Wonho's lawyer. We're currently checking whether a post you recently made is true. Please give me a detailed explanation of what you meant by 'Hoseok, when are you going to pay me back?'"
Jung: "Tell Shin Hoseok to contact me himself."
Lawyer: "Can we meet in person? I'll relay your message as well."
Jung: "Come to Songdo. Meet me in front of XXXX XXXX in Songdo."
Lawyer: "Can you come to our office instead? It's in Gwanghwamun."
Jung: "I don't think I have a reason to go all the way there. Since I'm the victim, it's not right for me to go all the way there."
Lawyer: "In what way were you victimized? Wonho doesn't think he owes you any money, so we're very curious. If you tell me how you were harmed, I'll relay the message in detail, and we'll make sure you won't become a victim."
Jung: "He thinks paying me back 2 million won (~$1700 USD) settles it? I'm speechless. We lived in Yeoksam-dong together before, and we were supposed to split the rent 50/50, but Shin Hoseok didn't pay his part, so my 10 million won (~$8500 USD) got taken. He also stole all my stuff and sold them online, and he borrowed 3 million won (~$2500 USD) and 5 million won (~$4200 USD) at a time and promised to pay me back. And until 2016, he used the excuse of his balance not being settled at his agency, and when I asked him to pay me back in late 2016, he said his daily spending limit was 1 million won (~$855 USD) so he just sent me that amount for two days.
Lawyer: "I will confirm this with my client. Please give me a more detailed list of the items and amount."
Jung: "Talk to my lawyer at XXX-XXX-XXXX."
Dispatch released the list of items Wonho allegedly stole from Jung. Those items include Balmain jeans, a Canon camera, and an iPod. An acquaintance of both Jung and Wonho claim the items were listed on a second-hand sales website, and this acquaintance claims he traced the phone number back to Wonho.
Starship Entertainment has said the claims are not true in a statement.
"We plan on submitting a legal complaint via our legal representative. We will release an official statement as quickly as possible," the company said October 31.
Also on October 31, Wonho released a letter to fans on Monsta X's fan café announcing his leave.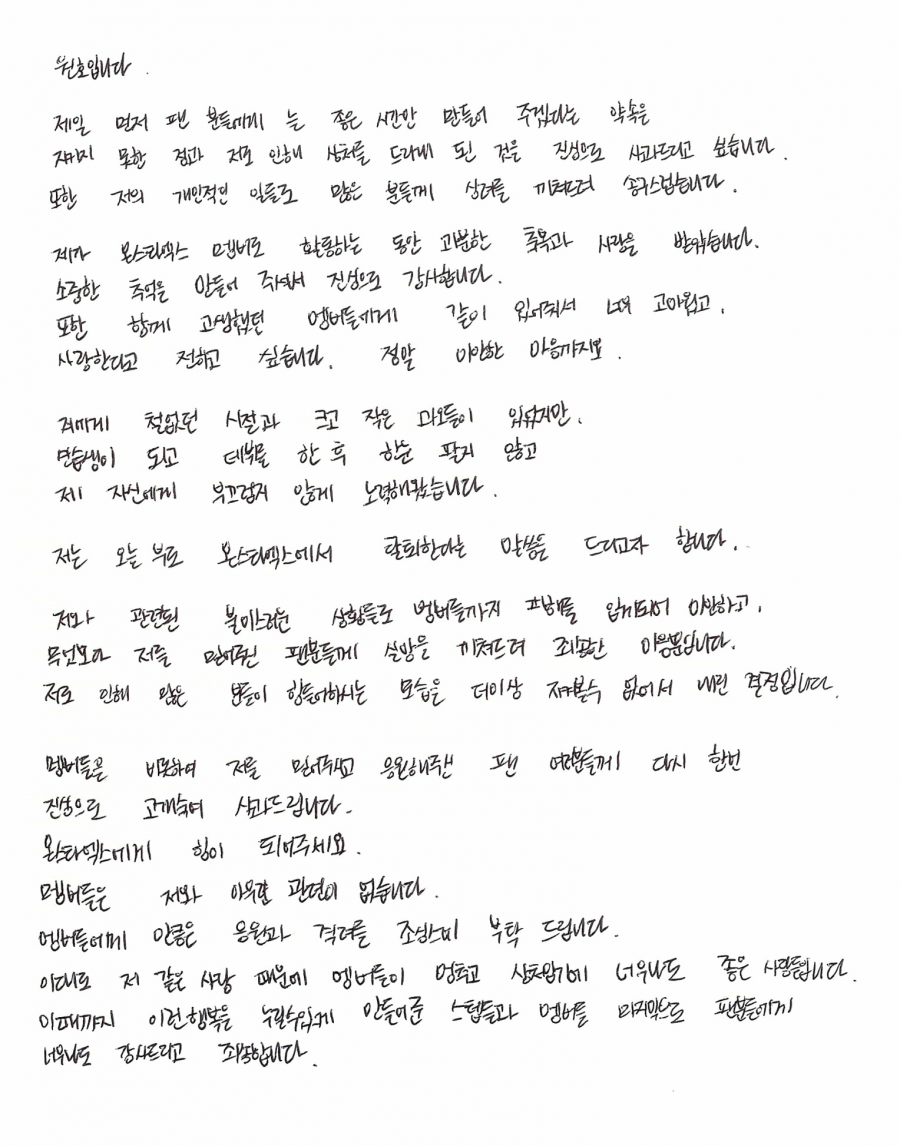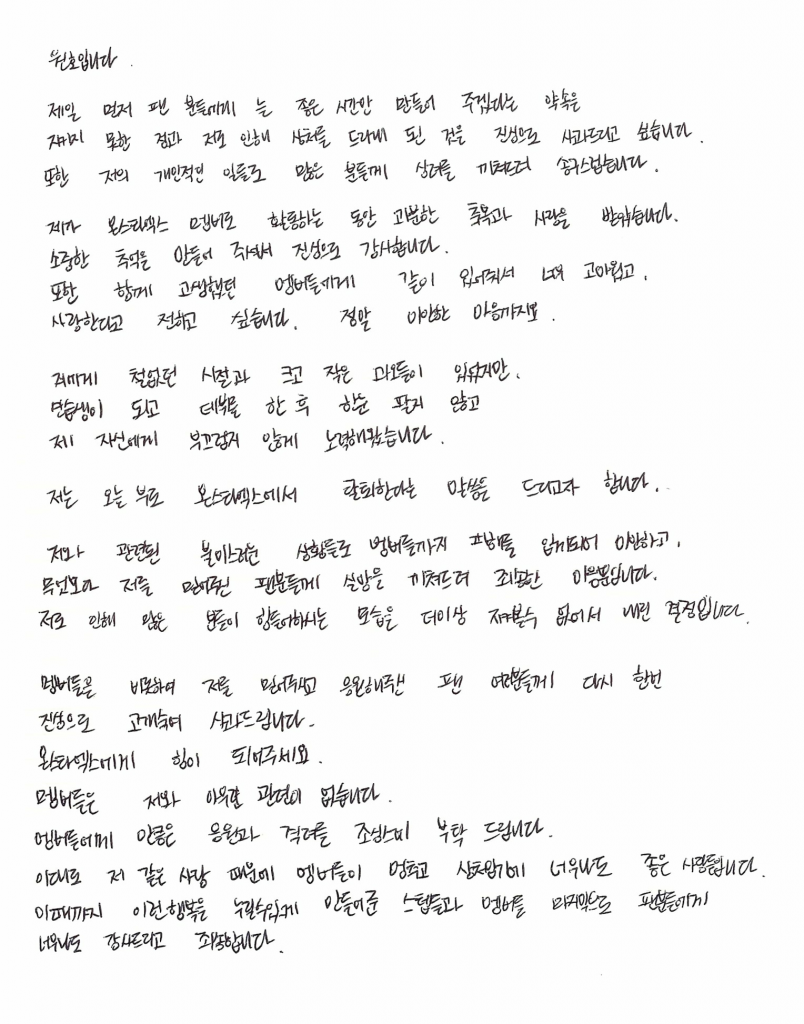 This is Wonho.

First, I would like to apologize for not being able to keep the promise that I would only provide good memories to our fans and for causing them pain. Furthermore, I apologize for causing concern to many people due to my personal issues.

I have received undeserving blessings and love while promoting as a MONSTA X member. I sincerely thank you for making precious memories for me. To the members who worked hard with me and stayed with me, I would like to tell them that I'm thankful and that I love them. [I would also like to show them] my apologetic heart.

There was a time when I was immature and have made big and small mistakes, but after becoming a trainee and making my debut, I stayed on track and worked hard to avoid being ashamed of myself.

I am announcing that I am leaving MONSTA X today.

I am apologetic for causing harm to the members due to the unfortunate issues related to me. More than anything, I am sorry for disappointing my fans who believed in me. I have reached this decision after seeing many people having a hard time because of me.

In addition to our members, I once again sincerely bow my head in apology to the fans who have believed in me and supported me.

Please give strength to MONSTA X.

The members have nothing to do with me.

I carefully ask that you at least give support and encouragement to the members.

They are people who are too good to stop and get hurt like this because of someone like me.

I am so thankful and apologetic to the staff, members, and lastly our fans who have allowed me to enjoy such happiness until this point.
On November 1, 2019, Dispatch released reports that Jung and Wonho used marijuana together in 2013 and were allegedly caught by Burning Sun director "Jo."
Jo, who is currently held at the Seoul Detention Center on allegations of marijuana, methamphetamine, ecstasy, and ketamine usage, alleged Jung and Wonho smoked marijuana at Jung's residence in October 2013. Jo stated he was at the house unbeknownst to Wonho and Jung even though Jung gave Jo the house code so he could enter the house to borrow a Balmain belt. Jo claims that Wonho and Jung discussed smoking marijuana while he lurked in the house, then he claims he smelled them smoke it. Wonho then took a phone call outside, and that's when Jo claims he confronted Jung before leaving. He said Jung asked him to ignore the issue, and that he left before Wonho knew Jo was there.
Following the marijuana story, Starship Entertainment terminated Wonho's contract.
Hello, this is Starship Entertainment.

Regarding the report released on [November] 1, Wonho did get his luggage and body examined at the airport after returning from the concert in Germany in September 2019, but it was a simple process, and we were informed that it is part of the customs inspection. We were not notified separately of an investigation, and we were not aware at all of Wonho being under investigation, of the suspicions of marijuana use in 2013, and that an investigation is undergoing.

In relation with this case, the judgment has been made that we can no longer maintain our contract with Wonho and terminated our contract with Wonho as of November 1, 2019.

We feel heavy responsibility for causing trouble to many people due to the current situation, and we will work to fulfill our responsibility until the end so that he can diligently participate in the investigation.

We once again apologize to the fans who sincerely cherish MONSTA X. We apologize.
Meanwhile, monbebe (Monsta X's fandom) have been petitioning Starship Entertainment to re-instate Wonho. The fans have mentioned that Wonho's marijuana scandal isn't new as he has admitted in the past that he made poor choices and promised to learn from them. Fans have also pointed out the Han Seo Hee's involvement is enough to cast doubt on the entire story.
Starship, however, has removed the Wonho-supportive messages.
More information is expected to come with the allegations, so this is a developing story. However, all parties are innocent until proven guilty.
—-Olivia Murray
Related Articles