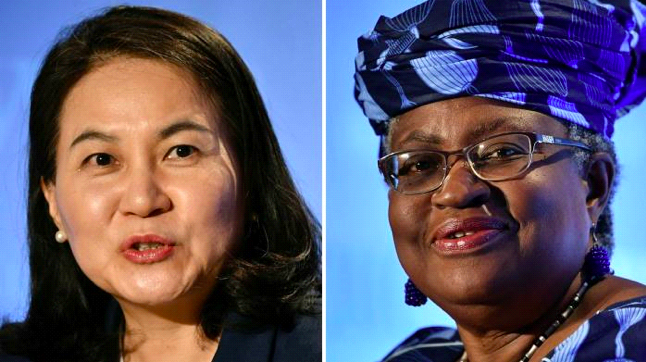 © AFP via Getty Images
For the first time, a female will become director-general of the World Trade Organization (WTO) – after it was narrowed down to two candidates – from South Korea and Nigeria.
"Our aim continues to be to encourage and facilitate the building of consensus among members, and to assist in moving from this final slate of two candidates to a decision on appointment," WTO General Council Chairman David Walker stated.
Nigeria's Ngozi Okonjo-Iweala and South Korea's Yoo Myung-hee are racing to become the next director-general of WTO. Between Ngozi Okonjo-Iweala and Yoo Myung-hee – one winner will be announced in November.
If things work out for her, Okonjo-Iweala would become the first World Trade Organization chief from Africa. She is a Nigeria's finance minister, and served as a managing director at the World Bank.
Yoo is South Korea's trade minister, who has had a 25-year career in the Korean government. She helped boost South Korea's trade network through bilateral accords with China, the E.U., the U.K. and America. Yoo is the third Korean to run for the top post of the Geneva-based trade body.
Ambassadors to the WTO said that Tokyo and Beijing were likely to exercise a de facto veto against Ms Yoo because of political tensions with Korea, despite their claims that they will support the candidate with the most merit. Japan reportedly has been against Yoo's bid to run for the top seat at the WTO.
The director-general of WTO serves a renewable term of four years. This position became available due to a resignation of Roberto Azevedo who held the job since 2013, until this past September.
J.Chung.
Related Articles