Topeka has a host of exciting, diverse offerings this fall, including more of their first-in-kind Front Row shows which create one-on-one connections between artists and fans.
Upcoming events include a workshop "Around the Kitchen Table" with Katianna & John Hong of The Culinary Institute of America on November 8, 2020.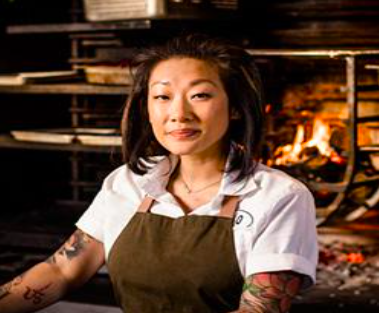 Katianna Hong
November 8
Katianna (CIA '05) & John Hong
Demonstration Date: Sunday, November 8, 2020
Doors: 4:45pm ET // 3:45pm CT // 1:45pm PT
Show: 5:00pm ET // 4:00pm CT // 2:00pm PT
Chef Katianna Hong has worked her way up in some of the best kitchens throughout the country, including being former Chef at The Charter Oak and former Chef de Cuisine at The Restaurant at Meadowood in Napa. During her time at The Restaurant at Meadowood, she was the only female Chef de Cuisine in a U.S. Michelin three-starred restaurant. She has been honored as San Francisco Magazine's "Rising Star Chef" and one of Food and Wine Magazine's "Best New Chefs."
Chef John Hong realized he belonged in the kitchen after a short stint in college. After graduating culinary school in Chicago and working at three Michelin-starred Alinea, he made the decision to move west. When he landed in the Napa Valley, he worked his way up at The Restaurant at Meadowood, another Michelin-starred restaurant, to become the Chef de Cuisine. In 2016, he was honored by the Asian Business Association as "Chef of the Year."
Ticket Purchase and additional information can be found HERE!
Topeka's first-in-kind "Front Row" show experience creates authentic, one-on-one connections between artist and fan, offering the unique opportunity for ticketholders to engage with their favorite artists during the performance. Learn more about the Front Row Experience HERE.
About Topeka: Created by Andy Levine, Topeka has enjoyed growing success since its inception, allowing artists and fans to connect face-to-face via live interactive video. Topeka's innovative "Front Row" show experience creates the once-in-a-lifetime opportunity for fans to engage with their favorite artists during the performance, building real, authentic connections. From mini-concerts and listening parties to private lessons, workshops, group Q&As and more, Topeka offers an array of experiences to form these personal relationships. Each Hang Session via Topeka supports their partnership with Circles Morningside, the Atlanta-based chapter of Circles USA, and their 12-week Apprenticeship Program. For more details visit topeka.live to connect, to share, to learn, to…peka. #meetyouintopeka
Watch an example of Topeka's Hang Sessions HERE and visit Topeka.live for more information.
Related Articles