Visiting theme parks is a fun hobby for many thrill seekers. Asia has plenty of theme parks beyond Disney parks to offer globetrotters. If you've been bitten by the travel bug, take the time to check out these parks on your adventures!
LEGOLAND Malaysia
Iskandar Puteri, Johor, Malaysia | 7, Persiaran Medini Utara 3, 79100 Nusajaya, Johor, Malaysia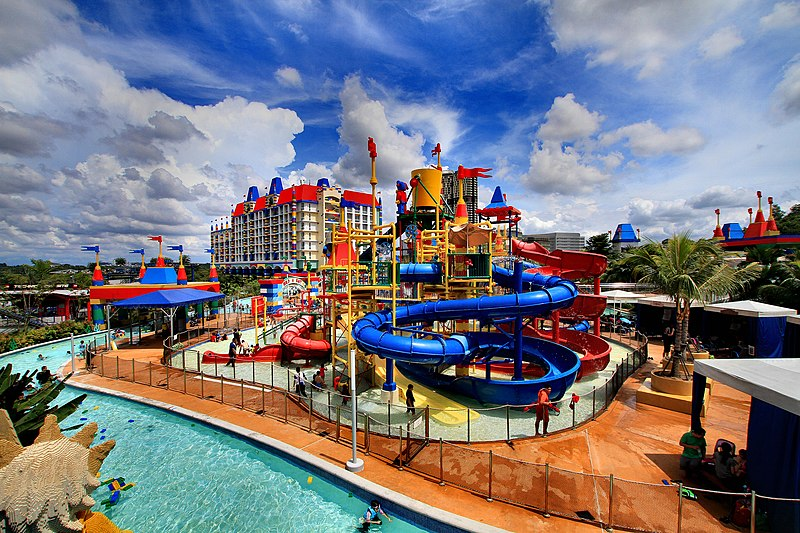 Opened on September 12, 2012, LEGOLAND Malaysia is Malaysia's first international theme park. It's Asia's first LEGOLAND park (sixth globally), and it features over 40 attractions.
LEGOLAND Malaysia has eight themed areas.
Technic
Technic features LEGOLAND Malaysia's fastest attractions. Here, you will find:
LEGO City
At LEGO City, guests can wander around a city made from LEGOs. Kids can take part in driving, boating, and airplane "schools," ride the DUPLO Express, and check out the Frontliners Mural, which is a tribute to the frontline workers that helped during the height of the Covid-19 pandemic.
LEGO Kingdoms
Travel to a land of dragons and Medieval-themed fun! At LEGO Kingdoms, young guests can "joust" and ride dragons. Here, you will find:
Miniland
Miniland features miniature models of different landmarks showcasing different Asian countries. Check out miniature LEGO sculptures featuring the Taj Mahal, Myanmar's Karaweik Palace, Beijing's Forbidden City, and Kuala Lumpur among other notable sculptures.
Imagination
A great place for young guests, Imagination features DUPLO play zones while also experiencing some 4D movies at LEGO Studios.  If you scale the Observation Tower, you and your family can enjoy views of the park. Finally, at the Kids Power Tower, lift yourself up to new heights using pulleys to view the park before falling down to the ground.
Land of Adventure
The Land of Adventure features dinosaurs, pharaohs, and beetles wrapped up in an exciting time for young children! Land of Adventure's attractions include:
LEGO NINJAGO World
NINJAGO is an indoor theme park that invites kids to put their skills to the test to become the Master of Spinjitzu. Kids can practice their climbing skills on Cole's Rock Climb, or they can practice their ninja moves at Nya's Practice, a digital green screen. At Kai's Spinner, young ones can practice spinning and balance. Wrap up the day by visiting Zane's Temple Build where you can help build the NINJAGO monastery.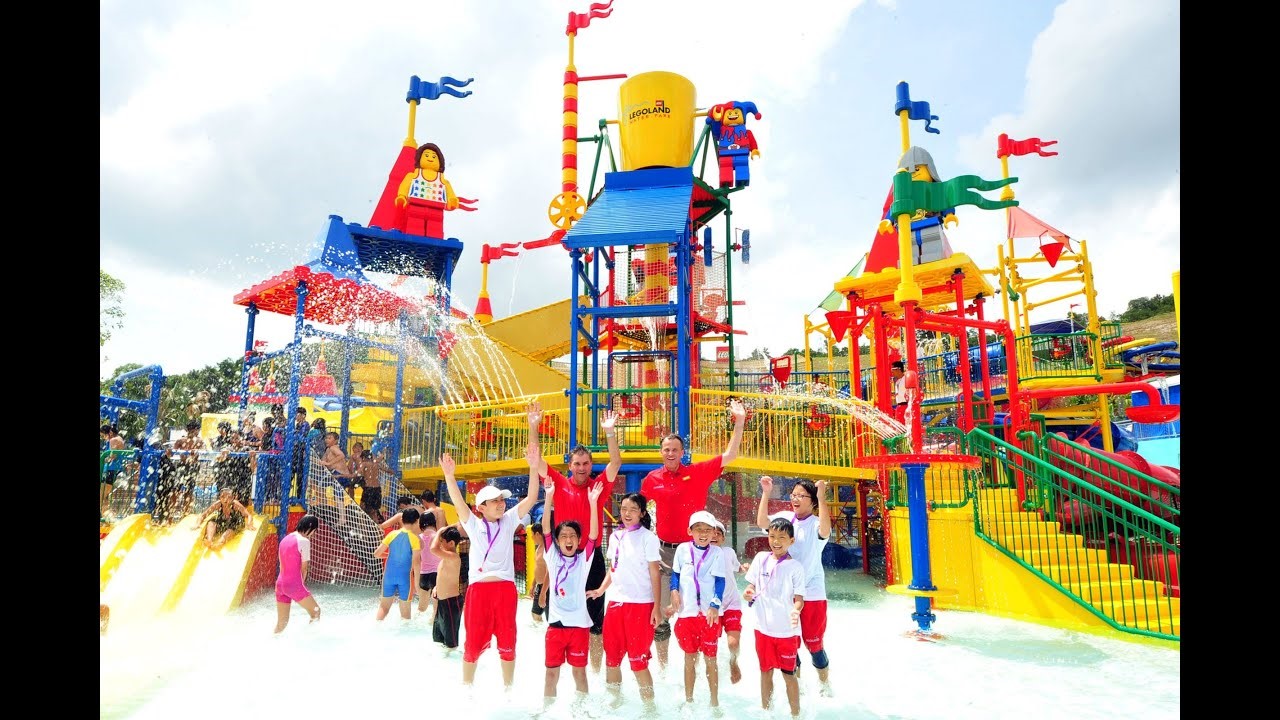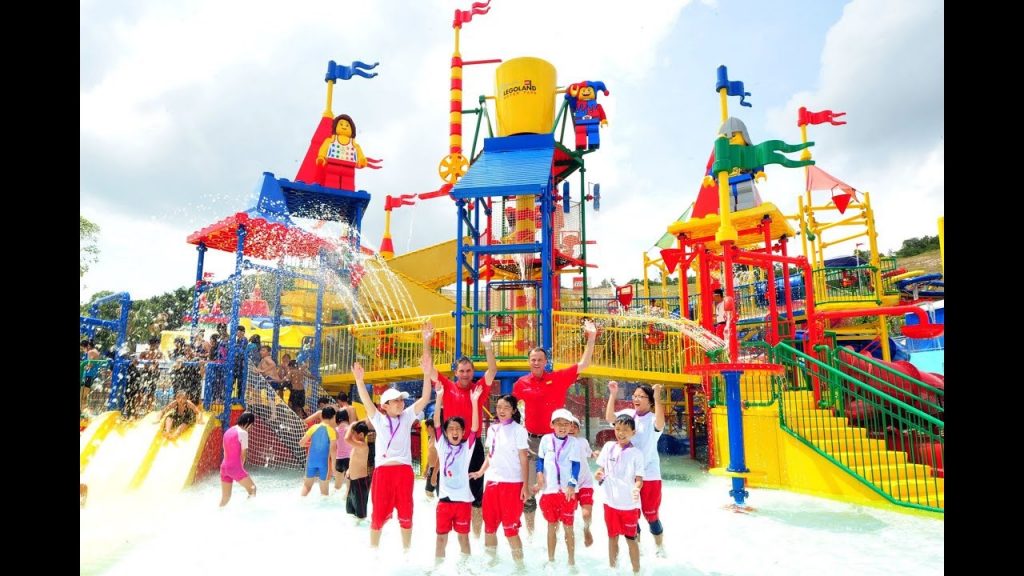 If you're hot from visiting the main theme park, take a trip over to the LEGOLAND water park. Here, build boats and rafts or ride the Brick Blaster, Splash and Swirl, Tidal Tube, or Red Rush innertube slides. You can also get soaked by sliding down the Wave Rider, Twin Chasers, and LEGO Slide Racers.
If indoor fun is more your style, check out SEA LIFE Malaysia, which is also part of the LEGOLAND Malaysia umbrella. Visit the underwater world where you have access to 13,000 sea friends of 120 different species. Watch jellyfish, seahorses, reef sharks, stingrays, and zebra sharks swim around, or interact with starfish and other rockpool creatures.
After 6pm, experience Malaysia's first underwater dining experience at SEA LIFE Malaysia. Diners get to sit surrounded by the aquarium fish as they dine on a four-course meal. Experiencing dinner at the aquarium is by reservation only.
While visiting LEGOLAND Malaysia, you can stay at the LEGOLAND Hotel, which features rooms that are pirate, ninja, adventure, or kingdom themed. Dining and shopping can be found at the resort and throughout LEGOLAND, so there are plenty of things to do!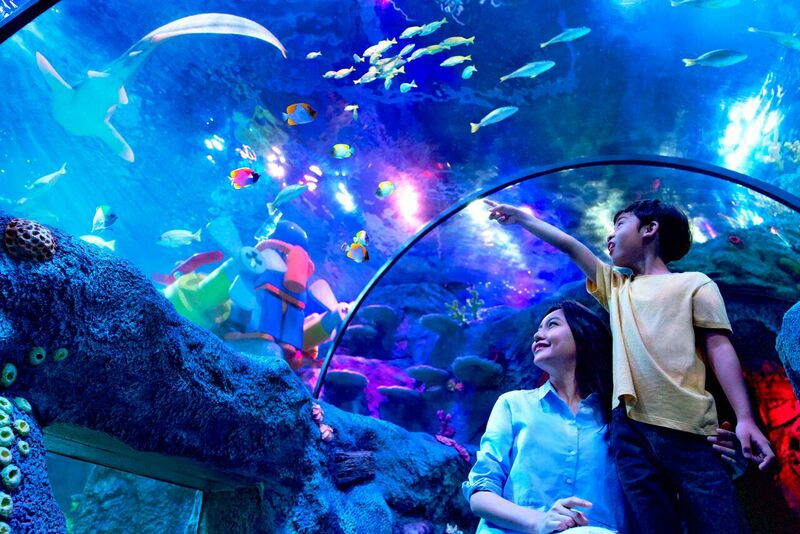 As of July 22, 2022, LEGOLAND Malaysia requires all adults 18 or older to be fully vaccinated against Covid-19.
Snow Kingdom
Mumbai, India| R City Mall, Lal Bahadur Shastri Rd, Amrut Nagar, Ghatkopar West, Mumbai, Maharashtra 400086, India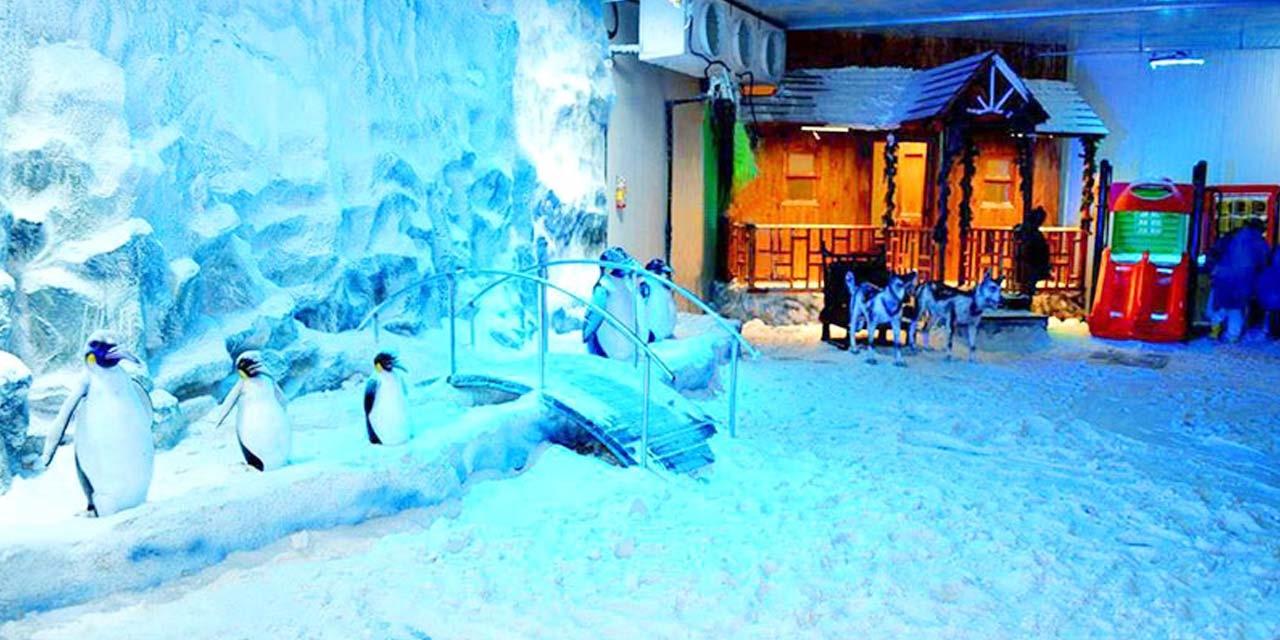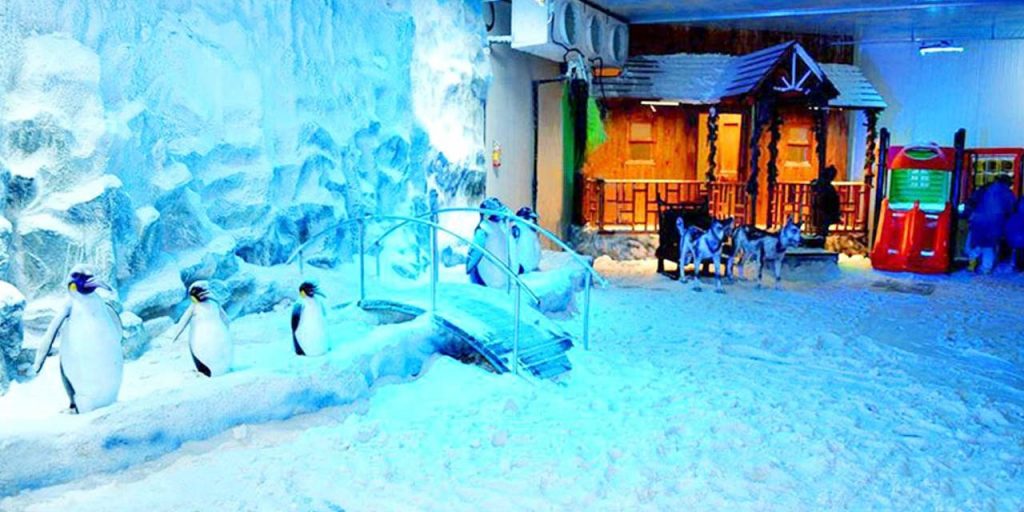 Located in Chennai, Tamil Nadu and Mumbai, Maharashtra, Snow Kingdom is India's largest snow theme park. While it's small by United States' standards (14,000 sq ft), it's the perfect theme park for anyone who wants to experience snow when they normally wouldn't get to do so.
The theme park is located inside R City Mall and boasts that it is "the perfect respite from the city's humidity, high temperatures, and pollution." Through reverse-osmosis, water's made into snow to create a perfect winter wonderland that features seals, penguins, and snow deer, a discotheque, and rides. The park provides sterilized winter clothing so guests can have fun in the 18-degree Fahrenheit (-8 degrees Celsius) temperatures.
At the discotheque, have a ball and dance away on the snow-themed stage area. If dancing isn't your thing, throw snowballs, ride on toboggans, or climb a 23-foot-tall cliff. You can also slide down hills using inner tubes or check out the inside of igloos. Snow Kingdom is also the perfect place to host unique birthdays and anniversaries.
Snow Kingdom's open from 11am-9pm daily, with the last entry allowed at 8pm. Play sessions at the park are an hour long. The busiest times are between 6pm-9pm.
Phuket Fantasea
Phuket, Thailand | 99, Kamala, Kathu District, Phuket 83150, Thailand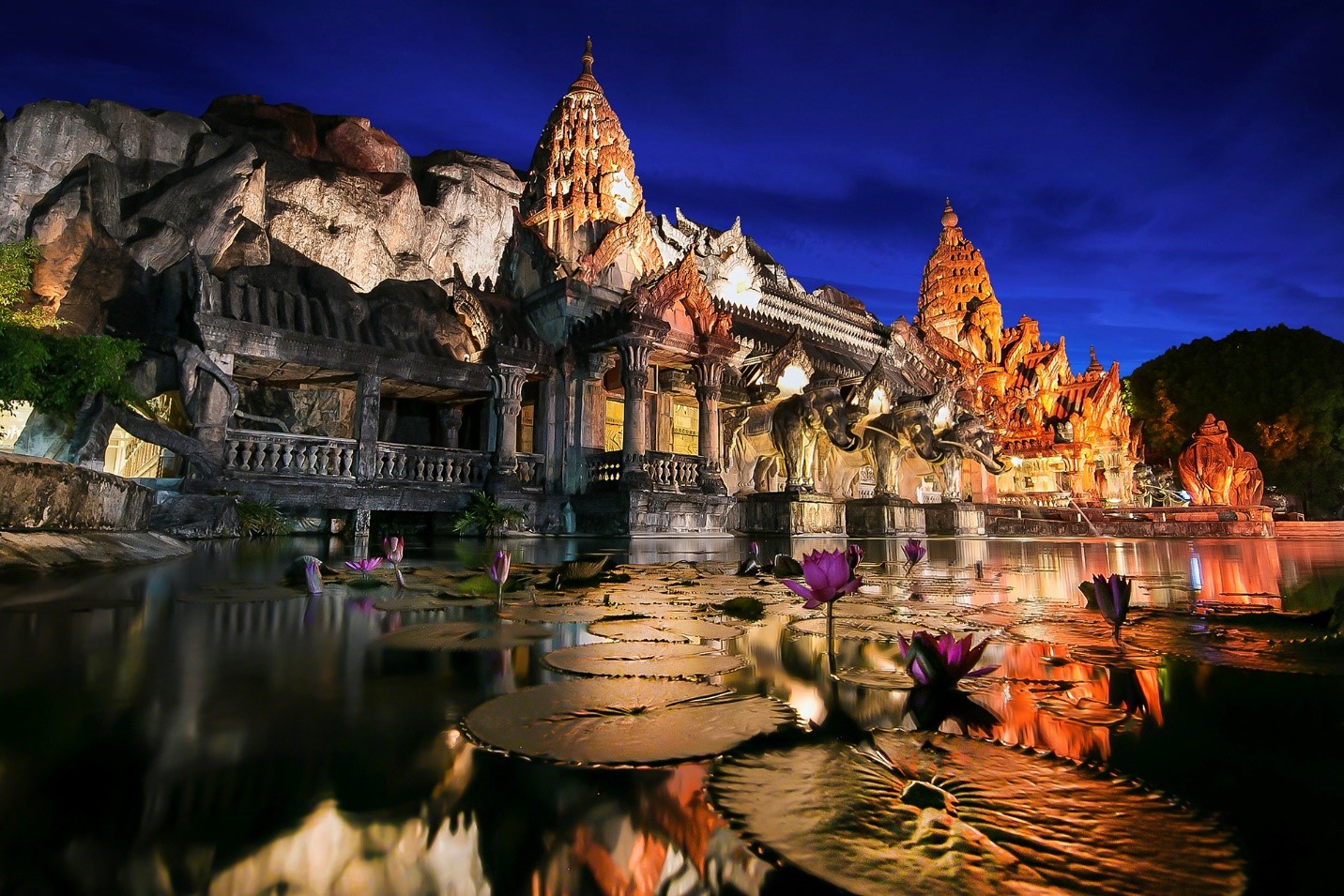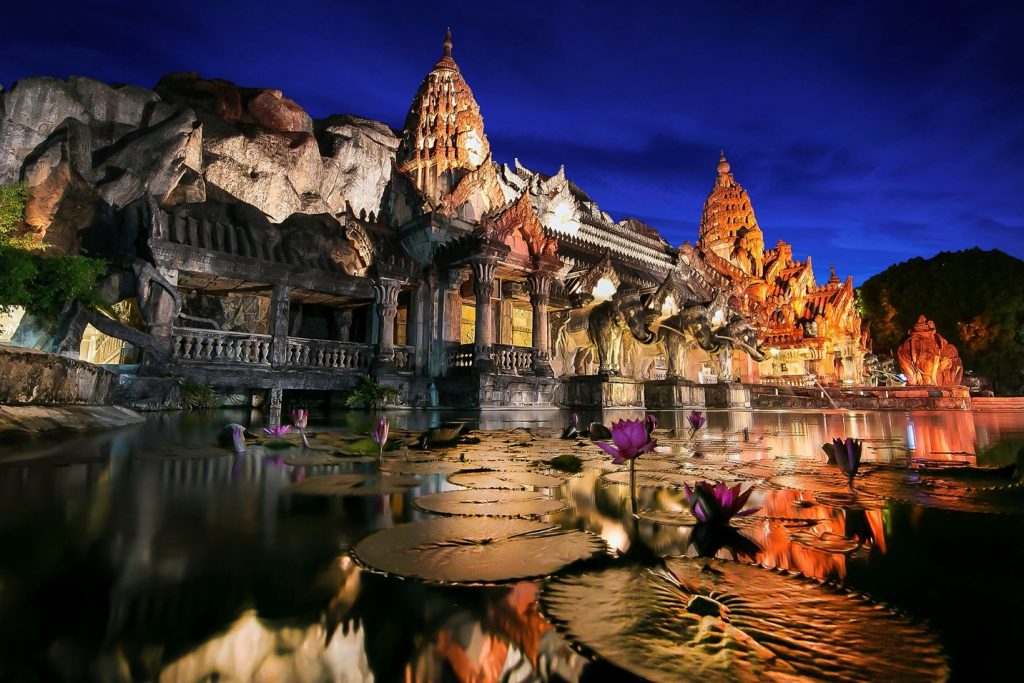 Phuket Fantasea is a fun, lively place to experience some of Thailand's nightlife*. The theme park features Thailand's incredible architecture and provides a fun experience to anyone wishing to experience Thailand's hospitality and vibrancy.
Venturing the park brings you up close and personal with Thailand's famed architecture, especially the statuary and ornate decorations that make Thailand a beautiful and opulent place to visit. Even the restrooms are rich in Thai art and structure!
Shopping is one of the highlights at Phuket Fantasea. At Iyara Grande, shop for fine jewelry or pick up some traditional handicrafts at Tribal Craft Bazaar. Young visitors will enjoy the colors and theming of the Festival Village shops as they look for plushies featuring Thailand's famed tigers and elephants. At Legende de Bangkok, visitors can dress up as Thai princes and princesses for photo souvenirs.
At the Similan Entertainment Center, guests get to experience an "undersea" arcade and shopping. Arcade and carnival games provide entertainment for guests of all ages as the center celebrates Thailand's Similan Islands.
The most exciting elements of Phuket Fantasea are the shows that occur nightly at the Viva Bangkok Stage Theater. Here, you can see traditional dances, hear lively music, and enjoy some of the best entertainment Thailand has to offer.
Wrap up your visit at one of the two restaurants located on property: Golden Kinnaree Buffet Restaurant or Suriyamas Seafood Buffet Restaurant. Both will provide dining experiences that cannot be missed!
Chimelong Ocean Kingdom
Hengqin, Zhuhai, People's Republic of China| 3GWP+VHX, Xiangzhou, Zhuhai, Guangdong Province, China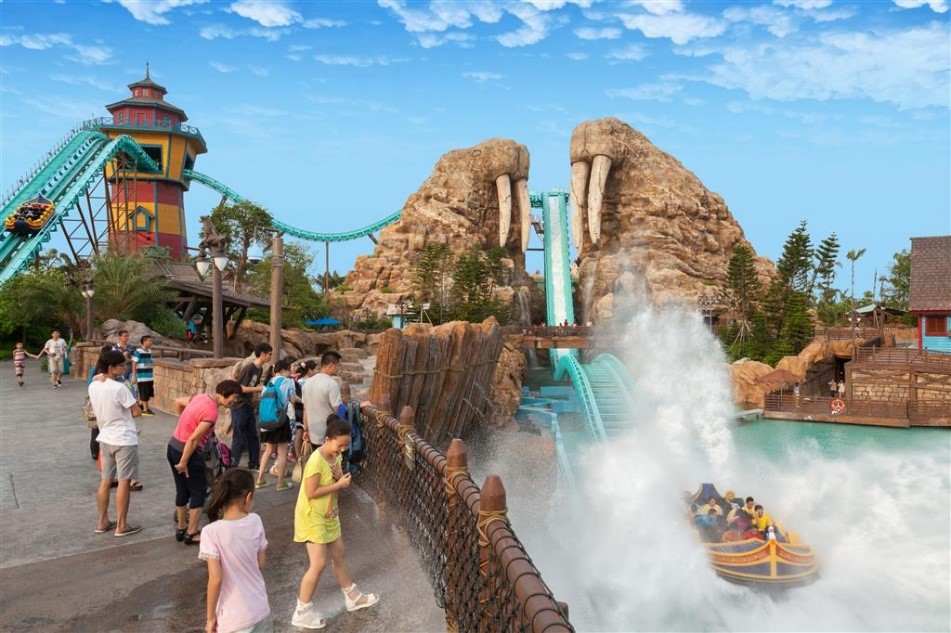 Opened in 2014, Chimelong Ocean Kingdom is part of the Chimelong International Ocean Tourist Resort, a tourist attraction that wants to be known as "the Orlando of China." Chimelong Ocean Kingdom is the winner of the 2015 Thea Award for Outstanding Achievement, the 2018 Thea Award winner for Outstanding Achievement for the Journey of Lights parade,  and holds the Guinness world record for being the world's largest aquarium.
The theme park has eight themed areas: Ocean Avenue, Dolphin Cove, Amazing Amazon, Ocean Beauty, Polar Horizon, Hero Island, Mount Walrus, and Hengqin Ocean.
Ocean Avenue
At Ocean Avenue, the park's entrance, guests get to experience an LED digital canopy that shows off ocean life.
Dolphin Cove
From Ocean Avenue, enter Dolphin Cove where guests can experience several attractions with a dolphin theme.
Battle of the Pirates: A spinning teacup ride that has water jets for added excitement.
Dolphin Round Ride: This ride is similar to the Dumbo ride at the Disney parks. Kids will enjoy riding in a circle as the dolphins go up and down during the ride.
5D Castle Theatre: The castle theatre is home to the world's largest curved screen at 1,500m². The theatre shows a 13-minute video called Kaka's Great Adventure.
Dolphin Island, Dolphin Theatre, and Dolphin Conservation Center: Dolphin Island is home of the spotted white dolphin habitat. The Conservation Center houses the Chinese spotted dolphin habitat with viewing areas available for guests.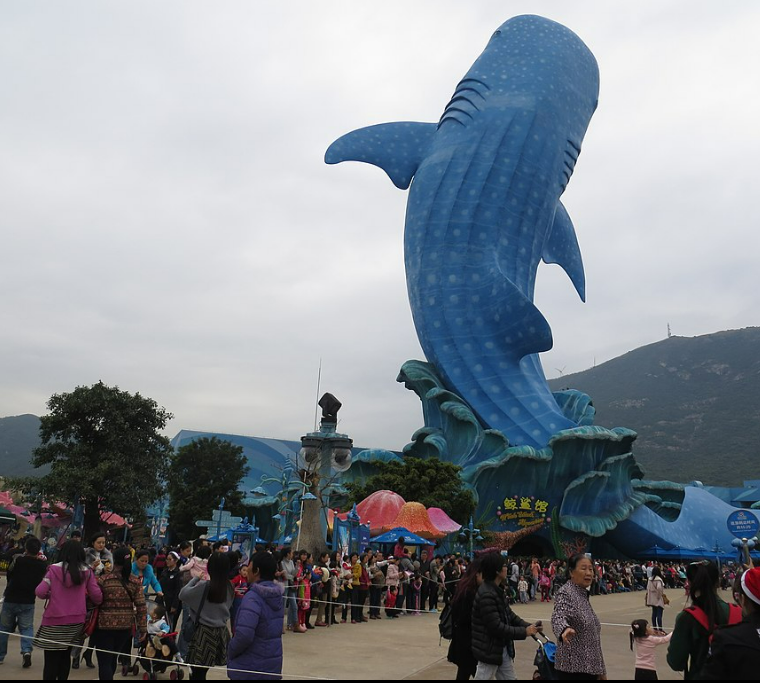 Ocean Beauty
The Ocean Beauty hub has a giant whale shark statue that serves as the hub's centerpiece. The Amazing Amazon section of the park houses several aquariums including the Whale Shark Exhibit that is the largest aquarium in the world. Here, guests can view whale sharks and manta rays. After visiting the Whale Shark Exhibit, check out Deep Sea Odyssey, a submarine ride that goes inside the whale shark aquarium.
Amazing Amazon
The Amazing Amazon section is home to the Parrot Coaster, which is Asia's first wing coaster and the first to feature a splashdown. It's the third largest wing coaster in the world while being the world's longest wing coaster. The Parrot Coaster features several turns and a diving loop, and it has a zero-gravity loop for added thrills.
Journey to the Amazon has a freshwater aquarium that is sure to thrill guests with its colorful array of fish.
Polar Horizon
Polar Horizon features cold-weather animal and sea friends. Here, guests can view the belugas, polar bears, and penguins in their designated habitats. The Polar Explorer is the hub's rollercoaster that's the park's answer to Disney's Splash Mountain. Sadly, this attraction features live bears as part of the coaster's visuals.
Hero Island
Hero Island has three animal exhibits: The Otter's Den (an Asian small-clawed otter habitat), Stingray Encounter (a stingray touch pool), and Tide Pools (touch tanks for small fish and sea animals).
This hub has five attractions.
Bumper Smash: A bumper car attraction where guests bump and ride around a track.
Games Arcade: The games arcade feature game stalls that resemble carnival games.
Penguin Coaster: A small, child-friendly coaster that races around a track twice.
Jungle Coaster: This coaster is more advanced than the penguin coaster, so it is more suitable for children 8-years-old and up. It circles a track twice.
Tower of Sea Monsters: A lift-and-rotate ride that is not meant for younger children, the ride is synchronized and provides visuals of monstrous sea creatures.
Mount Walrus
Mount Walrus features Walrus Island, Sea Lion Bay, and Sea Bird Paradise. Each are exhibits where guests can see walruses, sea lions, pelicans, capybaras, and sea turtles among other creatures. Here, guests can ride the pirate ship ride, Spirit of Adventure, or the giant flume ride, Walrus Splash. Guests will enjoy the walrus-shaped mountains built as this hub's landmark.
Hengqin Ocean
Hengqin Ocean is the main hub for Chimelong's shows, parades, and fireworks. Here, guests have prime viewing for the nighttime parade, Journey of Lights. Journey of Lights is similar to Disney's Spectromagic, Electrical Light Parade, and Paint the Night parades where performers, characters, and floats decorated in lights travel down the theme park's trail to delight guests of all ages.
Of course, this is just a small sampling of the theme parks Asia has to offer. Stay tuned for more park features in one of our upcoming Wanderlust Wednesday posts!
*Note: One of the downfalls of Phuket Fantasea is the use of live animals as entertainment. Guests can interact with elephants as they are ridden within the park. Inside, there is also a location where white tigers reside (Tiger Jungle Adventure), and you can take photos with baby tigers and elephants. Animals are used in the live shows. For anyone who objects the use of wild animals for entertainment, Phuket Fantasea should be skipped.
**Note: Chimelong Ocean Kingdom faced severe criticism over the years due to polar bears being kept in captivity and penguins developing skin disorders due to being kept in a sub-tropical climate. They've also been criticized for the orca (killer whale) trade between China and Russia. The park also hosts shows featuring dolphins, sea lions, and beluga whales. Live bears, seals, and sea lions are also incorporated into displays around the amusement rides. For anyone who objects the use of wild animals for entertainment, Chimelong Ocean Kingdom should be skipped.
—-Olivia Murray
#AsianThemeParks #ChimelongOceanKingdom #polarbears #LEGOLANDMalaysia #PhuketFantasea #HengginOcean #SnowKingdom #RCityMall #MumbaiIndia #Thailand #AsianWaterParks #Malaysia #China #WorldsLargestAquarium #LEGONinjagoWorld #indoorthemeparkfun #AsianAmusementParks #waterparks #LEGOKingdom #kcrush #kcrushamerica #officialkcrush #GoldenKinnareeBuffetRestaurant #SuriyamasSeafoodBuffetRestaurant
Related Articles