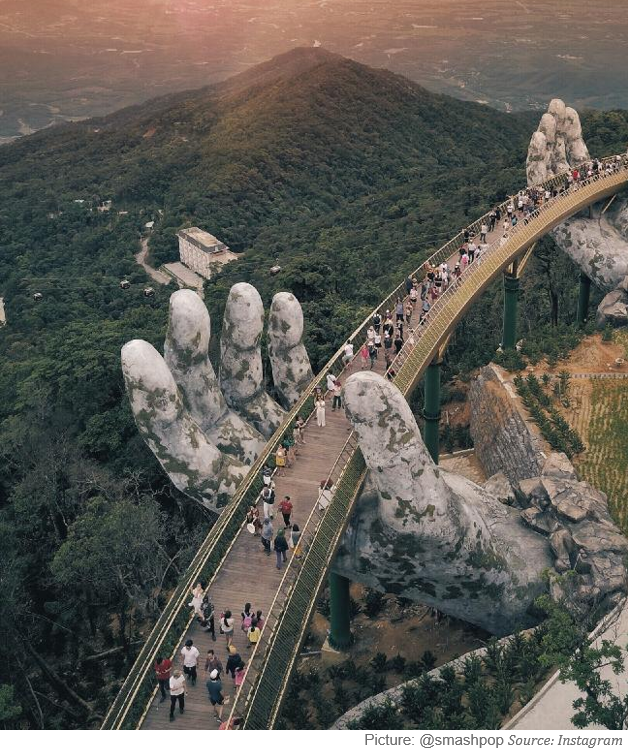 If traveling to Vietnam catches your fancy, one must-see attraction is also one of the country's newest.
Opened in June 2018, Golden Bridge (Cầu Vàng), which is located in the Bà Nà Hills in Da Nang, is a bridge that is 1,400m above sea level and overlooks Da Nang's countryside. If breathtaking views of the Trường Sơn Mountains, hills, and lush greenery don't capture you, then the bridge's stunning architecture will.
The eight-section golden-railed, 500-foot long bridge is unique in that it has two hands holding it up above the Thien Thai gardens at the Bà Nà Hills Resort. In addition to the bridge that has garnered international attention, the resort area has an alpine roller coaster and the longest nonstop, single-track cable car as indicated by the Guinness Book of World Records. The resort was initially built by French settlers in 1919, but parts of the resort are said to be in ruin. It does, however, have a Fantasy Park and a French-style village complete with cobbled streets.
The hands are designed to look like weathered stone, but they are made from steel meshes and fiber glass according to TA Landscape Architecture. Along the walkway, purple lobelia ties the bridge into the countryside.
The bridge's designer, Vu Viet Anh, said the bridge should evoke the image of "giant hands of Gods, pulling a strip of gold out of the land."
"It creates a walkway in the sky, among the foggy and fairy-like lands of Bà Nà mountain," Anh continued.
Golden Bridge took about a year to build and is part of a $2 billion USD development project that is designed to bring millions to the area and further strengthen tourism.
"We're proud that our product has been shared by people all over the world," Anh said.
While Bà Nà Hills is not as well-known as Hanoi and Ho Chi Minh City, it is one of Vietnam's top tourist attractions. According to Reuters, 2.7 million tourists visited the locale in 2017.
—-Joelle Halon
Related Articles