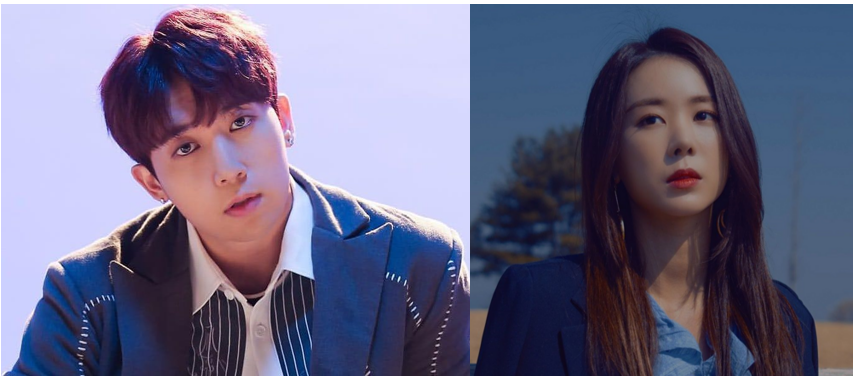 Another K-Pop marriage is about to take place soon as U-KISS' Hoon announced his upcoming nuptials May 29, 2022!
Hoon made his marriage announcement via a handwritten letter.
Hello. This is U-KISS's Hoon.

I've mustered the courage to write this because there's news that I want to personally share with fans. After pondering for a long time how to share this, although I feel nervous, I will try to write letter by letter.

By sharing this news, more than anything, I worry that my fans who cherish me more than anyone might feel upset. Since my fans' love and support is the biggest reason why I'm able to be here today, I feel that much more careful.

However, I think it's right that I share life's important decisions with fans. While you must have been surprised at this sudden news, this is a road I've decided on after a lot of consideration, so with the belief that you will send support and blessings, I'm getting up the courage to say this.

To be honest, I have a girlfriend I'm dating. I want to introduce her for the first time through this letter. Her name is Hwang Jiseon and she may be someone you all already know through her wide variety of promotions. I grew determined to spend forever with the person who more than anything, respects my work, helps my family, and really, really cherishes the fans who love and support me, so we will be holding a wedding on May 29.

Although I'm awaiting a new start, I promise that I am not suddenly stopping or giving up as U-KISS's Hoon. I will showcase an image that better repays the love and support I've received until now. Through this letter, I also want to say thank you again to my U-KISS members and Tango Music family who supported my decision and wished for my happiness, more than anyone else.

I sincerely thank you for reading my long letter. In the future, I will become a U-KISS's Hoon who showcases an unchanging image. Thank you.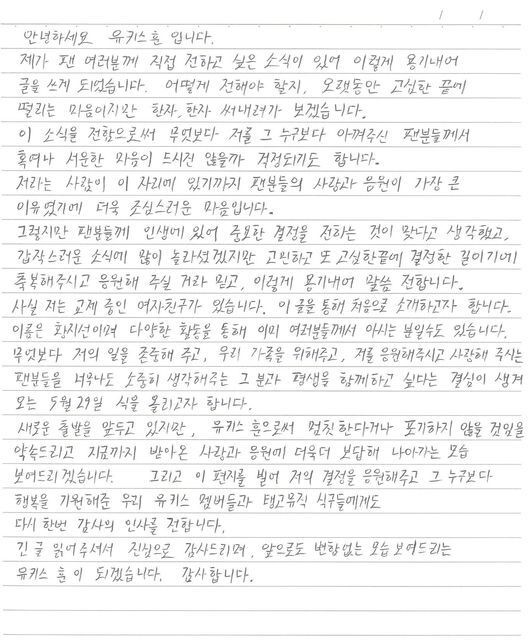 Hoon's agency, Tango Music, confirmed the news in a statement.
Hello. This is Tango Music.

We are announcing news related to our agency artist, U-KISS's Hoon, getting married.

After meeting in a past project, Hoon and Hwang Jiseon have promised forever after a long period of dating.

The two will hold their wedding somewhere in Seoul on May 29 and tie the knot. They plan to proceed privately with the wedding, with only their parents and close acquaintances.

As they embark on a special life start following this precious decision, we ask that you give warm encouragement and blessings for their future.

Thank you.
Hoon's bride-to-be is Hwang Jiseon, a former K-Pop idol. Jiseon made her debut July 2010 when she was briefly a member of Girl's Day. From 2011-2012, she was a member of New.F.O (as JN). From 2018-2019, she was also a member of S#aFLA. Prior to debuting for a third time with S#afla, she appeared on The Unit.
Prior to being in U-KISS, Hoon (Yeo Hoon Min) debuted as a ballad singer in 2009. He joined U-KISS in 2011 as a lead vocalist. In 2022, Hoon, as well as fellow U-KISS members Kiseop and Soohyun, signed contracts with Tango Music.
We wish Hoon and Jiseon the best with their upcoming marriage!
—-Olivia Murray
#UKISS #HwangJiseon #YeoHoonMin #TangoMusic #marriage #2022marriage #kpopmarriage #marriageannouncement #May2022marriage #Seoulwedding #GirlsDay #NewFO #S#afla #TheUnit #kpop #kpopidols #kpopsingers #kcrushnews #originalkcrush #kcrushamerica
Related Articles