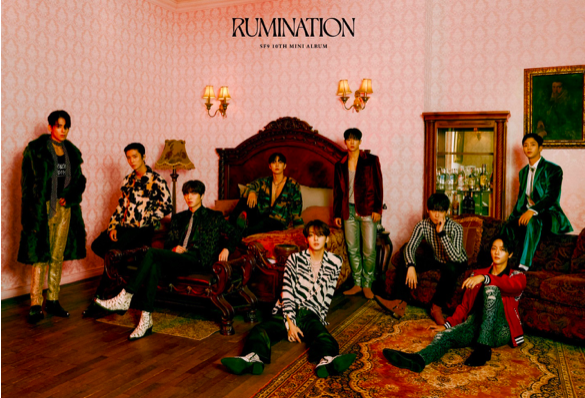 Known to many for their hit, "Teardrop," SF9 is back with an amazing mini album. This is full of their classic EDM but also mixes in some R&B and calming ballads.
Trauma: 8/10
SF9 opens this album strong! "Trauma" has a great beat, deep lyrics, and a showcase of each member's vocals/rap. This song has EDM as well as R&B vibes, and focuses on a love that is struggling to stay alive. Check out the lyrics to the first verse:
Love, once hot, shatters
Cold as ice
Pushing me away
Tangled like spiderwebs
Our connection reaches the end, oh no
The melody and darker tone of "Trauma" displays this feeling perfectly.
Memory: 9/10
With soft rap, simple yet elegant piano, and strong base, "Memory" is a song on this album that made me hit "repeat." It's not that there's a spot that is super catchy or sticks in my mind per say, I just love the vibes on this song. It seems to stick to the theme of the album thus far, with lyrics like, "Time is short//Let's keep on a bit longer//Even if I hold on to my heart//This growing longing…" and "Will you go, will you let me go now? Even if I call for farеwell that holds me, memory, mеmory baby." This ballad is a shining track for SF9.
Dreams: 7/10
"Dreams" consists of airy vocals, fast-paced beats, and a loud, upbeat vibe. This song feels really unified, each member of SF9 contributing their skills. Also, the group chant in the chorus is one of the best parts of this song! As far as the theme of "Dreams," it is about a longing to be with someone. There are barriers involved and obstacles to be overcome, but you still believe you can become one someday. And until you are with that person, you'll meet them in your dreams. This song has some of the best lyrics on the album because of this heartfelt and honest sentiment.
Gentleman: 5/10
This song wasn't my favorite, as it just doesn't feel unique enough for me. Don't get me wrong, it's still a good song but it cannot compete with others on the album. The lyrics also don't impress me, as they feel pale in comparison to the more colorful wording of previous songs. Check out the chorus:
'Cause I'm your gentleman
Need your gentle kiss
You see now, our higher love only for the two of us
I guess you get it
I guess you get it (Yeah)
'Cause I'm your gеntleman
Need your gentle kiss
Closе your eyes and feel me baby
Cuddle me baby
Like a gentleman, gentleman, gentleman
On And On: 8/10
This soft song reminds me of something I'd hear on a K-Drama OST. The gentle lyrics and relaxed melody is a great reprieve from the more intense tunes. A good album recognizes the need for balance, and "Rumination" does this. This song is all about not forgetting your love with someone, even if you are separated. Lyrics like, "You remember the day we first met//We both were purely allured//The day that came to me like fate//I remember that day//Every single day" and "Can we be together until the day we close our eyes?" really make this song a beautiful ballad.
Scenario: 8/10
"Scenario" is a fast-paced song and it reminds me of a song that would play during an action movie or mystery drama. When I first listened to this track, I wasn't sure if I would like it or not. But as the song continued to play, I grew to like it more and more. The rap ending was the cherry on top to sell this song to me! The vocals really shine on this track, too, as well as the fun beat. I can easily see myself working out to this or staring out a car window imagining my big heist. The lyrics of this song are all about falling deeper in love with someone and going round and round in their entanglement.
For Fantasy: 9/10
This ballad is lovely. The melody is the most memorable on the album and is full of heart. The pre-chorus says, "There's only one, you, you, you, will I protect. My everything is, you you, it's for you. You know, I felt like I'm carrying the world. The joy of my days where happiness sits: it's you with precious memories." This song has an additional meaning, because SF9 fans are called Fantasy. A dedication to Fantasy for their support and love was the perfect way to wrap up the album. My favorite lyric from this track is "Every day won't be sunny. I will become the sky where you can be happy."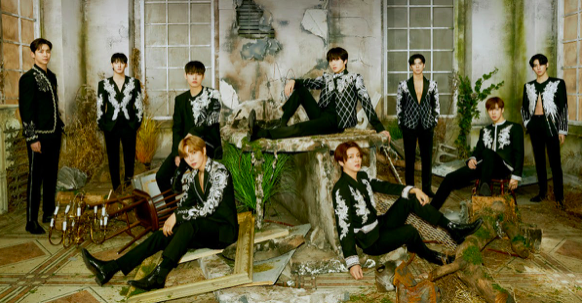 Final: 8/10
Overall, this is a great mini-album. The only song I can really fault it for is "Gentleman." It just didn't live up to the high standards of the rest of the tracks. However, "Rumination" is still set to thrill SF9 fans with plenty of bops until their next release.
—-Ellie Boyd
#SF9 #Rumination #albumreview #kpop #Trauma #ForFantasy #OnAndOn #newalbum #randb #EDM #korea #boyband #kpopmusic #kpopalbum #Memory #KCrushReviewItRateIt
Related Articles