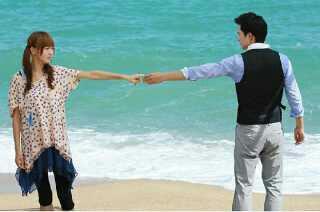 When you are in love, people say that it does not matter what you do with your loved ones, because everything and every moment becomes special. Today we will be learning about places around South Korea that may make that experience even more meaningful and enjoyable.
We will be talking about and looking into different places around the country. And all these places will have their own appeal in making your dates extraordinary. When you need that cherry on top when you spend time with your special someone, try to check out these Top Dating Spots in Korea ranging from fun activities, great food, sites, and so much more!
Let's start with some places around Seoul, the capital of South Korea, with the N Seoul Tower! Commonly known as Namsan Tower, it is location on Namsan Mountain in central Seoul and along with a plaza, food establishments, observatories, there is a lot to do.
The tower is right in the middle of the busy Seoul city, but being on top of a mountain, you will be surrounded by greenery such as trees and lots of nature. There's a bit of a walk going up to the actual tower, with routes that make the whole mountain seem like a park. But if you aren't the type to walk up a mountain, don't worry! There's a cable car that'll bring you up to the tower plaza in a matter of minutes.
Now, let's talk about what you can go when you get to the tower plaza.
First of all, you need a moment to fully enjoy the view! The view of the city is gorgeous any time of the day, as the tower even lights up during nighttime.
After the view, you and your loved one could do the the "Locks of Love" activity. You get to hang padlocks around the terrace of the N Plaza of the tower. You can purchase or bring your own padlock write your initials or messages and lock the padlock to show that your love will stand the test of time!
You can head up to the observatory, or get some food, check out the souvenir shop, check out the Pakgakjeon Pavilion (팔작정) and the ancient walls, but most importantly, take a lot of pictures!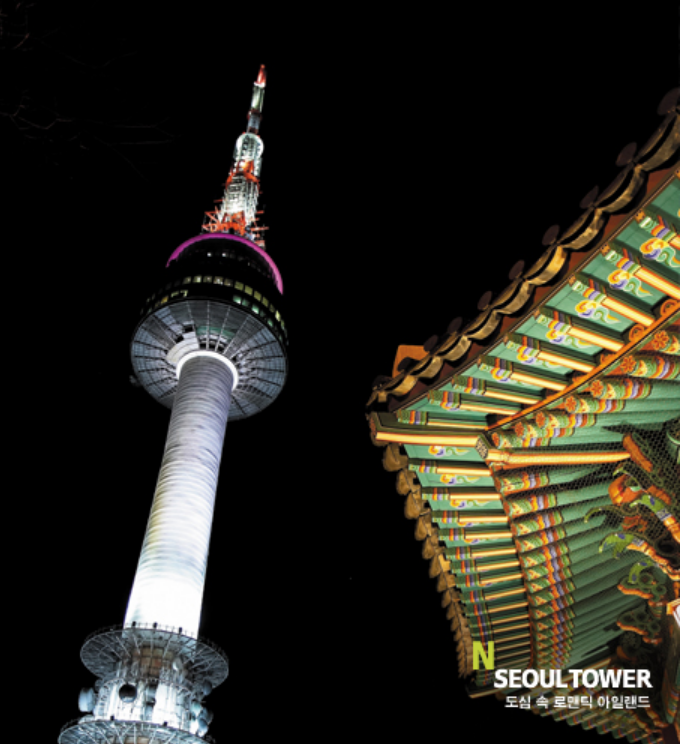 The N Seoul Tower and the Palgakjeong Pavilion (남산팔각정) at night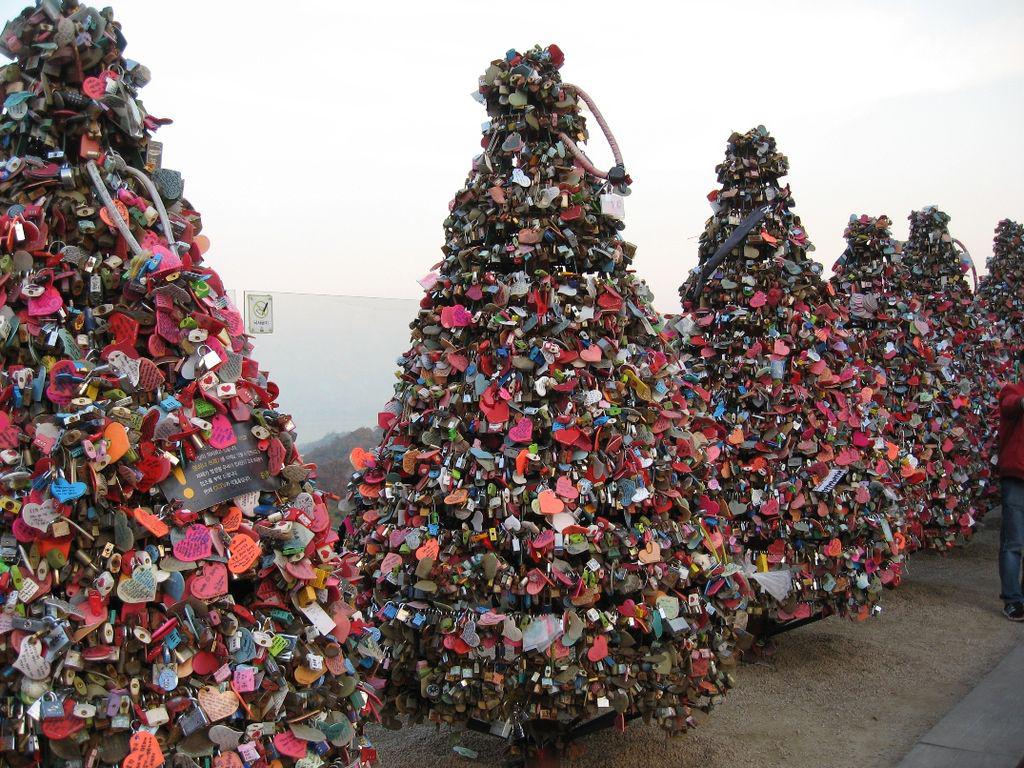 Love padlock trees on the N Tower Plaza area
From a mountain top, now let's go over to the river in Seoul, the Han River, which is another Top Dating Spot in Korea!
The Han River is very symbolic of Seoul (fun fact: Gangnam means "nam" (south) of the "gang" (river), the Han River). Some areas of the river are lined with walkways, bicycle paths, parks, restaurants, and more. Regardless of the time of the day, looking over at the river, and feeling that breeze is very comforting.
The Banpo Bridge Park, which is in the area of the Han River where the Banpo Bridge is located, has longest fountain in the world. At night, LED lights brighten up the bridge, and the sides become a fountain, which has different shows depending on the time of the day. So, you can have a lovely picnic at the park, and enjoy the fountain show as well!
And if you aren't that keen on packing a picnic, there's nothing to fret! You can always call and get food delivered to you! Chicken, Beer, the river, your significant other, if that doesn't spell romance, I don't know what could! But if you aren't keen on delivery as well, don't worry! Just a little around, and you'll see vendors, restaurants, even convenience stores right where you need them.
After the fountain, after the river view there are also playground, basketball courts, and if the weather's in your favor you could even see some people busking! Sit back, enjoy the view, the music, and your loved one right beside you.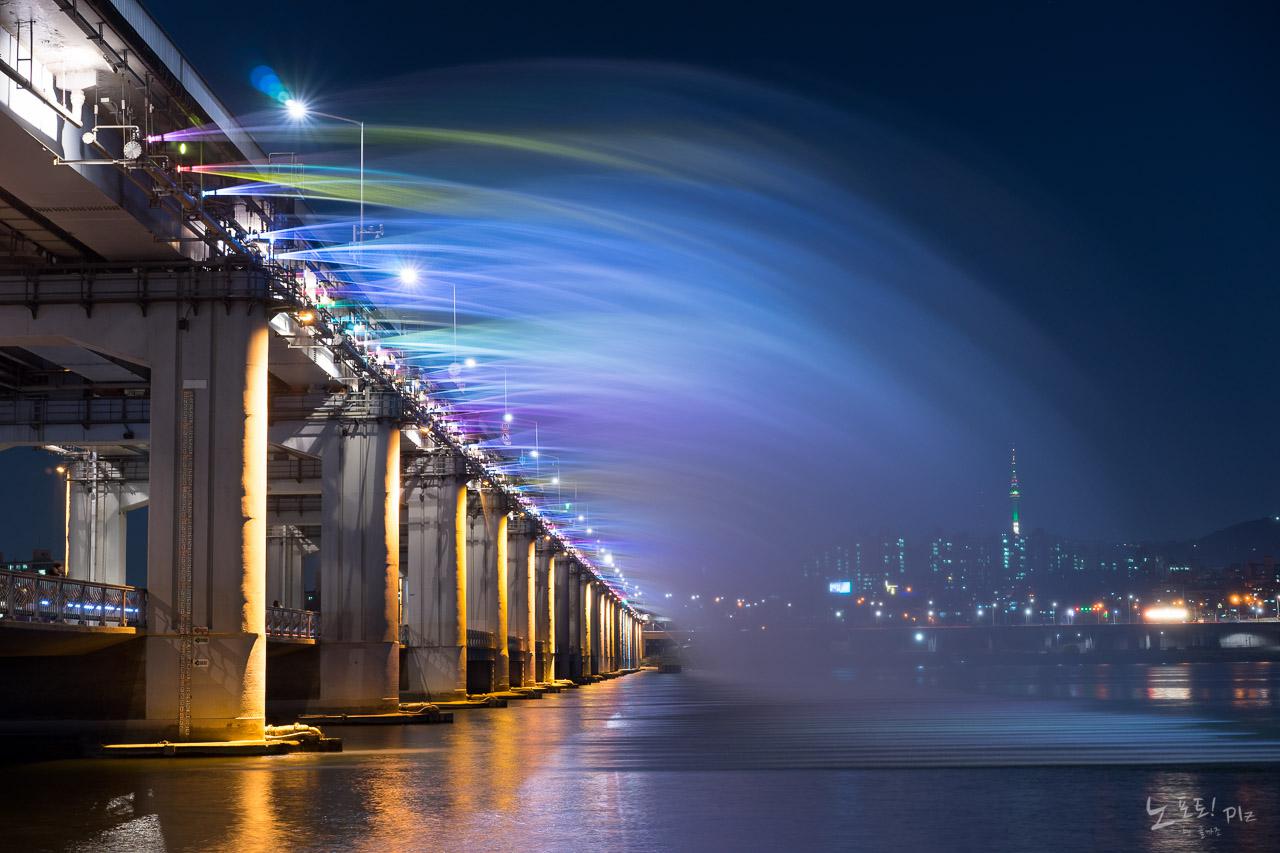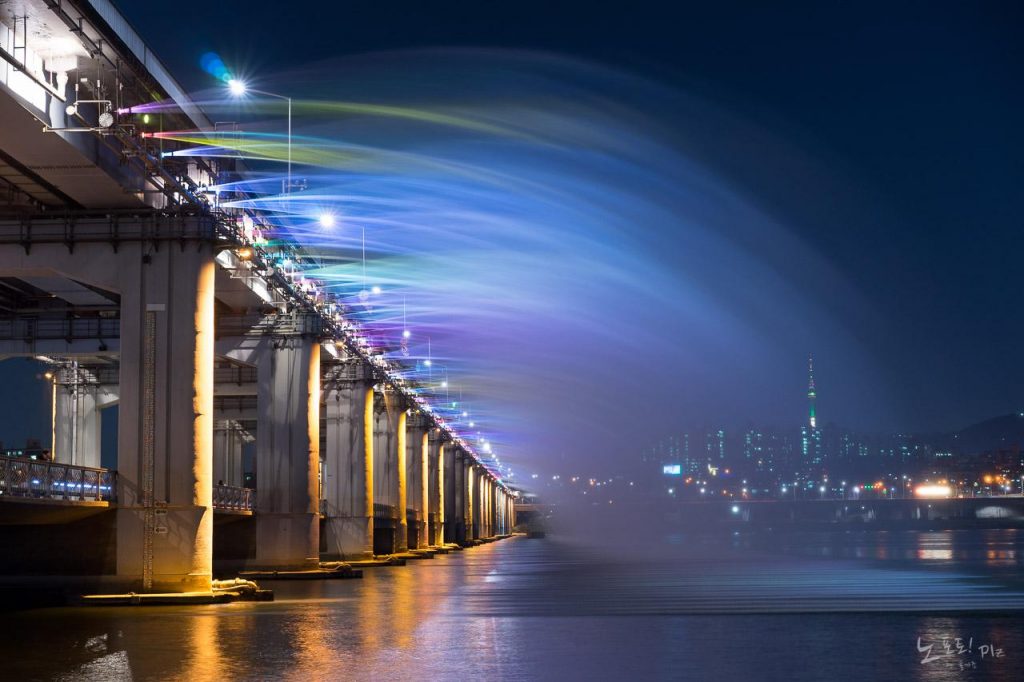 Banpo Bridge Park Fountain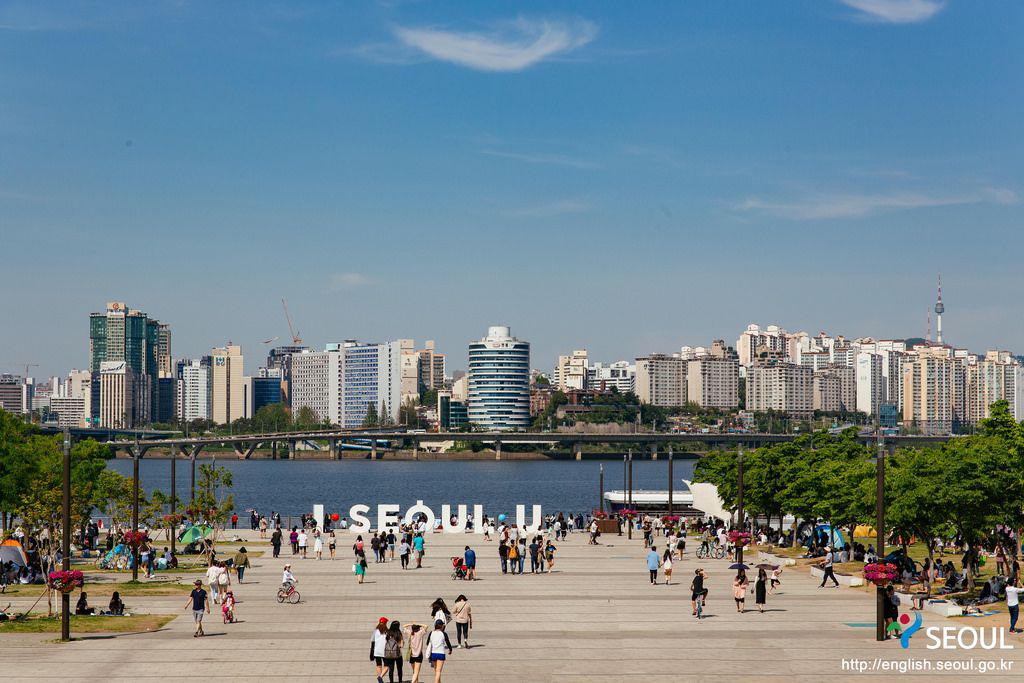 The I SEOUL U sign on the Yeouido Park
Moving away from Seoul on the next spot, this Top Dating Spot in Korea is about 2 hours away from Seoul, called Nami Island (남이섬 – Nami Seom).
If you are a fan of K-dramas, you've probably seen the beautiful scenery where the leading male and leading female enjoy a date and everything seems magical, you can have your own version in Nami Island.
Famously being featured in the popular K-drama, Winter Sonata, Nami Island is gorgeous regardless of season. During Spring or Summer, the greens are stunning, on Autumn the fall foliage will leave you breathless, and during Winter? Watch Winter Sonata (the K-Drama) and you'll understand.
Since it is an island, you'll have to ride a ferry and would have to get a "visa" by paying and admission fee, but once you get there, you'll be in K-drama heaven. Aside from the scenery, there are cultural events, concerts, and exhibitions that you can enjoy.
Also, if you fall in love with the small island (only about 430,000 square meters in area and approximately 4 km in diameter), there's even accommodation available for you to spend the night.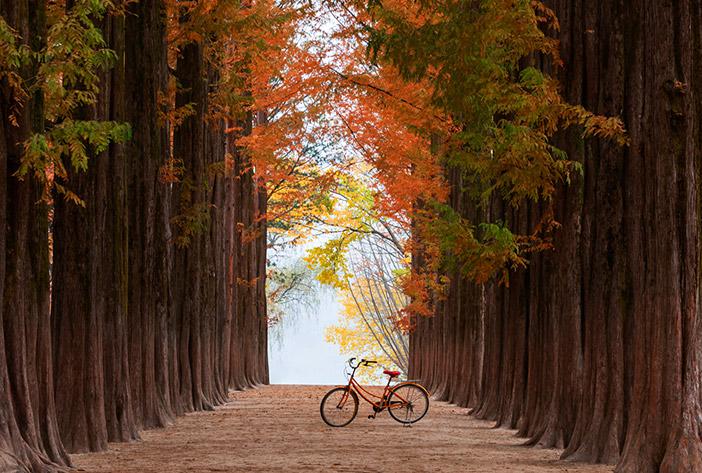 Straight out of a K-drama, the staple Nami Island walkway
Moving on to another city in the country, let's take a look at Busan. Busan is the second largest city after Seoul, and it is located in the Southeastern side of South Korea. It is a center for economy, culture, and education as its port is the busiest in the country. A center for various international conventions, sports tournaments, it even is home to the world's largest department store. It is no surprise that you'll be experiencing something new and different in Busan compared to other areas around Korea.
To start, since Busan is a port city, it is well known for its seafood. You can even see vendors that will sell their fresh catch of the day. And being a larger city, there is much to see, including the largest department store, the areas that hosted sporting events, and if you want to sit back and relax, there are a number of beaches just around the corner.
And there's also Gamcheon Cultural village (감천문화마을), a colorful village on the hills of Busan, a little away from the beach.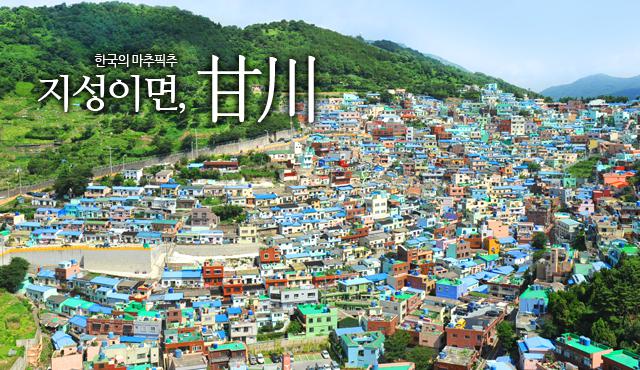 Korea's Machu Pichu, the Gamcheon Cultural village
There are still more Top Dating Spots in Korea we did not get to talk about, among them include: Jeju Island, which is known as a honeymoon destination (can it be any more romantic?); Jeonju City known for its food, and traditional cultural villages; Gyeongju City where so many historical sites are present (a favorite for students to go on educational trips), so if you can mix education and romance, it's perfect for you!
Depending on what you are looking to enjoy on your date, there is always a place for you to go around Korea. And like we mentioned earlier, being with a loved one already makes everything great, all you have to find is the place to add the cherry on top.
—-Eun Oh
Related Articles