Top 5 Chinese Pop Artists
Chinese Pop has taken in a lot of influence from the American and western countries. It is a reflection of the growth of culture, economy and politics, which has a very strong national feature. These top 5 Chinese Pop artists that I am going to recommend, no matter where they were born or grown up, are the most talented pop artists that have or had a career in China and revolutionized Chinese Pop.
No.5 Faye Wong (王菲 Wang Fei) – the diva of pop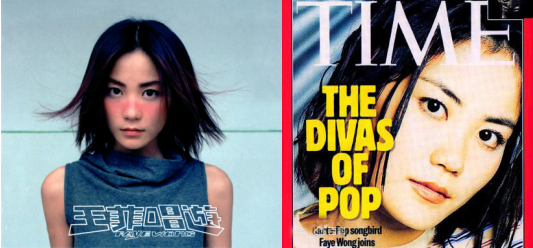 Faye Wong was born in 1969 in Beijing. She is a Chinese singer-songwriter and actress. She has been recognized as the Best Selling Canto-Pop Female by Guinness World Records, the Most Popular Female Singer in HK, Singapore, Malaysia, alongside with many top awards from Taiwan and Japan, and was the first Chinese singer featured on the cover of Time Magazine.
Faye Wong tries new ways of singing and/or adds new elements to her music at all time. In 1992, her album "Coming home", combining Chinese and western style, was her first time trying to accentuate her vocal performances the same way Whitney Houston would have done, or as Adele is known for nowadays. She added rock into her Cantonese album "No Regrets (执迷不悔)" in 1993 and tried English alternative music style in "Random Thoughts (胡思乱想)" in 1994. The cover version of the Irish song The Cranberries' "Dreams" was her first trying to apply the skill that consist on swallowing the sound. She added Brit Pop and part of Dream Pop into her album "Fickleness (浮躁)" in 1996, and again in 1998, skills of bel canto, vibrato and falsetto have been found in her album "Sing and Play (唱游)". Her bold versatility and strong personality were also reflected in the way she oriented her career towards different audiences, from Cantonese to Mandarin market, then from mainland China to Japan. After a hiatus period of four years between   2005 and 2009, Faye came back and remained active since then. Some of her most popular music are: "Red Bean (红豆)", "Because of Love (因为爱情)", "To Youth (致青春)", "Legend(传奇)", and "World (人间)".
Sincere, sensible and quite straight forward are some adjectives that describe her personality and can be found in her music. By successfully inserting elements like special female voice, Brit Pop, electronic music, she managed to overturn the HK pop trend, changing the taste of the large audience. Whatever music she sings, it has a taste of difference. Because of the influence of western and Japanese pop culture, Faye captures the fashion trends and applies them in her work. Her delicacy, vogue and temperament has gifted her with large recognition in mainland China.
No.4 Beyond – the most memorable Cantonese band

Beyond is a Hongkongese rock band composed of four members:  Wong Ka Kui (黄家驹),Paul Wong(黄贯中), Steve Wong(黄家强), Yip Sai Wing(叶世荣). Considered as the most influential Cantonese music group of the former British colony, they were awarded Jade Solid Gold Best Ten Music Awards, RTHK Top 10 Gold Songs Awards and RTHK Lifetime Achievement Award.
Beyond was founded in 1983 and after three years of collaboration, they released their first album "Goodbye Ideal (再见理想)". In 1988, the Cantonese album "Modern Stage(现代舞台)" was a true reflection of the society they were living in and  the lyrics were as a matter of fact, quite critic towards it. After getting some notoriety in Hong Kong, in 1991, they started to target audiences in Japan and Taiwan. As the key figure of the band, Wong Ka Kui has united the group into a harmonious team. His strong belief and confidence was always the inspiration of their creations. His brutal death while on stage in 1993, brought the group to somehow, lose its soul. His companions continued playing and the band officially disbanded later in 2005.
Beyond's music is full of power and life, focusing on reality, sensible to the society, culture, even politics. The deep and genuine thoughts in their music were rarely found at that time. "Glorious Years (光辉岁月)" was a music written to eliminate barriers between races, "Amani" was against wars, "Boundless Oceans, Vast Skies (海阔天空)" was for the chase of freedom. It was their spirit, the strong love and hope that have resonated to millions of fans.
No.3 Jacky Cheung (张学友 Zhang Xue You) – one of the "Four Heavenly Kings" in HK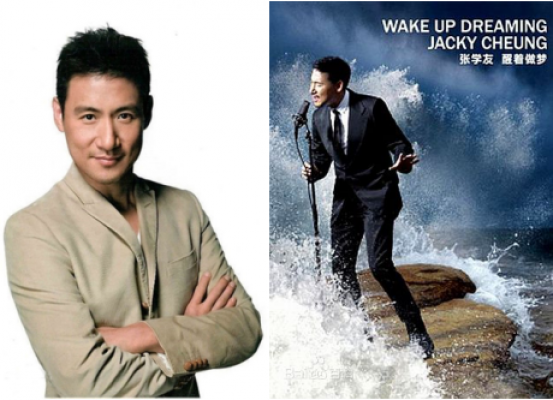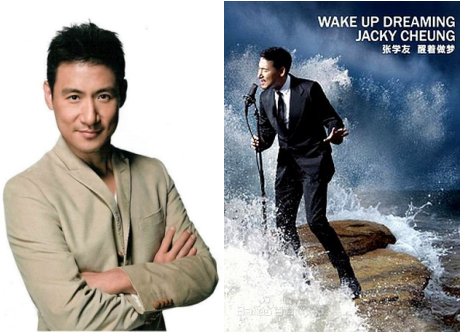 Born is Hong Kong in 1961, Jacky Cheung is famous for being a singer and an actor. He has won many awards, including Best Mandarin Male Singer by Golden Melody Awards, two Best-Selling Chinese Artist by World Music Awards, Outstanding Young Persons of HK, Outstanding Young Persons of the World, and was awarded the most popular Asian singer of Channel [V] Billboard in 1994. Besides numerous other music awards, Jacky has also gained remarkable recognition in his acting career.
Starting in 1984, Jacky is a rather productive singer who has released over 50 personal albums in about 30 years of career. Jacky's most notorious time is from 1993 to 1999 when his album "Goodbye Kiss (吻别)" broke records in several regions with over 4 million copies sold, and is one of his best-selling albums of all time. His most popular songs included "Miss Each Other in the Wind & Rain (相思风雨中)", "With You All the Way (一路上有你)""You Are the Only One (你最珍贵)", "If This Is Not Love (如果这都不算爱)" and many others. He was recognized by Time Magazine as Top 25 most influential people in the New Hong Kong in 1996. In 2004, Jacky published his first entire single–joint album "Life Is Like A Dream" in memorial of his deceased elder daughter, wife and many friends. Among hundreds of his world tours, "Jacky Cheung 1/2 Century World Tour" in 2010 was the biggest, by which he broke his own Guinness World record that included 146 shows in 77 cities with 2,048,553 tickets sold.
Jacky succeed in opening up a worldwide market, his fame spread among the whole Southeast Asia and Chinese communities all around the world in the 1990s. The huge sales of his records have attracted the attention of the international pop music world and many foreign media. Somehow it was thanks to him that Billboard discovered HK pop. Jacky's glorious peak is still considered as the period that saw HK pop contributing the most to the growth of the world pop.
No.2 Teresa Teng (邓丽君Deng Li Jun) – a worldwide legend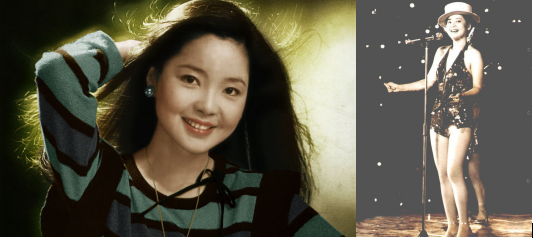 Born in 1953 in Taiwan, Teresa is a legend of the Chinese pop. Her influence goes beyond music, becoming a cultural symbol that has affected people's daily life. She was recognized as the Top 20 World's Most Famous Music Artists in 2010 by CNN, Top 7 World's Female Singer in 1986 by Time Magazine, and was invited for performances in Lincoln Center, Los Angeles Music Center and Las Vegas Caesar's Palace in the 1980s.
From 1967 to 1988, Teresa experienced several phases of her singer career. After an active 3-year start-up in Taiwan, she carried out a tour in Southeast Asia including Hong Kong, Singapore, Malaysia, Indonesia, Philippine, Thailand and Vietnam and was very welcomed in Hong Kong. Since 1974, she officially entered Japan market. Her second single "Airport (空港)" broke the sales record of her company. She was a super star favored by Japanese awards and media. After 5 successful years, Teresa left Japan because of a passport issue and went back on stage in Taiwan and Hong Kong, as well as many other Southeast Asian countries. In 1983, the album "Light Exquisite Feeling (淡淡幽情)" was published and it became the first work using ancient poetries as lyrics in Chinese. She returned to Japan in 1984 and again was a big hit, breaking records in every TV shows. Teresa started to stop her singing career in 1988 due to health issue. She passed away in 1994, but her afterlife influence is ever-lasting. Some of her most popular songs include: "I Only Care About You (我只在乎你)", "Honey (甜蜜蜜)", "Memory in Water (在水一方)", "The Moon Represents My Heart (月亮代表我的心)".
Teresa's voice was described as "seven parts sweetness, three parts tears." A well-controlled breath and a powerful weeping voice were parts of her specialties. She was the first Chinese music singer that had a worldwide influence.  By combining Chinese and western elements and mixing national folks and pop characters, she created her own music style, which had inspired the music creations of many later generations.
No.1 Jay Chou (周杰伦 Zhou Jie Lun) – New king of Asian pop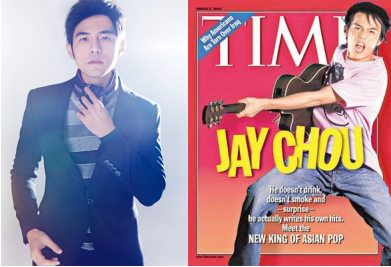 Jay Chou, who was born in 1979 in Taiwan, is known to be one of the most revolutionary and leading singer-songwriter in Asian pop music since 2000. He is crowned as "the King of Asian Pop". His most famous awards include fifteen Golden Melody Awards, four Best-Selling Chinese Artist by World Music Awards, alongside with 20 various awards per year. He was listed on Asian's most influencing 25 people in 2009, Most Creative People 100 by Fast Company in 2010, and No.1 of Forbes China celebrity in 2012.
As a musician, songwriter, singer, record producer, film producer, actor and director, Jay Chou is an all-around developed talent. After his songs being rejected many times, in 2000, Jay started to sing his own music and published his first album "Jay", which was written and directed mostly by himself. It combined many music styles including R&B and hip-hop. In 2001, the album "Fantasy" came out and established his record style. The Chinese-western style music "Nun Chucks (双截棍)" became a representative Rap work of him. In 2003, he was the cover story of Time Magazine (Asian version). From 2000 to 2016, Jay released almost one album a year, 14 albums in total with 30 million album sales so far, as well as performing in many world tours and movies on the side. His music "In the name of the father (以父之名)", "East Wind Breaks (东风破)", "Common Jasmin Orange (七里香)", "Faraway (千里之外)", "Blue and White Porcelain (青花瓷)", "Red Dust Inn (红尘客栈)" are typical works of his representative Chinese style.
One of Jay's specialties is that there are Chinese style songs in every single of his album. He has localized R&B into a total Chinese style, by combining eastern and western elements such as jazz, blues, rock, folk rhyme, hip-hop, country and electronic music. The bold application and combination of all kinds of instruments, create an unexpected effectiveness and differentiate his music from any common style.
—-Lizzy Ren
Related Articles