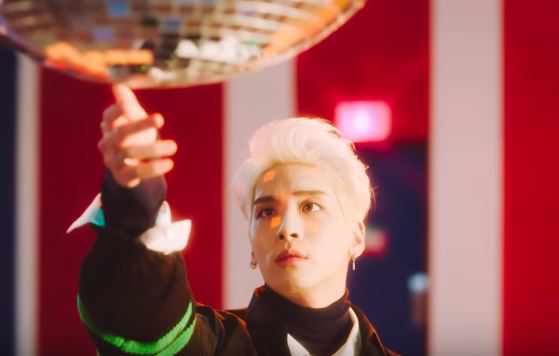 A still of Jonghyun from his solo MV – Shinin.
This December 18th, 2018, marks the one year anniversary of Kim Jonghyun's passing. Best known as the former main vocalist of Kpop boy band SHINee, he was also a prolific singer-songwriter, solo artiste, record producer, radio host, and author.
Since his shocking death late last year, there have been numerous articles detailing the incident, his alleged depression, his achievements and accomplishments as a gifted performer and music creator and the impact he has had on highlighting the pressures of the Kpop industry and the importance of addressing mental health issues.
Even now, fans and audiences worldwide continue to mourn his loss, leaving comments on his MVs on YouTube expressing their sadness and sense of loss, underlining the void he left. To those of you who are thinking of him during this time and also to those who are just getting to know his past works, here are the things we loved and still love about Jonghyun.  
SHINee
Group pic of SHINee from their official Facebook page. From left: Onew, Taemin, Jonghyun, Minho and Key.
Known as one of the best live vocal and dance groups in Kpop, SHINee was where we were first introduced to Jonghyun and his soulful vocals. He was an integral part of the group from the beginning but later progressed further into composing and producing songs on the group's hit albums like Lucifer and Sherlock before debuting his own solo works and working on songs by other notable Kpop stars like IU and his member Taemin's solo album.
His songs and lyrics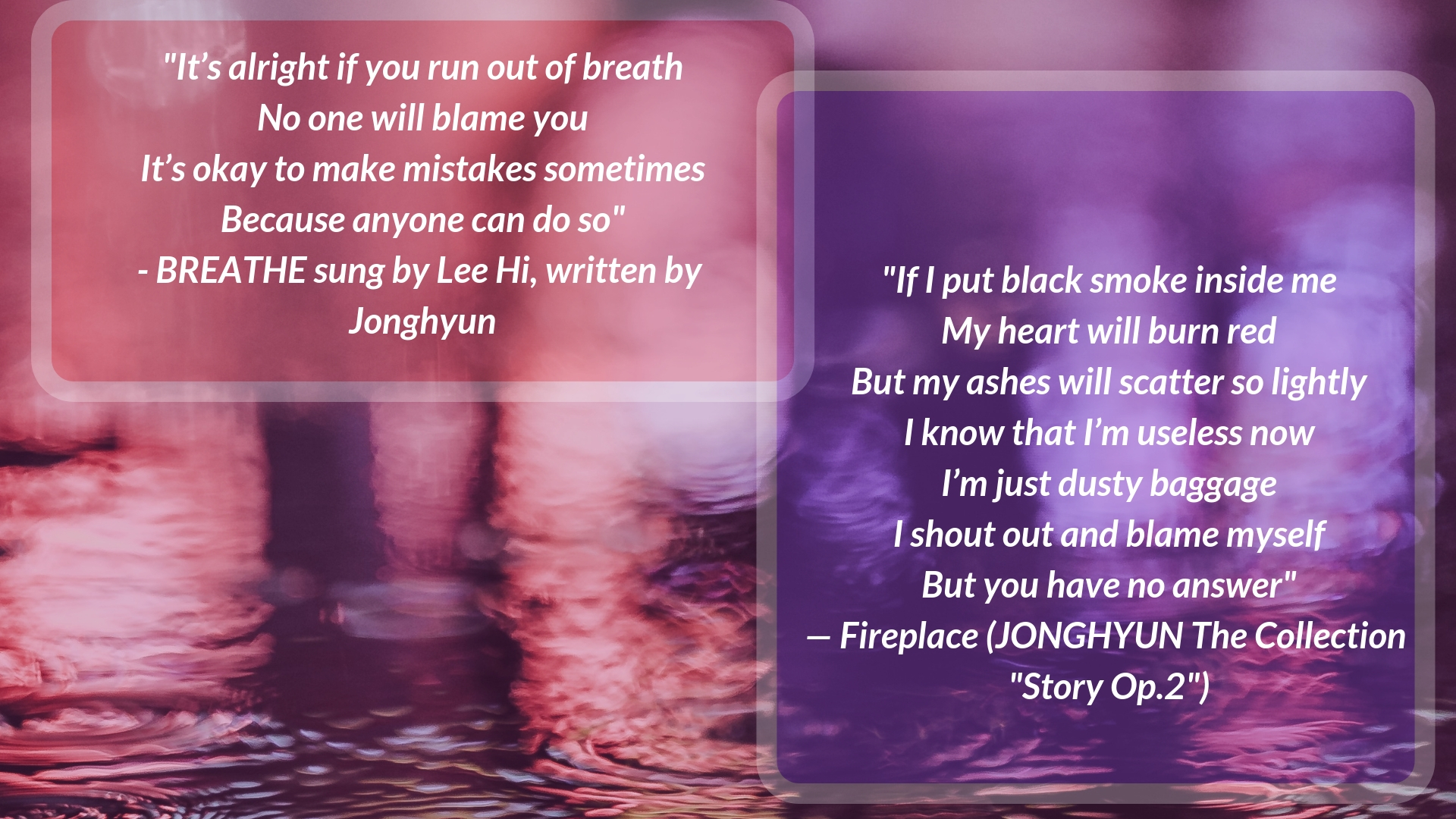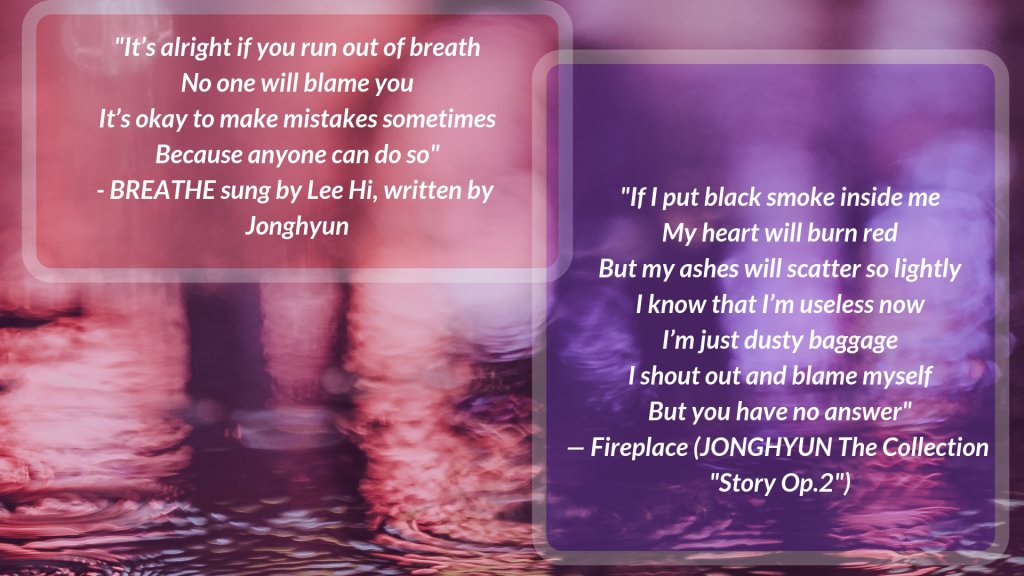 Simple yet honest, heart-wrenching yet comforting, Jonghyun's multi-faceted lyrics never shied away from his dealings with depression and views on relationships. He was not afraid to reveal emotions that would resonate with his fans who find solace and support in the beautiful melodies and impactful lyrics.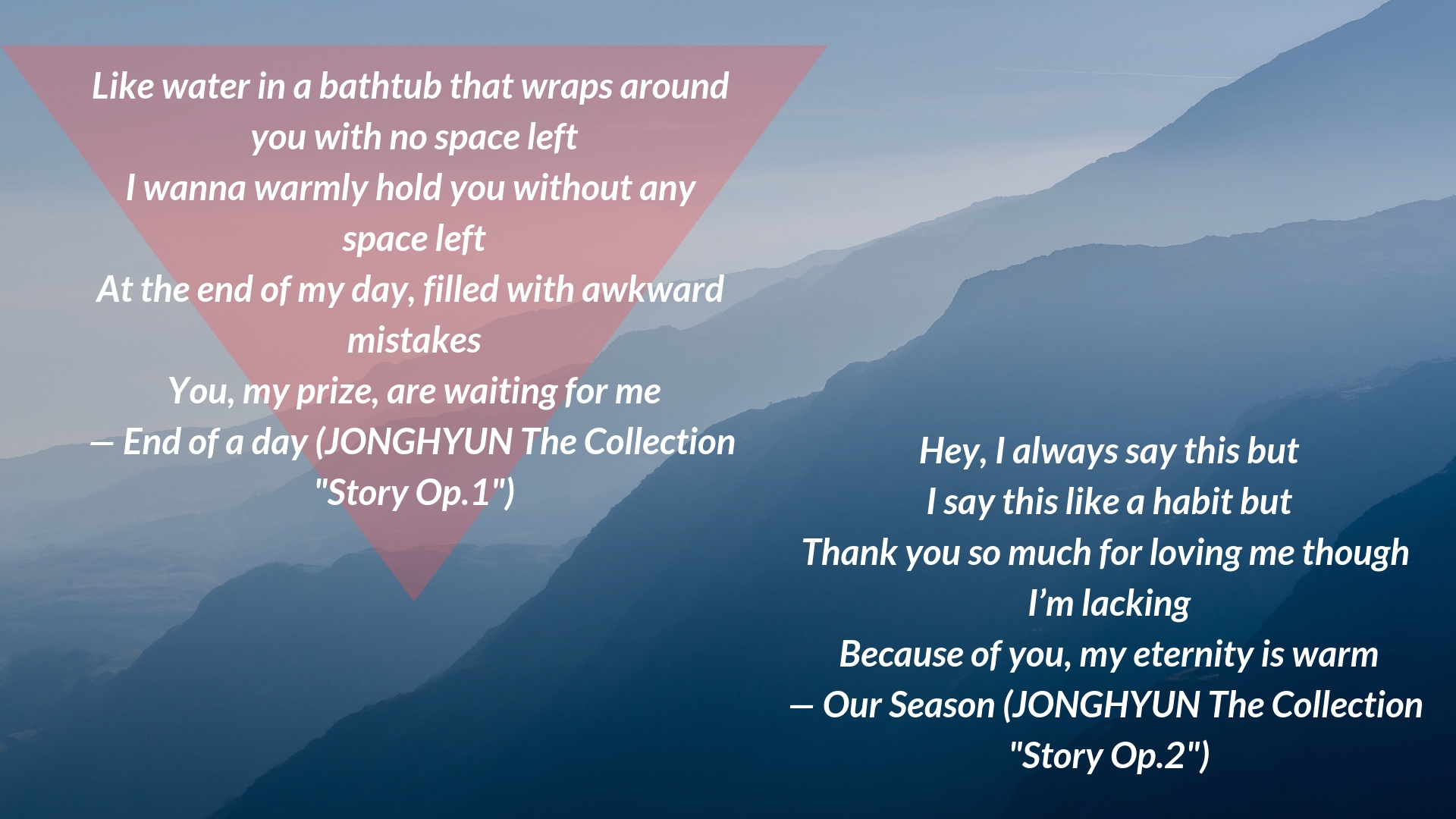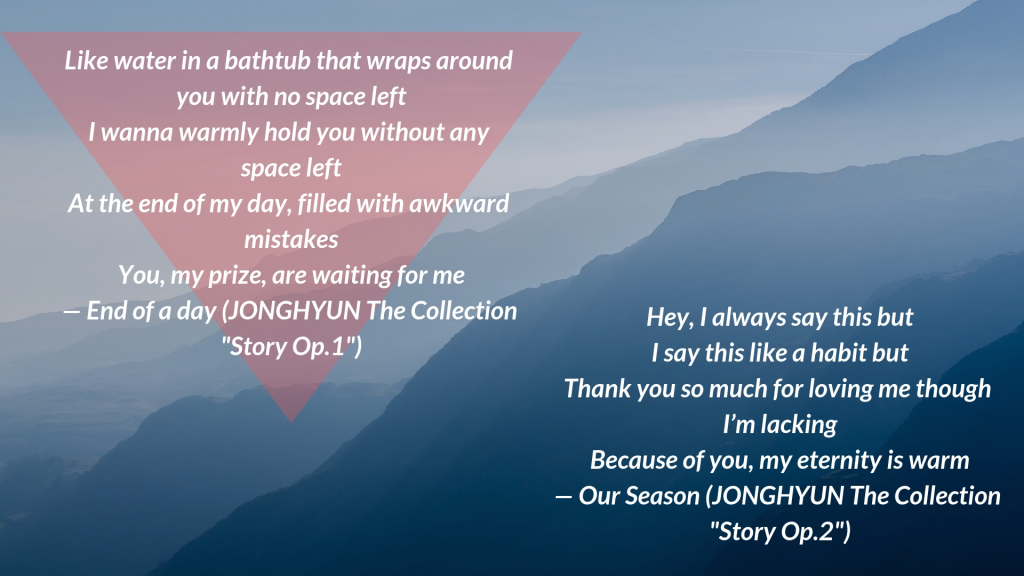 The Jonghyun game
A welcome guest on variety shows, he never spared himself when participating in games and sketches on the many variety shows he guest-starred in over the years, even cross-dressing as 'Jong-mi', his female alter ego on an episode of 'Knowing Brothers' – a popular Korean variety show.
He also introduced a game he created where players guess the song title from lyric snippets while he was on the show, which guests continued to play on subsequent episodes of the show.
Just him
Jonghyun once replied to a listener on his radio show when asked whether it's too late to be in search of a dream – "Aren't dreams to be searched for your entire life? I don't think it's too late, and having attained your dream isn't everything either. It's the process that's more important."
Similar to his insightful lyrics and writings, he often revealed sides of himself during interviews and radio and TV appearances which devoted fans have cherished and shared online over the years. His humility, sensitivity and caring nature often came through whenever he shared his thoughts on issues close to his heart. Here are some notable excerpts from his interviews and radio show throughout his career.
No matter what I say, honestly, people would only judge me the way they want to.
— Jonghyun, Mnet's 4 Things Show 2015.
My love for music is one-sided. I don't want anything back. I would be very grateful if someone would enjoy and love it when I show something. But then, I am not going to aim at the music others would like. I want the main thing in my life to be something I like and want to do.
— Jonghyun, Elle magazine 2015.
To me, as a songwriter, when I write with a certain intention which I don't reveal, and let listeners figure it out and interpret it themselves – that's also a guilty pleasure to me.
— Jonghyun on his song 'Guilty Pleasure', SBS Pop Asia 2016 interview.
I think when comforting someone, we should consider what might be happening that we can't see with our eyes.
— Jonghyun on his radio show Blue Midnight 2017.
Tell us what you love about Jonghyun!
—-Fie Fed
Related Articles