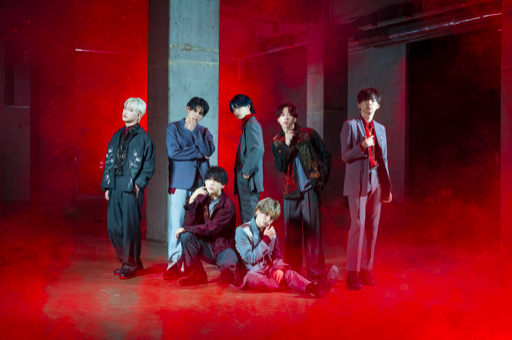 Seven-member dance and vocal group BE:FIRST were born from 'THE FIRST', the million-dollar audition series created and funded by Japanese artist SKY-HI and his company BMSG.
Their pre-debut song 'Shining One' has exceeded 15 million views on YouTube since its August 16 release, despite coming before their official major-label debut. The track also topped two different rankings at once in Japan's Oricon weekly charts, and spent two weeks at No.1 on Billboard Japan's HOT BUZZ SONG chart. With all of this incredible momentum, it has been announced that BE:FIRST will make their official major-label debut with the release of new single 'Gifted.' on November 3.
Comment from SKY-HI
"The title of the single 'Gifted.' literally means 'to bear natural talent', and it is a reference to the strong attitude of BE:FIRST's members of feeling that they themselves are gifted, while also encompassing the message that 'everyone is born gifted'. One year ago, all of the group's members were completely unknown and unpolished as artists. Now, having honed their talents and proven their overwhelming performance ability, they have earned praise and been labeled as 'gifted' by the wider world, which makes the message of this song all the more convincing. It is also a positive song that can offer encouragement to those who are looking for a place to shine or to be themselves in these chaotic times.
"The period at the end of 'Gifted.' signifies that it is the final song in a series of four tracks from 'THE FIRST', each of which has been named after one of the four letters in BMSG, my company name. The title of each song in the series has also reflected the number of members in the group at that time: 'Be Free' and 'Move On' were each performed by six members and have six letters in their titles, while 'Shining One' featured 10 performers and has 10 letters. The period in 'Gifted.' allows us to have seven characters in the title, like the seven members in 'BE:FIRST', as an indication that the group have reached their final formation and are ready to go out into the world. So, this single is both a conclusion of the previous chapter and the start of a new one."
SKY-HI


——————————–
Release information
Pre-debut song 'Shining One' out now
'Shining One' streaming and download links:
https://bmsg.lnk.to/ShiningOne
'Shining One' music video:
BE:FIRST profile

Made up of SOTA, SHUNTO, MANATO, RYUHEI, JUNON, RYOKI and LEO, BE:FIRST are a seven-member dance and vocal group born from the boyband audition series 'THE FIRST', which was held in 2021 by Japanese artist SKY-HI and his company BMSG. With seven uniquely individual personalities, each of the members has shown a high ability and potential for singing, dancing and rapping, along with a high musical sensitivity reflected in their talents for songwriting, composition and choreography. Under the name BE:FIRST, the group have already swept the No.1 spots on various charts in Japan ahead of their official debut. Now they are preparing to take their first steps into Asia and the rest of the world.

BE:FIRST social media links
Official website: https://befirst.tokyo/
Twitter: https://twitter.com/BEFIRSTofficial
Instagram: https://www.instagram.com/befirst__official/
Facebook: https://www.facebook.com/BEFIRSTofficial
TikTok: https://vt.tiktok.com/ZSJnapbvM/
YouTube channel: https://www.youtube.com/c/BEFIRSTOfficial/
Related Articles