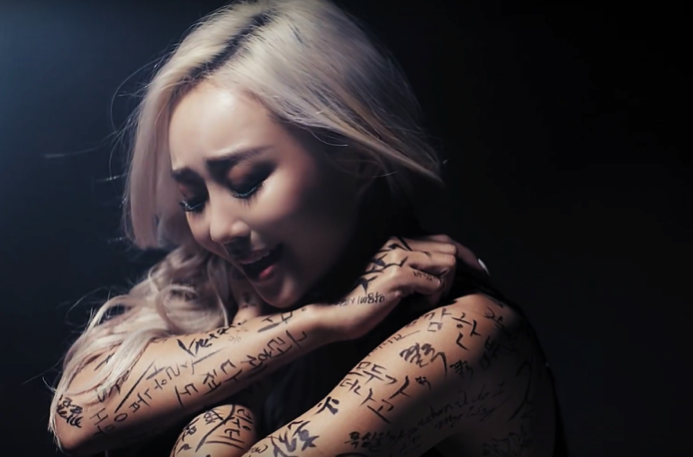 Soloist and former SISTAR member, Hyolyn, was recently accused of bullying classmates when she was in middle school. The alleged victim posted about her experiences online, and her posts went viral in South Korea. Along with her allegations, the alleged victim asked for an apology from the singer.
In her statements, the alleged victim, who is identified as "A" in the media, stated the Hyolyn (Kim Hyo-jeong) bullied her for three years throughout middle school. In addition to the alleged bullying that occurred in school, the accuser states that Hyolyn also harassed her at a playground.
"She would regularly steal my clothes, money, etc., and would find any reason to attack me on the apartment playground," "A" said along with sharing pictures showing Hyolyn's yearbook pictures and a graduation certificate to show she went to the same school as the singer.
"Hyolyn would make my friend meet her at a karaoke room and hit her head with the mic. When she hit her, she always made sure [my friend] would hit her back, so that it became mutual," "A" continued. "Hyolyn bullied me because my boyfriend had the same name as her boyfriend at the time."
"I'm amazed at myself for not having committed suicide during those three years and enduring it. I used to wish I could get into a traffic accident on my way to school just so I wouldn't have to be the target of her anger," "A" continued.
"A" claims that she is still haunted by the memories of the bullying incidents even though they occurred 15 years ago. She states that seeing Hyolyn brings back the memories.
"At the time, I was scared of retaliation, so I couldn't tell [the police], and I just waited for graduation," "A" said.
She also revealed a personal DM she sent to Hyolyn asking for an apology. The statement reads,
Ten years have already passed since you tormented me, and I still feel pain every time I see you on TV. I guess there is no justice in the world since the attacker is living well and all the victim can do is watch their success grow. It's unfair. Just apologize for the things you did to me. I want to hear an apology from you before I die. You ignored the last message I sent you all those years ago and now I hope there comes a day where you get what you deserve.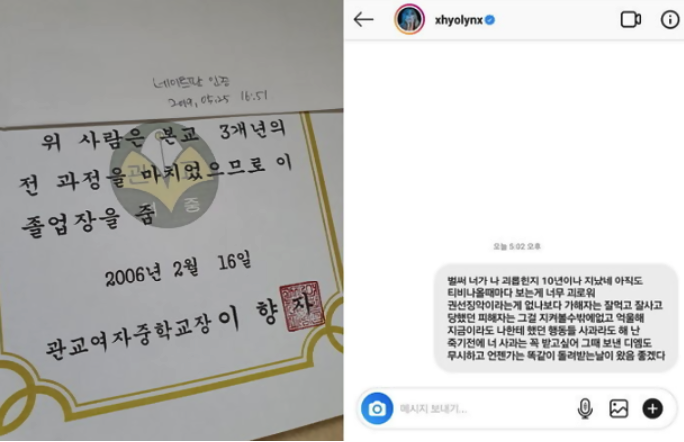 Bridg3 Company, Hyolyn's agency, released a statement responding to the allegations.
Hello, this is Hyolyn's agency Bridgʒ.

We have seen the online post about Hyolyn, and we are confirming the facts as Hyolyn's memory of the incident from 15 years ago is unclear.

In addition, we are planning to personally meet the person who uploaded the post and claims to have been a victim, and we will do our best to resolve the issue.

We apologize for causing concern.
Following the agency's statement, victim "A" said, "The article about her agency's position has been released. I heard that she's coming to see me. I don't have the confidence to see those scary eyes. It will suffice to receive an apology through a phone call and for her to personally release a statement and reflect on herself. I sent her another message through social media, but I haven't gotten a response. Please sincerely apologize through a call."
Soon after "A" posted her story, another alleged victim came forward claiming Hyolyn bullied her as well. "B" said:
I am also a victim of the happenings mentioned on this post. Hyolyn used to curse at us in every which way, and she'd ask to borrow our bags, clothes, and shoes for one day but wear it around for days. She didn't want to return it, so she'd lie that an upperclassman stole it from her.

If I asked for her to return it, she'd curse me out by saying 'I said I'll give it to you, you XXX'.

At the playground, she would make us cower in fear by asking, 'Who do you want to get beat up by today?' We were assaulted without any reason. My eyes would get bloodshot and bruised from the beating, and my lips would swell up and bleed.

My mom once rushed to the school after seeing my eyes.
Hyolyn also sent a message to the victim asking if they could meet personally. However, the victim says Hyolyn could not be reached. During this time, Bridg3 Company announced they would be taking legal action against "A."
This is Hyolyn's agency Bridgʒ. We are releasing an additional statement regarding the online post about Hyolyn, which was reported on by the media today.

First, we would like to express our deep regret at the media reporting on the victim's claims without confirmation.

All of the posts titled Hyolyn's school violence were deleted a short while ago without any notice. We are deeply upset by this situation, which was caused by someone who brought about all kinds of speculation and controversy in a space where it could spread to a large number of unspecified people, then, after deleting the posts, insists on simply receiving an apology.

Due to these unconfirmed, one-sided claims, the image and reputation of an artist who has walked the same path for the past 10 years have been immensely damaged, and her promotions in the entertainment industry have been severely disrupted.

Hyolyn will not avoid these matters related to her, and the agency will hold the person who made the posts in question accountable for the unbearable insult and defamation [to Hyolyn's character]. Additionally, if she continues to exploit the fact that our agency's artist is a celebrity and attempts to mislead public opinion, we will not sit back and watch, but take even stronger action instead.

We apologize once again to those who care about Hyolyn for causing unwanted concern.
On May 26, 2019, the posts "A" shared were deleted from Nate Pann. "A" then claimed Nate Pann IP blocked her.
I'm the person who posted on Nate Pann. A few hours after the articles [about my posts] were published, I received a DM [direct message] from Kim Hyo Jung [Hyolyn's given name]. She said, 'I just arrived at the airport after wrapping up my overseas schedule… I'm sorry, I contacted you late. If it's alright, I want to meet up and talk with you now… could you send me your contact information?' I haven't heard from her in six hours. I heard from some of our middle school classmates that she was asking around about my contact information, so I directly gave her my number through DM, but I've heard nothing since. Nate has blocked my IP address. After saying she wanted to meet and talk, she's changed her stance without contacting me and is now saying that she'll sue.
SK Communications, the company that operates Nate Pann, stated that the IP address used to post the messages was IP blocked previously.
The IP address that 'A' used [to post] was blocked on May 6 in accordance to the internal policy for sharing illegal promotional posts." The source continued, "If 'A' was trying to upload the post at a PC Bang (internet cafe), she would have succeeded had she moved to a different seat.
SK Communications also stated that "A" deleted the posts herself.
Finally, on May 28, 2019, News1 reported that Hyolyn and the alleged victim settled the issue.
"After a long conversation, the two sides have reached a peaceful resolution," a Bridg3 Company representative said.
Both parties agreed that the incident was mutually detrimental and that they didn't want the story to drag on any further.
After all the build-up, the resolution seems abrupt without further word from either party. However, a settlement does not prove innocence or guilt, so assumptions should not be made in the case. However, it will be interesting to see what happens with Hyolyn's future now that these allegations loom.
Meanwhile, Hyolyn recently made a comeback with "Youknowbetter."
Hyolyn is the third celebrity to be accused of bullying.
Earlier in May, Produce X 101 contestant and now-former JYP Entertainment trainee Yeon Seo Bin was accused of bullying classmates and engaging in underaged smoking and drinking during his school tenure. He was later dropped from Produce X 101 and his contract with JYP was canceled despite the bullying allegations being proven untrue; he did admit to underaged drinking and smoking.
Yoo Young Hyun, the keyboardist from Jannabi, departed his group after confirming the bullying allegations against him were true.
—-Olivia Murray
Related Articles