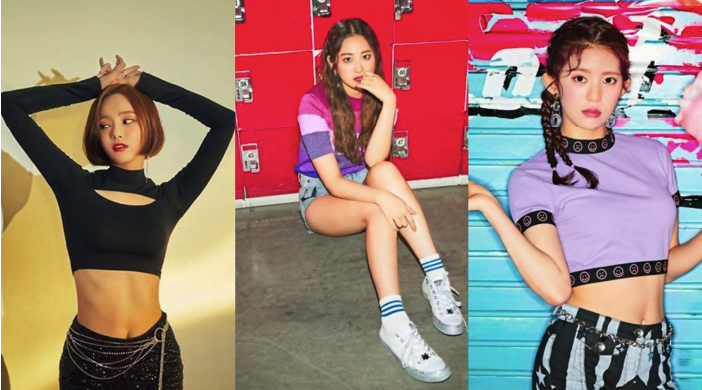 Coming off their magnificent 2018 breakout year, Momoland have had a relatively quiet 2019, which has been a shock to fans given the group's mega-popular hits "Bboom Bboom" and "Baam." This year, they've only released "I'm So Hot" in Korea and "Pinky Love" in Japan.
However, since March 2019, there seems to be some issues within the group or between group members and Momoland's company MLD Entertainment (formerly Dublekick Company) as members Daisy and Taeha have been noticeably absent from group promotions.
MLD Entertainment has stated Daisy and Taeha have been on leave for "health and personal reasons." Fans speculated that Daisy was being punished by the company after news broke that she and iKON's Yunhyeong were allegedly dating. MLD Entertainment said the two were seeing each other while YG Entertainment denied the news.
Then, in October 2019, Daisy's mother took to social media and posted messages that left fans wondering what was really going on between the missing members, Momoland, and MLD Entertainment.
In her messages, Daisy's mother discussed Daisy's sadness and left a vague message stating "Someone like this is out there. Thank you very much. Six months have passed, and my heart is breaking. In a society like this, we should live right and stand up against small injustices. #itsunfair #imfurious #momoland," and "they live calmly and shamelessly." Who the "someone" and "they" are is unclear as they could refer to the company or Momoland. Many of the messages have since been deleted.
For Taeha, MLD Entertainment stated her health was an issue, but they did not elaborate.
Since Daisy and Taeha's absences, fans have begged MLD Entertainment for an explanation for their extended hiatuses. Some fans have even gone as far as starting online petitions to get answers to no avail.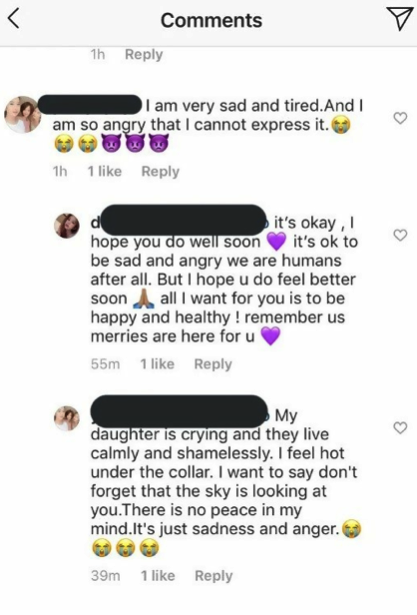 On November 29, 2019, MLD Entertainment finally announced that Taeha would be leaving Momoland, but instead of saying Daisy would be departing, fans were shocked to find out the Yeonwoo would be leaving as well. MLD announced the departures in a statement.
Hello, this is MLD Entertainment.

We would like to make a statement regarding our performers, MOMOLAND, who are reorganized as a six-member team.

Taeha and Yeonwoo, who have been with MOMOLAND as a part of the team, are about to make a new start by leaving the team today.

Both Taeha and Yeonwoo have thought deeply about their career path for a long time and upon having enough time for their thoughts, have had much conversation with the company.

First of all, following careful consideration and respecting her own opinion as a top priority, Taeha is going to make a new start at a new place with her exclusive contract terminated. Thus, the company will fully support and encourage her new start as much as possible.

While Yeonwoo has had deep affection for her MOMOLAND activities, she has decided that continuing together with her actress activities would be too much strain for both her team and herself, so to leave the team and concentrate on her career as our actress [under MLD Entertainment].

Finally, regarding Daisy, since we are still going through a mutual discussion, we will inform you as soon as we reach an agreement.

This decision was carefully made after much conversation and discussion between the performers and the company, so we would like to request you to restrain from making unnecessary speculations and causing misunderstandings.

We would like to ask you for warm encouragement and support for all the members who would go on their new path from now on.

From executives and staff members of MLD Entertainment.
Taeha has opted to leave the company, while MLD Entertainment essentially said Daisy left the group but is currently in contract talks. Yeonwoo will no longer be with Momoland, but she is still with the company as an actress.
Yeonwoo's leave did shock many, but there have been rumors that she planned to leave Momoland earlier this year. Rumors of her departure started in June when she was absent from group activities, but MLD Entertainment shot those rumors down with a statement.
"Rumors of Yeonwoo leaving Momoland are absolutely not true," the company said. "The reason she has been absent from Momoland's recent schedules is due to the fact that she is attending her drama schedules. Back on June 28, Yeonwoo was unable to attend Momoland's schedule in Chile due to her health, as we previously notified."
Initially, Yeonwoo also denied the rumors when she addressed the situation on the group's fan café.
Our Merrys, you were really suprised at the rumors, right? I was flustered, too, but I thought Merrys would be so shocked and hurt, so I decided to come write. You were concerned because after the article that said I was considering a drama, I disappeared, right?

I couldn't talk about my schedules, so I was preparing to do my best. That time ran on for longer than I thought and created a misunderstanding for Merrys and the public.

The SNS updates that everyone wanted to know about were photos I took when I had time to attend plays and musicals that my friends are in and I was invited to. My friend's birthday is when I wasn't feeling very well, so I told the label, and went with my manager to just give them my present. No matter what the reason was, I'm sorry that I created situations that could be misunderstood.

I know our Merrys trust Momoland and me first and foremost, so I'm sorry that I made you sad. I asked my friends to be careful from now on, and more than anything, I'll work hard to be more responsible!

Everyone, you must have been worried. I will continue to be forever a Momoland member! I'm staying healthy and working hard so I can go back, so please just wait a little bit.

Thank you for reading this. I'll work hard for all the fans who have believed in me even though I wasn't careful. I'm planning to be a great actress as well, so please look forward to it. I love you always and thank you.
Since MLD's announcement, Daisy has yet to speak due to ongoing contract talks; Yeonwoo also has not made a statement. However, Taeha opened a personal Instagram account and talked about her departure shortly after her leave was announced.
In her message, Taeha said:
Hello, this is Taeha.

As a member of MOMOLAND, I have received so much love, and I have been so, so happy to have you with me.

Throughout my activities, I was able to feel and experience so many things I wouldn't have otherwise, and I am so grateful! Thank you so much for being by my side and allowing me to shine.

I will not forget the gratitude I feel now, and I will greet you in the future even better than before with good music through my new start. Please wait for me a little and please continue to give me your support. Thank you.
While the overall news is a surprise, we hope Daisy, Taeha, and Yeonwoo all find success in their fresh starts. Meanwhile, we hope Momoland, also, experience growth as a group if they get to come back in the new year.
—-Olivia Murray
Related Articles